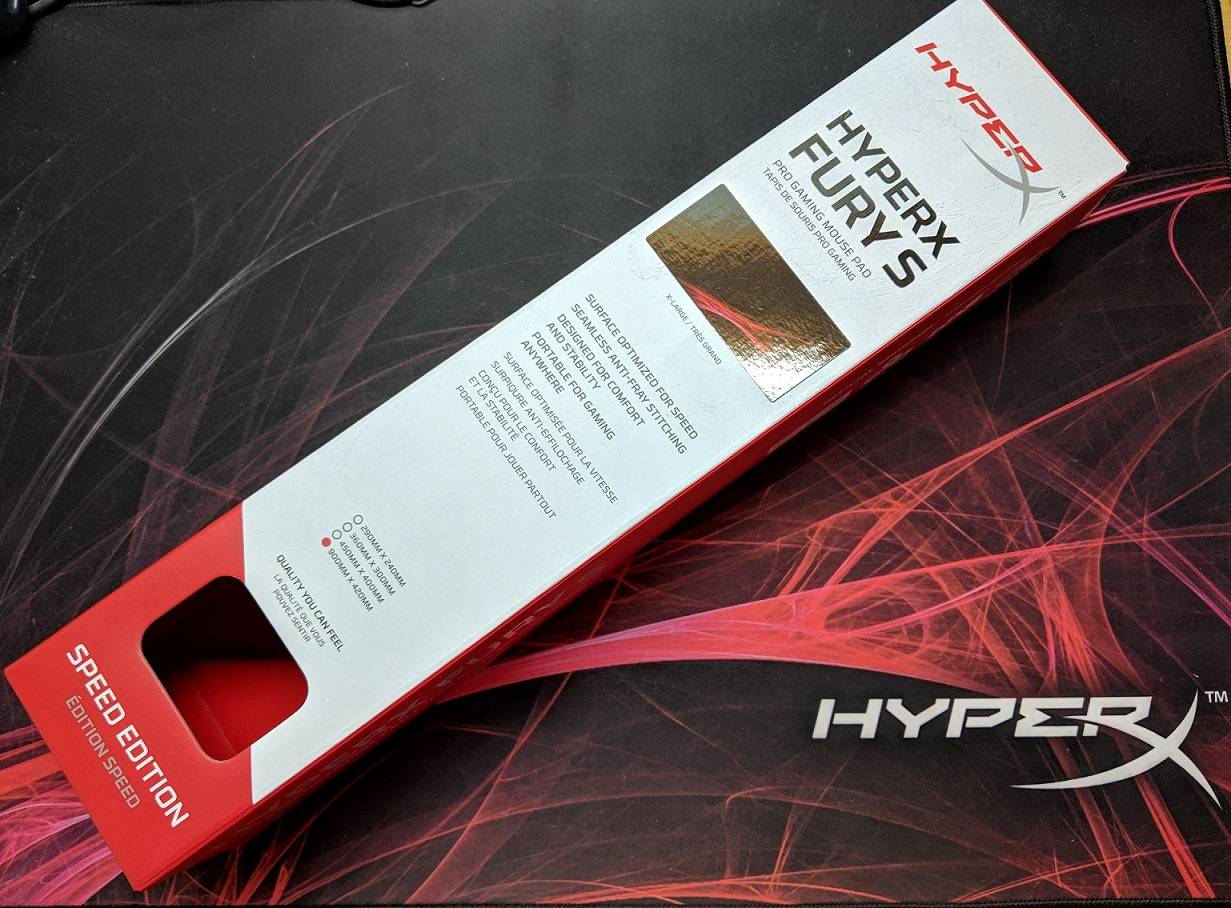 Along with the Pulsefire Surge RGB Gaming mouse (its review here), Kingston also sent us the HyperX Fury S Speed Edition mouse pad for testing. There are a total of four different sizes, which ours is in extra large (XL). It has a width of 900 mm and a length of 420 mm.
Unboxing
The enormous mouse pad is rolled and kept inside a long cardboard box during shipping.
There is not much to see on the packaging. You can find a few highlighted features of the mouse pad, such as the anti-fray stitching and the speed-optimized surface. There is a cutout, that allows you to touch and feel the surface of the mouse pad. Hardware specifications, like material, physical dimensions and thickness, are printed on one side.
HyperX Fury S Speed Edition Mouse Pad
The top of the Fury S mouse pad has some kind of light rays/waves graphics, with the HyperX logo on the lower right corner.
The surface of the mouse pad is made of cloth and is textured. The cloth is weaved tightly together to allow the mouse to move fast and smoothly, as well as better tracking for the sensor.
The Fury S mouse pad has a thickness of 4 mm. The cloth surface and the foam core are stitched together. The high quality stitching should be able to last for a long time without any problems.
At the bottom, there are tons of tiny rubber feet to prevent the mouse pad to slide all over the place. They do a really good job sticking to the desk, especially when you have both your keyboard and mouse on top.
Conclusion
Overall, the HyperX Fury S Speed Edition mouse pad offers both awesome build quality and great tracking surface for your mouse. I personally did not experience any tracking issues or inaccuracies using the mouse pad.
It costs from $9.99 USD up to $29.99 USD (MSRP) for various sizes, with a 2-year warranty. I think it is reasonably priced, because the mouse pad should be durable enough for anyone to use the mouse pad for a few years without replacing. If you choose the extra large (XL) version, you can put your full-sized keyboard and mouse, while still having additional space for your smartphone and drinks.
You can purchase the mouse from your local/online resellers or the links below from Amazon.
Thanks Kingston for providing us the mouse pad for review. (Review Sample)
Feel free to leave comments below, if you have any opinion about this website. Share the website around if you enjoy reading it. Subscribe to our Newsletter or follow our Google+, Facebook and Twitter.
Support this website simply by shopping in Amazon. It will give us small kickbacks, if you use the above affiliate links to make any purchases, which will help us grow.