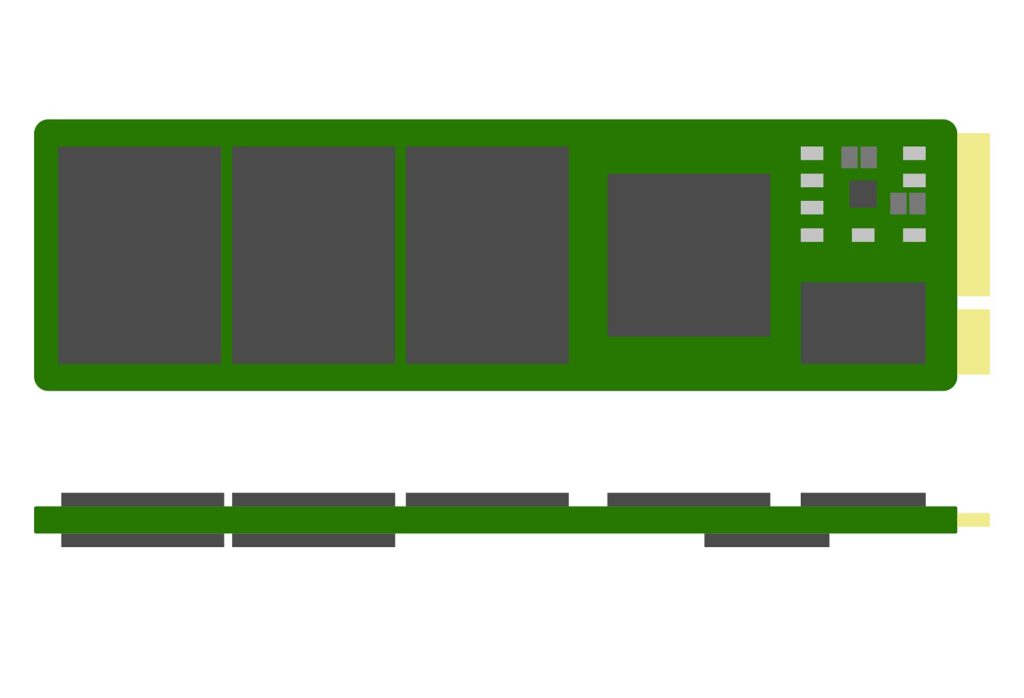 In recent years, the more compact M.2 form factor solid-state drives have taken over the traditional 2.5-inch in the market for high-performance storage. M.2, previously called Next Generation Form Factor (NGFF), is designed to replaced the older mSATA standard for better read/write speeds and compatibility.
Please do not mix the M.2 form factor with "PCIe vs SATA" (Interfaces) and "NVMe vs AHCI" (Protocols), which are totally different standards.
Physical Dimensions
Most M.2 SSDs found in desktop PCs and laptops have the 2280 form factor. The "22" is the width, while the "80" is the length of the SSD in millimeters (mm). The width and length will vary, depends on the purposes.
The shorter 2230 and 2242 are commonly used in ultrabooks or tablets from systems integrators, where internal space is limited. On the other hand, the enterprise market favours the longer 22110 form factor, which allows for extra NAND flash and special capacitors to increase storage capacity and enable power loss protection.
Connectors
M.2 SSDs can be easily plugged into the motherboard similar to installing a RAM stick, via the golden contact pins at the bottom. The connectors handle both the power and data transmission without the need of messy cables.
However, not all M.2 SSDs feature the same connector/key design. There are a total of 75 pin positions on each module, which some of them are removed to create the 12 available keys. For example, SATA-based M.2 SSDs will have the B and M keys notched, while the PCIe-based one will only have the M key notched. It is even possible to add in a M.2 Wi-Fi and Bluetooth card to the system through different key positions.
Performance
The read/write speeds of a SSD will be determined mainly by the storage interface, instead of the form factor. We have a dedicated article about how well do PCIe, SATA and USB SSDs perform. A M.2 NVMe PCIe 3.0 SSD can reach sequential speed up to 3500 MB/s, with newer PCIe 4.0 drives achieving upwards of 5000 MB/s.
Feel free to leave comments below. Share the article if you enjoy reading it. Follow us on Twitter, Facebook, Instagram and Pinterest.
Support this website simply by shopping on Amazon and Newegg. We will receive small kickbacks, if the above affiliate links are used to make any purchases.