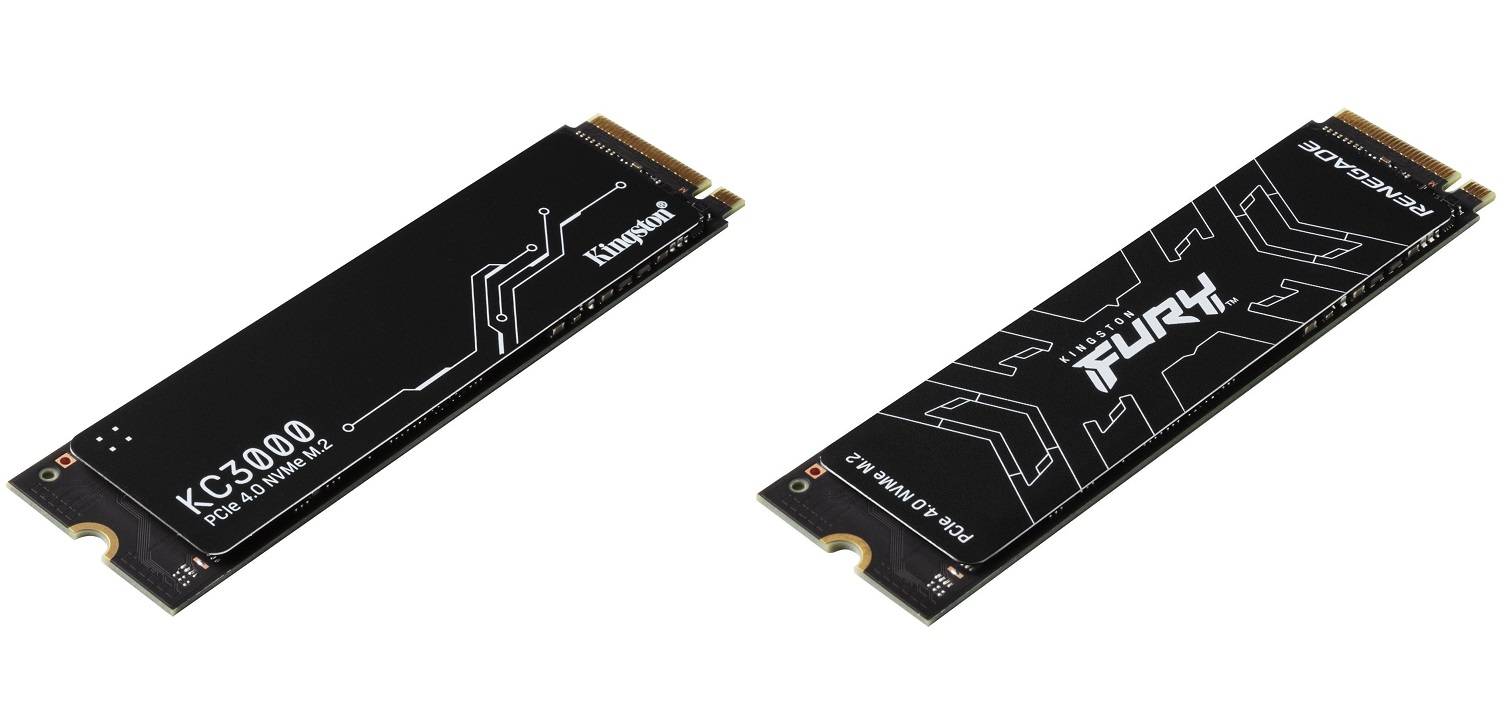 Over the past couple of years, the consumer market is flooded with tons of new PCIe 4.0 NVMe SSDs, but Kingston has been late to join the game. Until today, the company finally launches two Gen 4 drives, named KC3000 and FURY Renegade.
The KC3000 and FURY Renegade have a very similar hardware combination. They both are equipped with the popular Phison PS5018-E18 memory controller and 3D TLC NAND flash (reportedly the Micron's 176-Layer B47R). The PCIe 4.0×4 interface allows the KC3000 to reach sequential read/write speeds up to 7000 MB/s and 7000 MB/s, with the smaller capacity model dropping to 3900 MB/s in write. The FURY Renegade is able to squeeze a little bit of read performance, maxing out at 7300 MB/s. The two SSDs can achieve up to 1,000,000 IOPS for random 4K read/write operations.
There is a thin graphene aluminum heat spreader for keeping the drives cool during heavy workload, while maintaining a low enough profile for laptop installation.
The KC3000 has slightly more usable storage capacities than the FURY Renegade (500 GB vs 512 GB, 1024 GB vs 1000 GB, 2048 GB vs 2000 GB, 4096 GB vs 4000 GB). However, the FURY Renegade has better write endurance from 500 TBW to 4000 TBW, compared to 400 TBW to 3200 TBW for the KC3000. All models have a rated MTBF of 1.8 million hours.
Check pricing and availability:
Feel free to leave comments below. Share the article if you enjoy reading it. Follow us on Twitter, Facebook, Instagram and Pinterest.
Support this website simply by shopping on Amazon and Newegg. We will receive small kickbacks, if the above affiliate links are used to make any purchases. Or you can directly donate to us via our Buy Me a Coffee page.