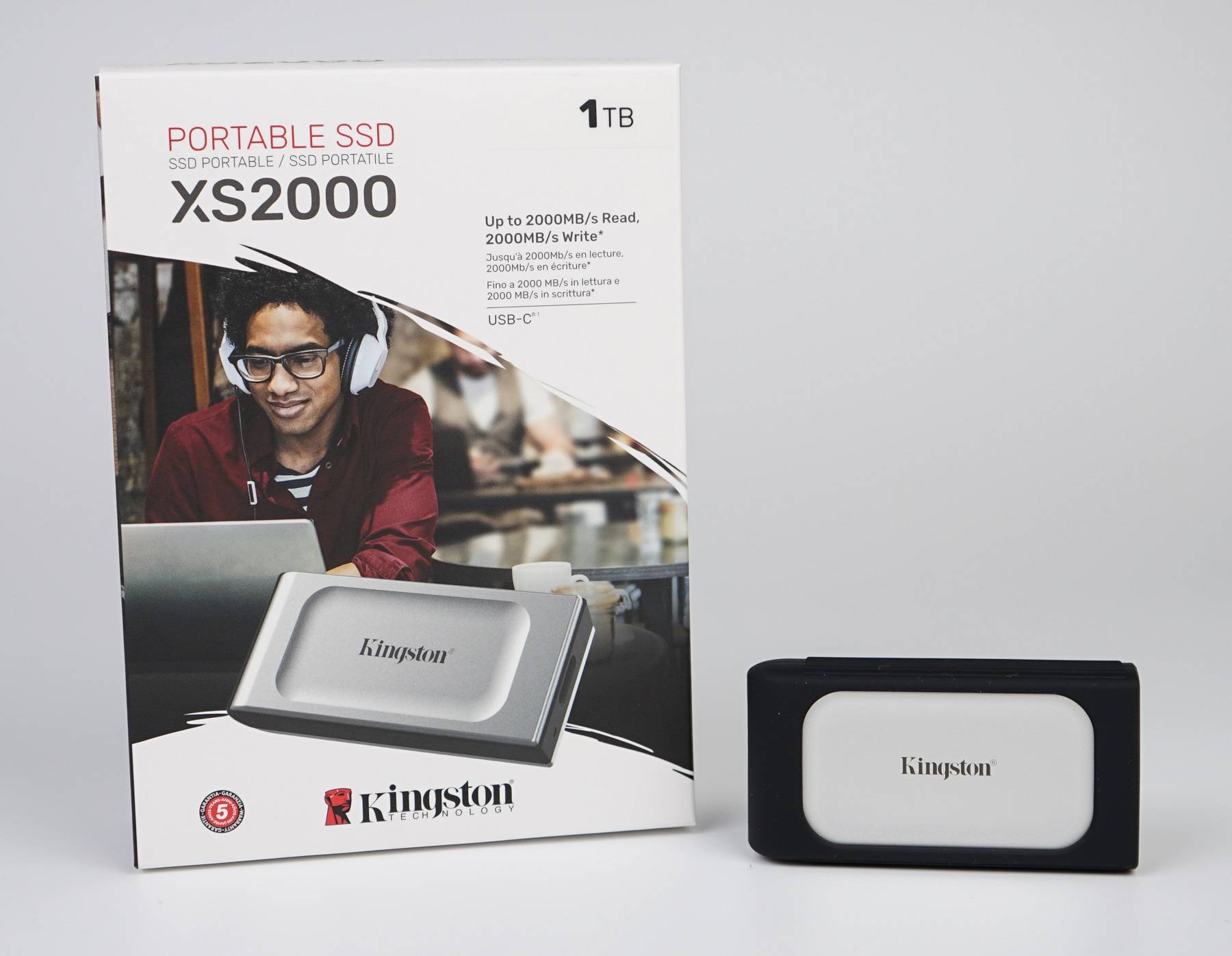 Kingston released the XS2000 in September 2021, which is their first external SSD with support to the USB 3.2 Gen 2×2 interface at 20 Gbps. Its very compact physical size and IP55 water and dust resistant rating should make it suitable for transferring data on-the-go.
Specifications
| | Kingston XS2000 |
| --- | --- |
| Interface | USB 3.2 Gen 2×2 (20 Gbps) |
| Capacities | 500GB, 1TB, 2TB |
| Sequential Read/Write | 2000/2000 MB/s |
| Warranty Period | 5 Years |
| Other | IP55 Water and Dust Resistant |
The particular XS2000 sample we got is the 1 TB model (SXS2000/1000G). Capacity ranges from 500 GB to 2 TB. It is advertised to have sequential read/write speeds of up to 2000 MB/s, thanks to the USB 3.2 Gen 2×2 interface. No MTBF or endurance information (TBW) is disclosed officially by Kingston. All models are provided with a 5-year warranty.
Unboxing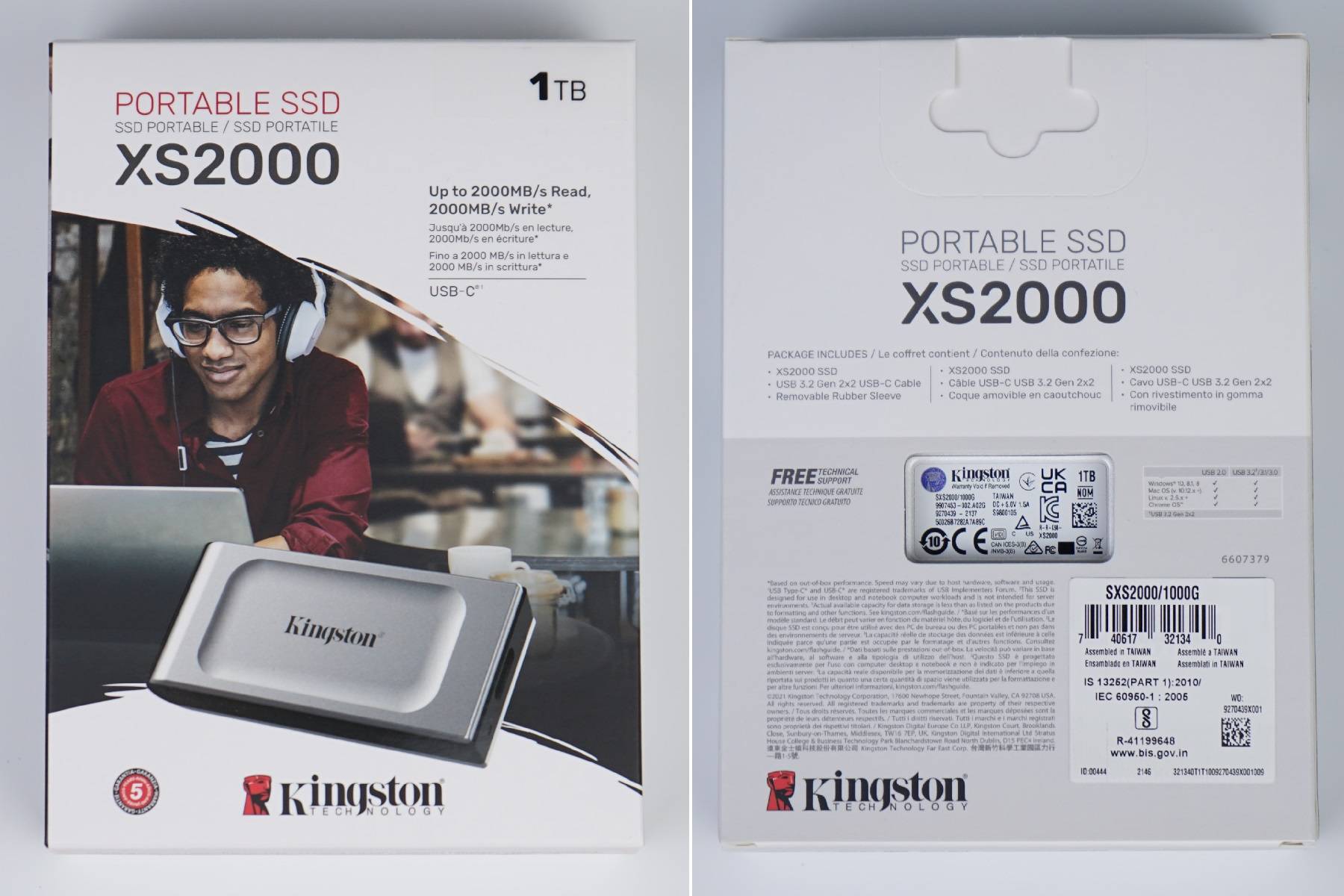 The XS2000 is transported in a white cardboard box. There is a cutout at the back showing the actual drive's sticker with the model and serial number. All the compatible operating systems and USB versions are displayed in a table.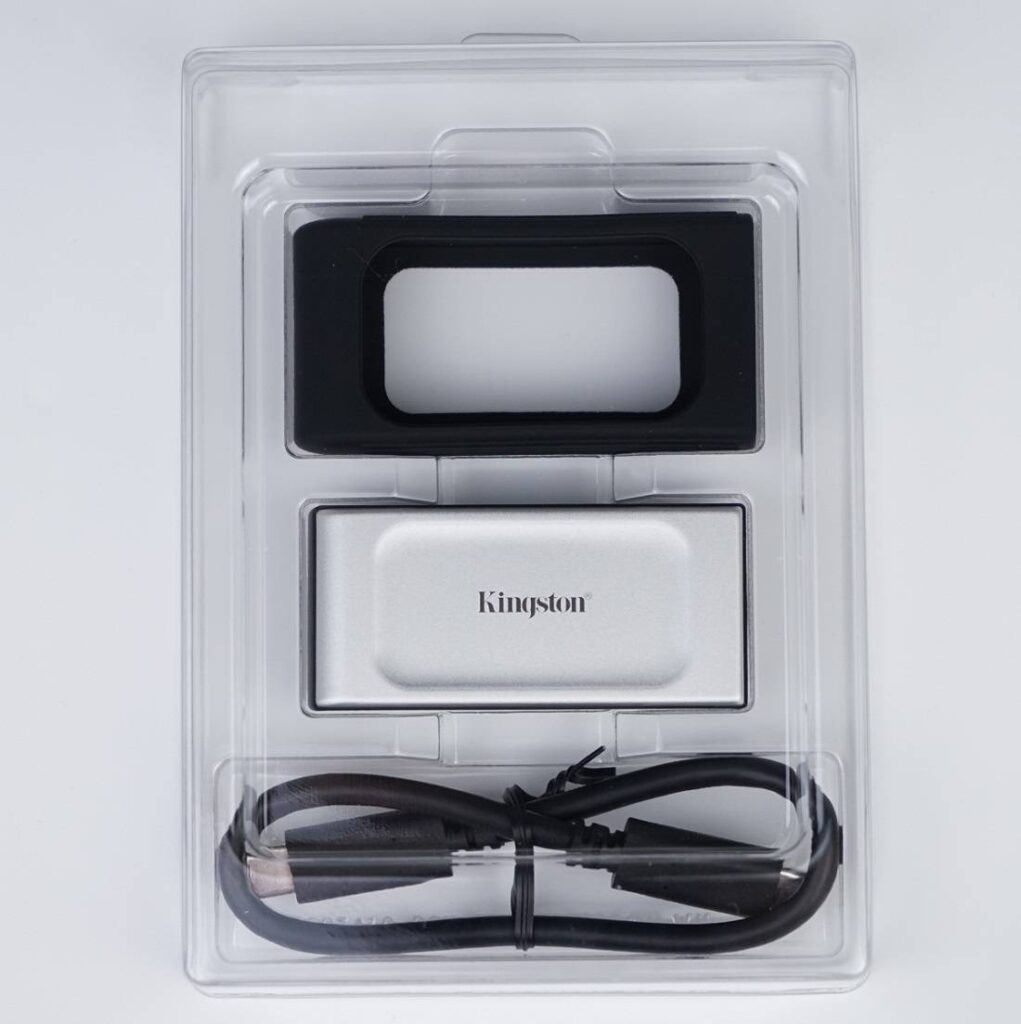 All contents in the box are placed securely in a plastic tray. You will get the black rubber sleeve/bumper case for drop protection, and a short 30 cm USB Type-C to Type-C cable.
Kingston XS2000 External SSD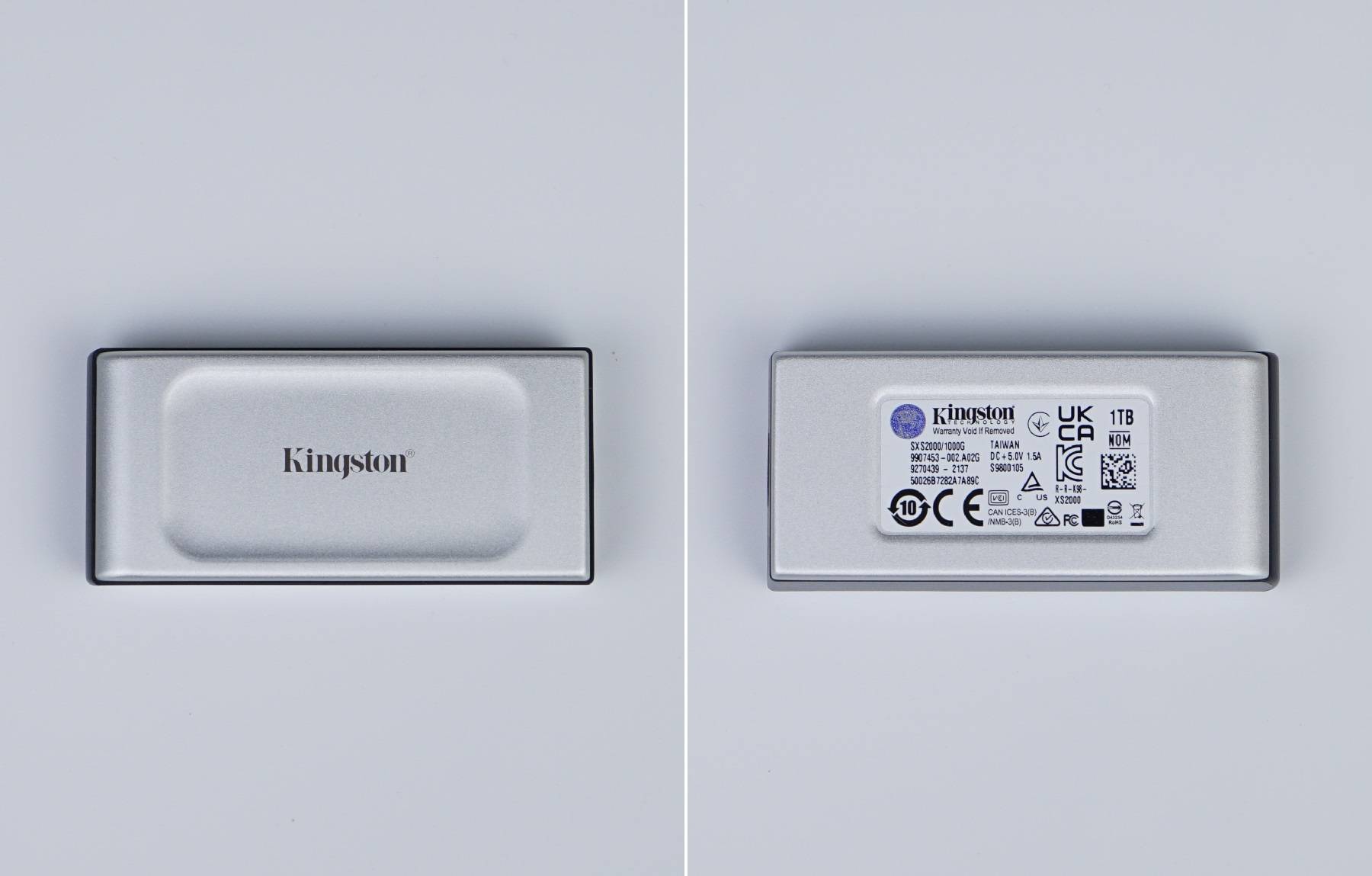 The XS2000 has a really small physical footprint for portability. The silver aluminium and plastic enclosure is 69.54 mm long, 32.58 mm wide and 13.5 mm thick, which is even tinier than the Rocket Nano Rugged we tested previously.
Onboard the XS2000 is the Silicon Motion SM2320 memory controller and Micron's 96-Layer 3D TLC NAND Flash with no DRAM cache. Unlike most external SSD, there is no additional USB bridge controller (commonly from ASMedia or JMicron), as the SM2320 is able to integrate both logics into a single chip design. This can help save some precious internal space and power consumption.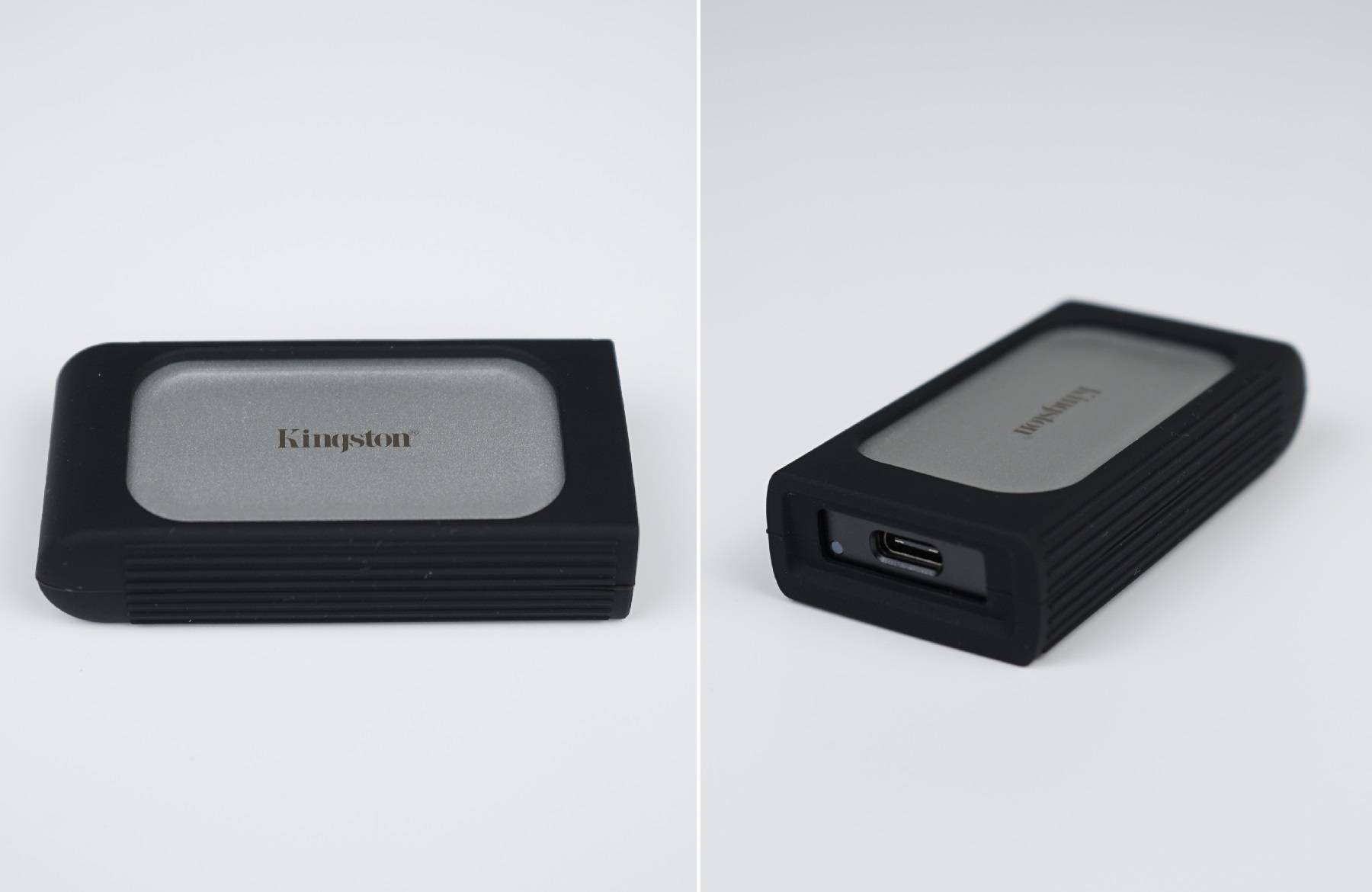 The XS2000 is certified for IP55 water and dust resistant. This means the SSD can survive in quite dusty environments and water jets/flows from all angles (splash-proof). However, it is not protected against submersion of water at any depth. With the included rubber sleeve, Kingston claimed the XS2000 to be shockproof, but it is not backed up by any certification, such as the MIL-STD-810G.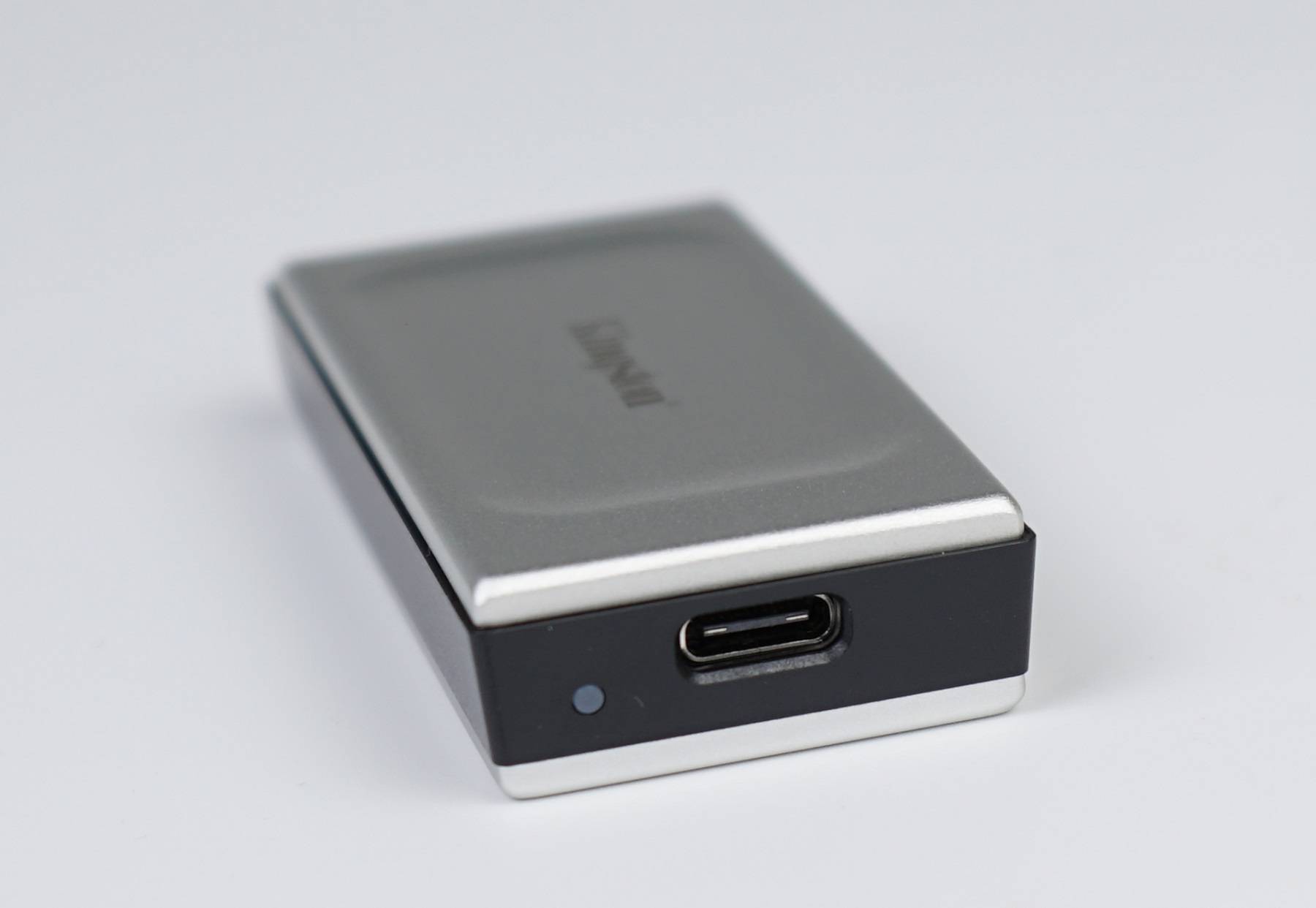 Next to the USB port is the activity LED for users to quickly check the status of the drive. The single USB Type-C port on the XS2000 supports the USB 3.2 Gen 2×2 standard, which has a maximum theoretical bandwidth of up to 20 Gbps or around 2500 MB/s.
Review
Testing Methodology
To test the performance of the solid-state drive, we use four well-established storage benchmarking software. They are CrystalDiskMark, ATTO Disk Benchmark, AS SSD Benchmark, as well as HD Tune Pro.
CrystalDiskMark can measure both sequential and random 4KB read/write speeds with a queue depth of 32. ATTO Disk Benchmark can test how the drive performs across different transfer block sizes, mostly in a sequential environment. AS SSD Benchmark can provide both normal read/write speed and the IOPS performance of the drive. HD Tune Pro can be used to simulate a large file transfer of up to 100 GB.
We also recorded the time to copy three files of 10 GB, 500 MB and 250 MB from a RAM disk to the SSD, to simulate a real-world situation.
Performance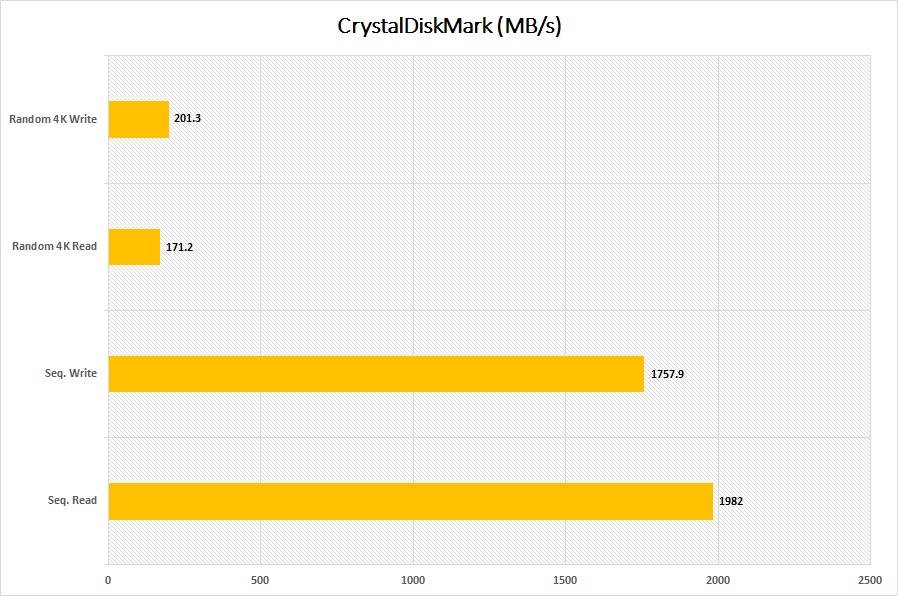 In CrystalDiskMark, the XS2000 was able to reach sequential read/write speeds at about 1980 MB/s and 1740 MB/s respectively. Speeds dropped to around 177 MB/s and 202 MB/s when in random 4K operations at queue depth 32.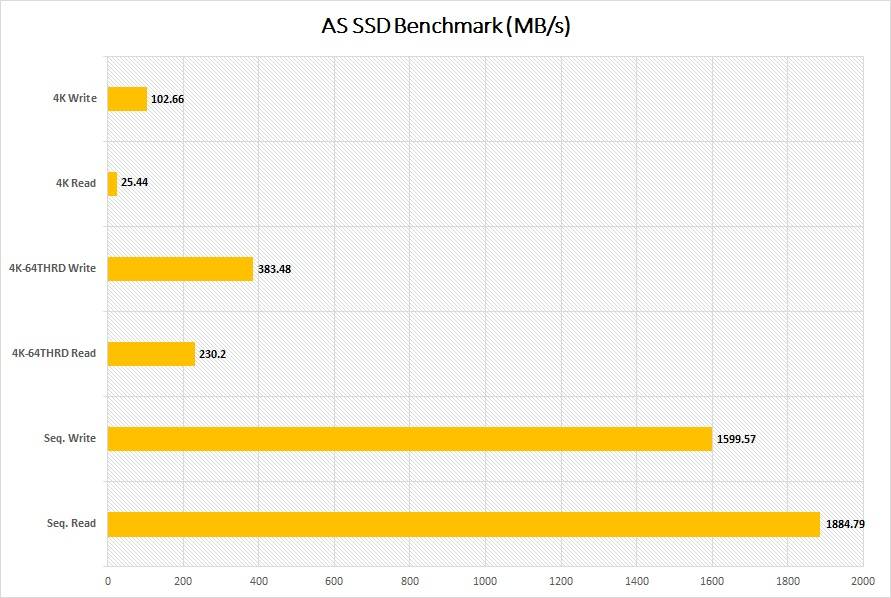 In AS SSD Benchmark, the sequential read/write speeds were a bit slower than those in CrystalDiskMark, at around 1880 MB/s and 1590 MB/s. Increasing queue depth to 64 pushed the random 4K performance up to 230 MB/s and 383 MB/s.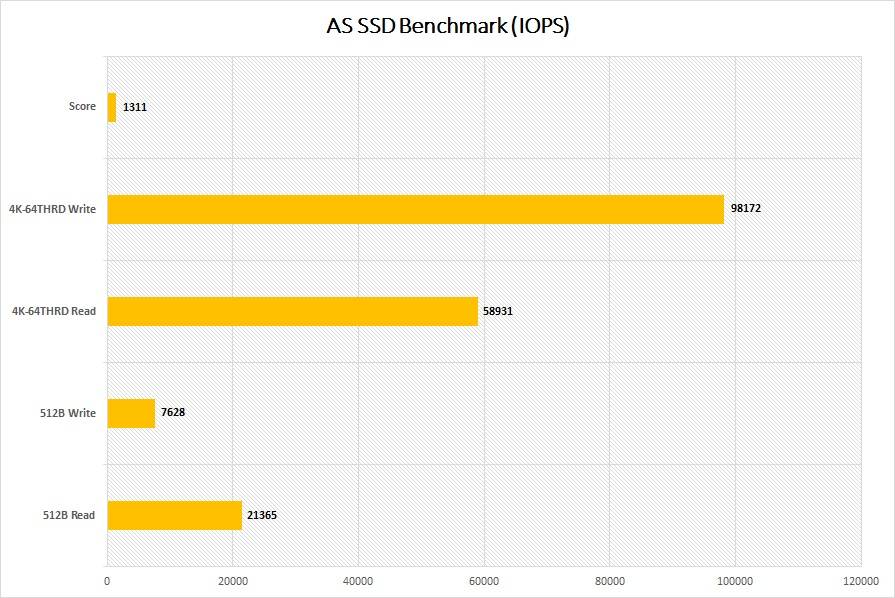 IOPS number represents how well a drive handles random input and output operations. The XS2000 achieved 58931 IOPS for read and 98172 IOPS for write. It scored 1311 in the test.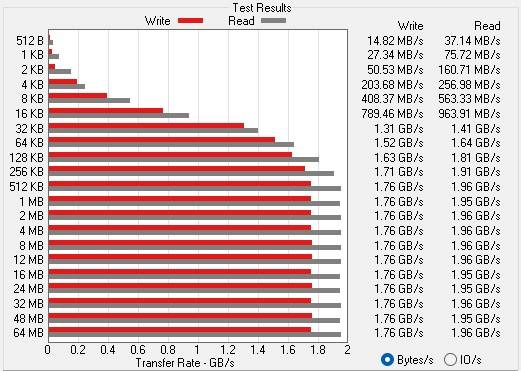 The read/write speeds improved as the test files became larger in ATTO Disk Benchmark. It stablized at around 1.96 GB/s in read and 1.76 GB/s in write, after the size hit 256 KB.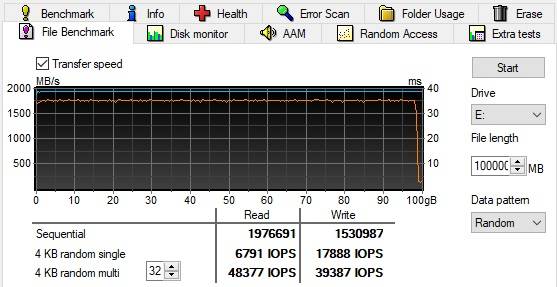 HD Tune Pro is used to simulate a large 100 GB file transfer. Around 96 GB (~10%) of the total capacity in the XS2000 is used as the pseudo-SLC cache. Write speed was maintained at about 1750 MB/s before the cache was saturated, which was then dropped to only about 200 MB/s.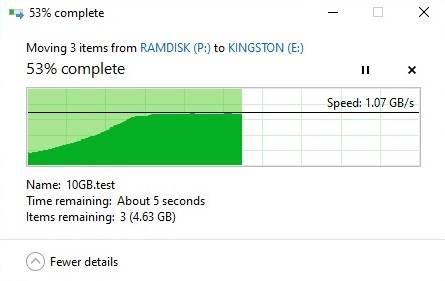 It took the XS2000 around 12.83 seconds to complete the copy of three files, sized approximately 15 GB. Write speed peaked at about 1.07 GB/s to 1.1 GB/s in the process.
Comparison
The Kingston XS2000 was able to match the performance of the SilverStone MS12 SSD enclosure, except for slightly lower sequential write speeds. As expected, the read/write speeds were a lot faster than most external SSDs, because of the USB 3.2 Gen2x2 interface.
Conclusion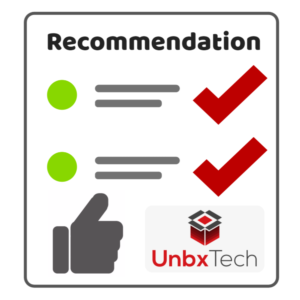 The Kingston XS2000 is an excellent portable SSD with compact size and top-of-the-line performance. At all our benchmarks, it managed to hit sequential read/write speeds at over 1700 MB/s. You will need to ensure your motherboard or laptop to have a compatible USB 3.2 Gen2x2 port to make the most of the available performance. You may need to purchase a separate PCIe expansion card, like the SilverStone ECU06, to the system. The IP55 water and dust resistant rating and the included rubber sleeve are great added bonuses for more durability.
The Kingston XS2000 costs around $159.99 USD (MSRP) for the 1 TB model, with a 5-year warranty. There are still limited shopping options in the market for USB 3.2 Gen 2×2 (20 Gbps) external SSDs. The XS2000 is priced relatively affordable for a reputable manufacturer. For comparsion, the SanDisk Extreme PRO and Seagate FireCuda Gaming SSD are on sale for $189.99 USD and $219.99 USD (MSRP) for 1 TB at the moment of this review. Both of them are physically bigger than the XS2000, and the Seagate one lacks IP55 certification.
The 500 GB and 2 TB versions of the XS2000 are priced at $99.99 USD and $284.99 USD (MSRP).
You can purchase the SSD from your local/online retailers or the links below from Amazon and Newegg.
Thanks Kingston for providing us the SSD for review. (Review Sample)
Feel free to leave comments below. Share the article if you enjoy reading it. Follow us on Twitter, Facebook, Instagram and Pinterest.
Support this website simply by shopping on Amazon and Newegg. We will receive small kickbacks, if the above affiliate links are used to make any purchases. Or you can directly donate to us via our Buy Me a Coffee page.