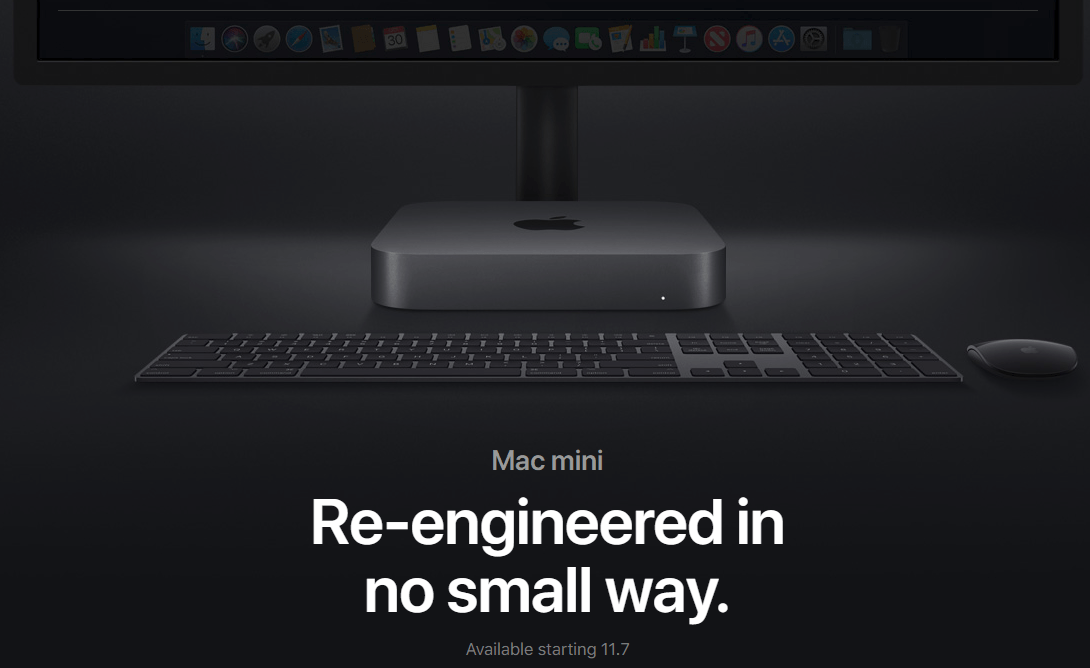 It's almost 4 years before Apple finally releases a new generation Mac mini to the public. With the outdated Intel 4th Generation Core i5 dual-core CPU inside, the old Mac mini cannot keep up with modern workloads well enough. Now, Apple has put some powerful hardware inside the new Mac mini, which should vastly increase its performance.
The new Mac mini looks exactly identical to the older generations, except for the stealthy space gray color. The enclosure is made from 100% recycled aluminum.
For the base model, the Mac mini is equipped with an Intel 8th Generation Core i3 processor. It is a quad-core CPU, which is clocked at 3.6 GHz with 6 MB of L3 cache. You can also upgrade the Core i3 to either a 6-core i5 at 3.0 GHz (boost to 4.1 GHz) or a 6-core i7 at 3.2 GHz (boost to 4.6 GHz). The Mac mini comes with 8 GB of RAM as standard, but can be configured up to 64 GB. Unlike previous generation, all the new Mac mini will use PCIe SSD as their primary storage drive, which you can choose its capacity from 128 GB to 2 TB.
The Mac mini now has four Thunderbolt 3 ports, two USB 3.0 ports, a HDMI 2.0 port and a 3.5 mm headphone jack at the back. The Gigabit Ethernet port can be upgraded to 10 Gigabit, if you want.
The Mac mini is available for pre-order now, and will ship on November 7. The base model is priced at $799 USD (MSRP). The price can go up to $4199 USD for all the upgrades, with 6-core i7 CPU, 64 GB of RAM, 2 TB SSD and 10 Gigabit Ethernet.
Feel free to leave comments below, if you have any opinion about this website. Share the website around if you enjoy reading it. Subscribe to our Newsletter or follow our Google+, Facebook and Twitter.
Support this website simply by shopping in Amazon. It will give us small kickbacks, if you use the above affiliate links to make any purchases, which will help us grow.