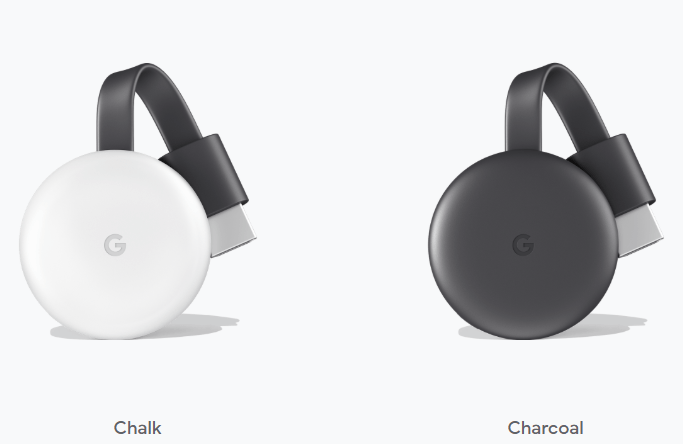 Along with the Pixel 3 and Pixel 3 XL smartphones, Google also releases an updated version of the Chromecast (3rd Generation), after three years. The Chromecast sports a slightly different exterior design, and some useful upgrades under the hood.
Instead of the previous glossy finish, the outside is either matte black or white now with the Google 'G' logo on top. The overall shape remains unchanged, which still has a non-removable HDMI cable coming out from the casing.
According to Google, the new Chromecast is about 15% faster, which enables streaming 1080p videos at 60 fps. This is a major upgrade from last generation's 720p. The Chromecast adds support for multi-room audio, a feature similar to what Chromecast Audio does. You can play music in sync with other connected speakers in the network. A 5 GHz Wi-Fi antenna is also added for faster and more stable wireless connectivity.
There are no Bluetooth onboard and 4K streaming support, but it is still a decent improvement. The 3rd Generation Chromecast is priced at $35 USD (MSRP).
Feel free to leave comments below, if you have any opinion about this website. Share the website around if you enjoy reading it. Subscribe to our Newsletter or follow our Google+, Facebook and Twitter.
Support this website simply by shopping in Amazon. It will give us small kickbacks, if you use the above affiliate links to make any purchases, which will help us grow.