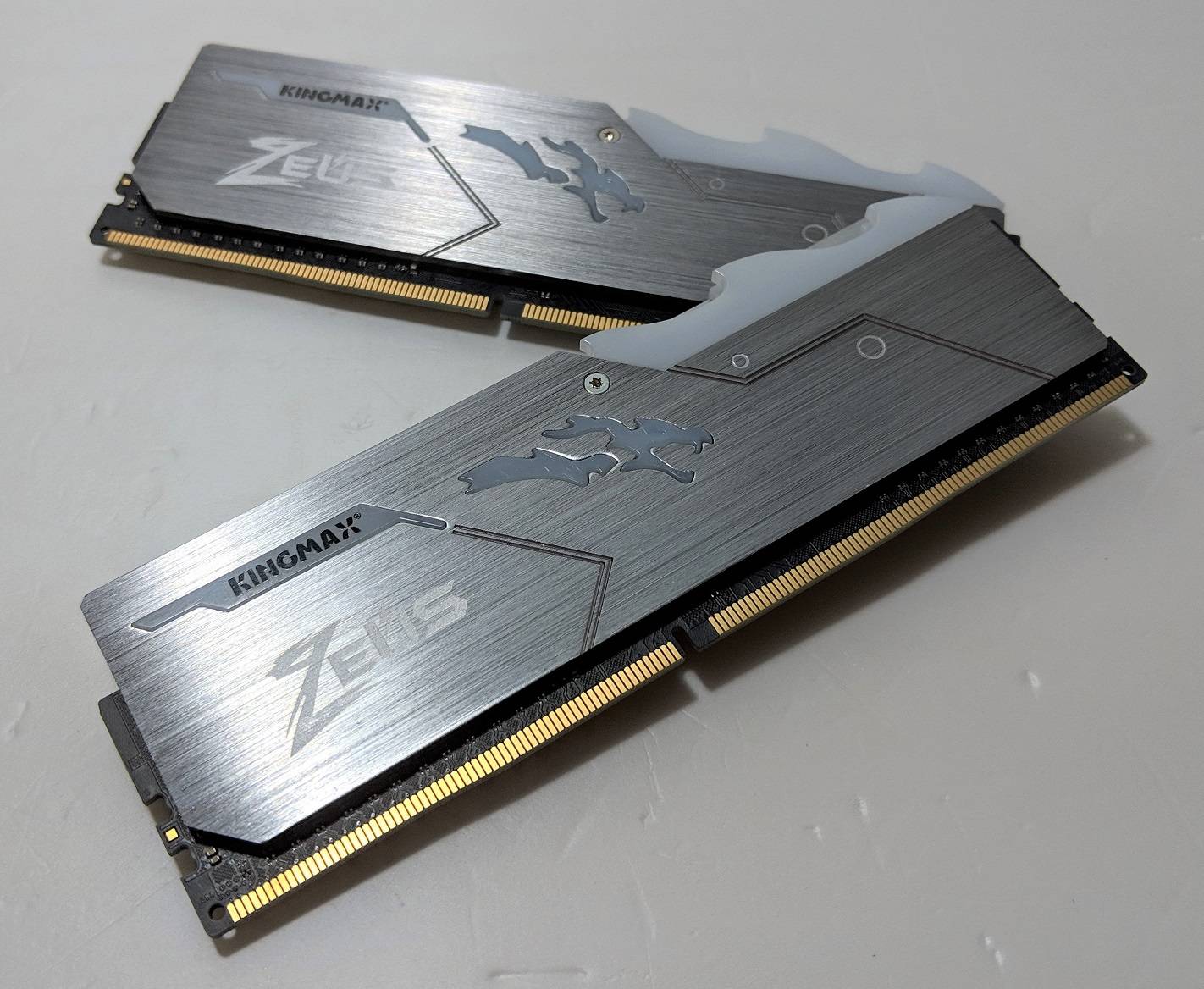 KINGMAX had showcased some of its latest gaming series memory and SSD products in Computex earlier this year. Now, the Zeus Dragon RGB DDR4 memory is finally released and we are going to see how it performs.
Unboxing
We tested the dual-channel memory kit, that is clocked at 3000 MHz, with two 8 GB sticks. The rated frequency can be achieved by choosing one of the two included XMP profiles. There are a total of four speed options, from 2666 MHz up to 3466 MHz. Capacities of 8 GB (single module) to 32 GB (in kit) are available.
A photo of the metal heat spreader covers the majority of the front of the box. You can also find the "KINGMAX" and "Zeus Dragon" brandings, as well as your particular memory kit's speeds and capacity.
There is a brief description about the Zeus Dragon DDR4 RGB RAM listed on the back, including high-quality ICs and RGB LED lighting effects. A specification list about the frequencies, CAS latency and voltage is printed as well.
KINGMAX Zeus Dragon RGB DDR4-3000 16GB Kit
The Zeus Dragon RGB is the product from the gaming series of KINGMAX, which features a more gamer-like style for the exterior aesthetics. The silver brushed aluminum heat spreaders are installed on both sides. The metal is designed with aggressive angles with cutouts for the RGB "KINGMAX" logo and the dragon. There is a sticker with information like model number/part numbers, RAM frequency and operating voltage (1.35 V).
The PCB is painted black and there are 288 golden pins for power and data transmission.
A RGB LED light bar is fitted on the top, which half of it is visible from the sides. The light bar is shaped like the top fins of a dragon, which looks really unique. No logo or brand name is embossed/engraved to the light bar itself.
Review
Testing Methodology
To evaluate the performance of the particular memory kit, we use a total of three benchmarking software. AIDA64's internal "Cache and Memory Benchmark" is used to determine the read, write and copy speeds, as well as the latency. Cinebench R15's CPU test is perfect for testing how the memory kit's speeds affect CPU performance. Finally, the SiSoftware Sandra toolkit is used to test both bandwidth, latency and throughput of the memory. The memory kit will be tested in three different settings/profiles.
Default: 2400 MHz at 15-15-15-39
XMP Profile 1: 3000 MHz at 16-17-17-36
XMP Profile 2: 2666 MHz at 15-17-17-36
Test Bench Setup:
Performance
Our particular Zeus Dragon memory kit is rated to operate at frequency up to 3000 MHz. In AIDA64, the Zeus Dragon RGB performed as expected, and on par with the HyperX Predator RGB we tested earlier. At 3000 MHz, it achieved 43085 MB/s, 44258 MB/s and 39018 MB/s at read, write and copy respectively. Speeds decreased to around 38000 MB/s at 2666 MHz and 35000 MB/s at 2400 MHz.
The Zeus Dragon RGB did well enough in latency, but lagged slightly behind the Predator RGB. The latency sat at 58.3 ns at 2400 MHz. It improved to 56.9 ns (~2.4% decrease) and 52.4 ns (~10.12% decrease) at higher frequencies.
The Zeus Dragon RGB scored a CPU score of 969 at stock 2400 MHz speed, and a few points higher at 2666 MHz. Score went up to 996 when clocked at 3000 MHz, which is about a 2.79% improvement.
The Zeus Dragon outperformed the Predator RGB in terms of Throughput, capable of reaching over 8.3 MTPS at 3000 MHz. The latency benchmark showed a similar picture of the AIDA64 Latency test, with the Predator RGB edging out slightly. Both memory kits achieved similar bandwidth numbers.
RGB Lighting
According to KINGMAX, the Zeus Dragon's RGB LED lighting is compatible with major motherboard manufacturers, including ASUS, MSI, ASRock and GIGABYTE. The available lighting effects and modes will be depending on your selected motherboard's software.
The RGB lighting is extremely bright. The colors are vivid, but you can clearly see the separations of the five lighting zones/LEDs. Those lighting hotspots should be better diffused to create a more pleasant effects transitions. Nonetheless, the lighting effects are still smooth and fluent enough.
Conclusion
The Zeus Dragon RGB DDR4 RAM is the first RGB LED-enabled product from KINGMAX, which ticks a lot of right boxes. The build quality is solid with the thick aluminum heat spreaders. The dragon design for the RGB LED lightbar looks unique and cool. The implementation of the RGB lighting could be better with more numbers of LEDs or nicer diffusion.
In our benchmarks, the Zeus Dragon performed splendidly, completing our tasks without any issues. There should be a lot more headroom for overclocking, if you would like to get even more power out of the RAM. Simply by dialing down the timings should yield better results in synthetic tests.
The Zeus Dragon RGB RAM is backed by a 5-year warranty. However, it is quite hard to get one in North America and Europe. It is available mostly in Asia, such as Taiwan and China. It is priced at $1488 RMB (MSRP), which is about $215 USD. The price is reasonable, sitting around the average of a RGB memory kit would cost (~$220 USD). The Zeus Dragon would be a great option, if you need a decent set of RGB memory kit with awesome build quality.
Thanks KINGMAX for sending us the memory for review. (Review Sample)
Feel free to leave comments below, if you have any opinion about this website. Share the website around if you enjoy reading it. Subscribe to our Newsletter or follow our Google+, Facebook and Twitter.
Support this website simply by shopping in Amazon. It will give us small kickbacks, if you use the above affiliate links to make any purchases, which will help us grow.