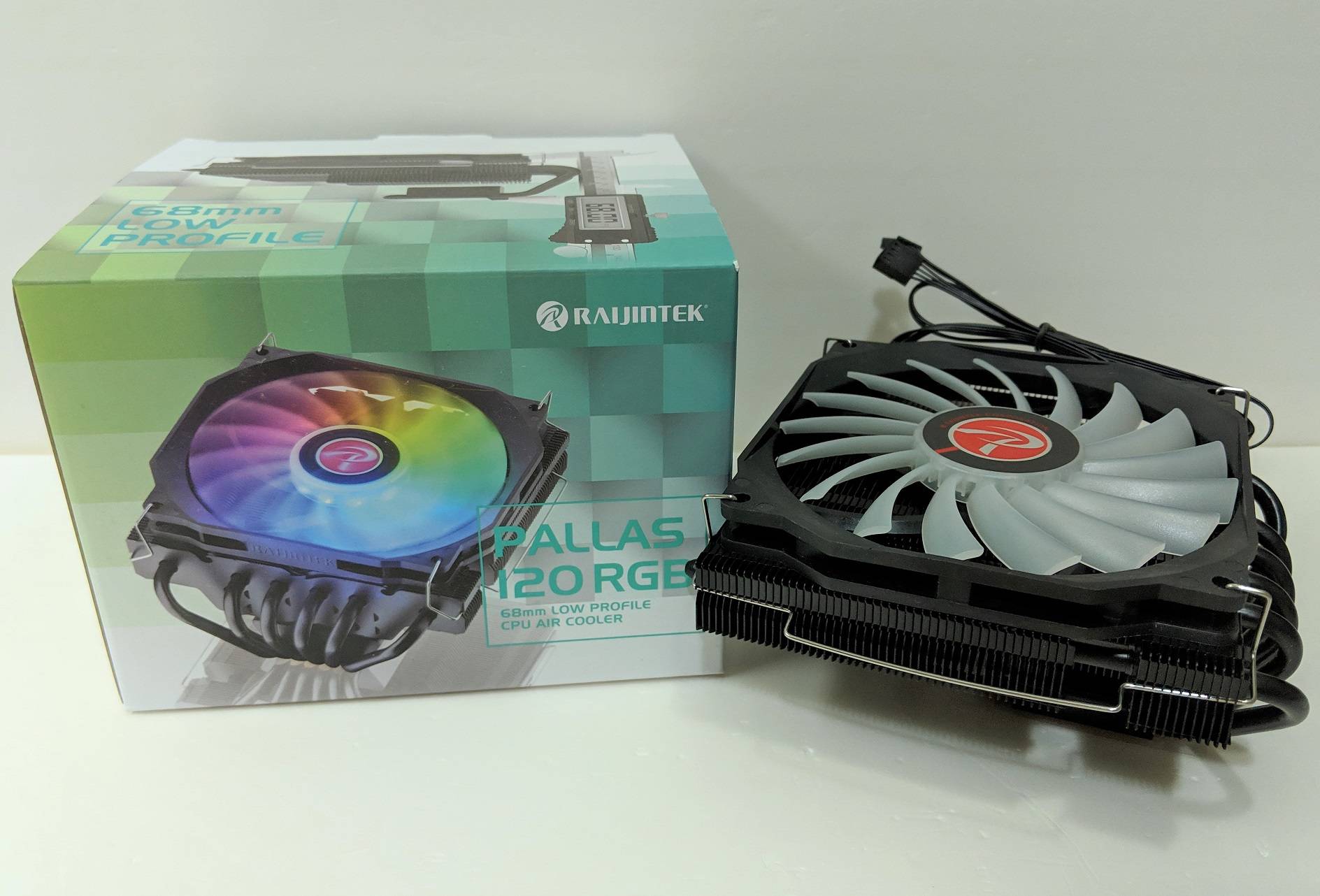 As small form factor PC builds gaining more popularity in the community, RAIJINTEK refreshes the low-profile PALLAS CPU cooler from 2014, with six heatpipes and a 120 mm RGB cooling fan. How does the new PALLAS 120 RGB perform, compared to other compact coolers?
Unboxing
The packaging has a lively and colorful design to match the RGB lighting of the cooler. Large photos of the PALLAS 120 RGB are at the front and top, which also highlights its 68 mm height.
If you do not need/want lighting on the cooler, there is another option with a simple non-RGB cooling fan. Detailed specification lists for both the PALLAS 120 RGB heatsink and the included fan are printed on the side of the box.
Inside the packaging, you can find the mounting system, which can support most modern CPU sockets. It is compatible with all Intel sockets from LGA 775 to LGA 2066, and all AMD sockets from FM2 to AM4. Tow pair of fan clips and a pack of thermal paste, as well as an installation guide are also included.
RAIJINTEK PALLAS 120 RGB CPU Cooler
The PALLAS 120 RGB's heatsink is coated with black paint completely to create a stealthy and stylish look. There are a total of six 6 mm heatpipes responsible to transfer the heat from the processor to the aluminium fin stack. The heatpipes are also bent into a "C" shape to allow the cooler to have a lower overall height (at 55 mm without fan).
The polished base will be making direct contact with CPU (CDC), and is made of copper.
The included fan is the Aeolus β-RGB, which is a ultra-slim 120 mm fan. The 13 mm thickness of the fan contributes to the compact size of the cooler. It has a total of 17 blades to push air through the heatsink, while ten RGB LEDs are located around the hub to provide the desired lighting effects.
The Aeolus fan can spin from 200 RPM to 1400 RPM, controlled via PWM. It is rated to last up to 40,000 hours.
The Aeolus fan requires two cable for both power and RGB lighting. There are a standard 4-pin PWM cable and a 12V 4-pin RGB header cable.
Review
We have updated our CPU cooler tests to more reflect real-world cooling performance of coolers.
Testing Methodology
To find out how the cooler performs, a total of two benchmarks are included. AIDA64 is used to run a CPU stress test. CPU, FPU and system cache are all stressed to create as much heat output as possible. Also, Cinebench R15 is used to simulate real-world CPU load (like video-editing or rendering). It will be run continuously for three times. The highest CPU package temperatures are recorded. Ambient temperature is around 26°C.
Results will be taken at a 50% fan speed and 100% speed, controlled via the motherboard CPU PWM fan header. Only the single-fan configuration of the cooler will be tested.
Performance
At both fan speeds, the PALLAS 120 RGB sat at 30°C at idle. The CPU package temperature reached 68°C at load in AIDA64 stress test, which was also the highest temperature among all our benchmarks. It dropped to 64°C when the fan was set to run at 100%.
Cinebench R15 produced less heat compared to the stress test. The PALLAS 120 RGB managed to hold the load temperature at 63°C and 62°C respectively. Ramping the cooling fan provided a 1°C improvement, about 1.59% better.
Comparison
[visualizer id="2873″]
The PALLAS 120 RGB has the largest temperature delta among the coolers we tested. This is as expected because of the much smaller heatsink area. Compared to the similar-sized cooler, such as the Noctua NH-L12S (its review here), the PALLAS 120 RGB averaged about 7°C higher.
RGB Lighting
Depending on what motherboard RGB software you are using, you may get different lighting effects and customization. You can choose from random, cycling, breathing and more. Please be reminded to use the 4-pin 12V RGB header, instead of a 3-pin 5V one.
Conclusion
The PALLAS 120 RGB performed adequately as a compact CPU cooler, which should be more than enough for a mid-tier processor with a lower heat output (around 65 W TDP), like an Intel Core i5 or AMD Ryzen 5. I would not recommend to use the cooler for an overclocked CPU. Installation is a bit too complicated, which involves a lot of small pieces.
The Aeolus fan ran smooth and quiet throughout the whole RPM ranges. The ten RGB LEDs around the motor hub creates a bright and vivid lighting effects, which supports most major motherboard manufacturers' control software.
To sum it up, the PALLAS 120 RGB is a great choice for small form factor PC build, because of its 68 mm height clearance. It costs $72.99 USD (MSRP), but is on sale for only $49.99 USD. I think the cooler is still worth considering if you can get it for a discount.
You can purchase the cooler from your local/online resellers or the links below from Newegg.
Thanks RAIJINTEK for providing us the PALLAS 120 RGB for review. (Review Sample)
Feel free to leave comments below, if you have any opinion about this website. Share the website around if you enjoy reading it. Subscribe to our Newsletter or follow our Twitter, Facebook and Instagram.
Support this website simply by shopping in Amazon and Newegg. It will give us small kickbacks, if you use the above affiliate links to make any purchases, which will help us grow.