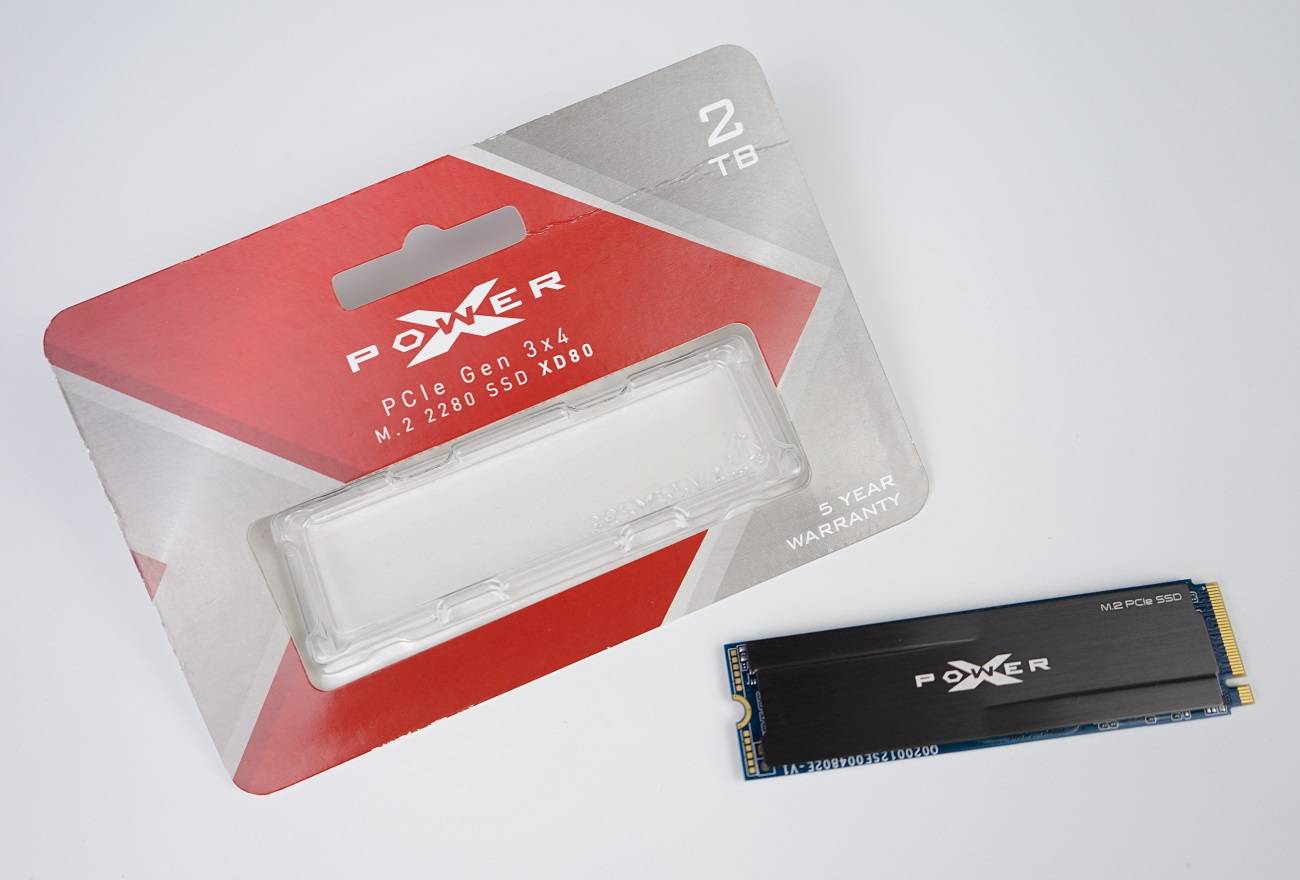 Silicon Power released the XD80 PCIe 3.0 NVMe SSD in April 2021, which is an update over the now more than 2-year-old P34A80. With an almost identical hardware specification, will the XD80 outperform the P34A80 in our benchmark results?
Specifications
[table id=445 /]
Same as the P34A80, the XD80 is only available in M.2 2280 form factor. You can choose to have capacity from 256 GB to 2 TB. Via the PCIe 3.0×4 interface, the SSD is said to have sequential read/write speeds up to 3400 MB/s and 3000 MB/s. Smaller-sized models will have slower write speeds, as low as 1100 MB/s. All drives are rated to have a MTBF of 2 million hours and write endurance from 200 TBW to 1600 TBW.
Unboxing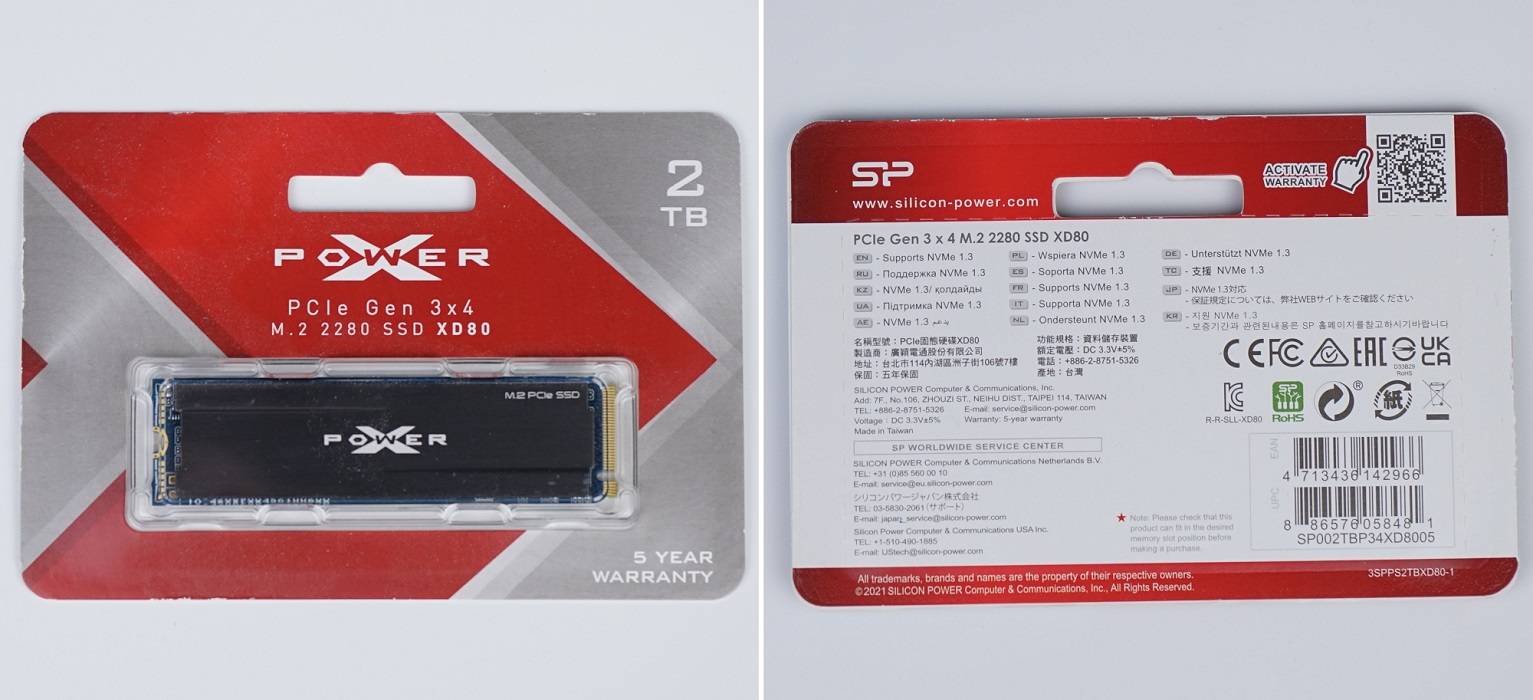 The overall packaging of the XD80 is extremely simple with a cardboard and plastic clamshell. There is not much information, other than the contact details for Silicon Power's service center.
Silicon Power XD80 PCIe NVMe SSD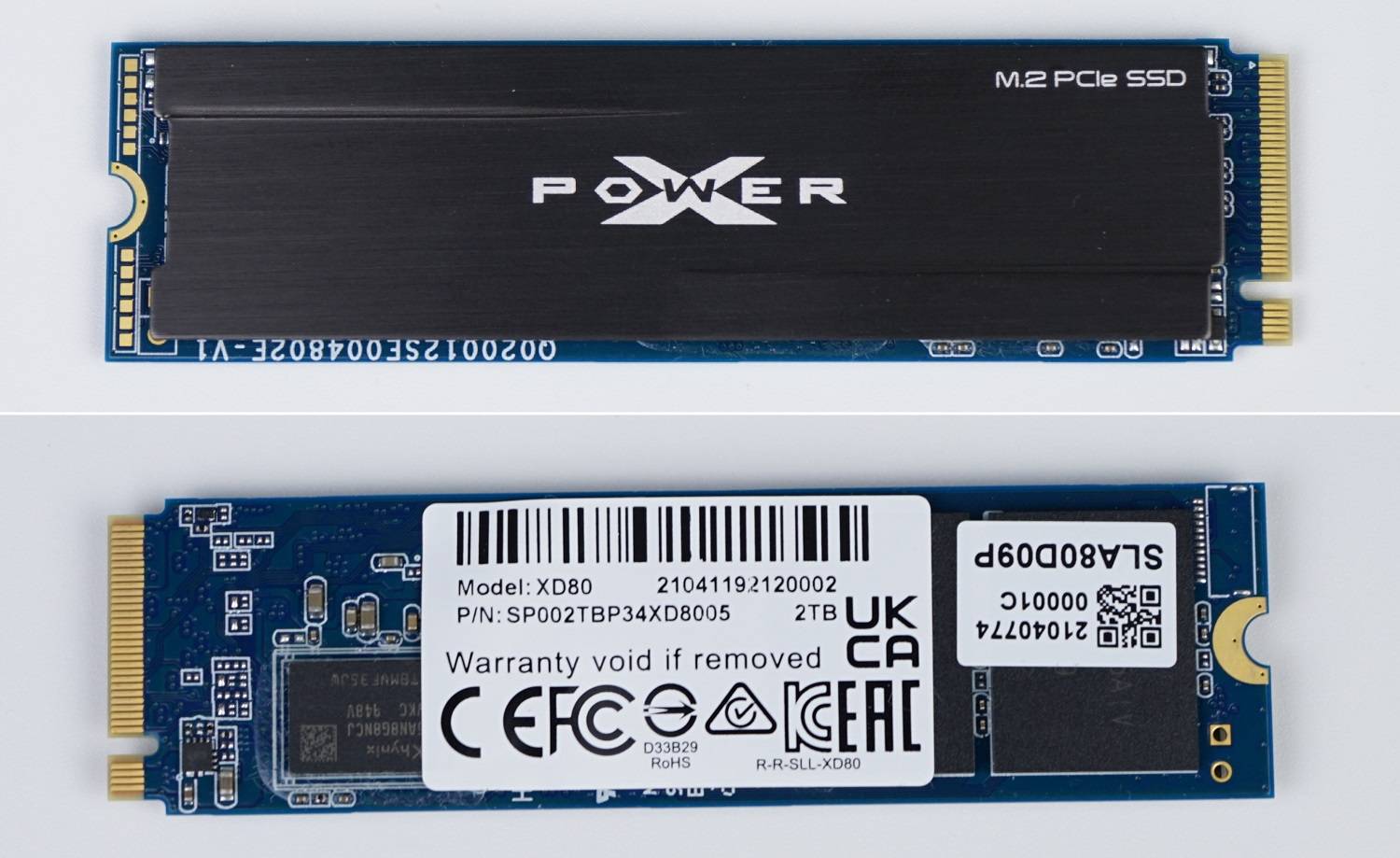 Our 2 TB XD80 sample has a part number of SP002TBP34XD8005. Both sides of the blue printed circuit board (PCB) are occupied by the components. A thin aluminum heatsink is installed on the top of the drive for better heat dissipation, when under intense load. The white sticker at the back contains information, like model name and serial number.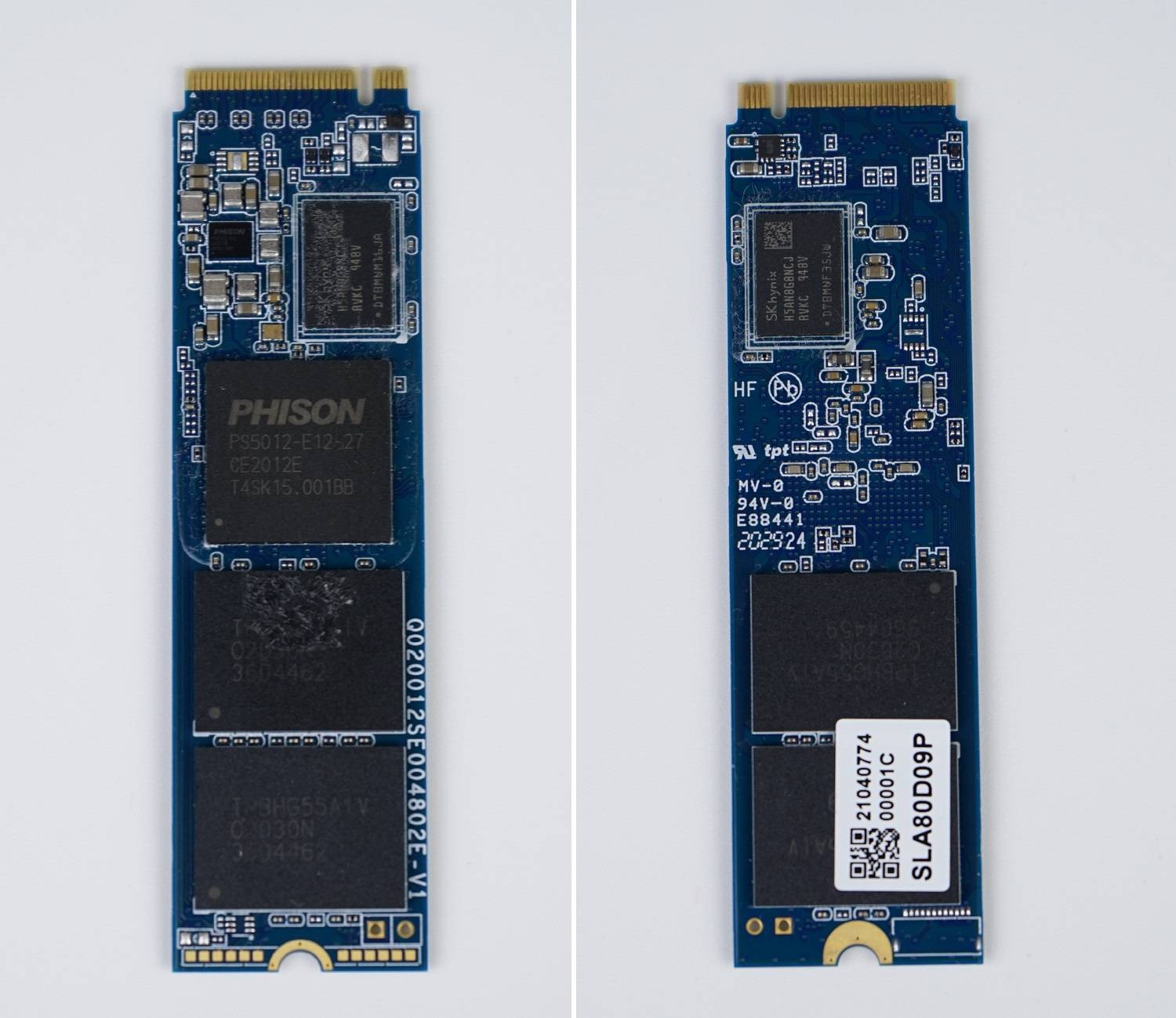 The XD80 is powered by the Phsion PS5012-E12 memory controller, which is an unsurprising choice for a PCIe Gen 3 SSD. A single 8 Gb/1 GB DDR4-2666 DRAM chip from SK hynix (H5AN8G8NCJR) and two 64-Layer BiCS3 3D TLC NAND flash modules from KIOXIA (TPBHG55AIV) are fitted on each side of the PCB.
This is where I got a bit confused. I originally thought the XD80 drives will all use the newer, higher-density 96-Layer BiSC4 NAND flash. But our particular sample is equipped with the 64-Layer BiCS3 NAND flash. A quick google search finds that other tech review sites' XD80 samples do have the BiSC4 NAND flash installed (e.g. Guru3D, NikkTech and TechPowerUp). On their 2 TB drives, the PCB is single-sided and has the smaller PS5012-E12S controller. They do have a different part/lot number of SLA80D29P, instead of SLA80D09P, if you want to distinguish between the two versions.
I understand that manufacturers sometimes need to switch or mix components on an existing SSD model, due to part availability and cost constraint. Personally, I am fine with different capacity drives having different components, as long as they meet the advertised performance and are clearly-labeled on the product itself. For the XD80, I think Silicon Power should inform the customer better by having a notice on the product page.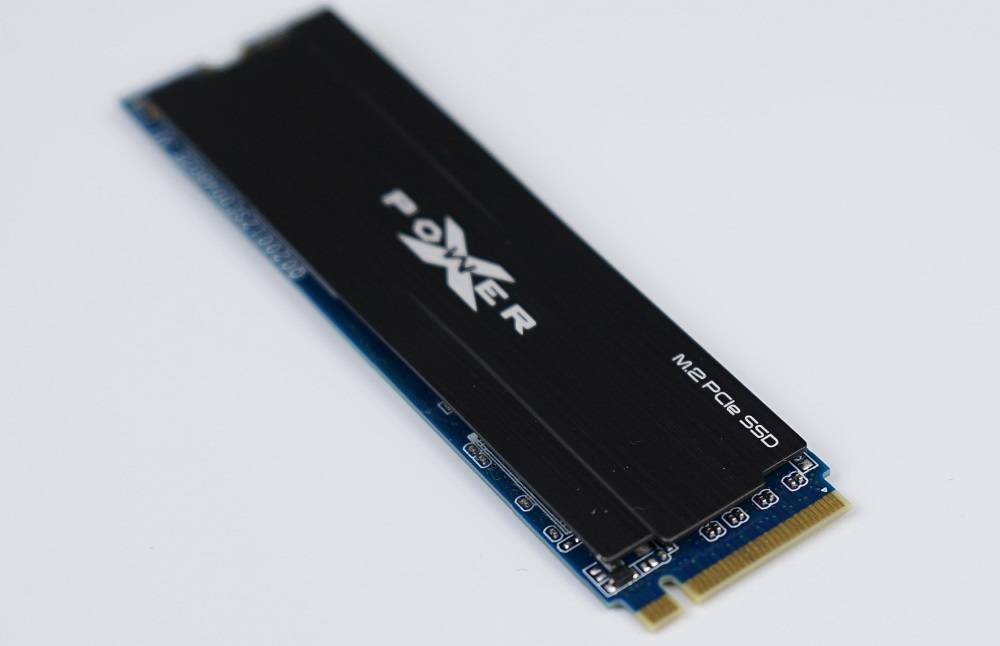 The M.2 (M-Key) connector at the end can allow a maximum theoretical bandwidth of up to 32 GT/s or 3.94 GB/s.
Review
Testing Methodology
To test the performance of the solid-state drive, we use four well-established storage benchmarking software. They are CrystalDiskMark, ATTO Disk Benchmark, AS SSD Benchmark, as well as HD Tune Pro.
CrystalDiskMark can measure both sequential and random 4KB read/write speeds with a queue depth of 32. ATTO Disk Benchmark can test how the drive performs across different transfer block sizes, mostly in a sequential environment. AS SSD Benchmark can provide both normal read/write speed and the IOPS performance of the drive. HD Tune Pro can be used to simulate a large file transfer of up to 100 GB.
We also recorded the time to copy three files of 10 GB, 500 MB and 250 MB from a RAM disk to the SSD, to simulate a real-world situation.
Performance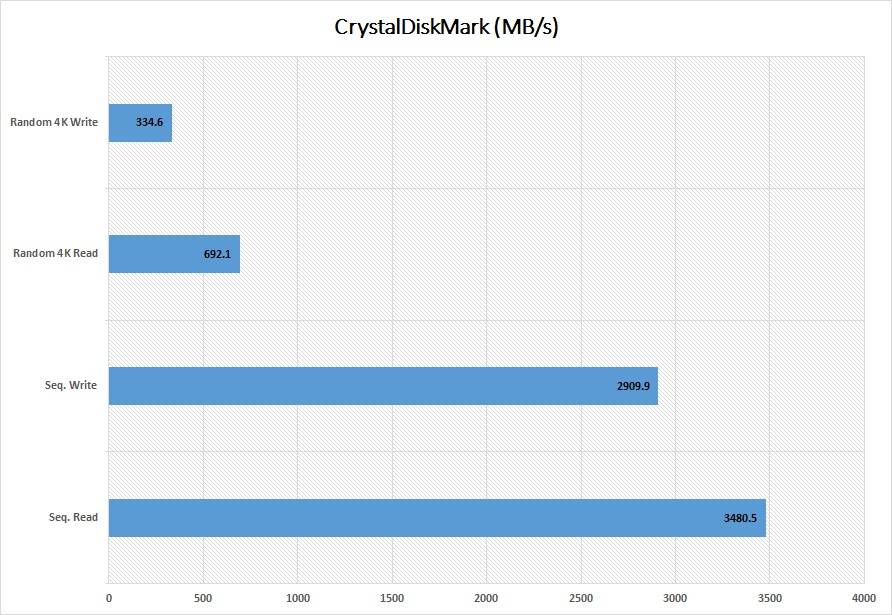 The XD80 was able to have sequential read/write speeds at around 3480 MB/s and 2910 MB/s in CrystalDiskMark. Random 4K operations at queue depth 32 lowered the speeds to 690 MB/s and 330 MB/s.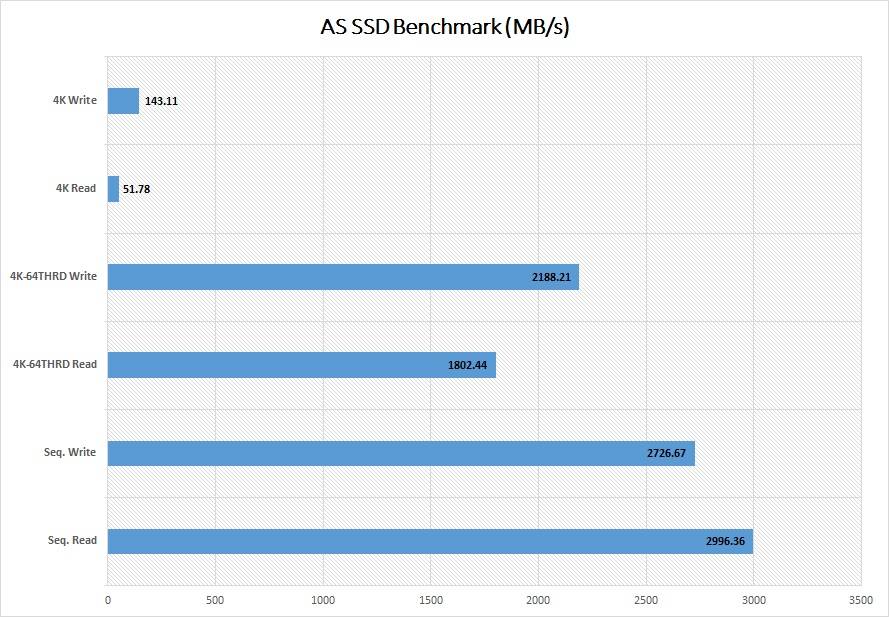 Sequential performance was slower in AS SSD Benchmark, at about 3000 MB/s for read and 2730 MB/s for write. Higher random 4K speeds were observed at 1800 MB/s and 2190 MB/s, when queue depth increased to 64.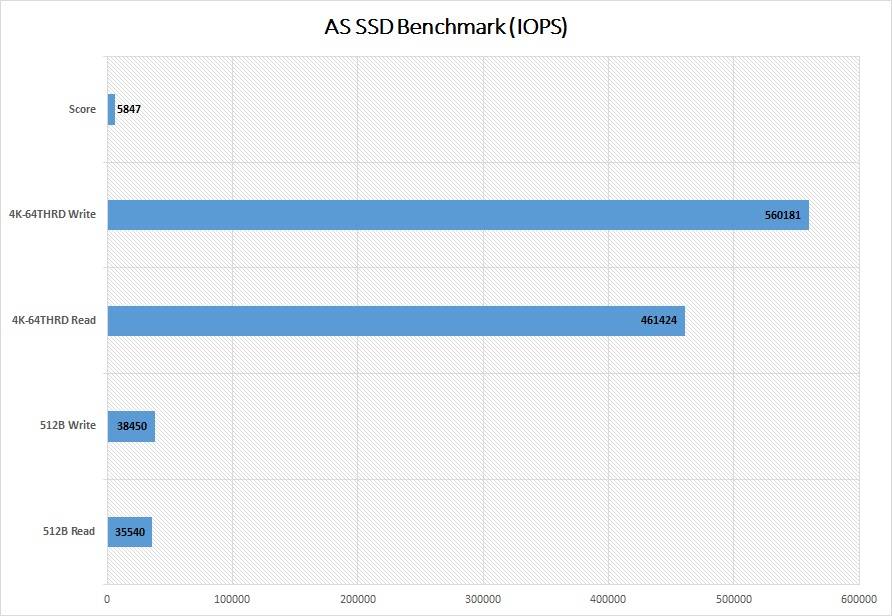 IOPS number represents how well a drive handles random input and output operations. The XD80 scored 5847 in the benchmark. It reached 461424 IOPS for read and 560181 IOPS for write.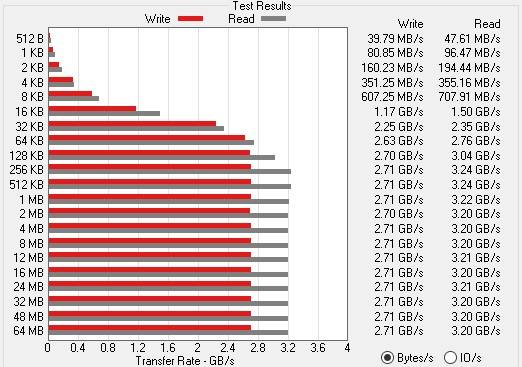 Speeds plateaued after the test file size increased to 128 KB. It was able to achieve read/write speeds at 3200 MB/s and 2710 MB/s in ATTO Disk Benchmark.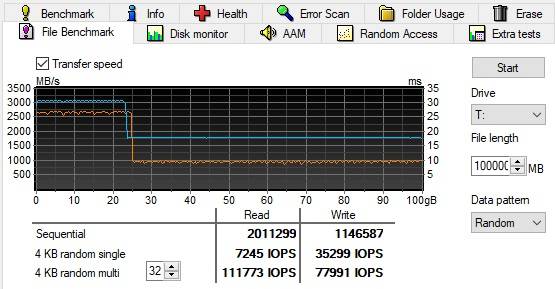 Despite the larger capacity at 2 TB, the XD80 does not seem to have allocated more storage space for the pseudo-SLC cache, which is only about 25 GB big. In HD Tune Pro's 100 GB test, the sequential write speed dropped from 3000 MB/s down to 1700 MB/s, once the SLC cache is saturated.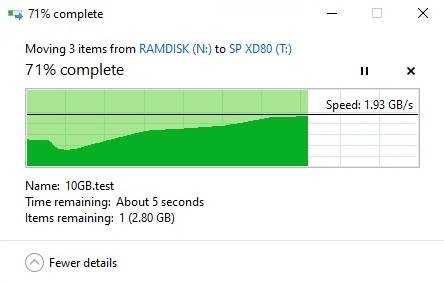 The SSD took approximately 5.75 seconds to complete the copying of three files, sized around 15 GB. The write speed topped out at about 1.93 GB/s during the transfer.
Comparison
[visualizer id="2840″ lazy="no" class=""]
[visualizer id="2842″ lazy="no" class=""]
[visualizer id="4796″ lazy="no" class=""]
In spite of the identical memory controller and NAND flash, the XD80 managed to beat the P34A80 in AS SSD Benchmark with about 481 MB/s and 255 MB/s higher sequential read/write speeds. But it is slightly slower in writing large-sized file, losing in HD Tune Pro. The XD80 has comparable overall performance to other similarly-spec'd PCIe 3.0 SSDs, such as the OWC Aura P12 and Sabrent Rocket, but with inferior random 4K write and sustained write speeds.
Conclusion
As a whole, the Silicon Power XD80 is a decent PCIe Gen 3 SSD with adequate read/write speeds for most users. The smaller SLC cache does affect its ability to be as quick when transferring huge files. I was unable to know whether there is any noticeable difference in performance on the 96-Layer BiCS4 NAND flash-equipped version. Again, it would be way better if Silicon Power can maintain component consistency at least in the same capacity SKU to prevent future customers' confusions and frustrations.
The XD80 costs $197.99 USD (MSRP) for the 2 TB model, also provided with a 5-year warranty. At the moment of this review, this price is similar as other competitors in the market. For comparison, the Sabrent Rocket, Western Digital SN750 and Samsung 970 EVO PLUS are all priced at $199.99 USD (MSRP), but the XD80 has stronger endurance rating than the SN750 and 970 EVO PLUS (1600 TBW vs 1200 TBW).
The 512 GB and 1 TB versions of the XD80 are priced at $68.99 USD and $102.99 USD (MSRP).
You can purchase the SSD from your local/online retailers or the links below from Amazon and Newegg.
Thanks Silicon Power for providing the SSD for review. (Review Sample)
Feel free to leave comments below. Share the article if you enjoy reading it. Follow us on Twitter, Facebook, Instagram and Pinterest.
Support this website simply by shopping on Amazon and Newegg. We will receive small kickbacks, if the above affiliate links are used to make any purchases. Or you can directly donate to us via our Buy Me a Coffee page.