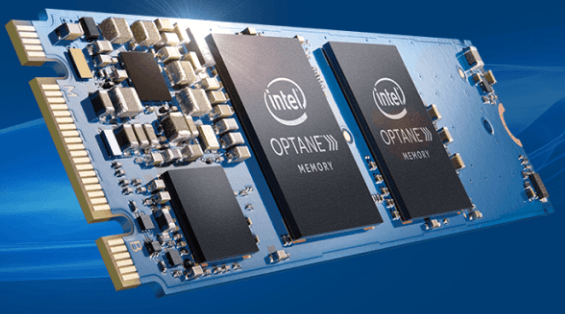 When Intel introduced the Optane Memory to the public in April 2017, people became confused about what is the use of this new type of memory. The memory module uses a normal M.2 slot on a motherboard, but with only up to 32GB of storage. Why do we need this Optane memory, if we can get a 2TB M.2 NVMe SSD? What is it?
Intel Smart Response Technology (SRT)
This is one of the features from Intel's Rapid Storage Technology (RST) that allow users to create a dynamic SSD cache for the slower HDD in the system. It requires at least two drives or a solid-state hybrid drive (SSHD). The technology will store and access frequently used data from the faster SSD based on users' activities. It helps limit the bottleneck of the HDDs' low read speed, and accelerate programs' load time.
Optane Memory
In a lot of ways, current Optane memory modules are using a similar principle as the Intel SRT. The Optane memory will act as a low capacity, fast cache for the hard disk drives. However, Optane is not just an ordinary cache drive. It is based on Intel's latest storage technology, called 3D XPoint.
3D XPoint is a new storage media that uses a three-dimensional structure to allow much faster performance and lower latency than traditional NAND flash on SSD. 3D XPoint can both be system memory and long-term storage. That is why Intel is trying to deploy 3D XPoint DIMMs in server environment to replace DRAM for its slightly higher latency but bigger capacity. Unlike DRAM, 3D XPoint is a non-volatile memory that keep stored data intact after the power is off.
How to use Optane Memory
What Intel is offering right now (2017) with the Optane Memory module is assisting the slower mechanical hard drives in your system. It will be act as a cache drive between your CPU cache, DRAM and normal hard drives, with a capacity of 16GB or 32GB.
After you install the memory into the M.2 slot, the system will start detecting any patterns of your usage. Frequently accessed data will be stored into the Optane memory automatically without any user's intervention. You cannot choose which programs to be put in the memory. According to most online reviews, Optane memory can improve boot up and programs load time, as well as overall system responsiveness.
Intel also introduces a high capacity Optane SSD for data centers, the P4800X Series. It is also made out of 3D XPoint memory. It can store up to 375GB of data and costs over $1000 USD.
Minimum Requirements
An Optane Memory Module has a form of a normal M.2 2280 (80 mm long) SSD. It uses the same M.2 slot on the motherboard. Unfortunately, not all motherboard chipsets are compatible with Optane memory. Only the latest 200 series chipset paired with the 7th Generation Core-i series processors can be used (Z270, Q270, H270, Q250, B250, C236). A Windows 10 operating system is also a must.
Intel's Optane Memory is good for new budget PC builds, which people can purchase a hard drive and Optane memory module now for better storage performance. The technology may not seem promising for consumers at this point, but with constant development and reduced manufacturing costs, 3D XPoint and Optane Memory are going to change how we handle our computers' storage.
Feel free to leave comments below, if you have any opinion about this website. Share the website around if you enjoy reading it. Subscribe to our Newsletter or follow our Google+, Facebook and Twitter.
Support this website simply by shopping in Amazon. It will give us small kickbacks, if you use the above affiliate links to make any purchases, which will help us grow.