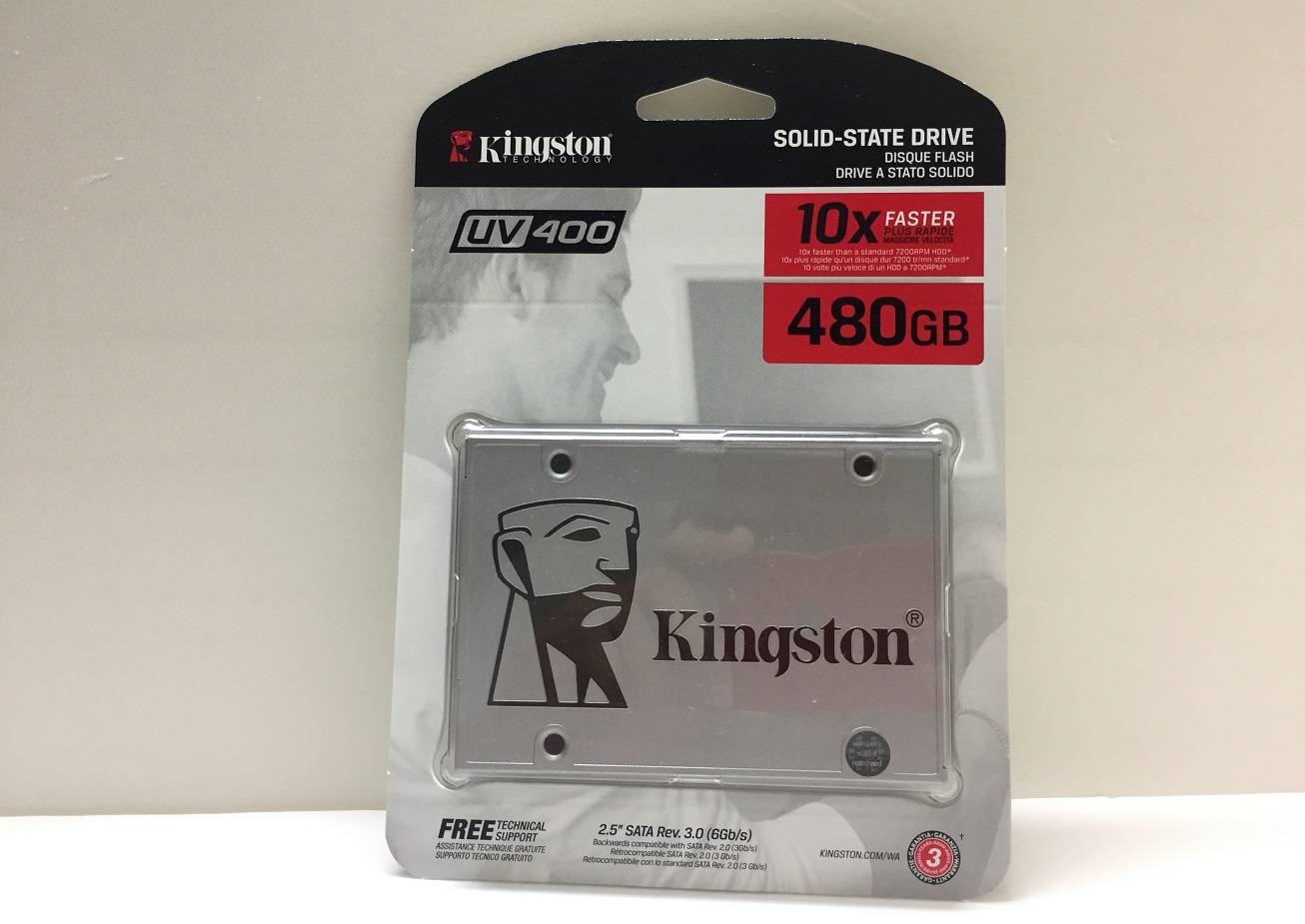 Although NVMe solid-state drives, like the ZOTAC SONIX PCIe SSD, can achieve insanely fast speed in reading/writing data, they often come with a much higher price tag. You can get less storage capacity in the same amount of money. To strike a balance between performance and size, a normal SATA SSD is a great option. This time, we are taking a look at the Kingston UV400 480GB SSD.
Kingston:
IT DRAMATICALLY IMPROVES THE RESPONSIVENESS OF YOUR EXISTING SYSTEM AND IS 10 TIMES FASTER THAN A 7200RPM HARD DRIVE…
Specifications
The UV400 is the "mid-range" SSD in Kingston's consumer lineup, providing storage capacities from 120GB up to 960GB. It is advertised to reach 550 MB/s and 500 MB/s in sequential read and write operations respectively.
Unboxing
Instead of coming in a solid cardboard box, the Kingston UV400 SSD is delivered in a paper blister pack. This is not as elegant as using a reusable box, but at least it is not the frustrating and "dangerous" plastic packages.
All information and features of the SSD is also printed on both sides of the package, such as the storage capacity and the "10 times faster than HDD" claim.
There are openings in each side, that let you put your thumb in and separate the SSD from the package without the need of any tools.
Kingston UV400 SATA SSD
The UV400 SSD is using the standard 2.5-inch form factor. Its dimensions are at 100.0 mm x 69.9 mm x 7.0 mm. The outer shell is made of aluminum, which feels very solid. You get a huge Kingston logo, covering most area at the front.
At the back, only a small label, with all the model/serial numbers, drive capacity and different certifications, is found.
There are standard 2.5-inch drive's mounting holes at both the sides and the back.
The SATA 3.0 (6 Gb/s) data and power connectors are located at the top.
Review
Testing Medathology
To test the performance of the solid-state drive, I uses three well-established storage benchmarking softwares. They are CrystalDiskMark, ATTO Disk Benchmark, as well as AS SSD Benchmark.
CrystalDiskMark can measure both sequential and random 4KB read/write speeds with a queue depth of 32. ATTO Disk Benchmark can test how the drive performs across different transfer block sizes, mostly in a sequential environment. AS SSD Benchmark can provide both normal read/write speed and the IOPS performance of the drive.
Performance
The Kingston UV400 SSD did exceptionally well in our tests, as expected. It reached 531.2 MB/s and 520.2 MB/s in sequential read/write in CrystalDiskMark. The performance is similar to what Kingston advertised. Even in 4K random read/write, the UV400 still maintained most of its speed, at around 350 MB/s.
We got similar results in AS SSD Benchmark. The UV400 did slightly worse in sequential write, dipping below 500 MB/s. In 4K random (queue depth of 64), the SSD dropped to about 310 MB/s in both read and write.
IOPS number represents how well a drive handles input and output operations. The Kingston UV400 SSD scored 1059 in IOPS benchmark. It maxed out at 79,656 and 78,700 IOPS in 4KB (Queue depth 64) read and write operations.
For reference, a traditional hard drive (with spinning disks) will have IOPS number of a few hundred at best.
In ATTO Disk Benchmark, the SSD's performance became stabilized at around 500 MB/s in both read and write, once the transfer size was over 16 KB. It topped out at 562 MB/s (read) and 511 MB/s (write).
Conclusion
The Kingston UV400 SSD was launched to provide an "Ultra-Value" but fast storage to consumers. In the performance side, the UV400 is able to deliver decent speed in both read and write operations, up above 500 MB/s. If you are replacing an traditional hard drive with this SSD, it is a no-brainer. You will definitely feel the speed improvement, whether in boot-up time and operating system's responsiveness. However, when comparing with other similarly-priced TLC SSDs in the market, Samsung's and Western Digital's drives do offer slightly better performance.
The UV400 SSD was originally priced at similar to other budget SSDs, and with a 3-year warranty by Kingston, back when its launch in 2016. The price was relatively competitive, and offered great value in the market. Due to the shortage in NAND flash around the globe, every SSD costs a lot more than its suggested retail price. There are cheaper options you can purchase with similar performance for now, but the UV400 SSD is not a bad choice at all.
You can purchase the SSD from your local/online resellers or the links below from Amazon.
Thanks Kingston for providing us the UV400 SSD for review. (Review Sample)
Feel free to leave comments below, if you have any opinion about this website. Share the website around if you enjoy reading it. Subscribe to our Newsletter or follow our Google+, Facebook and Twitter.
Support this website simply by shopping in Amazon. It will give us small kickbacks, if you use the above affiliate links to make any purchases, which will help us grow.