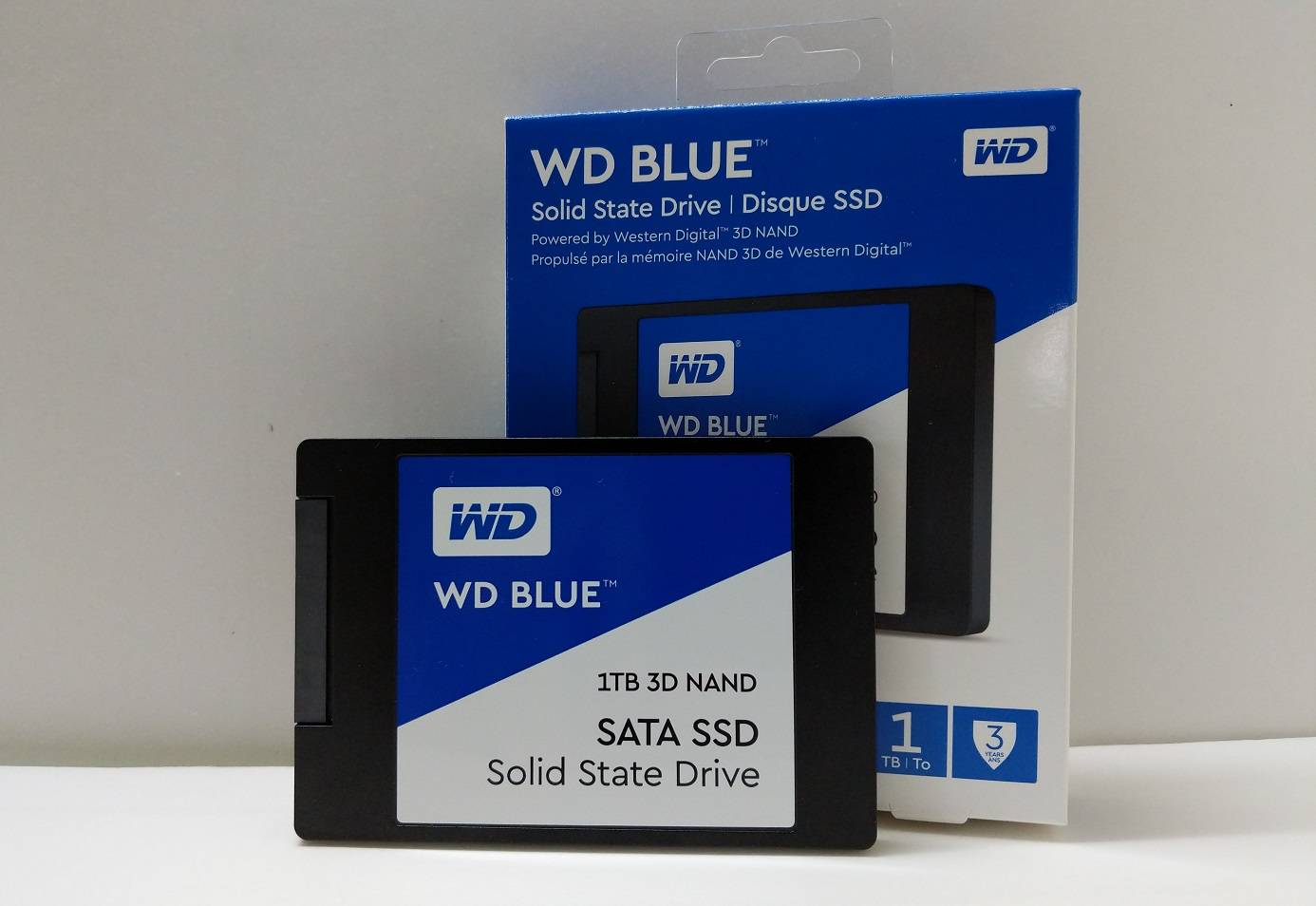 Western Digital launched its first consumer solid-state drive in 2016, after the acquisition of SanDisk. The second generation WD Blue SATA SSD is updated to use the industry-leading 64-layer 3D NAND flash, that should provide a more affordable and durable product for consumers to choose from.
Specifications
The WD Blue 3D NAND SSD offers either the traditional 2.5-inch or the M.2 2280 form factor, but both of them runs on the SATA 3.0 (6 Gb/s) interface. The drive's capacity ranges from 250 GB to 2 TB, with 64-layer 3D TLC NAND flash. The SSD is advertised to have read and write performance up to 560 MB/s and 530 MB/s respectively.
What is 3D NAND?
As solid-state drives are becoming mainstream after years of development, larger capacity drives are demanded, but the existing 2D (planar) NAND flash is already reaching its physical limit. To expand the storage capacity of SSDs, engineers will need to stack layers of flash cells on top of each other (vertically), which can create a denser and faster, yet cheaper NAND flash.
Unboxing
The SSD comes in a tiny box with the signature "BLUE" color and Western Digital's logo. At the front, all important information, such as the capacity, performance and warranty, are clearly printed. There is a rectangle cutout to see the serial number of the drive.
The side of the box shows the model name of the product. (WD Blue 3D NAND SATA SSD)
The WD Blue SSD is sitting inside a hard plastic tray, protected in a transparent bag.
Along with the drive is the warranty guide, with contacts for technical support in different areas.
Review
The WD Blue 3D NAND SSD is using the 2.5-inch enclosure with a thickness of  7 mm. Both sides have a large stickers written with model name/number, serial number and all the required labels. The top panel is made of plastic, while the bottom one is aluminium.
The standard 2.5-inch hard drive mounting holes, and the SATA 3.0 (6 Gb/s) connector.
Internals
The 1 TB version of the WD Blue 3D NAND SSD has a printed circuit board (PCB), that covers the full length of the enclosure. Only one side of the PCB is installed with components. You can see eight identical 3D TLC NAND packages manufactured by SanDisk. Each package holds 128 GB of data, giving the drive a total of 8×128=1024 GB (1 TB) of storage capacity.
On the left, there is the Marvel 4-channel controller, and a SLC cache below it.
Western Digital also adds a thermal pad to the controller, allowing it to make contact with the aluminium enclosure for some passive cooling.
Testing Methodology
To test the performance of the solid-state drive, I uses three well-established storage benchmarking software. They are CrystalDiskMark, ATTO Disk Benchmark, as well as AS SSD Benchmark.
CrystalDiskMark can measure both sequential and random 4KB read/write speeds with a queue depth of 32. ATTO Disk Benchmark can test how the drive performs across different transfer block sizes, mostly in a sequential environment. AS SSD Benchmark can provide both normal read/write speed and the IOPS performance of the drive.
Performance
Unsurprisingly, the WD Blue 3D NAND SSD reached the identical sequential performance as advertised in CrystalDiskMark, over 560 MB/s at read and 530 MB/s at write. At 4K random read/write, the drive maintained about 70% of the speed at around 350 MB/s to 380 MB/s.
However, in AS SSD Benchmark, the SSD could not achieve the same speed in sequential read/write test, dropping to around 480 MB/s. If I configure the test size to 3GB, the sequential read/write speed would increase to about 520 MB/s. Though, the drive had results similar to CrystalDiskMark, with write performance decrease by about 20 MB/s.
IOPS number represents how well a drive handles input and output operations. The WD Blue SSD scored 1196 in IOPS benchmark. It reached 95600 IOPS and 83080 IOPS in 4K-64THRD (Queue depth of 64) read and write test respectively.
In ATTO Disk Benchmark, you could see consistent performance of over 500 MB/s read and write speed, once the transfer file size increased to 128 KB or larger. It maxed out at 563.9 MB/s in read, and 532.1 MB/s in write.
Comparison
[visualizer id="2840″]
[visualizer id="2842″]
Conclusion
The Western Digital Blue 3D NAND SATA SSD is the "mid-range" solid-state storage solution in their lineup, between the Green and Black series. With the newly implemented 64-layer 3D NAND flash technology, the SSD can reach storage capacity up to 2 TB and a MTBF at 1,750,000 hours. The M.2 2280 form factor is also available for easier installation, which is especially helpful in laptops.
The SSD can deliver promising transfer speed in both read and write operations, over 560 MB/s and 530 MB/s. The NAND flash has much more potential, but is limited by the old SATA interface. The SSD is on par with other 3D NAND SSDs in the market, while outperforming older 2D NAND drives.
Moreover, the WD Blue 3D NAND SSD is priced similar to other solid-state drives with 3D NAND from Crucial and SanDisk, but with slightly better performance (Crucial MX300: 530 MB/s in read, 510 MB/s in write). The drive will certainly be a great storage option, with higher capacity, faster performance and improved power efficiency.
You can purchase the SSD from your local/online resellers or the links below from Amazon.
Thanks Western Digital for providing us the SSD for review. (Review Sample)
Feel free to leave comments below, if you have any opinion about this website. Share the website around if you enjoy reading it. Subscribe to our Newsletter or follow our Google+, Facebook and Twitter.
Support this website simply by shopping in Amazon. It will give us small kickbacks, if you use the above affiliate links to make any purchases, which will help us grow.