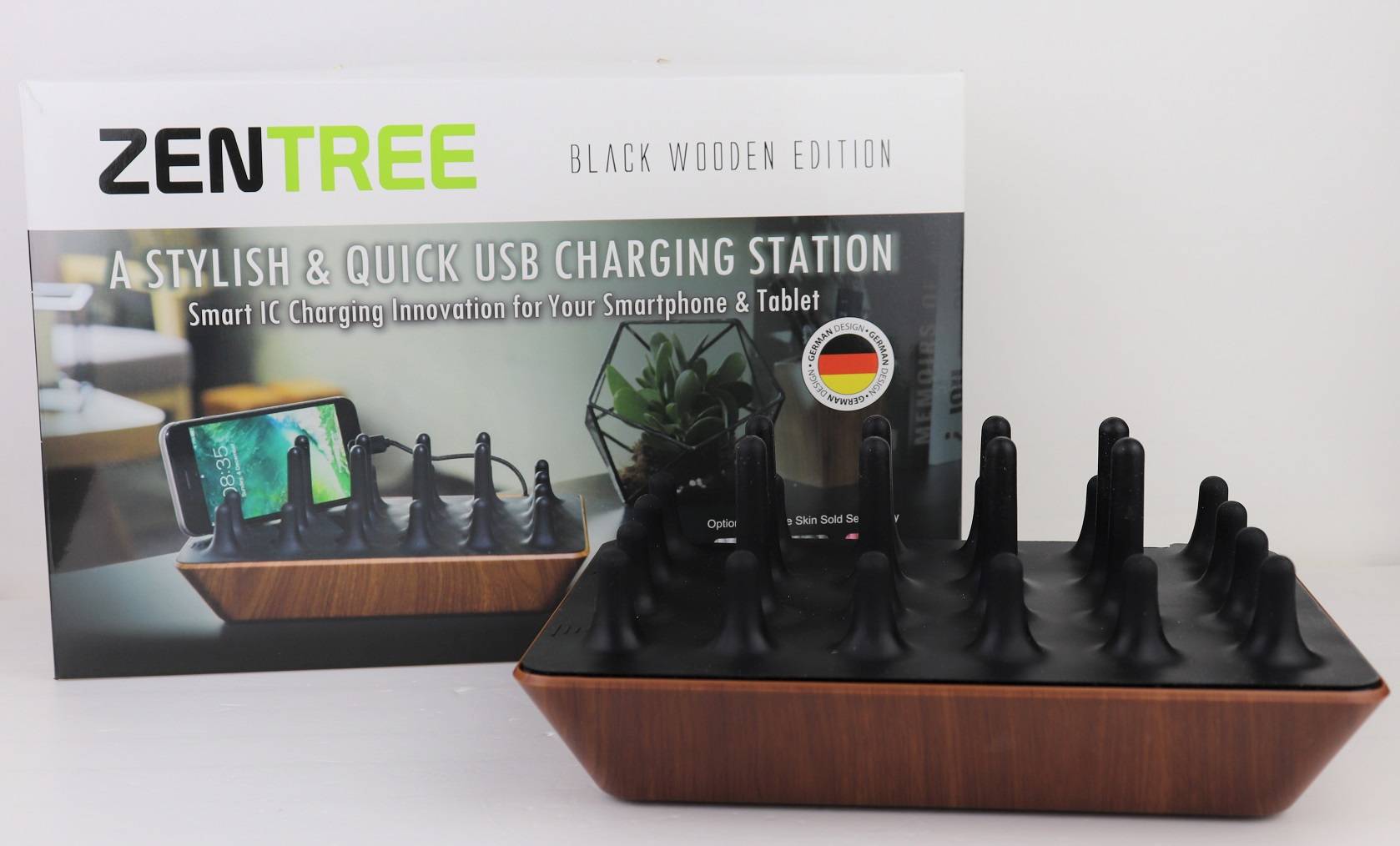 GELID is known for making cooling products for computers. We previously reviewed some of their CPU coolers and fans. Surprisingly, GELID also has the ZENTREE USB charging station in their product lineup, which can simultaneously charge up to four devices.
Unboxing
Both sides of the packaging have photos showing how the ZENTREE USB charging station works. A number of outstanding features are mentioned at the back, as well as a short paragraph of description.
On the side of the box are a couple lists of the specifications of the charging station and the included accessories. Our black wooden edition has a model number of PC-CH02-B. We took so much time to complete this review, that GELID has introduced a newer model, named ZENTREE Marble.
You will receive a Thank You/Support card and a set up guide in the box. Four short 0.4 m micro-USB cables and a AC power cord are included, along with two plastic cable holders.
GELID ZENTREE Black Wooden Edition Charging Station
The ZENTREE charging station is dominated by the unique and innovative "3D-tree array", which is designed to hold multiple devices in different sizes and thicknesses. The station has a length of 224 mm, width of 159 mm and height of 95 mm. It weighs in at around 590 grams. There are a total of 16 shorter "trees" and 8 taller "trees" on top. Four rubber feet are located on the bottom, while the power port is at the back side.
The grippy silicone skin is installed over the glossy top cover, which primarily makes contact with the charging devices. There are different colored silicone skins available to purchase.
The brain of the charging station is the four USB Type-A ports under the cover. All ports combined can provide up to 48 watts of power to the devices, where each of them can output up to 5V and 2.4A. They are also controlled by what GELID calls "Smart IC" technology, which it will automatically adjust the required current for each device and prevent over-charging. Standard safety features, like surge, short-circuit and over-temperature protections, are in place.
Unfortunately, the ZENTREE USB Charging Station Black Wooden Edition does not support any sort of fast-charging protocols, such as USB Power Delivery (USB-PD) or Qualcomm Quick Charge (QC). However, the newest model, ZENTREE Marble, will support QC 3.0 and USB-PD (18W).
Review
You can put almost any kinds of devices on the ZENTREE charging station. The differences in heights between the "3D-tree array" can accommodate the sizes and orientations of the devices. It also has sufficient space to fit up to four gadgets, that needed power, albeit not all can be large tablets.
Two cutouts can be found on both the top cover and the silicone skin for the four cables to pass through easily. This allows for much cleaner cable management.
Our black wooden edition has a "wooden" finish on the enclosure, which is not made from actual wood. The plastic shell has wood grain-like patterns on the outside.
Conclusion
The GELID ZENTREE USB Charging Station is a great option to centralize all your devices into one location for charging. In this day and age, it is common to see people carrying a smartphone and a tablet around. The ability to charge up to four devices at once is awesome and convenient.
I would hope the ZENTREE Black Wooden Edition have the support for either USB-PD or Qualcomm Quick Charge, but GELID fixed it with the latest Marble edition. Overall, the charging speed of the ZENTREE is acceptable.
The charging station is priced at $55 USD (MSRP) with a 2-year warranty. Similar options in the market are priced around $40 USD to $60 USD, which most of them have exposed USB ports on the outside. The implementation of the ZENTREE offers a tidier cable management and look.
You can purchase the charging station from your local/online resellers.
Thanks GELID for providing us the charging station for review. (Review Sample)
Feel free to leave comments below, if you have any opinion about this website. Share the website around if you enjoy reading it. Subscribe to our Newsletter or follow our Twitter, Facebook and Instagram.
Support this website simply by shopping in Amazon and Newegg. It will give us small kickbacks, if you use the above affiliate links to make any purchases, which will help us grow.