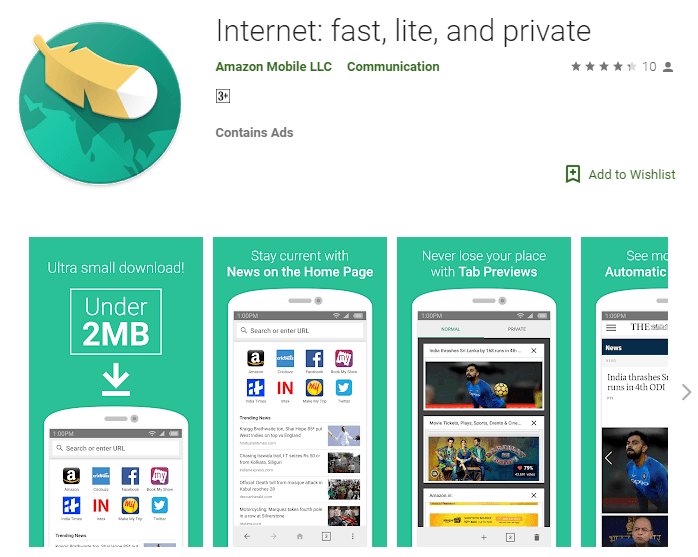 Reported by TechCrunch earlier, Amazon has launched a new lightweight mobile browser app for Android users, called "Internet". The app has left unnoticed in the Google Play Store since 20 March, as Amazon did not have any official announcement about its launch. The browser is available for download, but only in India currently.
"Internet" is designed to be used in locations, where the speed, access and usage of Internet are rather limited. It follows the industry trend of making mobile applications smaller in size and consume less data, like Google Go series apps and Facebook Lite. In comparison, Google Chrome for Android can take up to 100 MB, and Firefox Browser for Android needs around 20-40 MB (yours may vary for different devices). Surprisingly, Amazon's Internet only requires around 2 MB.
The app should provide most basic functions from its competitors, such as tabs and private mode. It can support devices running on Android 5.0 Lollipop or higher. It should expect to be well-optimized for slower, older generation devices with less RAM and storage space.
Not much information is released by Amazon. "Internet" may be an India-exclusive app, where the Internet infrastructure leaves a lot to be desired. The question of whether the app will be available in other countries in the world is yet to know.
Feel free to leave comments below, if you have any opinion about this website. Share the website around if you enjoy reading it. Subscribe to our Newsletter or follow our Google+, Facebook and Twitter.
Support this website simply by shopping in Amazon. It will give us small kickbacks, if you use the above affiliate links to make any purchases, which will help us grow.