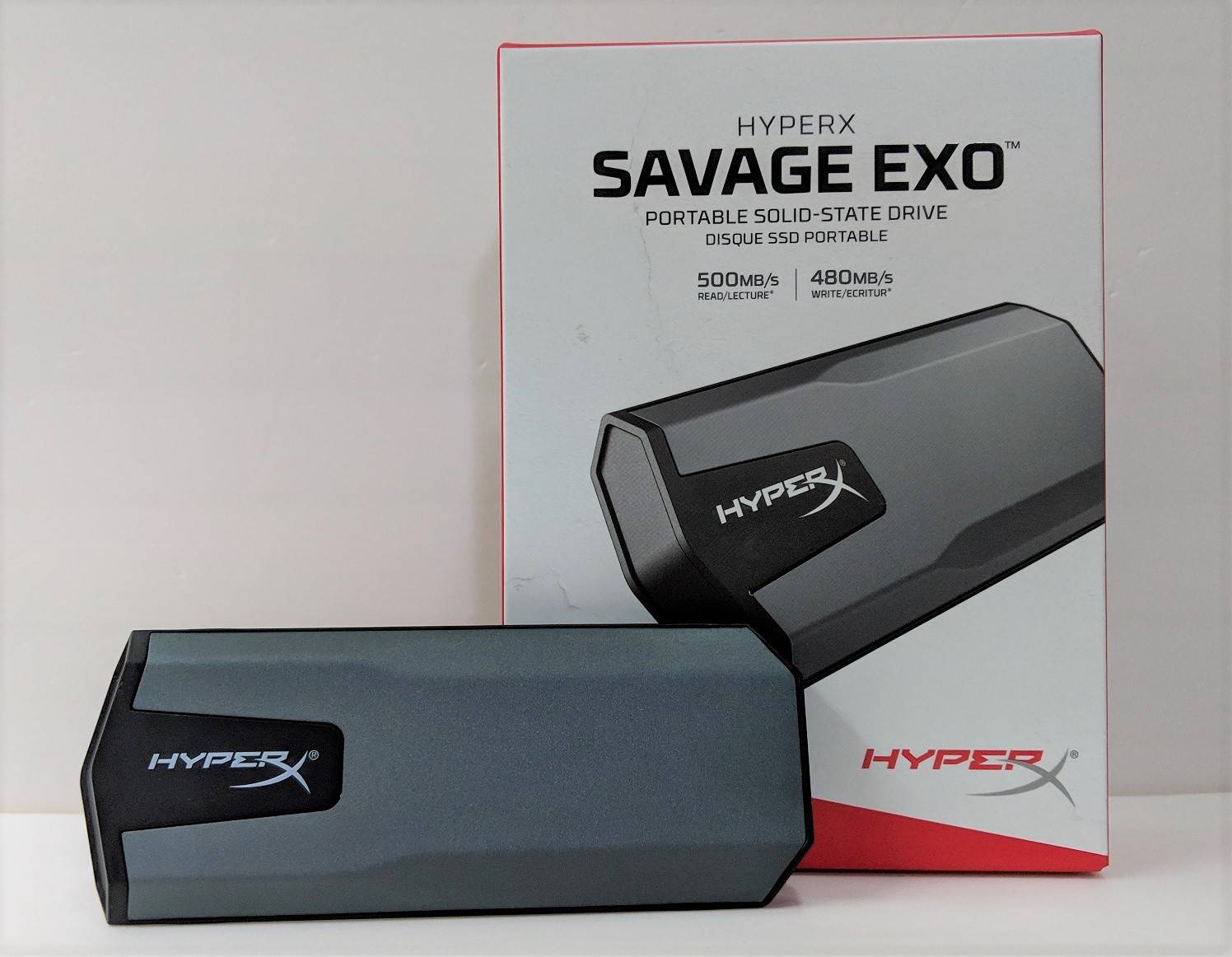 Due to limited internal space in current day's laptops and mobile devices, it is popular for users to carry around an external hard drive for data storage and backup. However, traditional hard disk drives are too slow to transfer larger files on a daily basis. That's why something like the HyperX SAVAGE EXO external SSD comes into play.
Specifications
The SAVAGE EXO is using the USB 3.1 Gen 2 interface for file transmission via the USB Type-C port. It can have sequential read and write speeds at up to 500 MB/s and 480 MB/s respectively. You can choose between 480 GB and 960 GB for capacity.
Unboxing
The SAVAGE EXO's packaging sports the newer HyperX design, with white background and red accents around. You can see a photo of the SSD on the front, as well as the advertised read/write speeds and compatible operating systems/devices.
At the back, a tiny opening is used to show the stickers on the SSD, which contains the model number, serial number and capacity information. There is a short slogan, "SSD SPEED ON THE GO.", in different languages.
On the sides, you get to know the SSD not only supports Microsoft Windows, Apple macOS and Linux, but also gaming consoles like Sony Playstation 4 and Microsoft Xbox One.
Apart from the SAVAGE EXO itself, there are the HyperX's Thank You and Support cards. HyperX is kind enough to include both a USB Type-A to Type-C cable and a USB Type-C to Type-C cable. You do not have to purchase an extra cable, if your devices do not have an available USB-C port.
HyperX SAVAGE EXO External SSD
The SAVAGE EXO SSD is using a sandwich construction method, with two gunmetal aluminium plates at the top/bottom and a plastic middle frame. It is shaped like a stretched pentagon.
The overall design is simple and compact, which weights only 56 grams. Apart from the HyperX logo and the information sticker, there is nothing else on the surface of the SSD.
The USB Type-C port is located on the side, along with the activity LED. The USB-C port supports USB 3.1 Gen 2 standard, which has bandwidth up to 10 Gbps (around 1250 MB/s) and should be more than capable of transferring at the rated speeds.
Review
Testing Methodology
To test the performance of the solid-state drive, we use three well-established storage benchmarking software. They are CrystalDiskMark, ATTO Disk Benchmark, as well as AS SSD Benchmark.
CrystalDiskMark can measure both sequential and random 4KB read/write speeds with a queue depth of 32. ATTO Disk Benchmark can test how the drive performs across different transfer block sizes, mostly in a sequential environment. AS SSD Benchmark can provide both normal read/write speed and the IOPS performance of the drive.
We also recorded the time to transfer three files of 10 GB, 500 MB and 250 MB from a RAM disk to the SSD, which is used to simulate a real-world situation.
Performance
The SAVAGE EXO SSD had sequential read and write speeds at around 480 MB/s in CrystalDiskMark, slightly worse than the advertised speeds. In random 4K operations, the SSD could read data at 40 MB/s and write at 110 MB/s.
In AS SSD Benchmark, the SAVAGE EXO performed similarly with sequential read at 465 MB/s and write at 430 MB/s. When increasing the queue depth to 64, the random 4K read speed remained unchanged at around 37 MB/s, but write speed climbed up to 350 MB/s.
IOPS number represents how well a drive handles random input and output operations. The SAVAGE EXO scored 669 in AS SSD Benchmark. It achieved up to 90279 IOPS in random 4K write, but only has 9442 IOPS in read.
In ATTO Disk Benchmark, the read and write speeds stabilized at around 480 MB/s, once the file size grew larger to 1 MB. The highest read and write performance sits at 482 MB/s and 484 MB/s respectively.
It took 46.84 seconds to transfer the three files from the RAM disk to the SAVAGE EXO. After the buffer in RAM and internal cache were full, the speed remained at around 169 MB/s.
Comparison
[visualizer id="2840″]
[visualizer id="2842″]
When comparing with other SATA-based SSDs we tested, the SAVAGE EXO fell a little behind in both benchmarks, especially in random 4k read opeartions. The sequential read and write speeds are about 10% slower than others. Though, the SAVAGE EXO is still way faster than a traditional hard disk drive.
Conclusion
The HyperX SAVAGE EXO SSD is solidly built and has a 3-year warranty. It is slim, compact and can be easily put into small pocket or backpack. The included USB Type-C cables should allow users to connect the drive to various types of devices, without carrying extra dongles.
It did not perform as expected as hardware with the same controller and 3D TLC NAND flash (like the FURY RGB SSD). This may be issues from the firmware and overhead of the USB 3.1 Gen 2 interface. However, for a data backup or gaming external drive, the SSD is certainly better than traditional HDDs and offers great performance improvement.
The SAVAGE EXO is priced at $127.99 USD (MSRP) for 480 GB. It is currently slightly more expensive than similar products in the market. The Western Digital My Passport SSD is discounted at $105.91 USD and Samsung T5 Portable SSD at around $107.99 at the time of this review. Over time, I believe the SAVAGE EXO will cost around the same price range, which would be a great option to consider.
You can purchase the SSD from your local/online resellers or the links below from Amazon and Newegg.
Thanks Kingston/HyperX for providing us the SSD for review. (Review Sample)
Feel free to leave comments below, if you have any opinion about this website. Share the website around if you enjoy reading it. Subscribe to our Newsletter or follow our Google+, Facebook and Twitter.
Support this website simply by shopping in Amazon. It will give us small kickbacks, if you use the above affiliate links to make any purchases, which will help us grow.