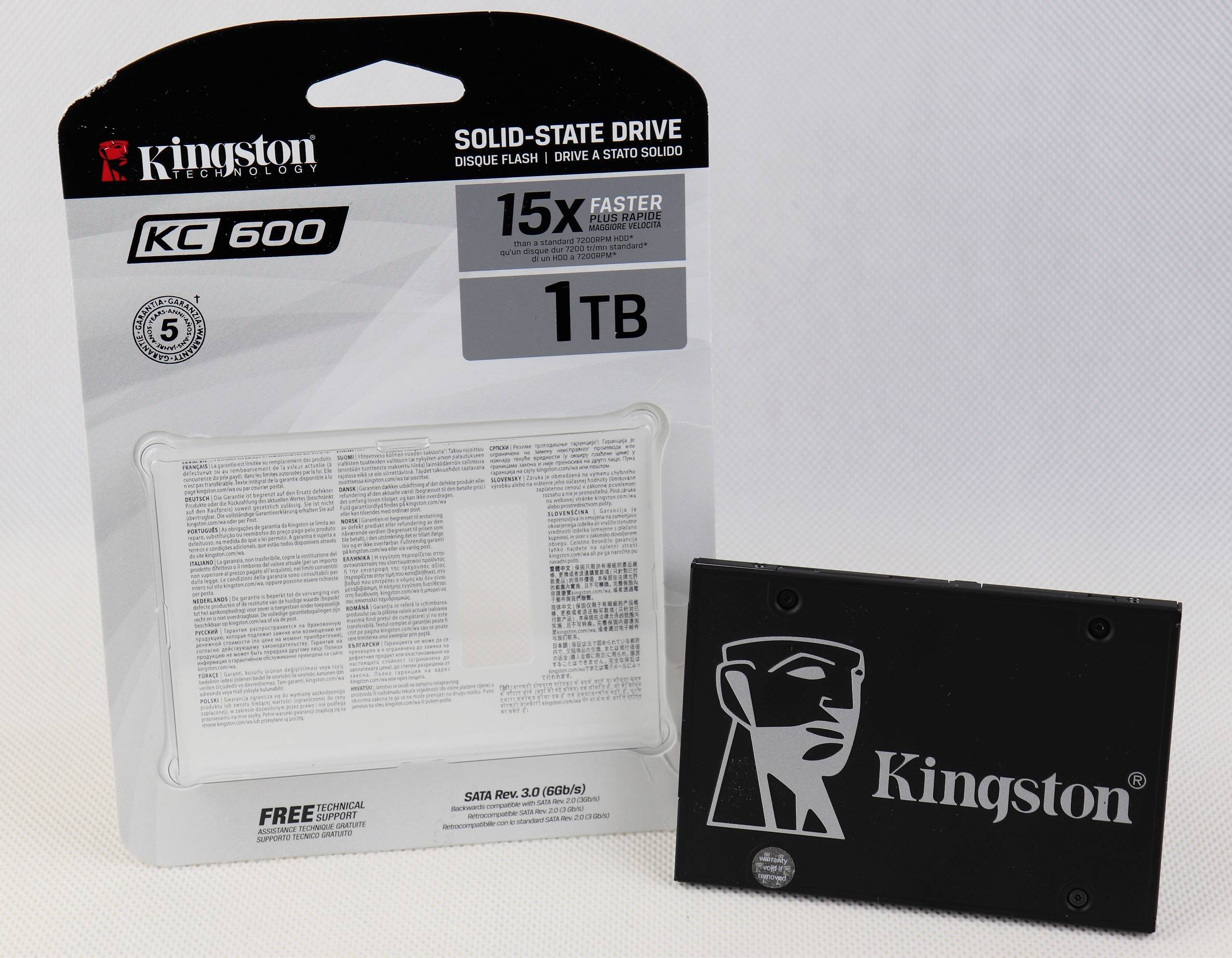 While companies are shifting focus to M.2 NVMe SSD, Kingston introduced a new SATA-based SSD in late 2019. The KC600 is the successor of the older KC400 SSD, that launched 3 years ago in 2016. How does it compare with the more recent UV500 series (its review here)?
Specifications
[table id=302 /]
Unlike the UV500 series, the KC600 is only available in 2.5-inch form factor at launch. A mSATA version is later added to the lineup in 2021. It comes with capacities from 256 GB up to 2 TB (2048 GB). All models have a rated MTBF (Mean Time Between Failures) of around 1 million hours and endurance from 150 TBW to 1200 TBW.
Limited by the SATA 3.0 interface, the SSD is advertised to reach sequential read/write speeds of up to 550 MB/s and 520 MB/s respectively. The smaller 250 GB model will suffer from slower write speed at 500 MB/s.
Unboxing
The packaging of the KC600 remains unchanged with simple cardboard and plastic clamshell design. You can directly see the drive through the window. The model name and capacity are clearly printed at the front, while model number and serial number are located at the back. The part number of our 1 TB sample is SKC600/1024G.
There is also a notebook upgrade kit available, which includes a cloning software, external drive enclosure and 3.5-inch bracket.
Kingston KC600 SATA SSD
The KC600, like the UV500 (its review here) and UV400 (its review here), has the same aluminium chassis with the large Kingston logo on top. But this time, it is painted black. The sticker at the back shows the usual information, such as serial number, certifications and firmware version.
The SSD is fitted with the Silicon Motion SM2259 quad-channel memory controller and 96-Layer 3D TLC NAND Flash from Micron, as well as 1 GB of DDR3 DRAM cache (for the 1 TB model).
Furthermore, the drive is equipped with AES 256-bit hardware-based encryption for better data protection. It is compatible with multiple security standards and software, including TCG Opal 2.0 and Microsoft Windows eDrive.
The KC600 operates through the SATA 3.0 interface, which has a theoretical bandwidth of 6 Gbps or about 750 MB/s. A separate SATA power cable has to be connected for the drive to function properly.
Review
Testing Methodology
To test the performance of the solid-state drive, we use four well-established storage benchmarking software. They are CrystalDiskMark, ATTO Disk Benchmark, AS SSD Benchmark, as well as HD Tune Pro.
CrystalDiskMark can measure both sequential and random 4KB read/write speeds with a queue depth of 32. ATTO Disk Benchmark can test how the drive performs across different transfer block sizes, mostly in a sequential environment. AS SSD Benchmark can provide both normal read/write speed and the IOPS performance of the drive. HD Tune Pro can be used to simulate a large file transfer of up to 100 GB.
We also recorded the time to copy three files of 10 GB, 500 MB and 250 MB from a RAM disk to the SSD, to simulate a real-world situation.
Performance
The KC600 SSD performed close to the claimed speeds in CrystalDiskMark. It reached sequential read/write speeds at around 564 MB/s and 514 MB/s. Switching to random 4K operations at queue depth 32, speeds dropped to 325 MB/s and 304 MB/s respectively.
In AS SSD Benchmark, the sequential read/write performance reduced to 530 MB/s and 477 MB/s. Pushing the queue depth to 64, the random 4K speeds increased to 359 MB/s and 347 MB/s, which is 10.5% to 15% better than at QD32.
IOPS number represents how well a drive handles random input and output operations. The KC600 scored 1185 in the test. It achieved a maximum random read/write IOPS of 91979 and 88946.
In ATTO Disk Benchmark, the speeds started to stabilize when the file size increased to 16KB. It then hovers at around 560 MB/s in read and 510 MB/s in write.
HD Tune Pro is used to simulate a large 100 GB file transfer. The KC600 did very well as a SATA-based SSD. For the first 65 GB of data, it managed to maintain 500 MB/s in write. After that, its speed decreased to around 400 MB/s for the rest of the transfer. Apparently, the internal DRAM and SLC cache were still functioning as intended.
In our real-world test, three files, sized around 15 GB, were written to the KC600 in only 22.60 seconds, with speeds around 450 MB/s. It cut the transfer time by about 48.6%, compared to the UV500 (its review here).
Comparison
[visualizer id="14404″ lazy="no" class=""]
[visualizer id="14406″ lazy="no" class=""]
[visualizer id="4796″]
The KC600 did pretty good as a SATA SSD, with better sequential and random performance across the board than the UV500 and HyperX FURY RGB (its review here).
Conclusion
The Kingston KC600 SSD is an awesome upgrade over the 3-year-old KC400 series, with noticeable improvements from the updated memory controller and NAND flash. It outperformed the UV500 and FURY RGB for most cases, achieving read/write speeds of about 560 MB/s and 510 MB/s.
The inclusion of the AES 256-bit hardware encryption and security software support is now a standard feature for all newly-released SSDs from Kingston. Keeping the drive protected is much easier than before.
The KC600 has a 5-year warranty, and the 1 TB model we tested costs around $156 USD at the time of this review. Prices of SSDs fluctuate a lot from time to time. The 256 GB model is priced at $52.99 USD (MSRP) and 512 GB for $84.99 USD (MSRP). The KC600 may not be the cheapest drives in the market, but sure is reasonable, and priced similar to the reputable Samsung 860 EVO.
You can purchase the SSD from your local/online retailers or the links below from Amazon and Newegg.
Thanks Kingston for providing the SSD for review. (Review Sample)
Feel free to leave comments below, if you have any opinion about this website. Share the website around if you enjoy reading it. Subscribe to our Newsletter or follow our Twitter, Facebook and Instagram.
Support this website simply by shopping in Amazon and Newegg. It will give us small kickbacks, if you use the above affiliate links to make any purchases, which will help us grow.