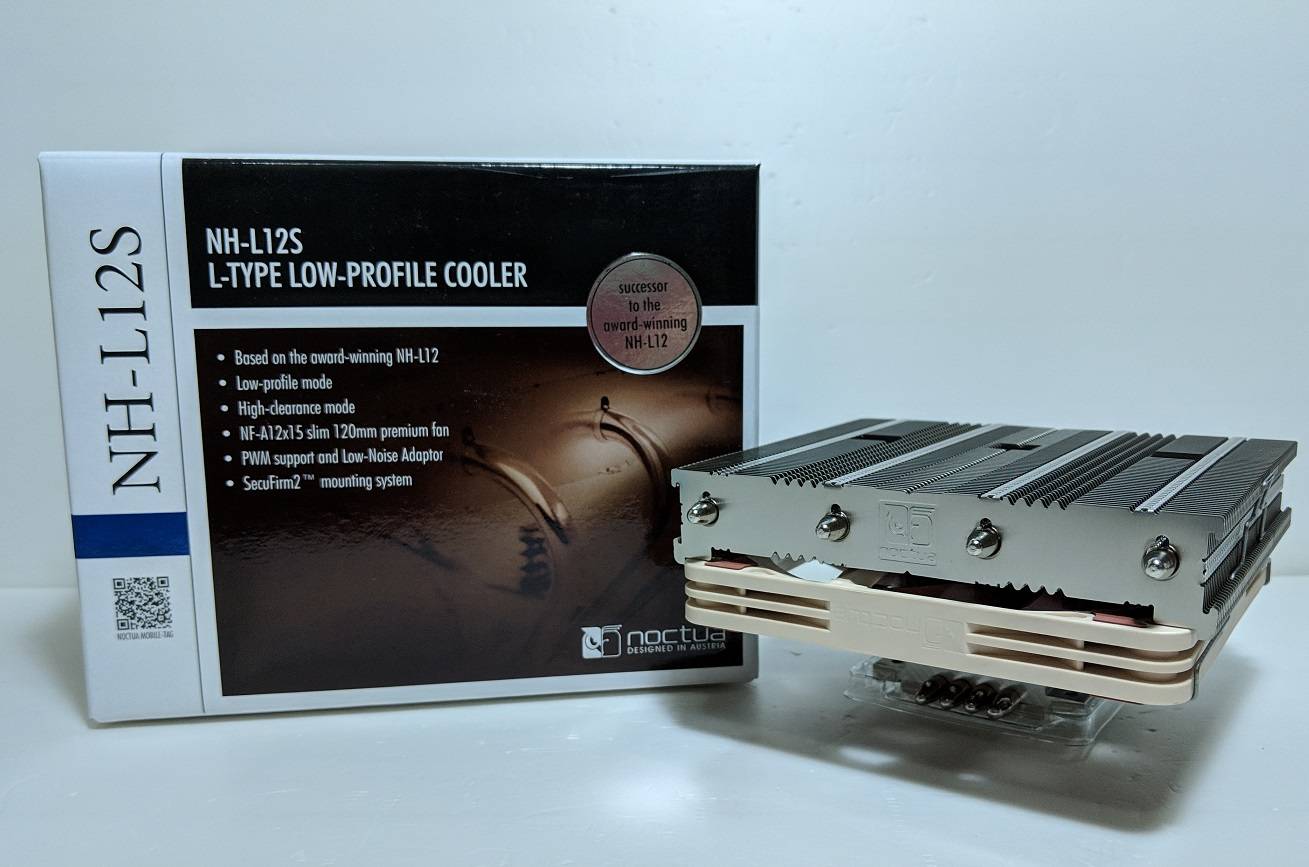 As small-form factor PC builds becoming more popular among enthusiasts, the demand for a higher performance low-profile CPU cooler is also increased. Noctua revisited the NH-L12 cooler in its lineup in 2017, and released the newer NH-L12S, which we are going to check out in this article.
Unboxing
There is nothing different for the NH-L12S cooler's packaging from any other Noctua CPU coolers we tested. The outer hard cardboard box is printed with all sorts of information about the cooler.
You can see a few highlighted features and their short descriptions on the box, such as a low-profile mode, high-clearance mode and the NF-A12x15 premium fan. Detailed specification lists about both the heatsink and fan can also be found.
All mounting hardware and accessories are neatly packed inside a box, separated from the cooler.
The NH-L12S cooler uses the SecuFirm 2 mounting system, which supports most modern CPU sockets from both Intel and AMD. It will work with Intel LGA 115x, LGA 2011 and LGA 2066, as well as AMD AM2 to AM4 and FM1 to FM2+ motherboards. There are three installation manuals for each socket.
Moreover, you get a NT-H1 thermal compound, a low-noise adaptor, a screwdriver and a metal Noctua case badge.
Noctua NH-L12S CPU Cooler
In order to limit the cooler to have only 70 mm in height, the NH-L12S cooler has to ditch the normal vertical heatsink orientation. The heatsink's aluminum fin stack is placed horizontally with the heatpipes bending towards the base, forming a "C" shape. It is similar to the larger NH-C14S cooler, but with a smaller heatsink and less heatpipes.
You will need to pay attention to the height of your RAM, because of the shape of the heatsink. Part of the fin stack will overhang by the memory slots.
The NH-L12S has a total of four 6 mm heatpipes, which are evenly spaced across the fin stack to transfer heat more efficiently. The copper CPU contact base is plated with nickel and polished to a mirror-like finish.
Unlike other Noctua coolers, the NH-L12S includes a slightly different cooling fan in the package, due to its low-profile nature. The NF-A12x15 fan is an ultra-thin 120 mm fan, which is capable of spinning from 450 RPM to 1850 RPM. Fan speeds are controlled via a 4-pin PWM fan header. It has a rated MTBF (Mean Time Between Failure) of over 150,000 hours.
The NF-A12x15 has a thickness of only 15 mm, instead of the standard 25 mm. All four corners on both sides have the little rubber pads to reduce the vibration noise during operation.
Review
We have updated our CPU cooler tests to more reflect real-world cooling performance of coolers.
Testing Methodology
To find out how the cooler performs, a total of two benchmarks are included. AIDA64 is used to run a CPU stress test. CPU, FPU and system cache are all stressed to create as much heat output as possible. Also, Cinebench R15 is used to simulate real-world CPU load (like video-editing or rendering). It will be run continuously for three times. The highest CPU package temperatures are recorded. Ambient temperature is around 26°C.
Results will be taken at a 50% fan speed and 100% speed, controlled via the motherboard CPU PWM fan header. Both single-fan and dual-fan configurations of the cooler will be tested separately.
Performance
In AIDA64, the NH-L12S did reasonably well by keeping the CPU package temperature under 60°C at both fan speeds. Running the fan at full speed (about 1800 RPM) reduced the temperature to 55°C, which is 8.33% lower.
We saw similar results in Cinebench R15 as well, but with a smaller margin. At 50% fan speed, the CPU temperature maxed at 57°C. Increasing the fan speed lowered the temperature to 54°C, about a 5.26% improvement.
Comparison
[visualizer id="2873″]
The NH-L12S cooler performed admirably, in spite of the smaller heatsink and thinner fan. It averaged about 2°C higher than the traditional tower coolers, like the Noctua NH-U12S and GELID Phantom.
Conclusion
The Noctua NH-L12S is undoubtedly one of the best options for a low-profile CPU cooler. It performed terrifically, only fell behind a few degrees Celsius over the larger tower coolers. Its 70 mm height clearance makes it perfect for small-form factor PC builds. It will not obstruct any of the PCI Express slots on the motherboard.
The NF-A12x15 fan maintains a decent amount of airflow through the heatsink, despite its thinner design. The fan remains relatively quiet at all RPM ranges, which you can adjust the fan speed via the PWM control in the BIOS.
The NH-L12S cooler is again backed by the legendary 6-year warranty. It is priced at $49.90 USD (MSRP), which is pretty affordable for the Noctua's build quality and accessories. You can fit this cooler in most cases and CPU sockets, with its compact size and SecuFirm 2 mounting system.
You can purchase the cooler from your local/online resellers or the links below from Amazon and Newegg.
Thanks Noctua for providing us the NH-L12S for review. (Review Sample)
Feel free to leave comments below, if you have any opinion about this website. Share the website around if you enjoy reading it. Subscribe to our Newsletter or follow our Google+, Facebook and Twitter.
Support this website simply by shopping in Amazon. It will give us small kickbacks, if you use the above affiliate links to make any purchases, which will help us grow.