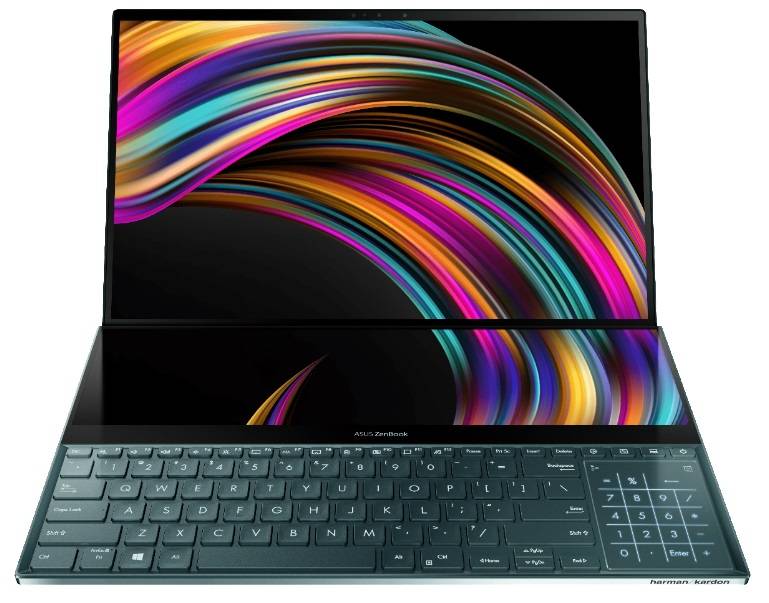 ASUS have been trying to integrate more functions to the laptops' trackpad with ScreenPad. Now, in Computex 2019, ASUS takes it further by building a second display on the upper half of the keyboard. Meet the ZenBook Pro Duo and ZenBook Duo.
The most noticeable feature of the ZenBook Pro Duo is the large secondary display, which ASUS is calling it the ScreenPad Plus. Along with the primary 15.6-inch 4K OLED display (3840×2160), the ScreenPad Plus adds another full-width 14-inch 4K screen with a resolution of 3840×1100. Both of them are touch-capable. You can drag any windows and apps to the ScreenPad, just like using any another plugged-in display. Applications can be set to display in either full screen, 2 by 1 or 3 by 1. ASUS has created some software tricks and tools to help users organize and hop between the two screens.
The ZenBook Pro Duo is equipped with up to an Intel Core i9-9980HK 8-core processor, with up to 32 GB of RAM and a NVIDIA RTX 2060. The CPU has a base clock of 2.6 GHz and a turbo boost clock of 5 GHz. You can choose up to 1 TB of PCIe 3.0 NVMe SSD as main storage. The laptop also supports new-generation Wi-Fi 6 (802.11ax) and has a Thunderbolt 3 port.
The ZenBook Duo has two smaller Full-HD screens and less powerful hardware inside. Prices and availability of the two laptops are yet to reveal.
Feel free to leave comments below, if you have any opinion about this website. Share the website around if you enjoy reading it. Subscribe to our Newsletter or follow our Twitter, Facebook and Instagram.
Support this website simply by shopping in Amazon and Newegg. It will give us small kickbacks, if you use the above affiliate links to make any purchases, which will help us grow.