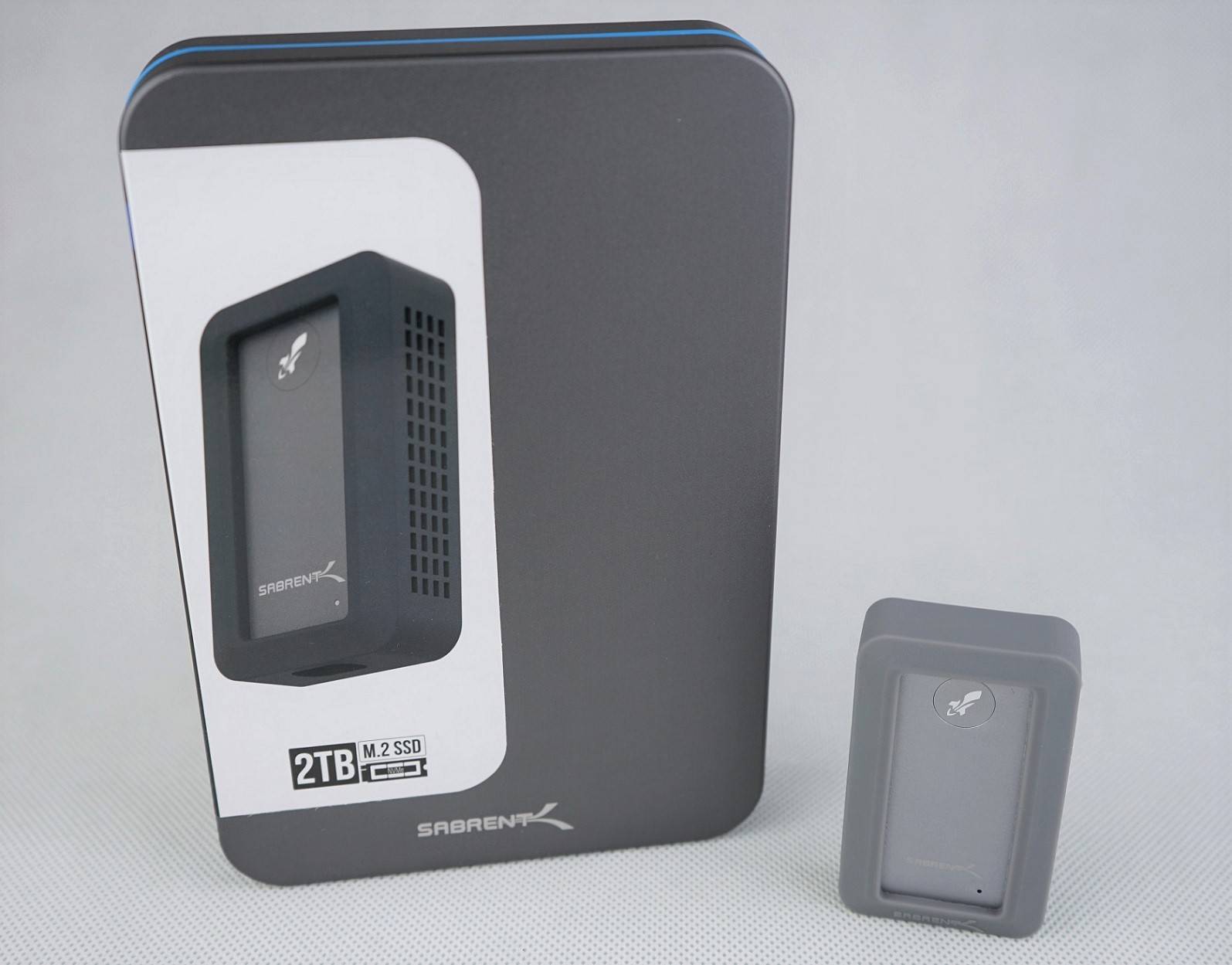 The Rocket Nano is a tiny, ultra-portable external SSD from Sabrent. We are taking a look at the Rugged version in this review article, which is rated for IP67 water/dust resistant and 1-meter drops.
Specifications
[table id=435 /]
The Rocket Nano Rugged transfers data through its USB 3.2 Gen 2 or USB 3.1 Gen 1 interface, allowing for up to 1000 MB/s of sequential read/write speeds. You can choose to have capacities from 512 GB to 2 TB. No information about the MTBF and endurance numbers are disclosed officially. All models are provided with a 3-year warranty, after registering the products online.
Unboxing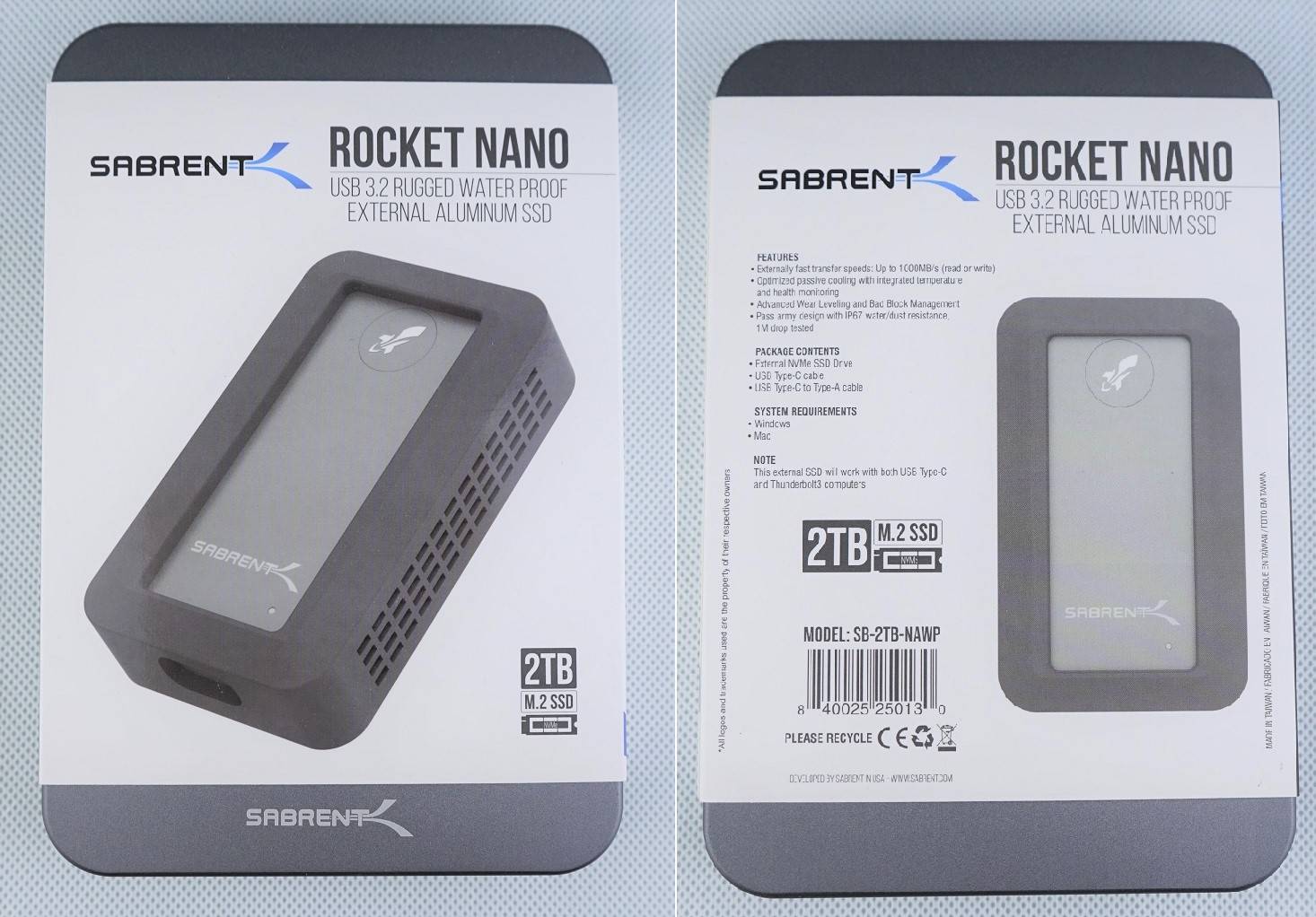 The Rocket Nano Rugged is shipped in a gunmetal-colored metal box. Photos, model name and features of the drives are printed on the paper sleeve outside. Our particular sample is the 2 TB model (SB-2TB-NAWP).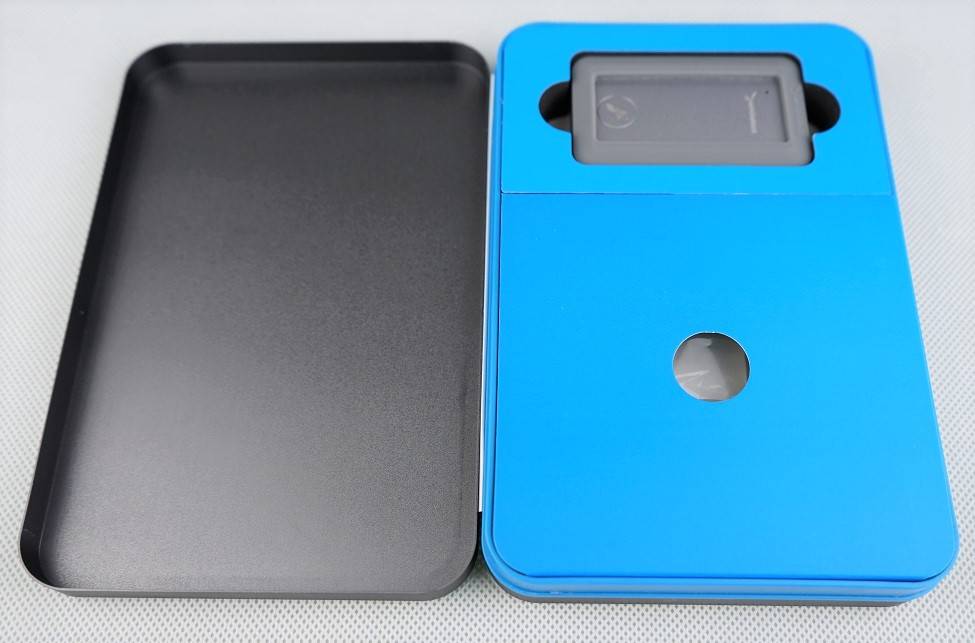 The actual external SSD and accessories are securely placed into the box, surrounded by foam for extra protection during shipping.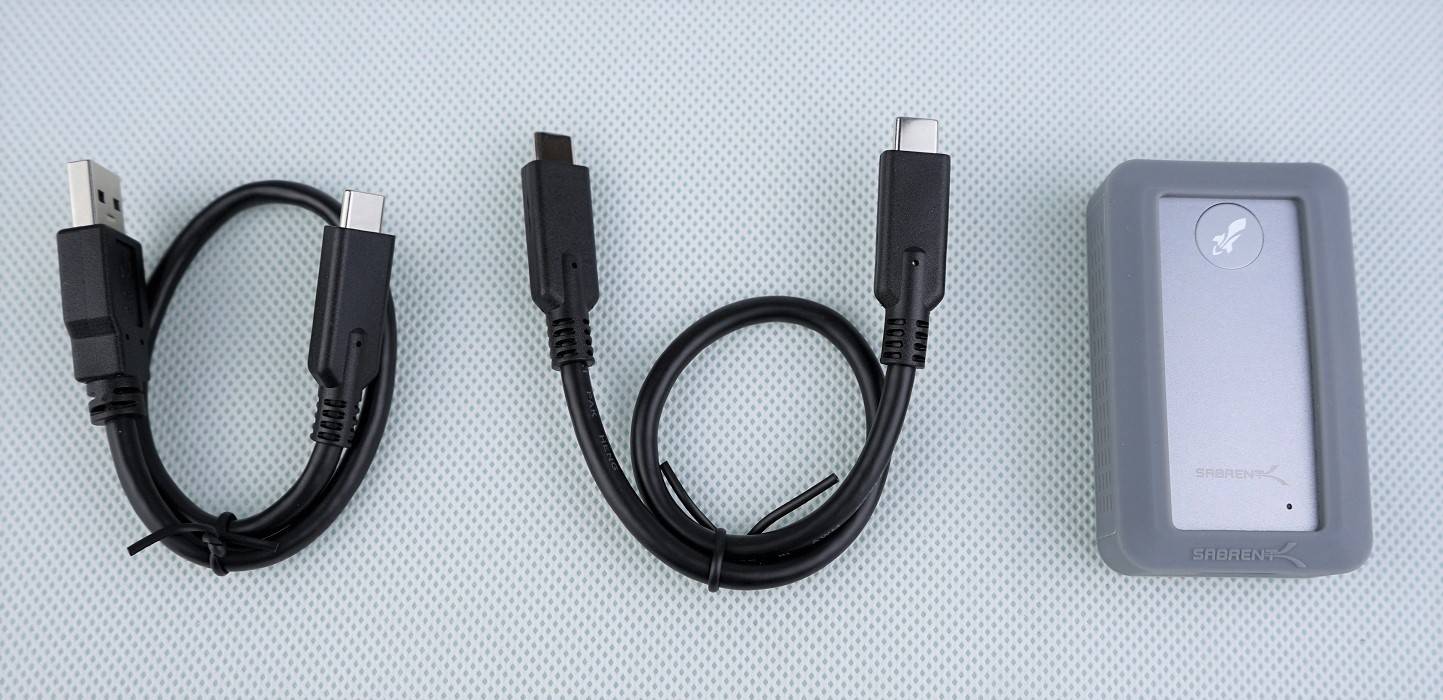 Inside the packaging, there are one USB Type-C to Type-C and one USB Type-A to Type-C cables.
Sabrent Rocket Nano Rugged External SSD
The Rocket Nano Rugged has an extremely small footprint. It is about 72 mm long, 43 mm wide and 17 mm thick, including the exterior rubber bumper case. The CNC-machined body is made from aluminum, and is IP67 water/dust resistant. The SSD should remain functional after submerging in 1 meter of fresh water for 30 minutes.
Underneath the enclosure is the M.2 2242 version of the Rocket PCIe NVMe SSD (SB-1342-2TB). It has a custom RKT 301 memory controller (rebranded Phison PS5013-E13T) and 96-layer BiCS4 3D TLC NAND flash from Toshiba (now KIOXIA) with no DRAM cache onboard. The PCIe to USB bridge controller is the JMicron JMS583.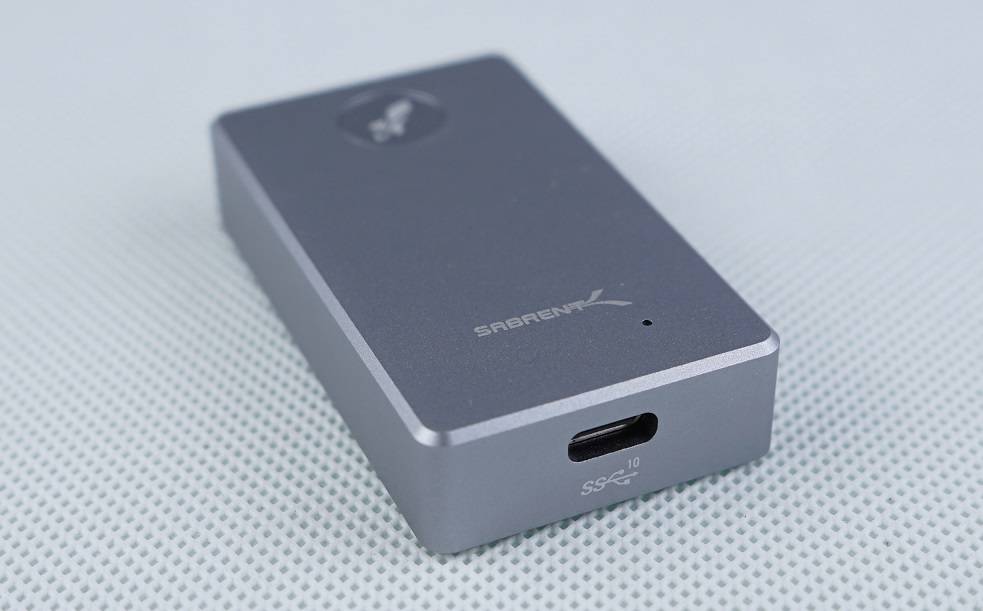 Only one USB Type-C port can be found on the Rocket Nano Rugged, which supports the USB 3.2 Gen 2 standard. It has a theoretical bandwidth of 10 Gbps or about 1250 MB/s. There is a tiny blue activity LED on the top, next to the Sabrent logo.
Review
Testing Methodology
To test the performance of the solid-state drive, we use four well-established storage benchmarking software. They are CrystalDiskMark, ATTO Disk Benchmark, AS SSD Benchmark, as well as HD Tune Pro.
CrystalDiskMark can measure both sequential and random 4KB read/write speeds with a queue depth of 32. ATTO Disk Benchmark can test how the drive performs across different transfer block sizes, mostly in a sequential environment. AS SSD Benchmark can provide both normal read/write speed and the IOPS performance of the drive. HD Tune Pro can be used to simulate a large file transfer of up to 100 GB.
We also recorded the time to copy three files of 10 GB, 500 MB and 250 MB from a RAM disk to the SSD, to simulate a real-world situation.
Performance
The Sabrent Rocket Nano Rugged is formatted to exFAT file system with 1907.67 GB of storage space in Windows 10 by default.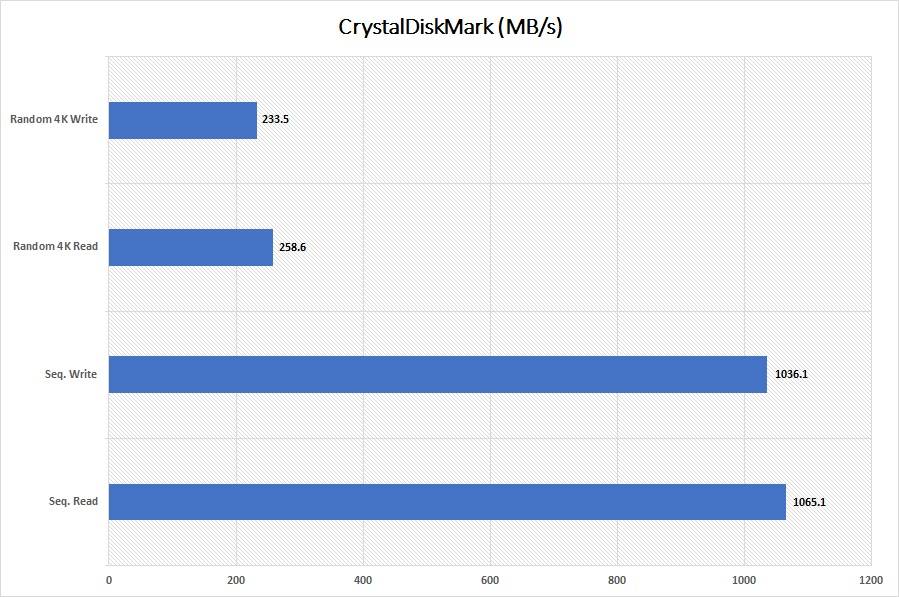 The drive could achieve the advertised sequential read/write speeds in CrystalDiskMark, at 1065 MB/s and 1036 MB/s. Random 4K performance at queue depth 32 reduced to 258 MB/s and 233 MB/s.
Slightly slower sequential speeds were noticed in AS SSD Benchmark, at 1007 MB/s and 978 MB/s. The random 4K (QD64) results improved to 349 MB/s and 1281 MB/s respectively, which the write speed was considerably faster the the read.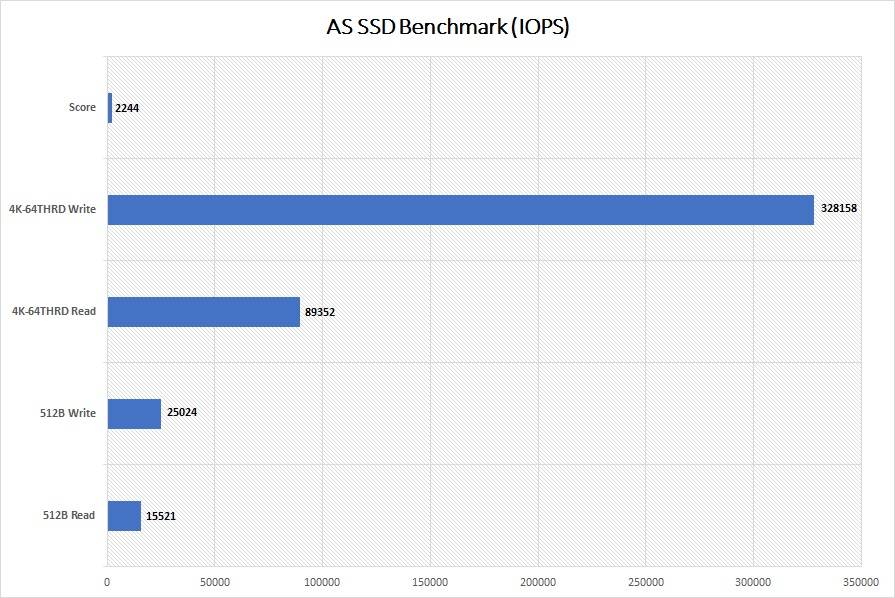 IOPS number represents how well a drive handles random input and output operations. The Rocket Nano Rugged scored 2244 in the benchmark. It had 89352 IOPS and 328158 IOPS for read and write.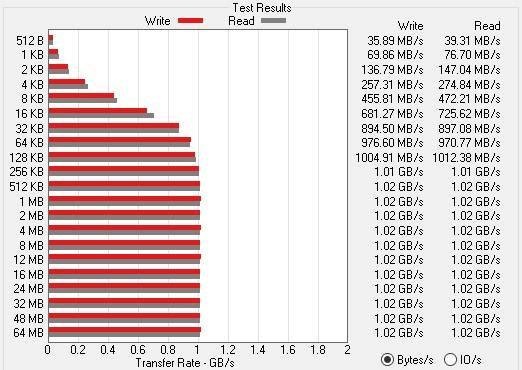 In ATTO Disk Benchmark, the SSD hit the highest speeds at 1020 MB/s, after the test file sizes climbed to 128 KB.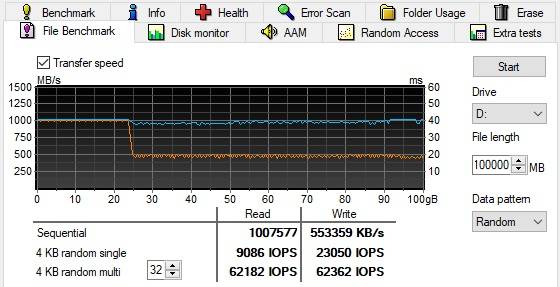 HD Tune Pro was used to simulate a large 100 GB file transfer. Read speed was stable at around 1000 MB/s, while the write speed started at 1000 MB/s and dropped down to 500 MB/s. The SLC cache was saturated after the first 25 GB, data was then directly written to the TLC NAND flash.
It took the Rocket Nano Rugged about 15.42 seconds to complete the three-file copy (sized around 15 GB). It was able to remain a write speed of 700 MB/s.
Comparison
[visualizer id="9024″]
[visualizer id="9022″]
[visualizer id="4796″]
The Sabrent Rocket Nano Rugged takes advantages of the internal PCIe-based SSD and expanded bandwidth from the USB 3.2 Gen 2 (10 Gbps) interface. It easily outperformed most of our previously-tested external SSDs and SSD enclosures. It was about 150 MB/s to 200 MB/s faster than the SilverStone MS11 with the same JMicron JMS583 bridge controller.
Conclusion
The Sabrent Rocket Nano Rugged is an excellent choice for users who want a compact and high-performance external SSD. The IP67 water and dust resistance is a great feature to better protect your data from accidents. For compatible computers, the USB 3.2 Gen 2 interface allows for nearly double the sequential read/write speeds than traditional SATA-based SSDs. Build quality is awesome with the CNC-machined and sandblasted metal body.
The Rocket Nano Rugged is priced at $279.99 USD (MSRP) for the 2 TB model at the time of this review, with a 3-year warranty. For comparison, the Crucial X8 and SanDisk Extreme PRO are on sale for $281.99 USD and $329.99 USD (MSRP) respectively. They have similar maximum speeds at around 1000 MB/s, but are not certified for IP67. The CalDigit Tuff Nano is rated for IP67, though it does not come in capacity higher than 1 TB.
*The 512 GB and 1 TB versions of the Rocket Nano Rugged cost $99.99 USD and $159.99 USD (MSRP).
You can purchase the SSD from your local/online resellers or the links below from Amazon and Newegg.
Thanks Sabrent for providing us the SSD for review. (Review Sample)
Feel free to leave comments below, if you have any opinion about this website. Share the website around if you enjoy reading it. Subscribe to our Newsletter or follow our Twitter, Facebook and Instagram.
Support this website simply by shopping in Amazon and Newegg. It will give us small kickbacks, if you use the above affiliate links to make any purchases, which will help us grow.