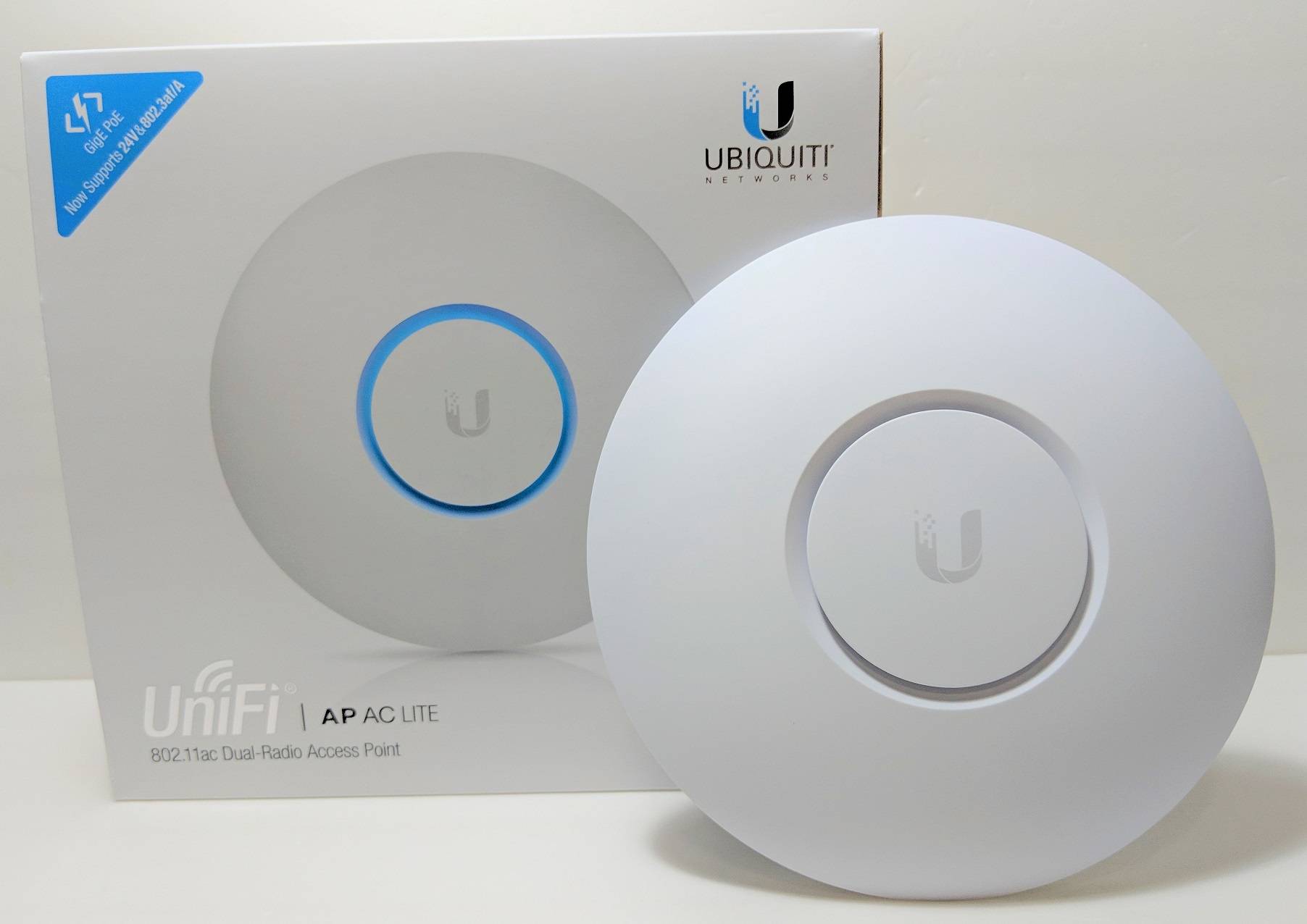 Along with the EdgeRouter X, I also purchased the UniFi AP AC Lite from Ubiquiti Networks to upgrade the old Wi-Fi network at home. The access point provides dual-band 802.11ac Wi-Fi with speed up to 867 Mbps in 5 GHz.
Unboxing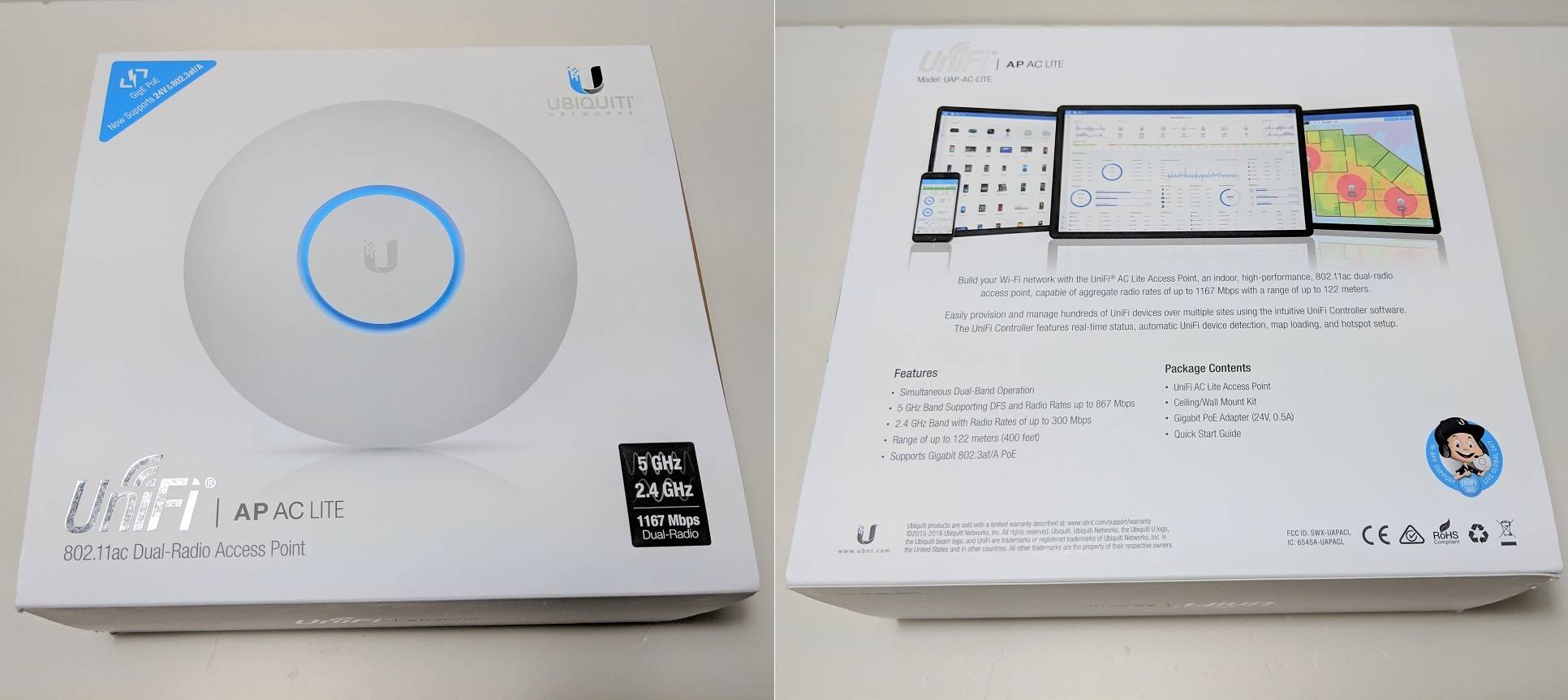 A photo of the access point is printed at the center of the packaging with the model name and logos around. A short description and a feature list can be found on the back, including gigabit 802.3af/A Power over Ethernet (PoE) and simultaneous dual-band radio.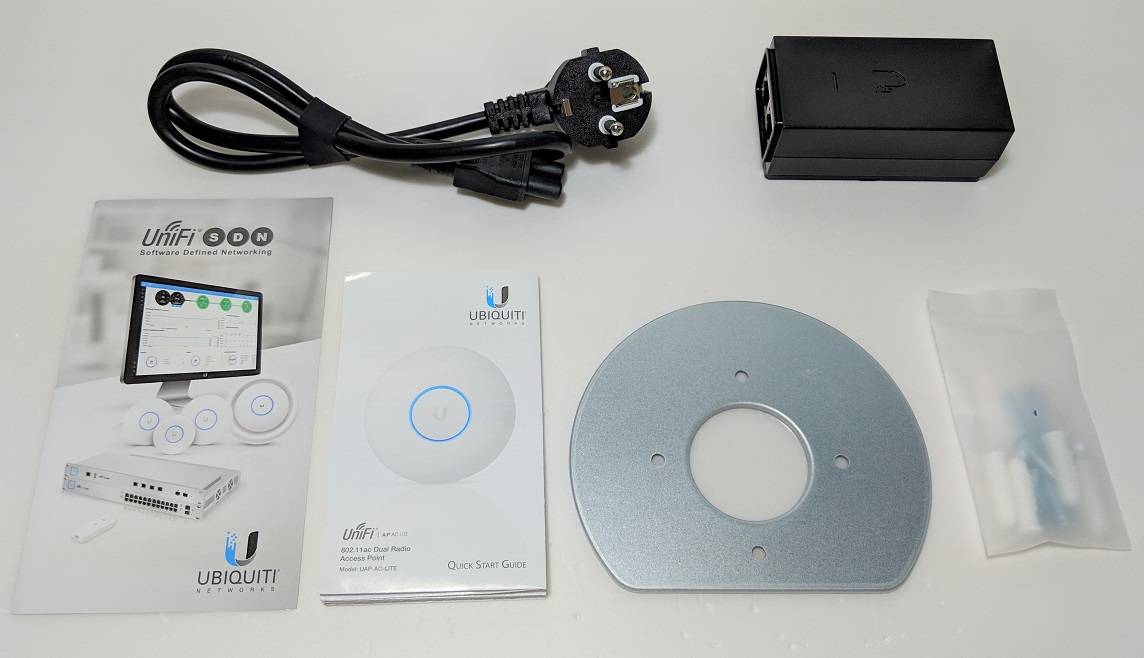 Inside the box, you get a quick start guide, power cable and a passive 24V/0.5A PoE adapter. If you want to use a 802.3af-compatible switch/router to power the access point, you will need another converter, like this one. Also, there are a mounting plate and screws for you to install the AP on walls or roofs.
Ubiquiti UniFi AP AC Lite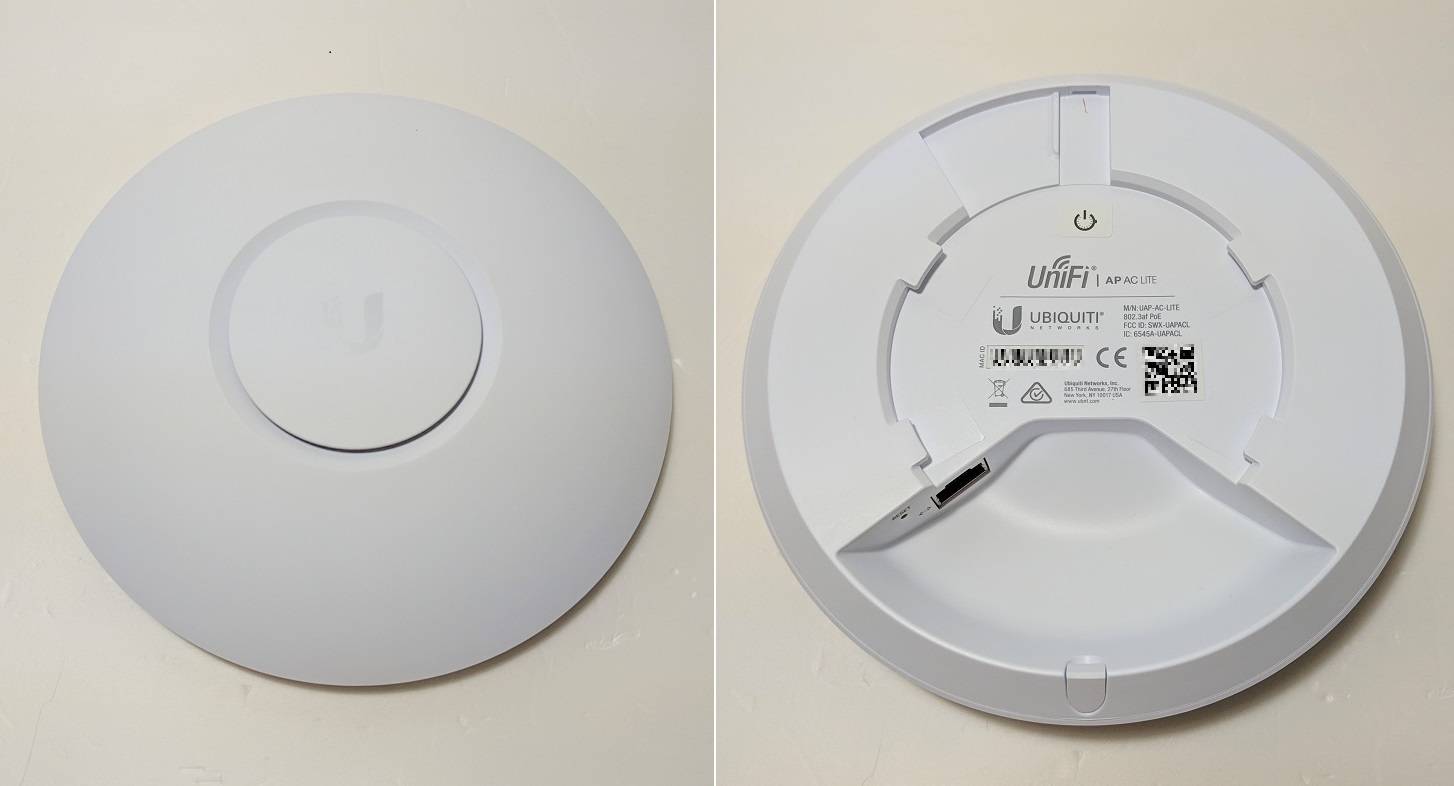 The UniFi AP AC Lite uses the now very popular circle exterior shell, with a diameter of 160 mm. It has an multi-color LED under the inner, smaller circle, which will flash blue or orange, depending on the status of the connection. Inside the white hard plastic enclosure, there are two dual-band antennas with 3 dbi gain each.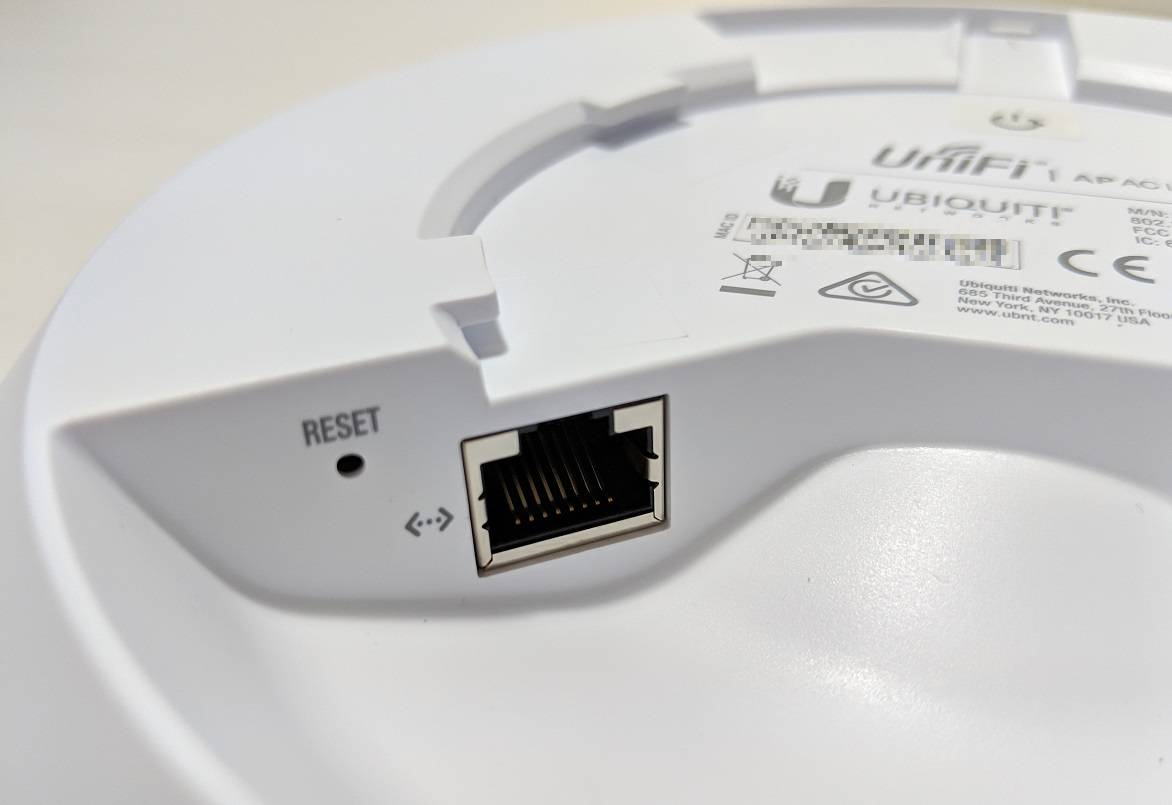 There is only one Gigabit RJ-45 Ethernet port available on the UAP AC Lite. You will need a separate router to do all the network routing duties, such as assigning IP addresses (DHCP) and managing local networks (LANs). A reset switch is located next to the Ethernet port, in case you need to hard reset the AP.
Review
Testing Methodology
To measure the performance of the Wi-Fi access point, we choose to run speed tests with three different applications/websites, including Speedtest by Ookla, Meter.net and Ubiquiti WiFiman. The tests will be taken on a Samsung Galaxy Note 10+ and Google Pixel 2 XL, and the access point is connected to a 1 Gbps Internet connection (around 800 Mbps in real world). The upload/download speeds, at around 1 meter with no obstacle and 5 meters with a concrete wall away from the AP, will be recorded. Each test will be run for 2 times, which the average will be recorded in the charts.
SoC: Qualcomm Snapdragon 855
RAM: 12 GB
Support: Wi-Fi 802.11a/b/g/n/ac/ax
SoC: Qualcomm Snapdragon 845
RAM: 4 GB
Support: Wi-Fi 802.11a/b/g/n/ac
Performance
The UniFi AP AC Lite performed reasonably well in all of the three tests, capable of reaching over 50% of the wired gigabit connection. At around 1 meter, both the Note 10+ and Pixel 2 XL could achieve around 400 Megabits per second (Mbps) in downloads and 200 Mbps in uploads. Pushing the distance to 5 meters with a concrete wall in between, the speeds dropped about 40% to around 260 Mbps in downloads and 120 Mbps in uploads.
The two smartphones had similar performance among the tests. The Samsung Galaxy Note 10+ was faster than the Pixel 2 XL in all download benchmarks, while the Pixel 2 XL had the edge in uploads. The Wi-Fi coverage is fair and the AP will switch to the 2.4 GHz connection automatically, if the 5 GHz one weakens due to obstacles and distance.
Features
The AC Lite uses the UniFi Controller to manage all the network and radio settings, which offers a suite of helpful features. For example, "High Performance Devices" can switch a device to the higher-bandwidth 5 GHz connection, depending on its demands. You can also set up a guest Wi-Fi network with virtual LAN (VLAN) support, isolating guest clients from your primary local network. Overall, the software is comprehensive, extremely flexible and scalable, but requires users to have a certain amount of networking knowledge.
You can learn more about what the UniFi Controller can do in Ubiquiti's website.
Conclusion
Although the Ubiquiti UniFi AP AC Lite is not very user-friendly with a simple setup wizard/application, it is a versatile and powerful WiFi access points with tons of features inside the UniFi Controller software. It performed admirably in terms of pure download and upload speeds.
If you are looking for an integrated device to handle both the wired and wireless networks and the necessary routing tasks, the AC Lite is not your best option. Reliability, configurability and expandability are where this access point shines. You can customize the AP and tune your network to fit your own special needs.
The UniFi AP AC Lite costs around $79 USD at the moment of this review, which you can definitely get a decent all-in-one wireless router at this price point, but you will lose the enterprise-grade features from the UniFi Controller. I would recommend you to purchase the $20 USD more expensive UAP-AC-LR, which has a larger 450 Mbps bandwidth for the 2 GHz connection.
You can purchase the access points from your local/online resellers or the links below from Amazon or Newegg.
Feel free to leave comments below, if you have any opinion about this website. Share the website around if you enjoy reading it. Subscribe to our Newsletter or follow our Twitter, Facebook and Instagram.
Support this website simply by shopping in Amazon and Newegg. It will give us small kickbacks, if you use the above affiliate links to make any purchases, which will help us grow.