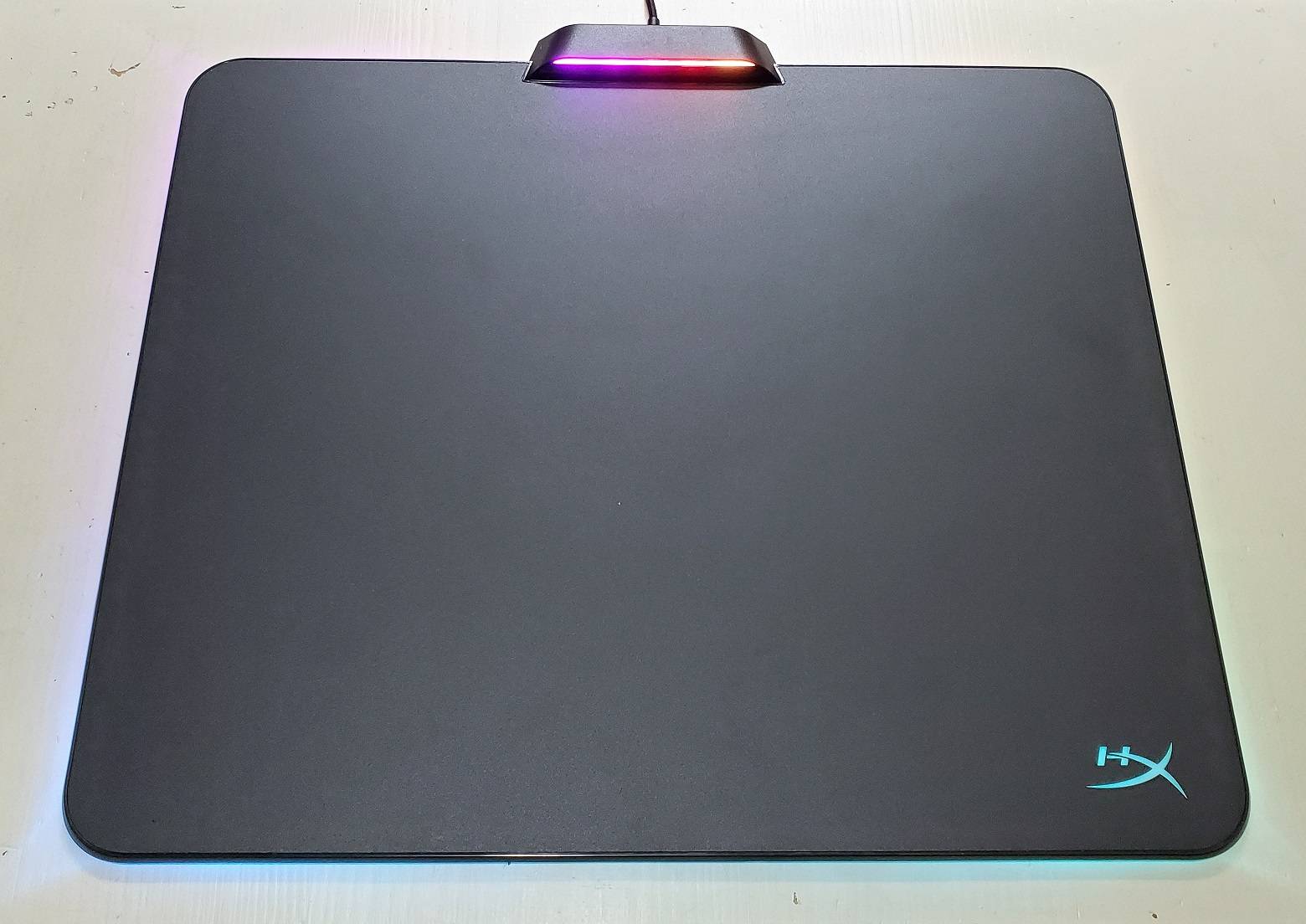 In this day and age, almost everything marketed as gaming will feature RGB lighting. HyperX has followed the trend with its latest mouse pad, named FURY Ultra, which we are able to get our hands on one.
Unboxing
Different from the cloth-surfaced mouse pads, the FURY Ultra is laid flat on the cardboard box, similar to a slim pizza box. The usual red and white color scheme is accompanied with a series of photos showing how the mouse pad's RGB lighting looks like.
Nothing can be found inside the packaging, except for the quick start guide. It briefly explains about the installation process in multiple languages.
HyperX FURY Ultra RGB Mouse Pad
The FURY Ultra is a decently large mouse pad with a hard plastic surface. It is about 360 mm x 300 mm wide, and has a thickness of 5 mm. Styling is minimal for the mouse pad, with only a small HyperX logo on the top.
An additional LED strip is located in the controller unit. Compared to cloth-based mouse pad, the FURY Ultra's plastic surface allows for faster and smoother mouse movements, because of less resistance.
The HyperX logo at the lower right corner is made from translucent plastic, which will also light up in different colors.
A long RGB LED strip wraps around the whole FURY Ultra mouse pad, shining light towards the desk. The bottom of the mouse pad is textured with raised anti-slip rubber feet to prevent it from sliding unintentionally.
The 1.8-meter non-removable braided USB Type-A cable is required to be connected to the computer for power and lighting control.
RGB Lighting and Software
The FURY Ultra's lighting is managed via the new NGENUITY (Beta) software, like most of the HyperX peripherals. The two LED strips on the controller unit and sides of the mouse pad are separated into a total of 20 RGB lighting zones, which can be individually customized with ease. Four preset effects are included, such as breathing and wave.
The RGB lighting is bright and rich, yet is not blindingly intrusive and flashy.
Conclusion
The HyperX FURY Ultra is an nice-looking mouse pad, backed by solid performance. There is no noticeable tracking inaccuracies and issues. Mouse glides smoothly and extremely quick across the mouse pad. The hard plastic surface makes it better for snapping to targets in games. Though, it will create slightly louder noise than cloth-surfaced mouse pads.
The NGENUITY (beta) software works good enough. It is amazing to be able to customize so many lighting zones on the lighting strips. However, it would be great if HyperX can include more preset lighting effects in the software.
The FURY Ultra costs $54.99 USD (MSRP) and has a 2-year warranty, but is currently on sale for around $44.99 USD at the time of this review. The suggested price is comparable with other RGB mouse pads (hard) from reputable brands, such as the Corsair MM800 Polaris at $59.99 USD and Razer Firefly Hard V2 at $49.99 USD.
You can purchase the mouse pad from your local/online resellers or the links below from Amazon.
Thanks HyperX for providing us the mouse pad for review. (Review Sample)
Feel free to leave comments below, if you have any opinion about this website. Share the website around if you enjoy reading it. Subscribe to our Newsletter or follow our Twitter, Facebook and Instagram.
Support this website simply by shopping in Amazon and Newegg. It will give us small kickbacks, if you use the above affiliate links to make any purchases, which will help us grow.