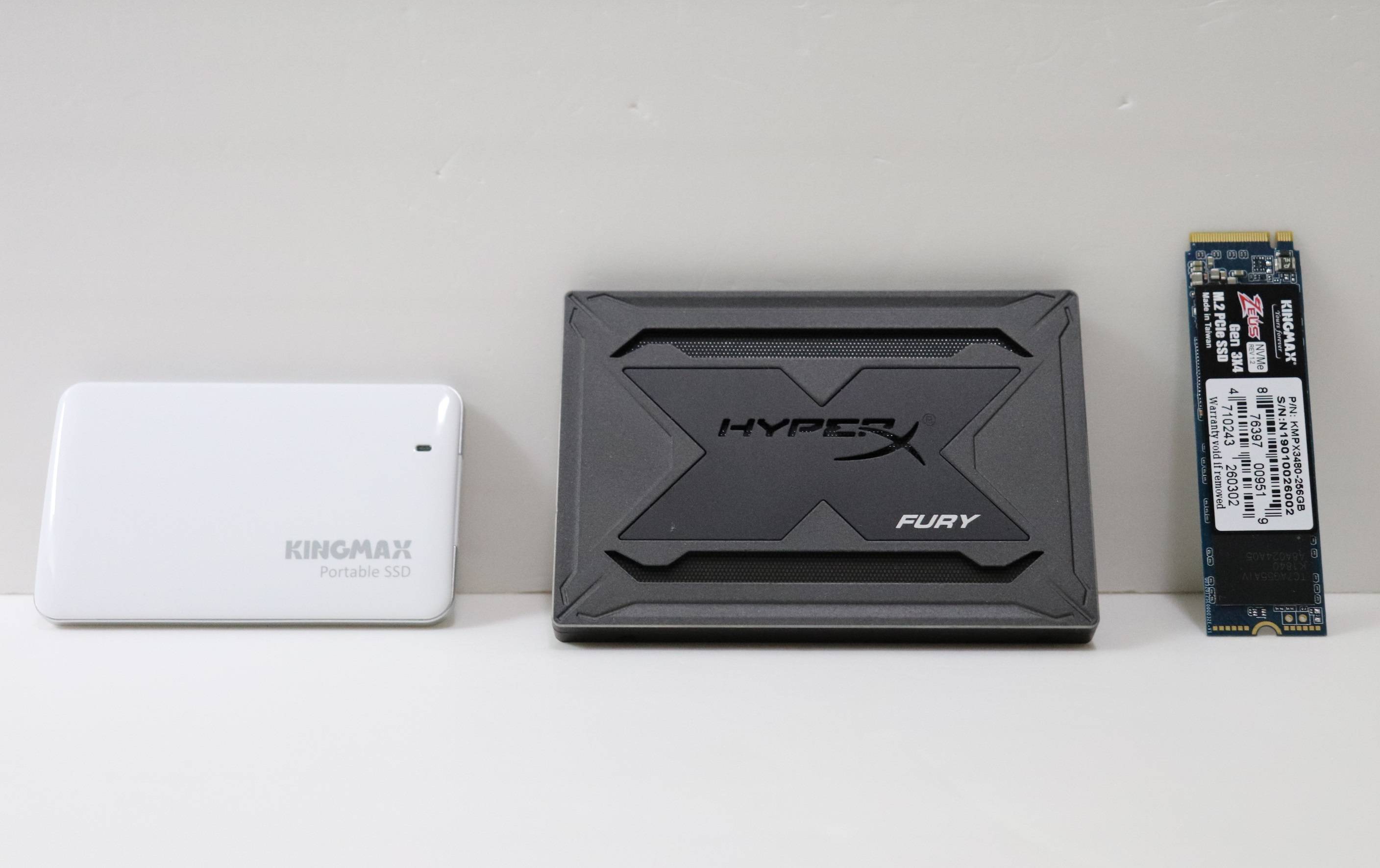 As NAND flash technologies becoming more mature and advance in recent years, solid-state drives are now much more affordable and capable. Comparing with traditional HDDs, SSDs offers significantly better performance, especially on random read/write operations. There are SSDs with different interfaces on the market, such as PCIe, SATA and USB, but which of them is the best choice?
Differences and Theoretical Bandwidth
Serial ATA (SATA)
SATA is the most widespread storage interface in the world, which can be seen in both SSDs and HDDs. It was originally designed for slower mechanical hard drives. There are several revisions over the years, but the latest iteration is the SATA 3. Its maximum bandwidth varies from 1.5 Gbps (~150 MB/s) up to 6 Gbps (~600 MB/s). The SATA cable only handles data transfer, and power requires a separate cable.
Peripheral Component Interconnect Express (PCIe)
PCIe is the successor to the older PCI bus standard, specifically designed for expansion cards and graphics cards. It uses multiple parallel data links to achieve higher throughput. Depending on your device and usage, you will have link width from one to 32 lanes. In the past few years, manufacturers start making SSDs in M.2 and Add-in card (AIC) form factors, that uses PCIe and newer NVMe protocol to transfer data. Unlike SATA, the connector also delivers power.
Currently, PCIe 3.0 standard is the most dominant version, while PCIe 4.0 is coming soon. For 3.0, a single lane has a maximum bandwidth at 8 GT/s or 7.88 Gbps (~985 MB/s). A SSD usually uses either two (x2) or four (x4) lanes, which equals to about 1.97 GB/s and 3.94 GB/s respectively.
Universal Serial Bus (USB)
Everyone should be familiar to the USB interface, as it is used for all kinds of devices, such as mice, keyboards and flash drives. USB-IF has recently announced the upcoming USB 3.2 standard. It can have bandwidth from 5 Gbps (~625 MB/s, USB 3.1 Gen 1) up to 20 Gbps (~2.5 GB/s, USB 3.2). A single USB cable will be able to manage both data and power.
Real-World Performance
Similar to what our review articles, we use CrystalDiskMark and AS SSD Benchmark to test how different SSDs perform.
From the benchmarks, we could see the SATA-based FURY RGB SSD maxed out the theoretical bandwidth of the SATA 3 interface, with sequential read/write speeds at over 500 MB/s. Random 4K operations were reasonable at around 300 MB/s. The USB-based KE31B SSD did slightly worse with sequential speeds at 400 MB/s and random speeds at 150 MB/s.
Because of the superior throughput of the PCIe 3.0 x4 interface, the PX3480 SSD outperformed the other two SSDs by a respectable margin. It reached sequential read speeds upward of 2.5 GB/s and random 4K speeds of about 900 MB/s. Copying large-sized files, like videos and games, should complete in a matter of seconds (100 GB in about 40 seconds).
All SSDs, no matter which interfaces they are utilizing, have much better performance than a mechanical HDD, which would only get sequential speeds up to 200 MB/s and unbearable random 4K speeds less than 1 MB/s.
Ease of Use
Both SATA and PCIe-based SSDs are meant to install them inside a PC or laptop's chassis, while USB SSDs are designed with portability in mind.
For 2.5-inch SSDs, you will have to prepare a free SATA port, data cable and power cable. If you have a PCIe SSD, you either need an unoccupied M.2 or PCIe slot on a compatible motherboard. No cable is required. Lastly, you typically only need the included USB Type-A or Type-C cable for data and power.
If you are going to install the SSD into a PC case, PCIe SSDs are more convenience because it will not create any cable clutter with the single connector. However, USB Portable SSDs have now becoming more popular, thanks to their compact sizes, durability and plug-and-play ability. It does not require users to reboot the computer before using the SSD. It is perfect for devices, that are hard to replace/swap their internal storage, such as gaming consoles and laptops/Ultrabooks.
Prices
Due to the ubiquitous availability of the SATA SSDs, they are generally the most affordable form of solid-state storage. At the time of this article, you could get a 1 TB SATA SSD from a reputable brand at around $130 USD to $160 USD (~$0.16 USD for each GB).
Depending on which USB standard and external enclosure you choose, a USB 3.1 Gen 2 (10 Gbps) external SSD costs around $180 USD to $200 USD for 1 TB (~$0.2 USD for each GB). If you want to have a reversible USB Type-C connector, you may need to pay a little bit more.
PCIe SSDs are considered as the fastest and more expensive storage at the moment. For a PCIe 3.0 x4 NVMe SSD, it is usually priced at about $230 USD to $250 USD for 1 TB (~$0.25 USD for each GB). There are some budget PCIe 3.0 x2 SSDs with slightly worse performance at around $150 USD to $170 USD for 1 TB (~$0.17 USD for each GB).
If you want to know more about the performance of different drives, please check out our reviews here.
You can purchase the SSDs from your local/online resellers or the links below from Amazon US.
Thanks KINGMAX for providing the PX3480 PCIe NVMe SSD and KE31B External SSD. (Review Sample)
Feel free to leave comments below, if you have any opinion about this website. Share the website around if you enjoy reading it. Subscribe to our Newsletter or follow our Google+, Facebook and Twitter.
Support this website simply by shopping in Amazon. It will give us small kickbacks, if you use the above affiliate links to make any purchases, which will help us grow.