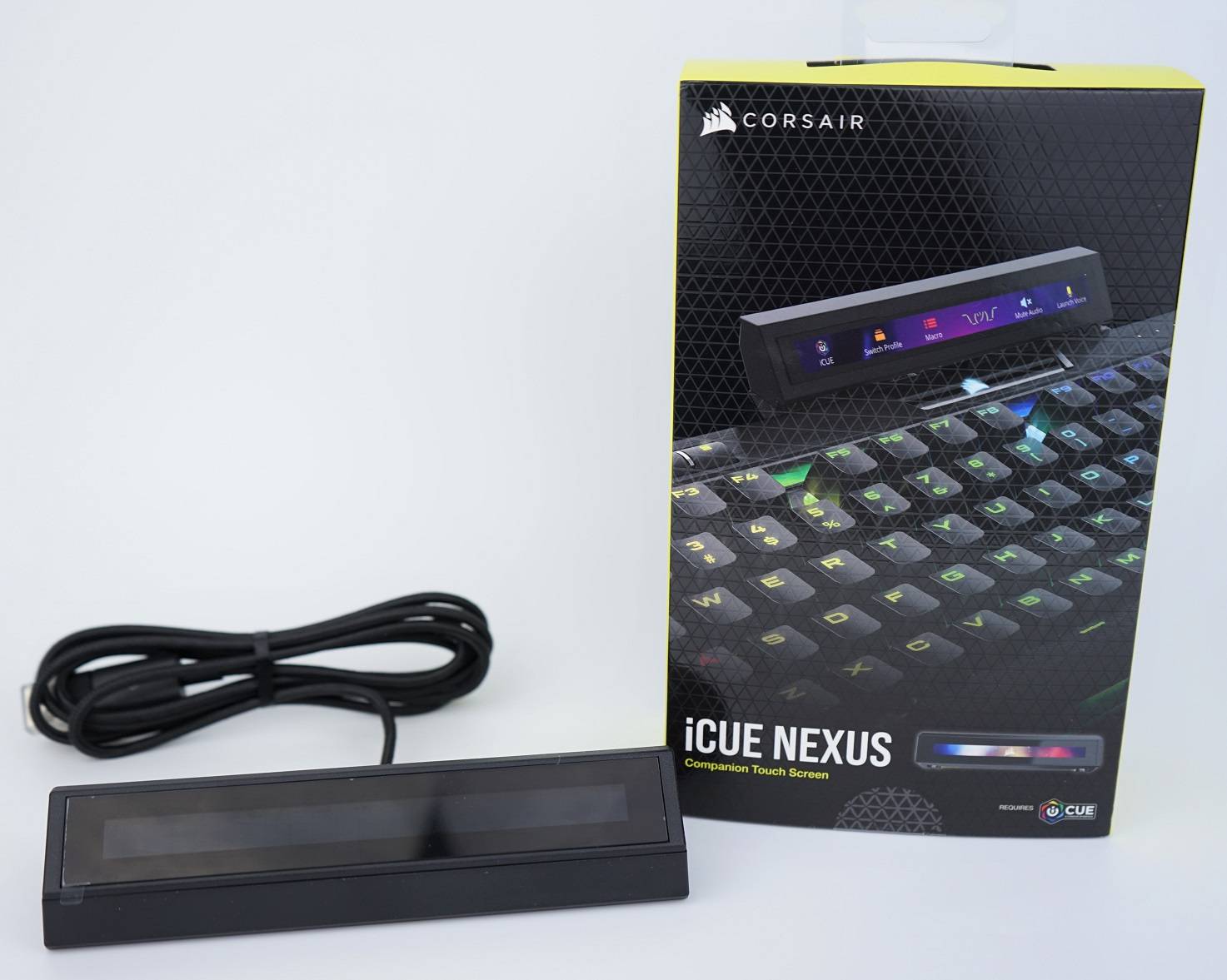 The iCUE NEXUS is a very unique accessory, being a companion touch screen for most Corsair's products and software ecosystem. It allows for quick access to customization controls and more. Corsair touted it as the personalized "command center" for PC enthusiasts and gamers.
Unboxing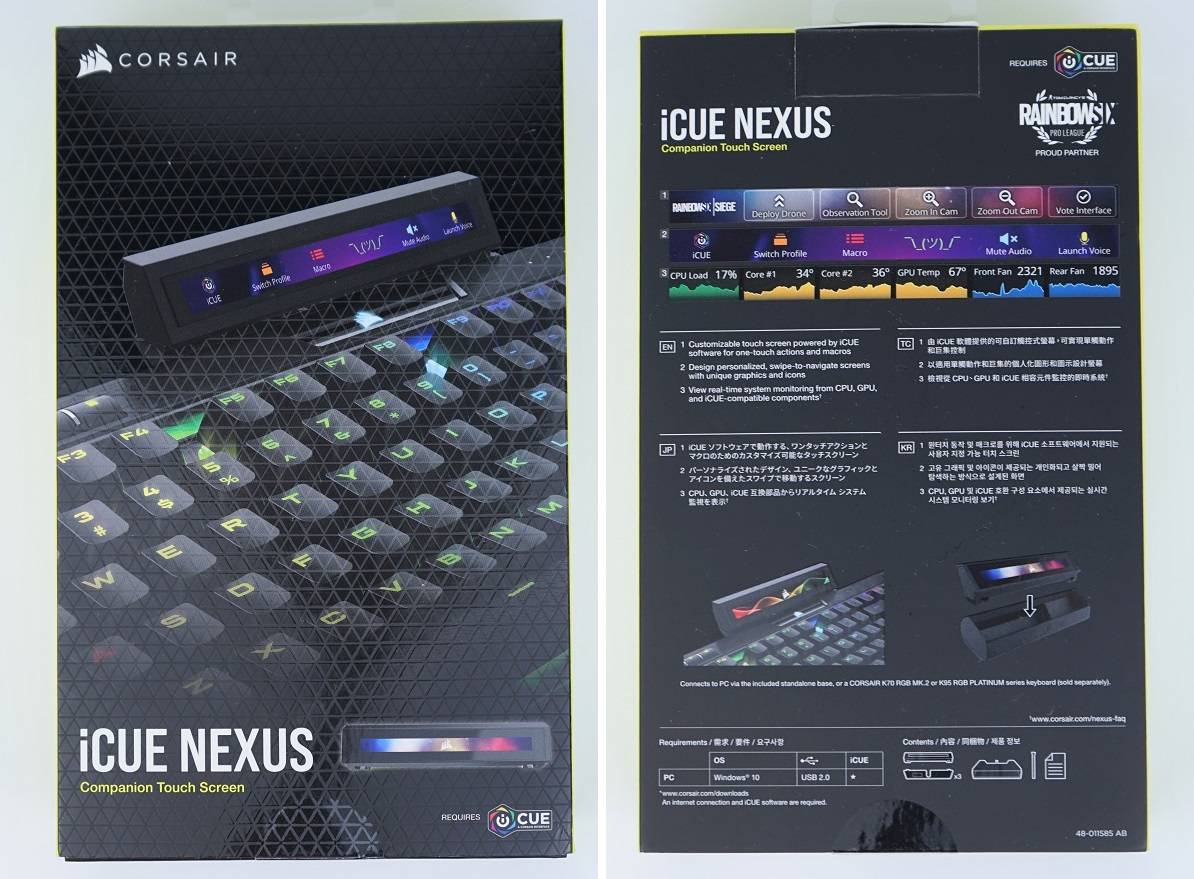 The iCUE NEXUS comes in a black and yellow cardboard box. Three sample screenshots are printed at the back with short descriptions translated into four different languages. Corsair is also partnered with Rainbow Six Siege to provide custom in-game actions for the iCUE NEXUS. The device can only be used on a Windows 10 PC with a USB 2.0 port and the iCUE software installed.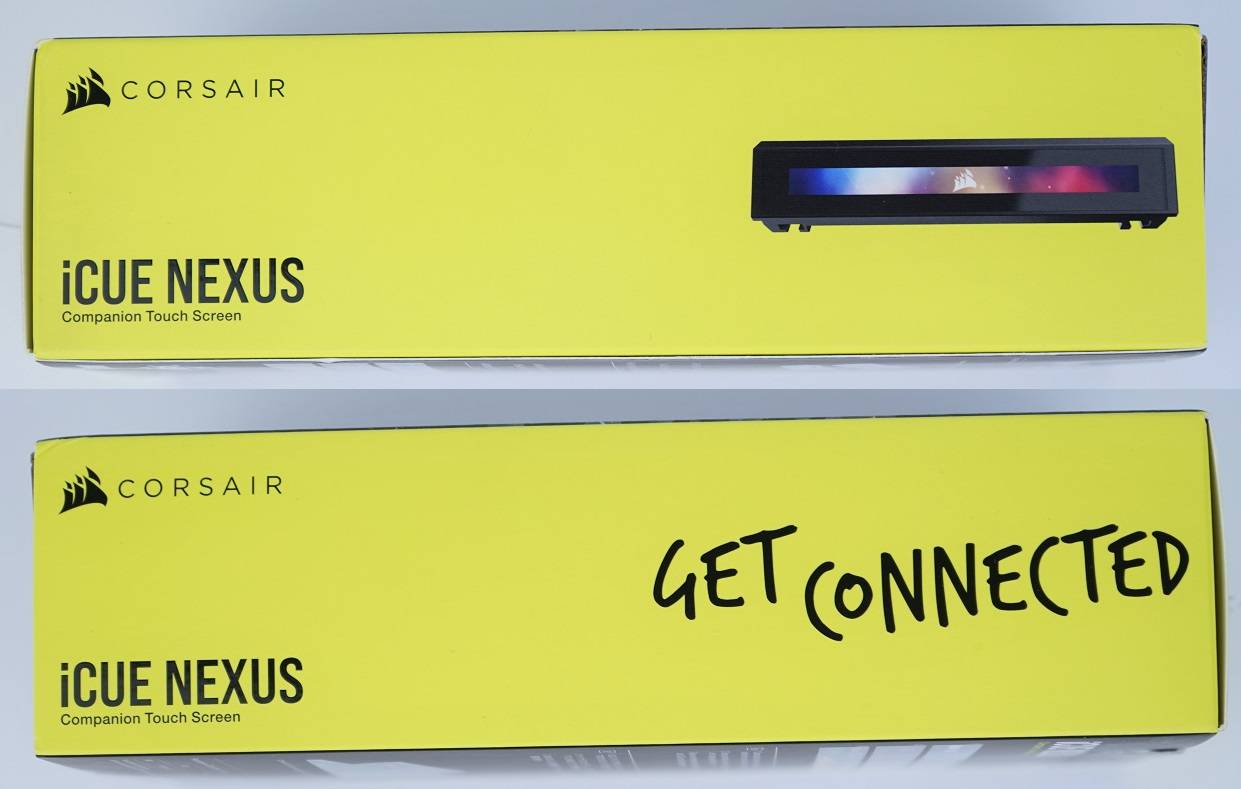 The side of the box has Corsair's tagline for its accessories – "GET CONNECTED".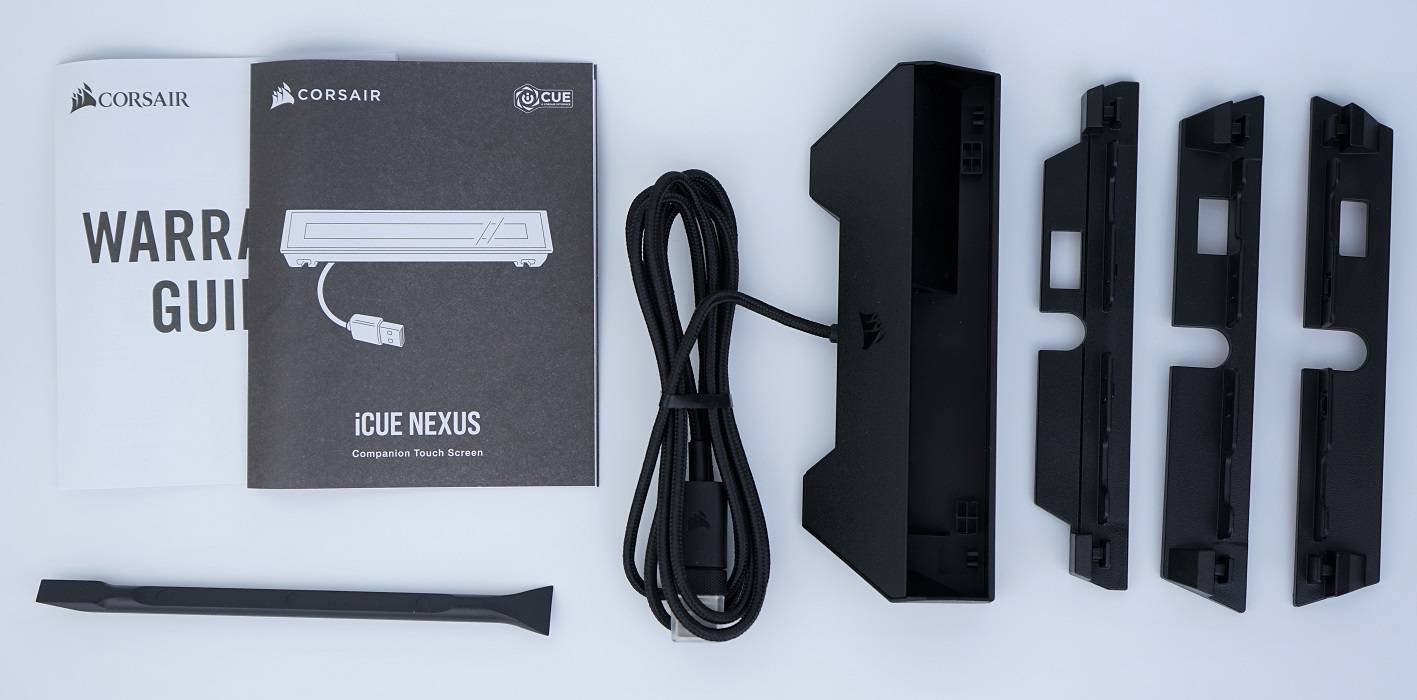 Inside the packaging, you have the warranty guide, user manual, a plastic base/stand, three keyboard adapters and a plastic spudger (prying tool).
Corsair iCUE NEXUS Companion Touch Screen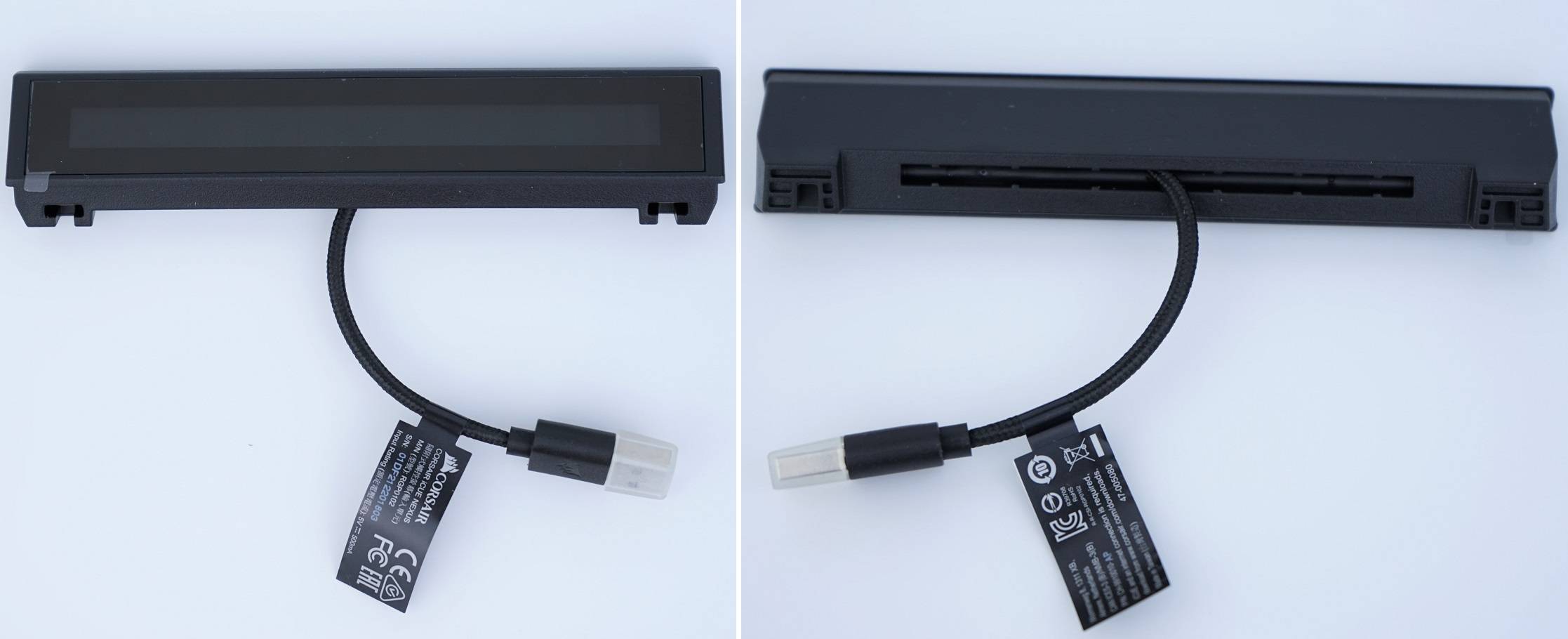 The main unit of the iCUE NEXUS is about 154 mm long, 35 mm wide and 16 mm tall. There is a short, non-detachable USB Type-A cable for power and data connection, which is designed to be directly connected to the USB passthrough port at the back of most Corsair's keyboards. The 5-inch touch-capable TFT LCD display has a resolution of 640 x 48 with an unusual aspect ratio of 40:3.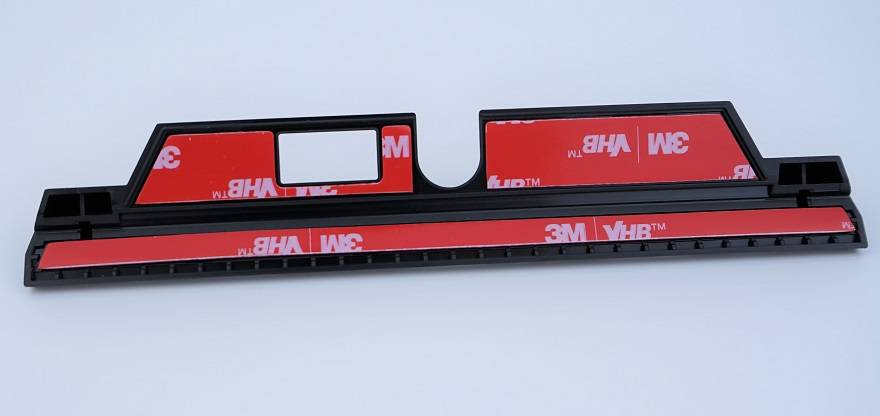 You can install the iCUE NEXUS on the top of the keyboard, using the included three adaptors and pre-applied double-sided 3M VHB tapes. The adaptors support the K70 MK.2 Low Profile, K70 MK.2, K95 Platinum and K100 RGB series mechanical keyboards.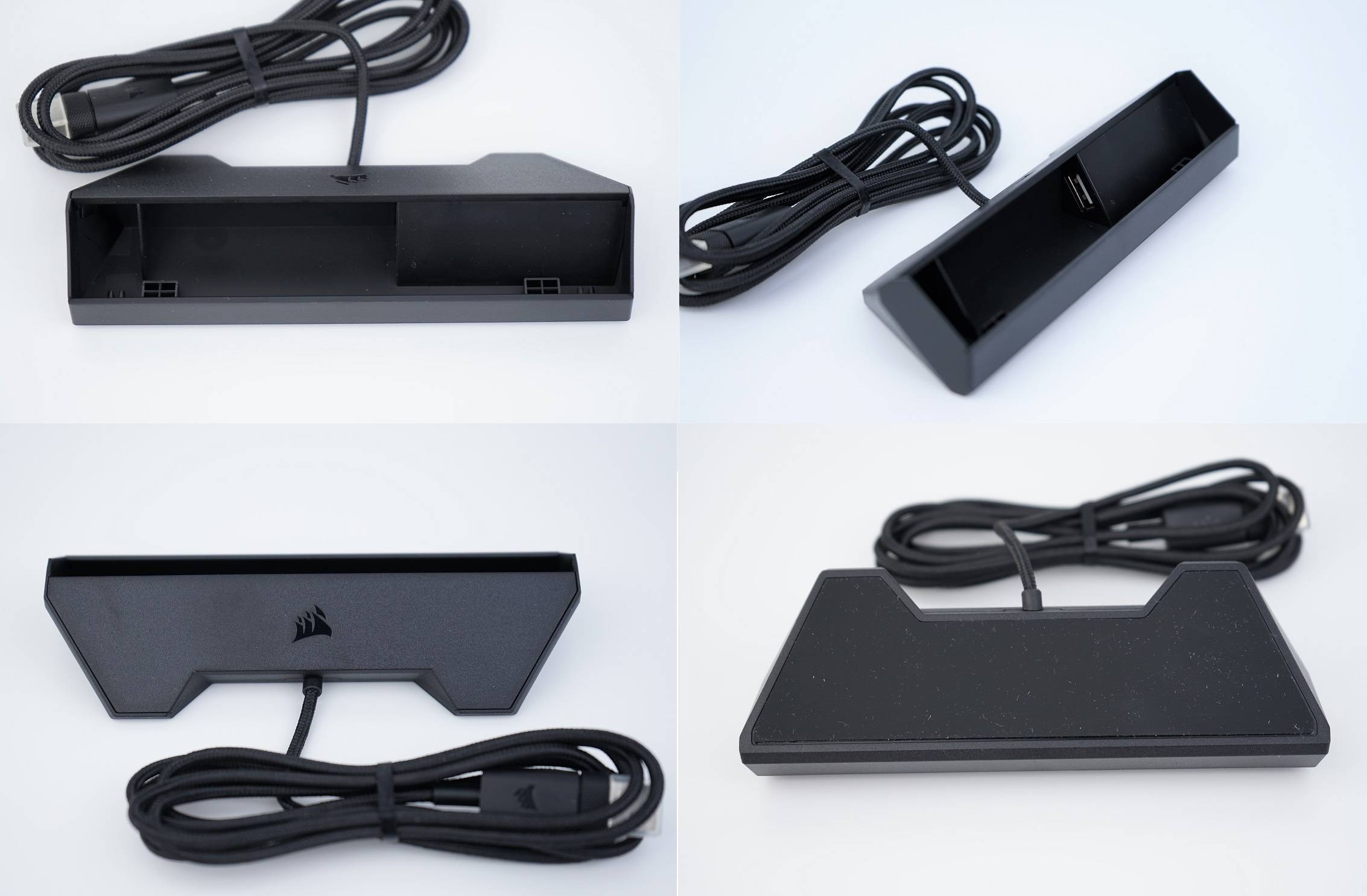 You can also choose to use the iCUE NEXUS as a standalone display without attaching it to a keyboard. The plastic base has a longer 1.8-meter USB Type-A cable to run the connection to your PC tower, as well as a large rubber pad at the bottom to prevent it from sliding on your desk.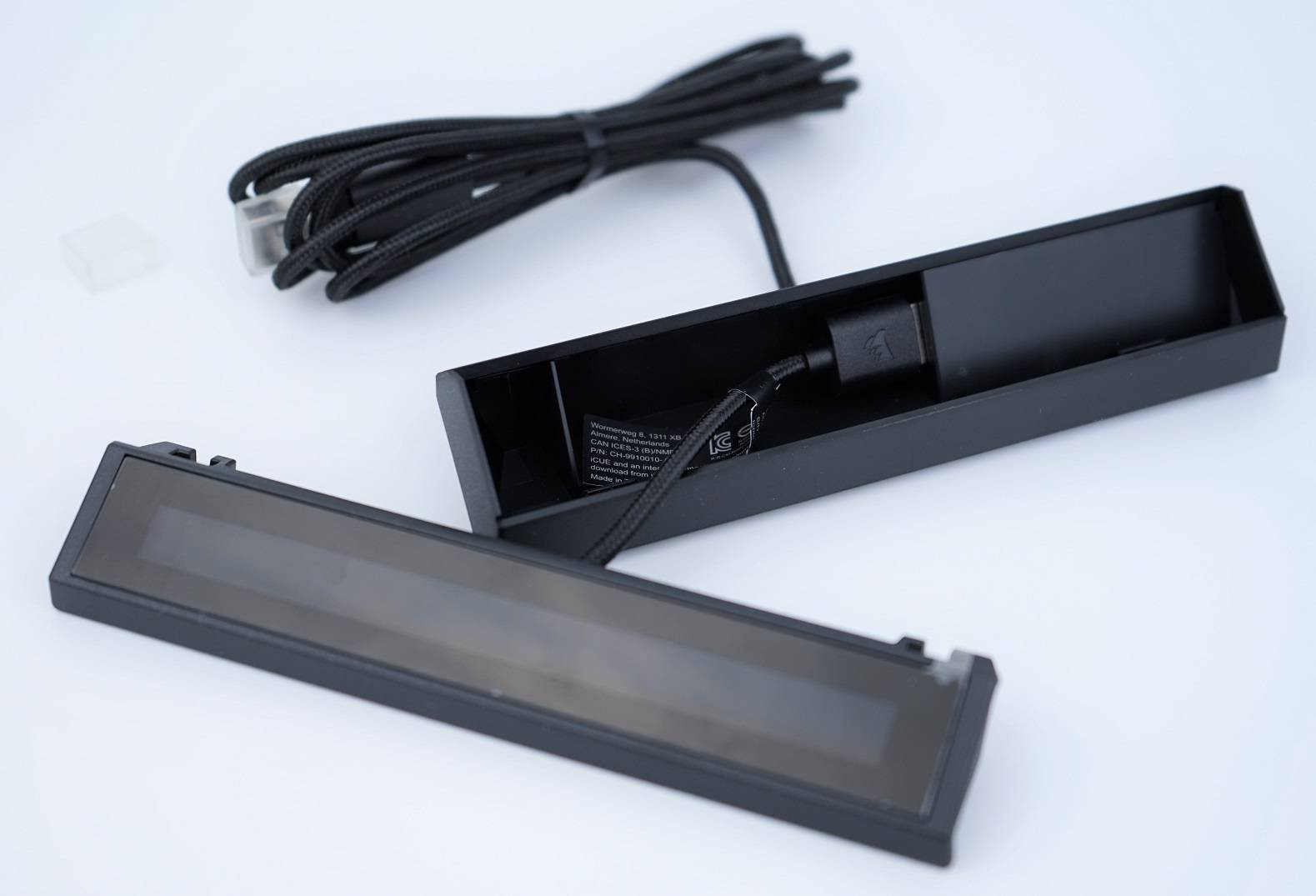 Before clipping the main unit to the base, you will have to plug the cable into the USB Type-A port inside.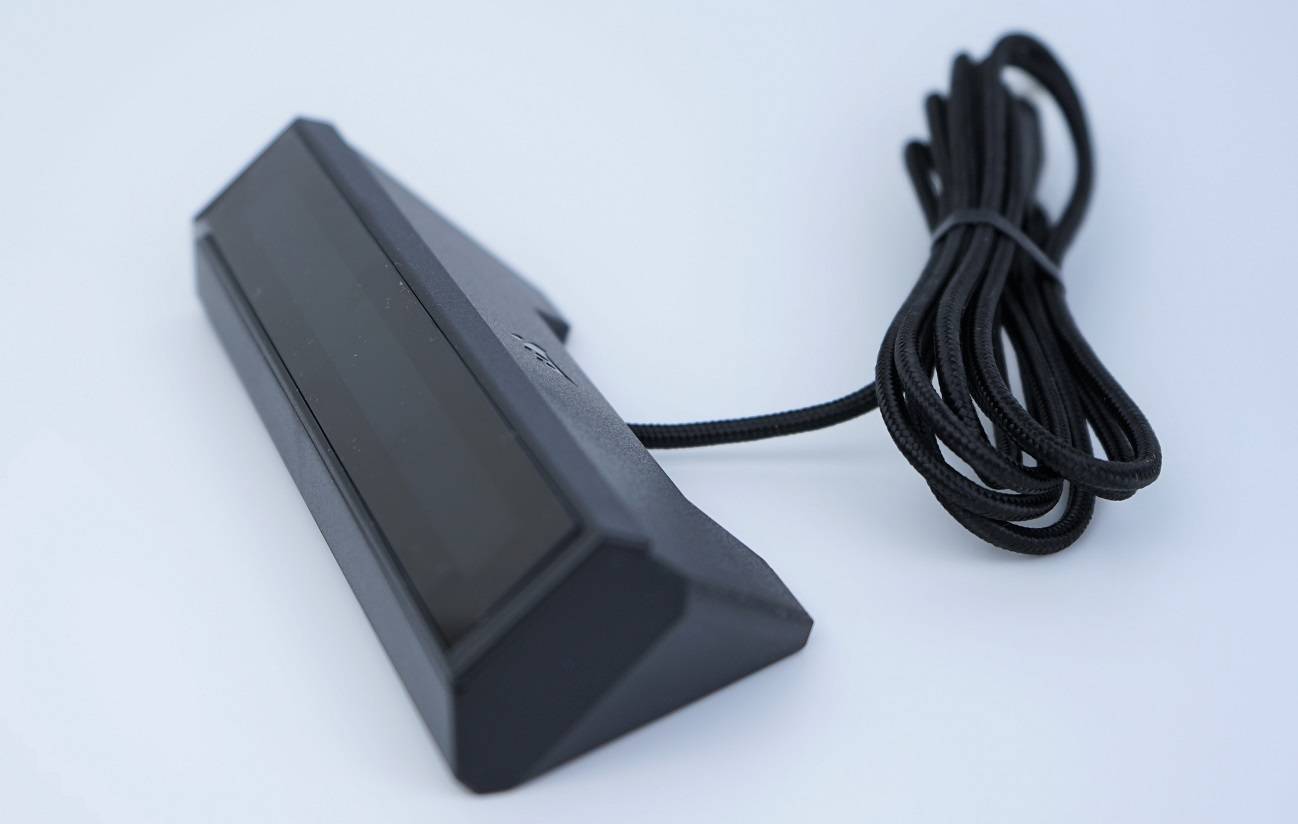 The base will angle the screen slightly upwards, so users can view the display's content more easily when placed on a desk.
Review
Software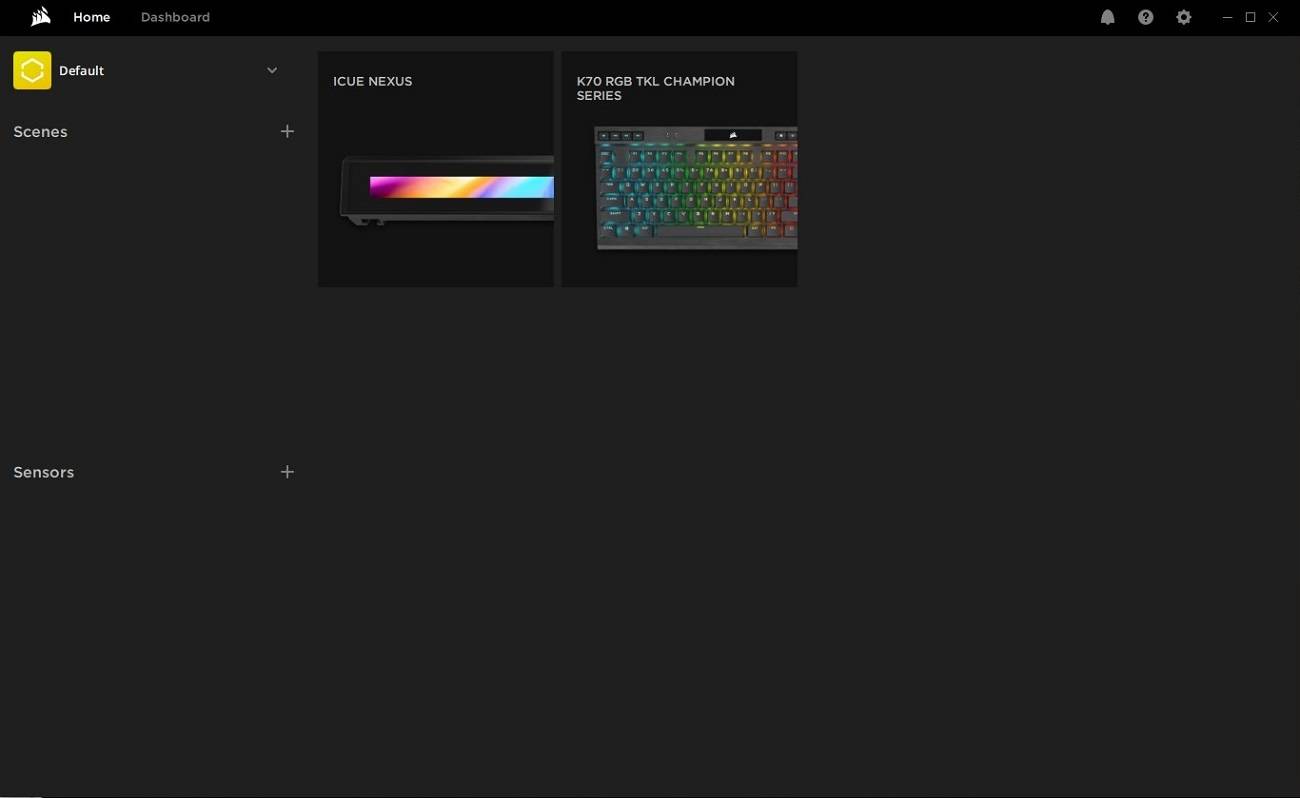 Identical to other Corsair products, the iCUE NEXUS will be automatically shown on the iCUE 4 software's homepage, once it is plugged into the computer. You can add customizable scenes and sensor readings in the left sidebar.
The "Manual Setup" section is the place where you customize all the screens and buttons on the iCUE NEXUS. Each screen can hold up to six rectangle buttons or widgets (100 x 48), which can be assigned as a macro, keyboard and mouse clicks, or to launch applications. You can set the button's background and icon colors/images. For widgets, they can be used to display system information, such as CPU/GPU temperatures and fan speeds.

If you have other iCUE-compatible devices in the computer, there will be unique screens available for that particular device (i.e. the K70 RGB TKL keyboard). You can also edit, copy or temporarily disable certain screens in the "Libraries" tab.

As the name implies, the "Import/Export Screens" can be used to import screens created by community members or third-party companies. You can also export your own screens to share them to other iCUE NEXUS's users. You can update firmware, configure the display timeout time and brightness in the settings menu.
The iCUE NEXUS relies heavily on the iCUE 4 software and all the iCUE-compatible hardware to act as a "command center". The software is required to be running at all times in the background. At the time of my testing, more works can be done to improve the device's usability and functionality. For example, more widgets should be added as soon as possible. A timer and stopwatch would be useful tools, that can be quickly accessed from the display. If the iCUE NEXUS is able to show Windows notifications, it would be extremely helpful when you are using a full screen application. I was surprised to see there is no Elgato Stream Deck integration on the device, which will further expand its capability to control streaming-related functions.
There is no support for launching applications installed from the Microsoft Store in the iCUE software. It may not be the fault for Corsair, because of the strange way Microsoft chooses to install its UWP apps. However, you should be able to find some workarounds by setting up some .bat files or marcos.
Although Corsair has provided a starter pack for newcomers with a few screens and gifs, it would be more convenient for everyone to download user-created screens or widgets in one place, if Corsair can build a library page, similar to that for the iCUE lighting profiles.
Hardware
The iCUE NEXUS is constructed primarily from molded plastic, similar to the material used in their keyboards, but the build quality still feels decent and solid. The touch screen is covered with glass, which should help protect it from most scratches under normal circumstances (i.e. fingernails, small bumps from keyboard and mouse).
The 5-inch LCD display is not only the key selling point of the iCUE NEXUS, but is also the major disappointment of this accessory. In terms of pure specifications, it is by no means up to today's standards. Touch responsiveness is actually good, but animations may seem a bit laggy because of the panel's 24 Hz refresh rate. Color contrast and vibrancy is restricted to 6-bit colors (up to a total of 262,144 colors) with low maximum brightness. Display viewing angle can be better, but is acceptable for the iCUE NEXUS's use cases, as you are always looking at it head on at the same position. Pixel density at around 128 PPI is alright from the normal viewing distance.
In my opinion, the display on the iCUE NEXUS can be larger with slimmer side bezels, while maintaining the same physical dimensions. A bigger screen can allows for more versatility in software layout and functionality, for example, showing two rows of buttons or information. The current display size is fine, if it is integrated into a keyboard with limited internal space, not as a standalone accessory.
Conclusion
The concept of Corsair iCUE NEXUS is a long-standing dream for many gamers to have an additional display for all their peripherals and computers. The ability to control devices and launch applications are very useful features to have. Improvements in both the hardware and software aspects are necessary to realize the true potential at its current form, from a larger, sharper display to more widgets and tools in iCUE.
The iCUE NEXUS is priced at $99.99 USD (MSRP) with a 2-year warranty. There is no direct competitor in the market, considering it is locked to only iCUE-compatible devices. You can still get the Logitech G19/G19s keyboards or the EVGA Z10 keyboard, though they are relatively old and lack any comparable features. The iCUE NEXUS is an awesome option, if you are into the Corsair ecosystem.
You can purchase the accessory from your local/online retailers or the links below from Amazon and Newegg.
Thanks Corsair for providing us the accessory for review. (Review Sample)
Feel free to leave comments below. Share the article if you enjoy reading it. Follow us on Twitter, Facebook, Instagram and Pinterest.
Support this website simply by shopping on Amazon and Newegg. We will receive small kickbacks, if the above affiliate links are used to make any purchases. Or you can directly donate to us via our Buy Me a Coffee page.