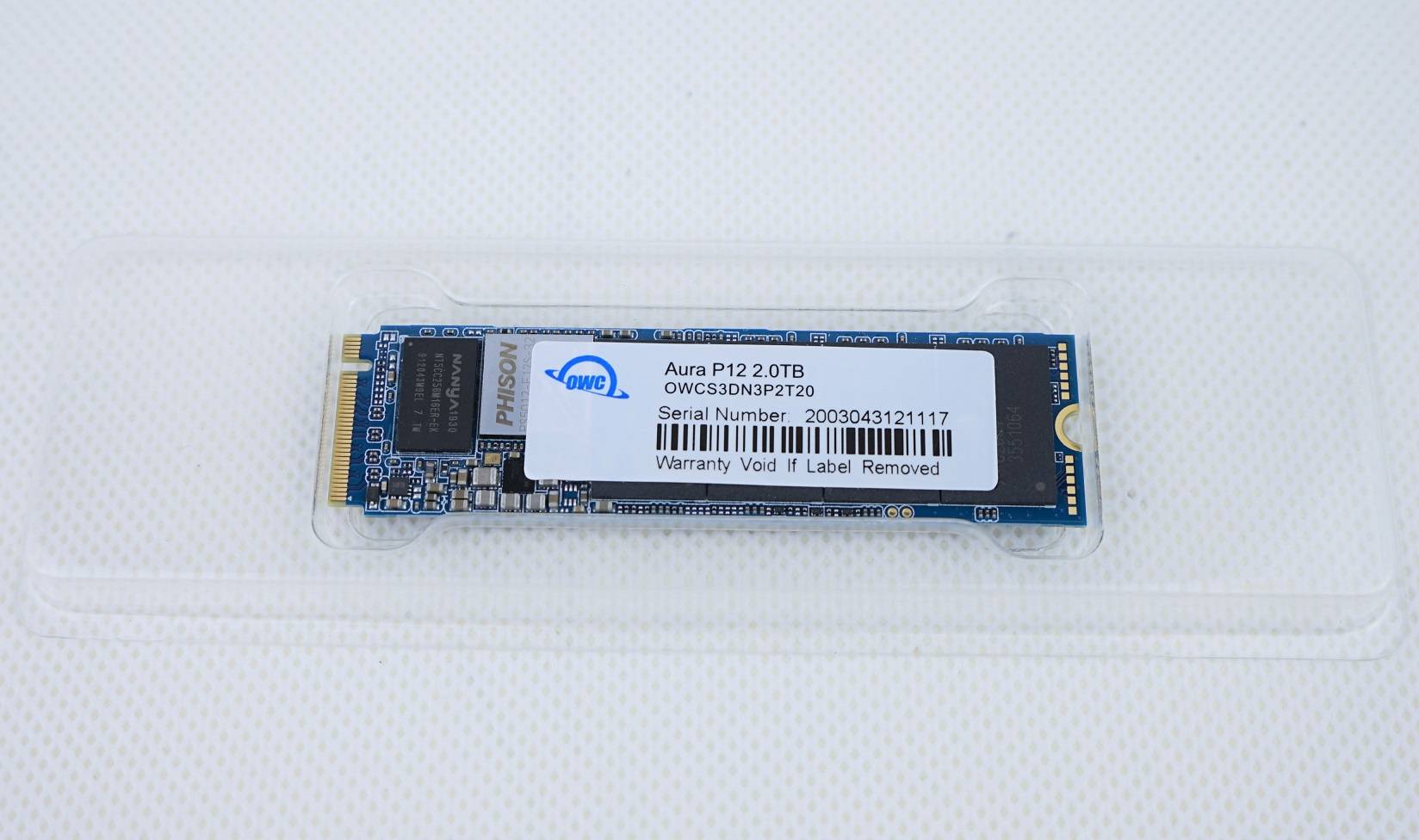 OWC (Other World Computing), well-known for their Mac-specific accessories, has released the high-speed Aura P12 NVMe SSD for PC in April 2020. It is claimed to improve performance in both productivity tasks and games.
Specifications
[table id=430 /]
The Aura P12 is available in four capacities, from 240 GB to 4 TB, in M.2 2280 form factor. The drive is advertised to reach maximum sequential read/write speeds of 3400 MB/s and 3000 MB/s, using the PCIe 3.0×4 interface. Though OWC does not specify, smaller-sized SSDs tend to have slower write speed.
The Aura P12 has a 1.8 million hours of MTBF and rated endurance of 380 TBW to 6820 TBW. 5-year warranty is provided.
Unboxing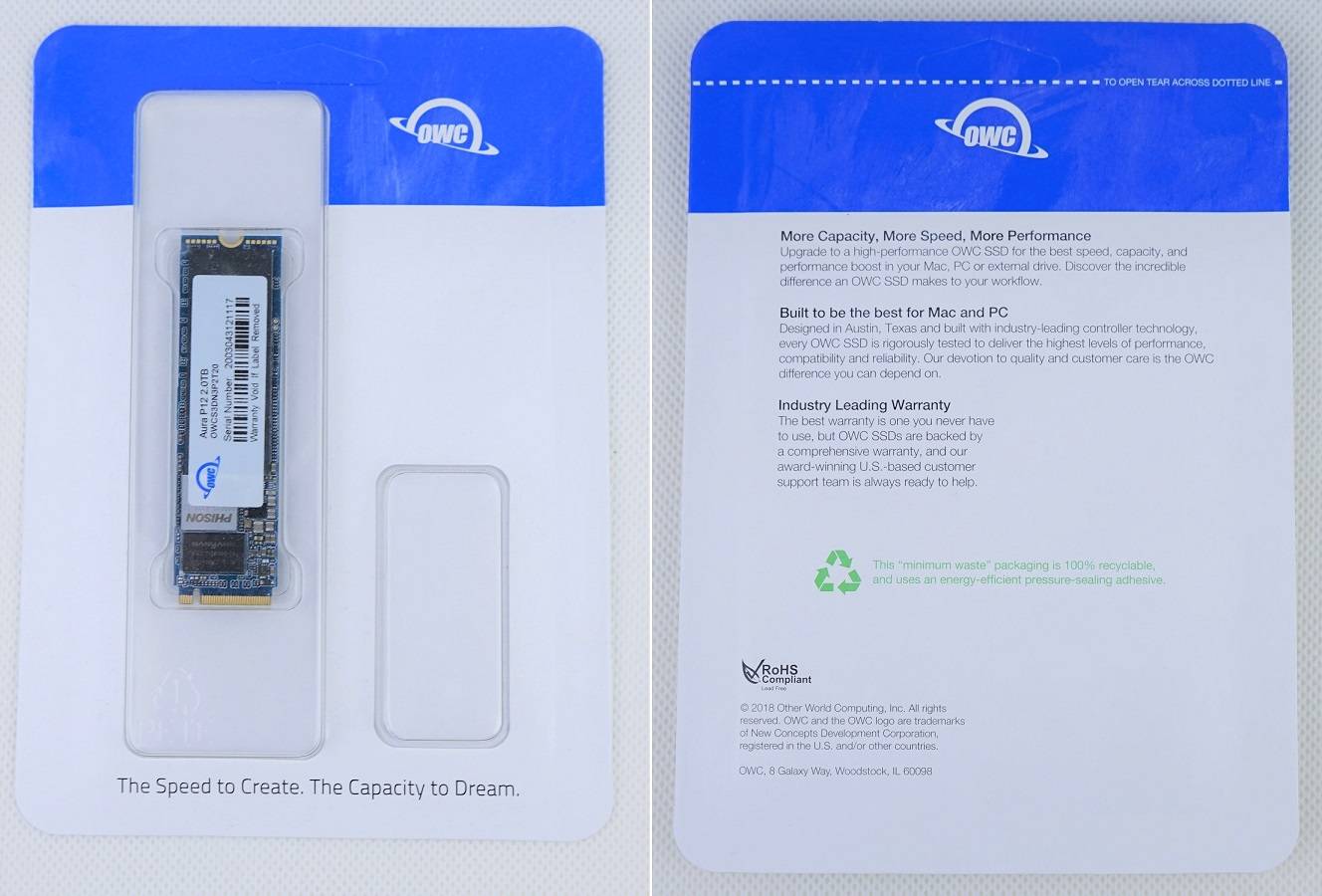 OWC uses a very basic paper packaging, which is 100% recyclable. The Aura P12 SSD is secured behind a plastic window at front, while brief descriptions of the product are printed at back.
OWC Aura P12 PCIe NVMe SSD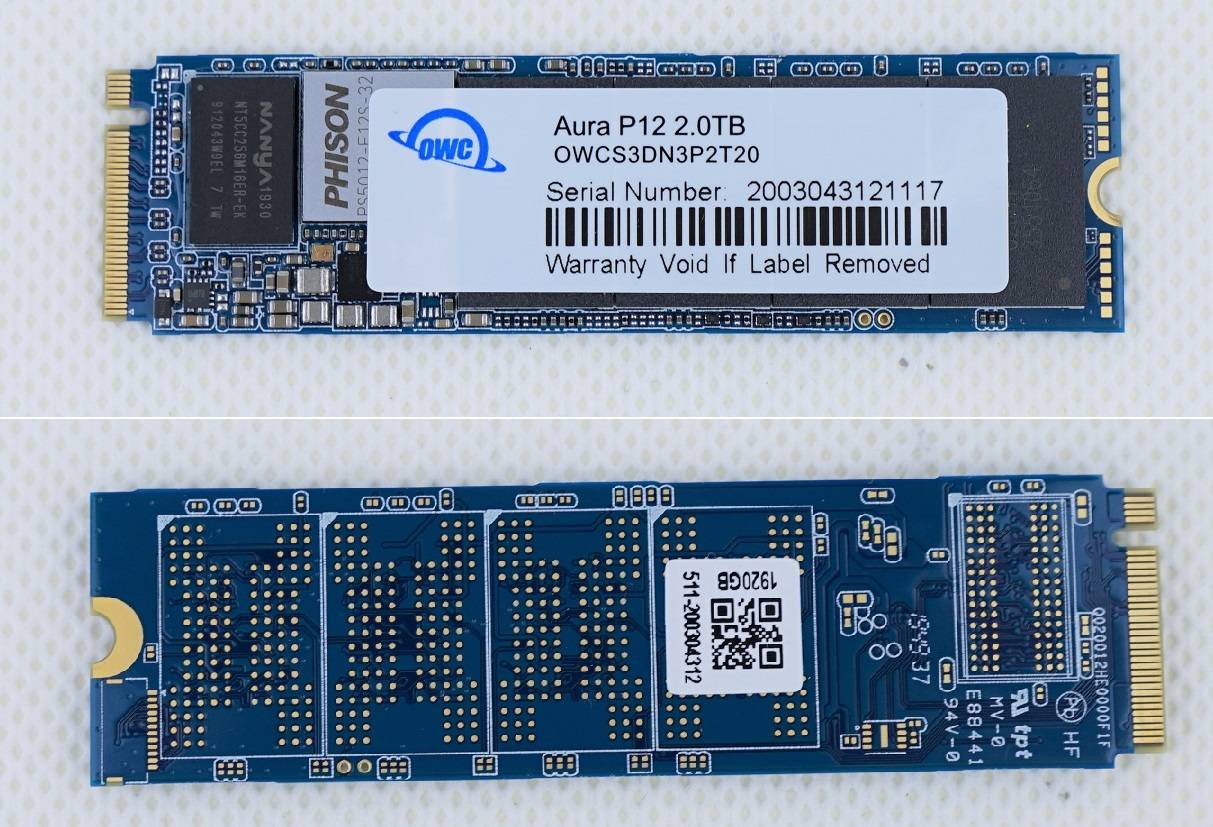 The Aura P12 featured a blue-colored printed circuit board (PCB). Our specific 2 TB model (S3DN3P2T20) has components covering only one side. The top sticker has little information, expect for the model and serial numbers.
Hardware combination for the Aura P12 is common for PCIe 3.0×4 drives. It is equipped with the Phison PS5012-E12S memory controller and Toshiba (now KIOXIA) 96-Layer BiCS4 3D TLC NAND flash (TABHG65AWV). The single 4 Gb (512 MB) DDR3L-1866 cache (NT5CC256M16ER-EK), used to store the translation table, is manufactured by Nanya.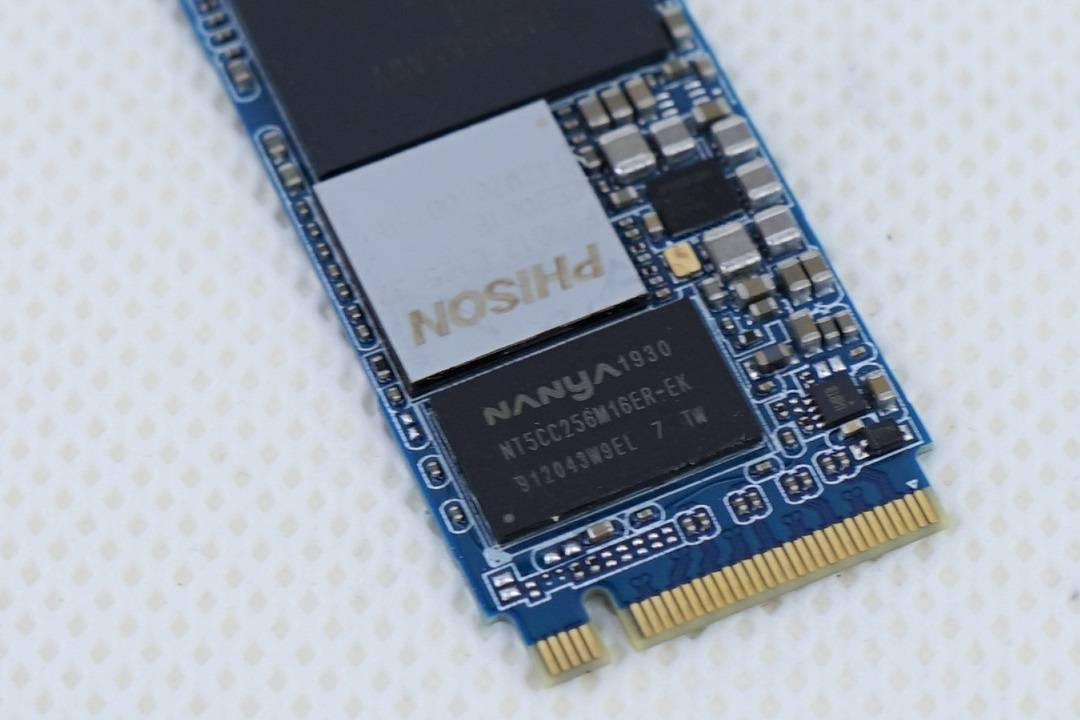 The M.2 (M-key) connector of the SSD is linked to the motherboard via the PCIe 3.0×4 interface, which has a theoretical bandwidth of 32 GT/s or 3.94 GB/s.
Review
Testing Methodology
To test the performance of the solid-state drive, we use four well-established storage benchmarking software. They are CrystalDiskMark, ATTO Disk Benchmark, AS SSD Benchmark, as well as HD Tune Pro.
CrystalDiskMark can measure both sequential and random 4KB read/write speeds with a queue depth of 32. ATTO Disk Benchmark can test how the drive performs across different transfer block sizes, mostly in a sequential environment. AS SSD Benchmark can provide both normal read/write speed and the IOPS performance of the drive. HD Tune Pro can be used to simulate a large file transfer of up to 100 GB.
We also recorded the time to copy three files of 10 GB, 500 MB and 250 MB from a RAM disk to the SSD, to simulate a real-world situation.
Performance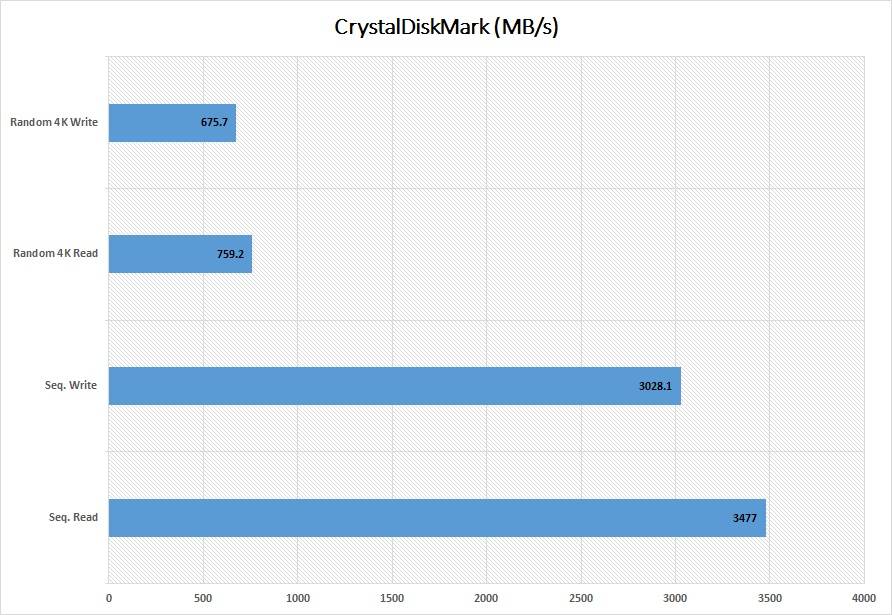 The Aura P12 was able to reach the claimed sequential read/write speeds in CrystalDiskMark, at around 3470 MB/s and 3030 MB/s. Random 4K operations (QD 32) was lowered to about 760 MB/s and 680 MB/s. FYI, most SATA-based SSDs often sits at under 300 MB/s.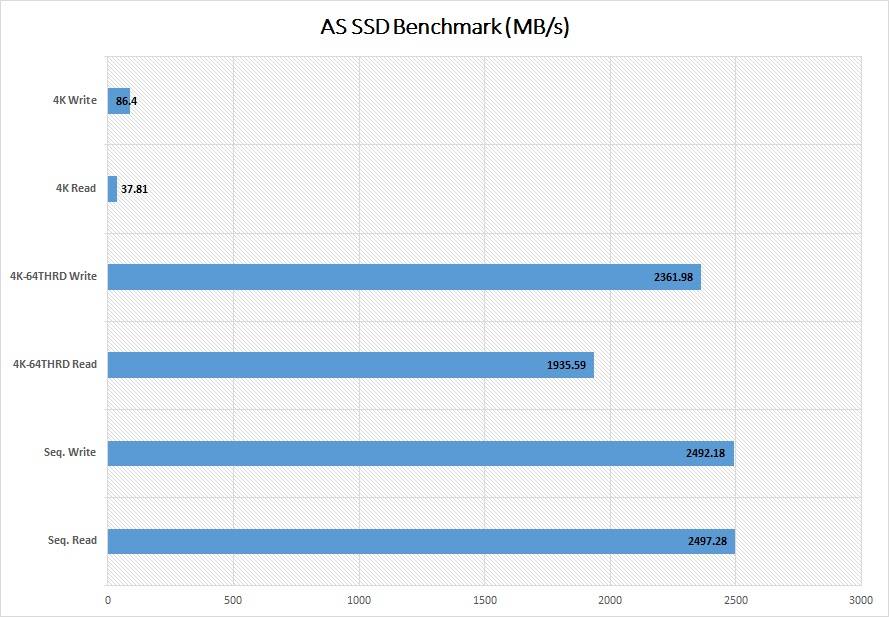 We saw more moderate results in AS SSD Benchmark, with sequential speeds at around 2500 MB/s. At greater queue depth, the random 4K performance was boosted to 1930 MB/s and 2360 MB/s.
The Aura P12 scored 6051 in the test. It achieved a maximum of 604668 IOPS in read and 495511 IOPS in write. IOPS number represents how well a drive handles random input and output operations.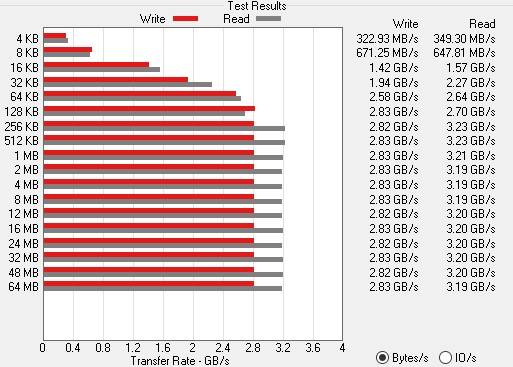 In ATTO Disk Benchmark, the speeds became stable, once the file size increased to 128 KB or above. The Aura P12 got about 3200 MB/s for read and 2800 MB/s for write.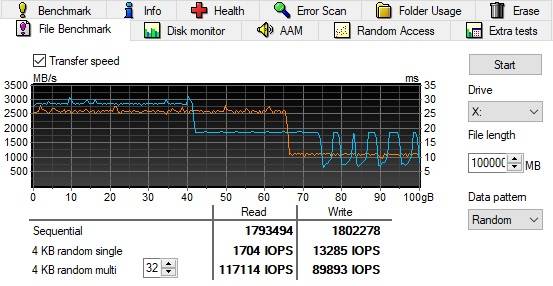 Simulating a huge 100 GB file transfer in HD Tune, we could observe that the Aura P12 is configured with about 65 GB of SLC cache, which write performance started to decrease after the cache was saturated. Speed reduced from 2500 MB/s to 1000 MB/s. The drive also experienced thermal throttling at the later part of the test, causing the read speed to fluctuate and drop to around 2000 MB/s.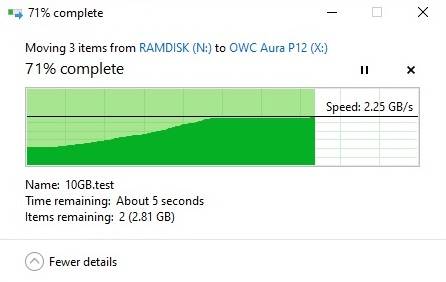 It took the SSD 4.76 seconds to complete the copying of the three files, sized around 15 GB. Write speed stayed above 2 GB/s most of the time.
Comparison
[visualizer id="2840″]
[visualizer id="2842″]
The Aura P12 could rival most PCIe 3.0×4 NVMe SSDs, with its Phison PS5012-E12 controller and newer BiSC4 TLC NAND flash. It was slower than the Sabrent Rocket, but on par with the Silicon Power P34A80. The Aura P12 had pretty good 4K random performance in both benchmarks.
[visualizer id="4796″]
By virtue of the larger ~65 GB SLC cache, the Aura P12 could maintain a more stable write speed in HD Tune, at around 1800 MB/s. Though, the Kingston KC2500 (its review here) was still faster by a decent amount.
Conclusion
The OWC Aura P12 is another great option to expand or upgrade your computer's storage. Its performance could match most similarly-equipped NVMe SSDs with slightly better sustained write speed, due to the larger pseudo-SLC cache (~65 GB). Under normal bursty workloads, the drive could reach sequential read/write speeds at over 3000 MB/s.
The Aura P12 costs $348.99 USD for 2TB and $149.99 USD for 1TB (MSRP), with a 5-year warranty. They are not the cheapest offerings in the market, but are still reasonably-priced, except for the higher capacity models. For some reasons (probably lower demand), the 2TB and 4TB models are way too expensive, which are more than double or quadruple the price of the 1TB model. For comparison, the Sabrent Rocket and Silicon Power P34A80 (2TB) are on sale for $249.98 USD and $229.99 USD at the time of this review.
You can purchase the SSD from your local/online resellers or OWC's online store.
Thanks OWC for providing us the SSD for review. (Review Sample)
Feel free to leave comments below, if you have any opinion about this website. Share the website around if you enjoy reading it. Subscribe to our Newsletter or follow our Twitter, Facebook and Instagram.
Support this website simply by shopping in Amazon and Newegg. It will give us small kickbacks, if you use the above affiliate links to make any purchases, which will help us grow.