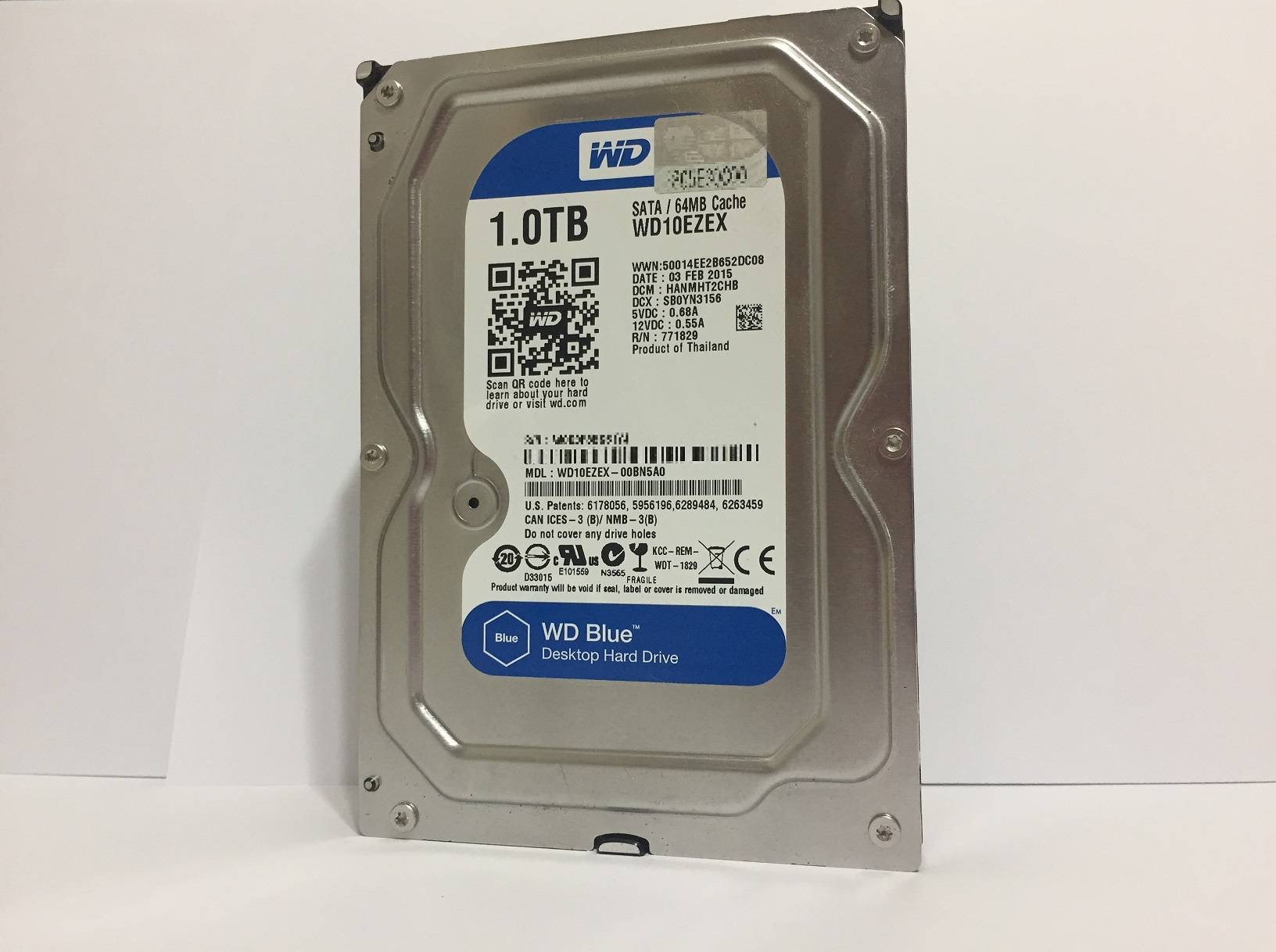 Although solid-state drives (SSD) are gaining popularity quickly in mainstream computers, their capacities are no where near a normal mechanical hard drive (HDD). To keep the cost down, a lot of people now will include a small SSD for the operating system and frequently used applications, and a large HDD for other files in their PC builds. The Western Digital Blue 1TB HDD is one of the top choices in the PC community.
Specifications
[table id=427 /]
The WD Blue 1 TB hard drive is designed for normal desktop use, using the 3.5-inch form factor. The drive spins at 7200 RPM with a single platter. The drive is paired with 64 MB of cache. It is rated to transfer data at 150 MB/s. The WD Blue HDD lineup also offers different capacities, from 500 GB up to 6 TB.
All information is printed on the top of the drive, including the model number, drive capacity and serial number.
The printed circuit board (PCB) is located at the back of the drive, with the Serial ATA 6 Gb/s (SATA) connector. Standard mounting holes are at both the bottom and the sides.
Review
Testing Methodology
To test the performance of the hard drive, we use three well-established storage benchmarking softwares. They are CrystalDiskMark, ATTO Disk Benchmark, as well as AS SSD Benchmark.
CrystalDiskMark can measure both sequential and random 4KB read/write speeds with a queue depth of 32. ATTO Disk Benchmark can test how the drive performs across different transfer block sizes, mostly in a sequential environment. AS SSD Benchmark can provide both normal read/write speed and the IOPS performance of the drive.
Performance
As we can see, in CrystalDiskMark, the WD Blue 1TB HDD performs as advertised in sequential read and write speeds, at about 142.8 MB/s and 159.8 MB/s respectively. However, the hard drive did not do well in 4KB random read and write. Its speeds dropped to 0.388 MB/s and 1.295 MB/s for read and write. This is to be expected for a traditional hard drive to deal with random operations, due to the limitation of the read/write head moving across the platter.
In ATTO Disk Benchmark, a similar result can be observed. When the file size is lower than 4 KB, the read and write speeds will decrease significantly. For larger file sizes, the speeds rise up to 193 MB/s (32 MB size), exceeding its rated 150 MB/s.
Comparison
[visualizer id="2840″]
The WD Blue did comparably well as a HDD, but no where matched the performance of any solid-state drives. SSDs have marginally better random 4K read/write speeds, which makes accessing small-sized files more responsive.
Conclusion
The Western Digital Blue 1TB HDD (10EZEX) strikes a great balance between price, capacity and performance. It will be an awesome companion drive for a fast solid-state drive in a computer. You can store a lot more content and have decent read/write speeds (about 150 MB/s to 190 MB/s), without spending a fortune. Moreover, the drive is shipped with a two-year limited warranty, by a reputable brand. There is a reason why it stays as the top seller hard drive for a long time.
Feel free to leave comments below, if you have any opinion about this website. Share the website around if you enjoy reading it. Subscribe to our Newsletter or follow our Google+, Facebook and Twitter.
Support this website simply by shopping in Amazon. It will give us small kickbacks, if you use the above affiliate links to make any purchases, which will help us grow.