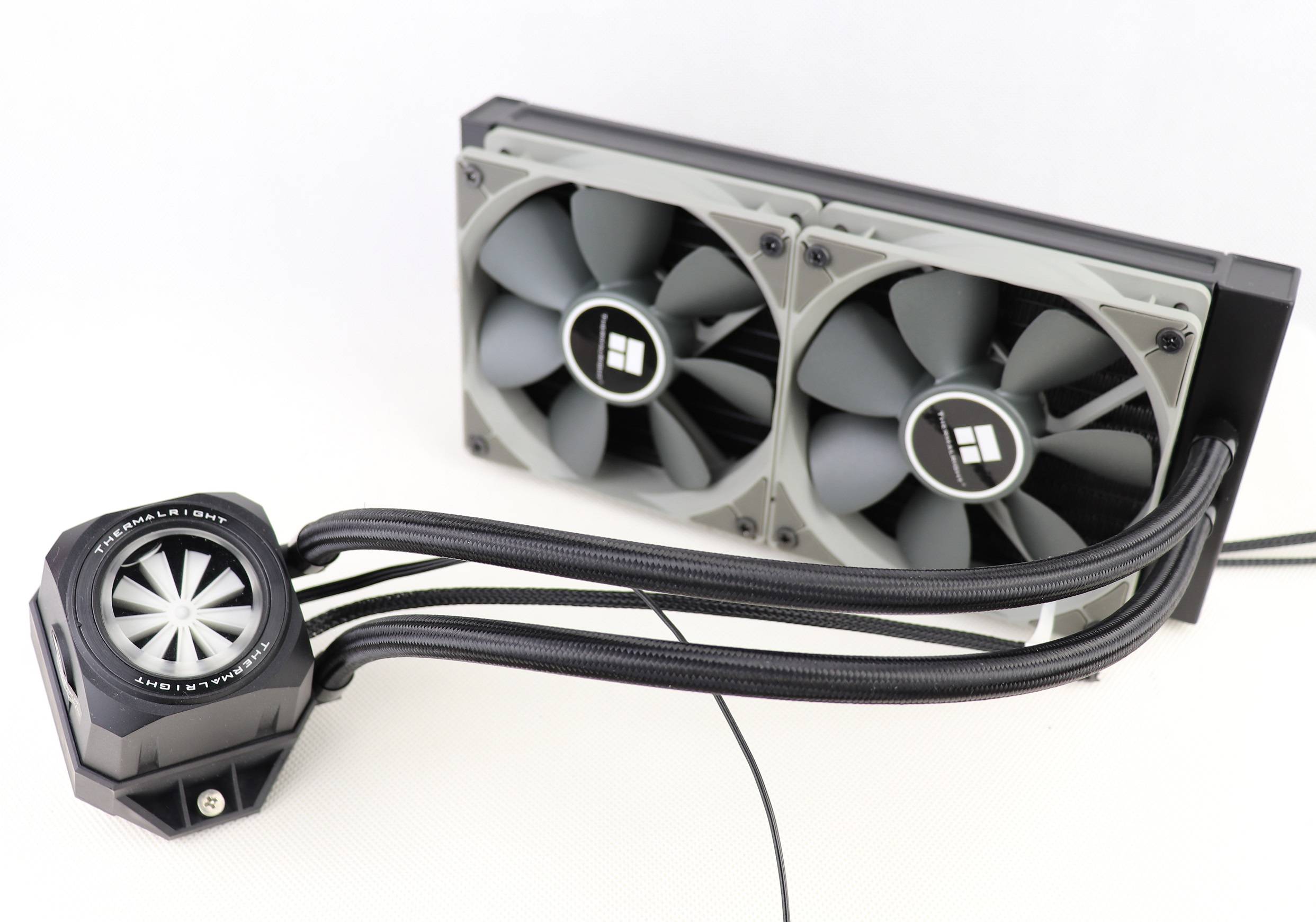 Thermalright is an well-established company, specialized in PC air cooling hardware. Last year, it released the new Turbo Right series liquid all-in-one CPU coolers to the market. We are lucky to get our hands on a couple of them for review. Let's check them out.
Unboxing
There are a total of four models in the Turbo Right series, including the 240, 360, 240 C and 360 C. The differences between them are the sizes and materials used in the radiators. The packaging design is nearly identical across all versions.
A large photo of the cooler covers most of the front of the box, while a few features are highlighted at the back.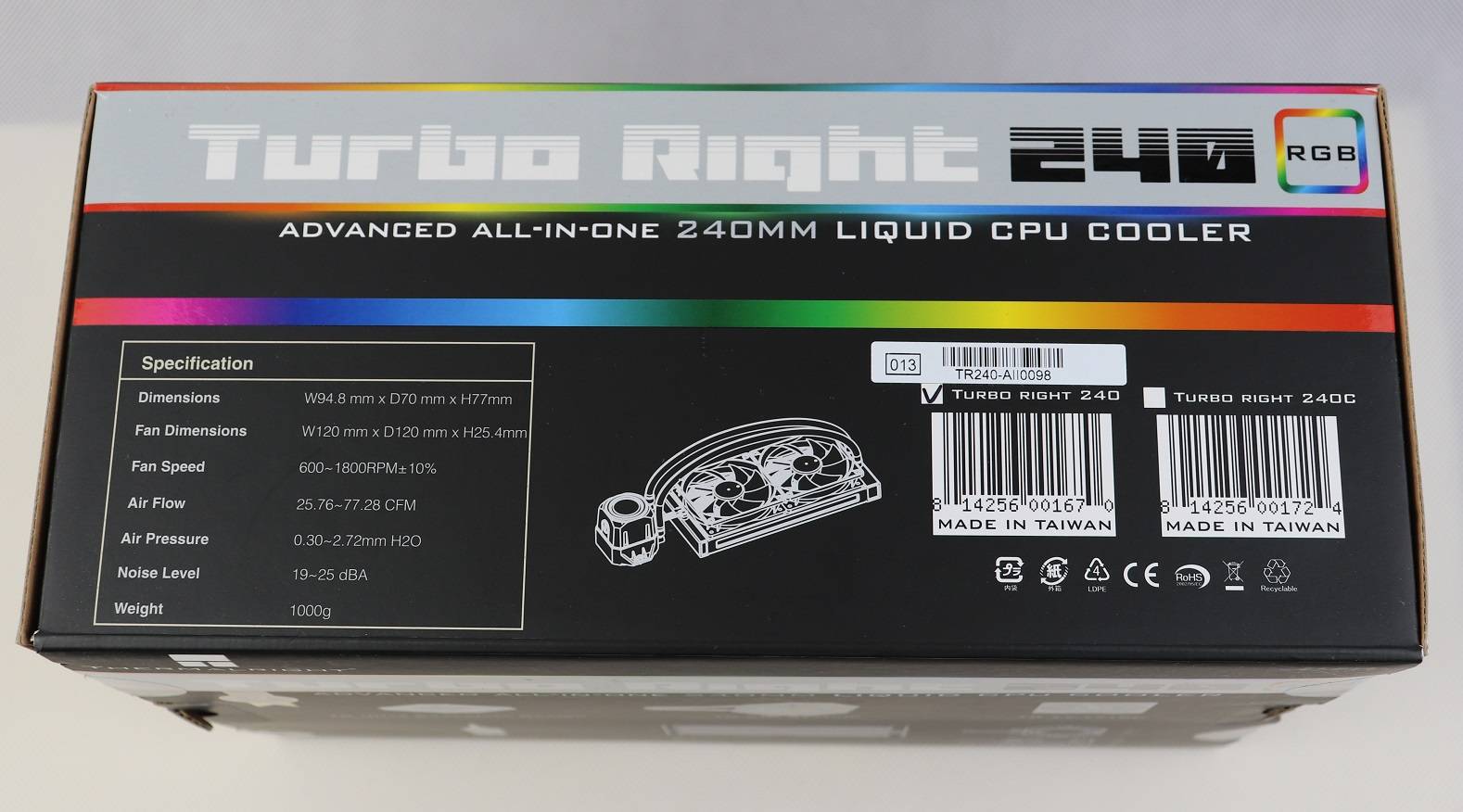 A specification list is printed on the side with information, like radiator/fan dimensions, fan speed and weight. The model number and EAN code is the only way to distinguish between the 240/240 C and 360/360 C.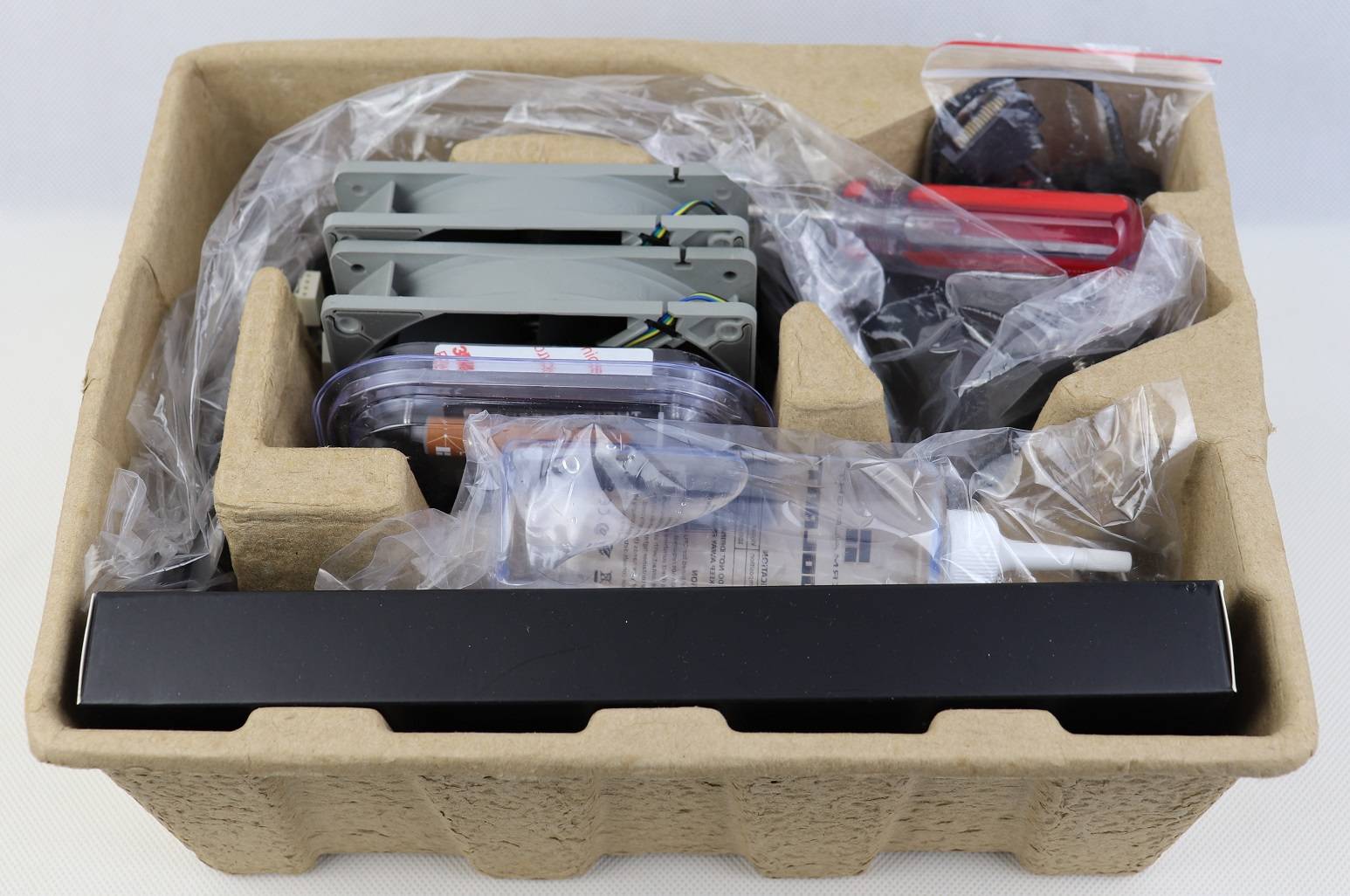 Everything is neatly packed inside a recyclable carton box. The CPU block and tubing are wrapped inside plastic bags for extra protection during shipping.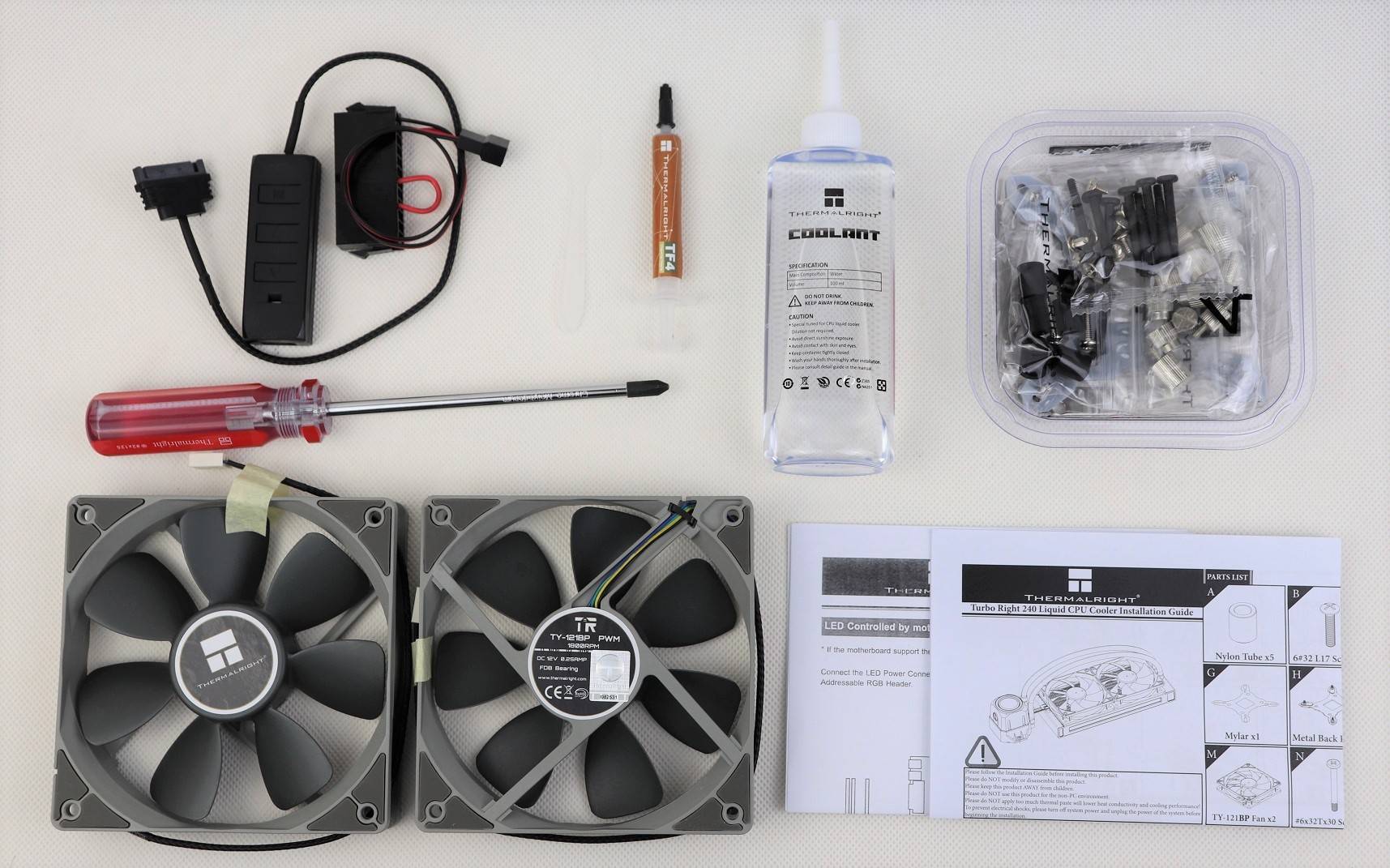 This particular Turbo Right 240 gets two 120 mm cooling fans inside. There are a ARGB lighting controller, a bottle of coolant and a tube of TF4 thermal compound. Thermalright also includes a high-quality screwdriver for installation. The Turbo right series AIO coolers are compatible with Intel CPU sockets from LGA 775 to LGA 2066, and AMD FM1 to AM4 sockets. There is no support for the AMD Threadripper HEDT platform (TR4).
Thermalright Turbo Right 240/360 C AIO CPU Cooler
The Thermalright Turbo Right cooler has a squarish CPU block, which is integrated with a water pump. The pump motor can spin up to 2800 RPM, powered via a 3-pin connector. The flow indicator is lit by addressable-RGB LEDs, and can be seen through the top transparent plastic window.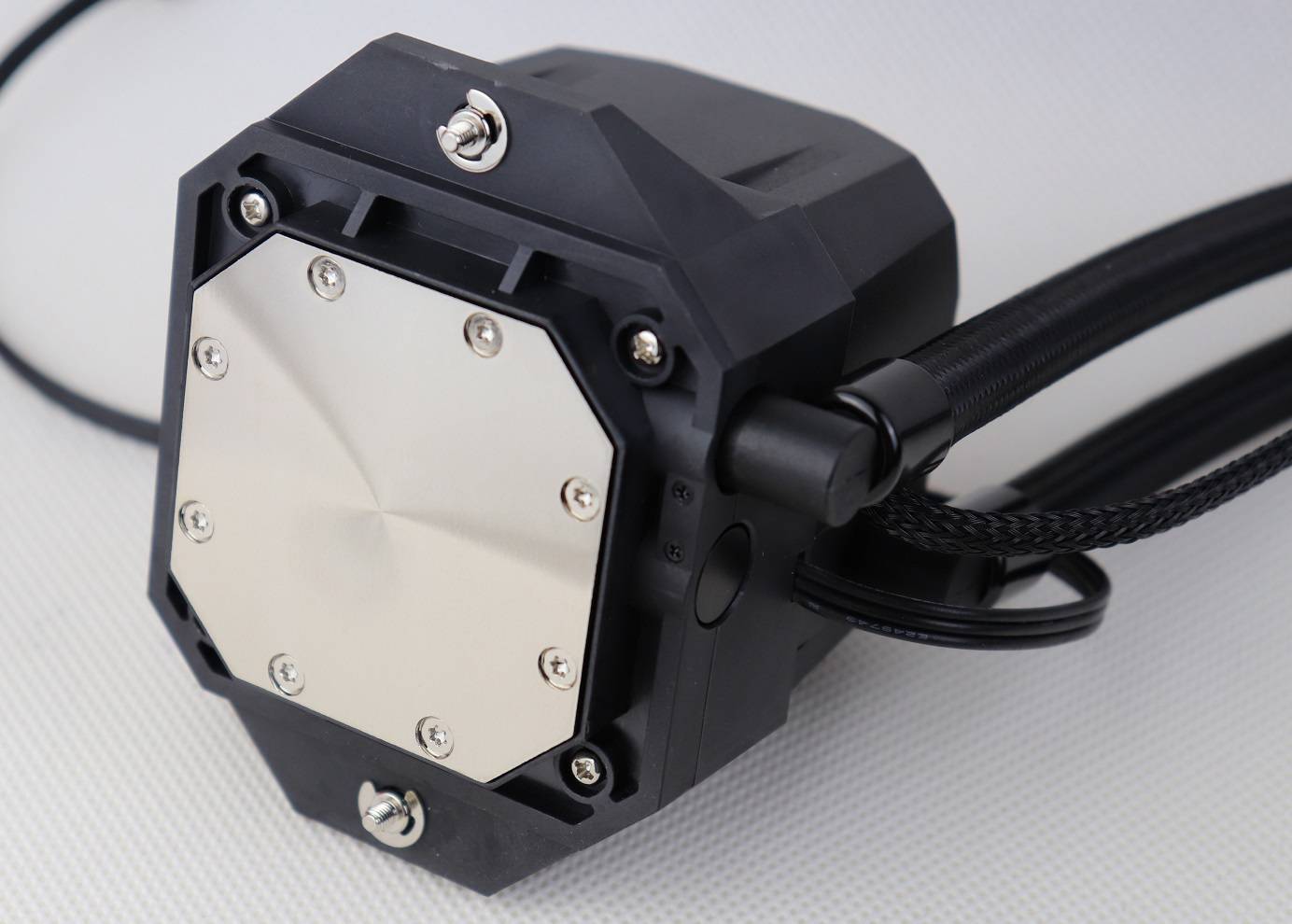 The Turbo Right cooler is equipped with a polished, nickel-plated copper base to contact with the integrated heat spreader (IHS) of the CPU. Behind that is a series of 0.1 mm wide micro-channels to increase the surface area for heat dissipation.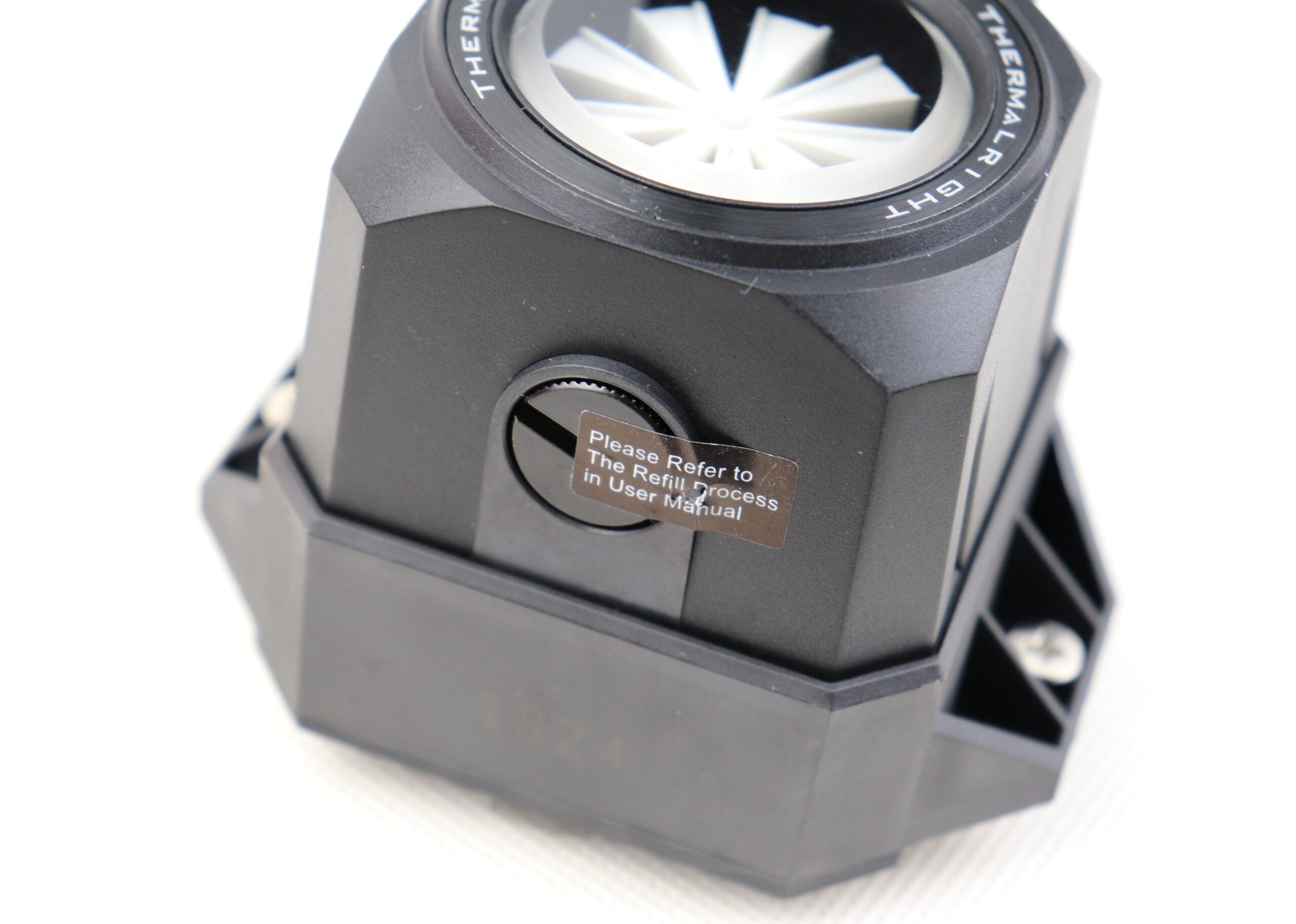 There is a coolant refill port on the side of the CPU block, which users can add coolant to the system, after it evaporates over time. Instructions on how to do that are in the user manual.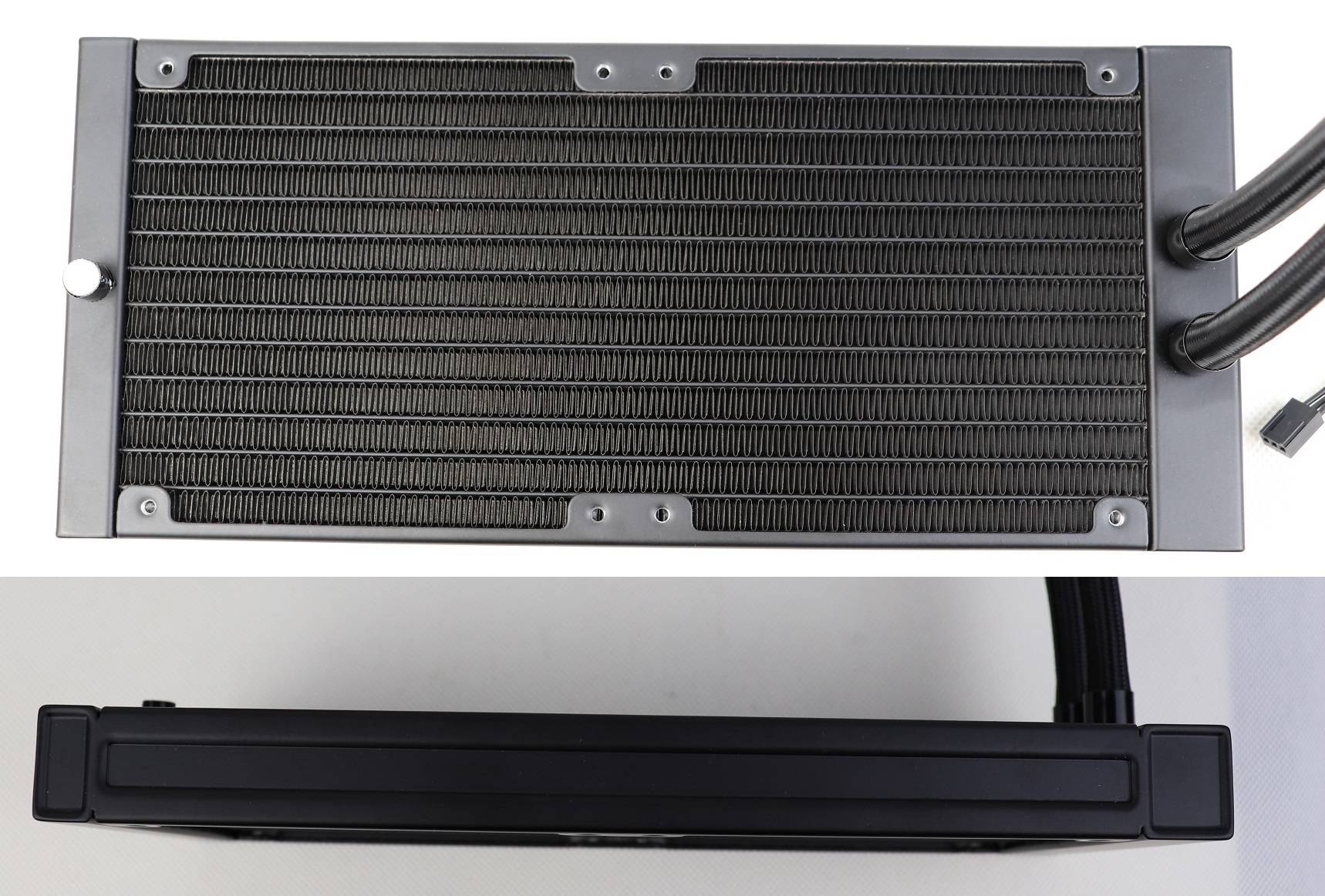 The Turbo Right 240 has a 240 mm thin radiator, made entirely out of aluminum. It is 277 mm in length, 120 mm in width and 27 mm in thickness. All the "C" versions are fitted with more expensive and efficient copper radiator fins.
According to our measurements, the fin density is on par with most AIO CPU coolers at about 20 to 21 fins per inch (FPI) each row.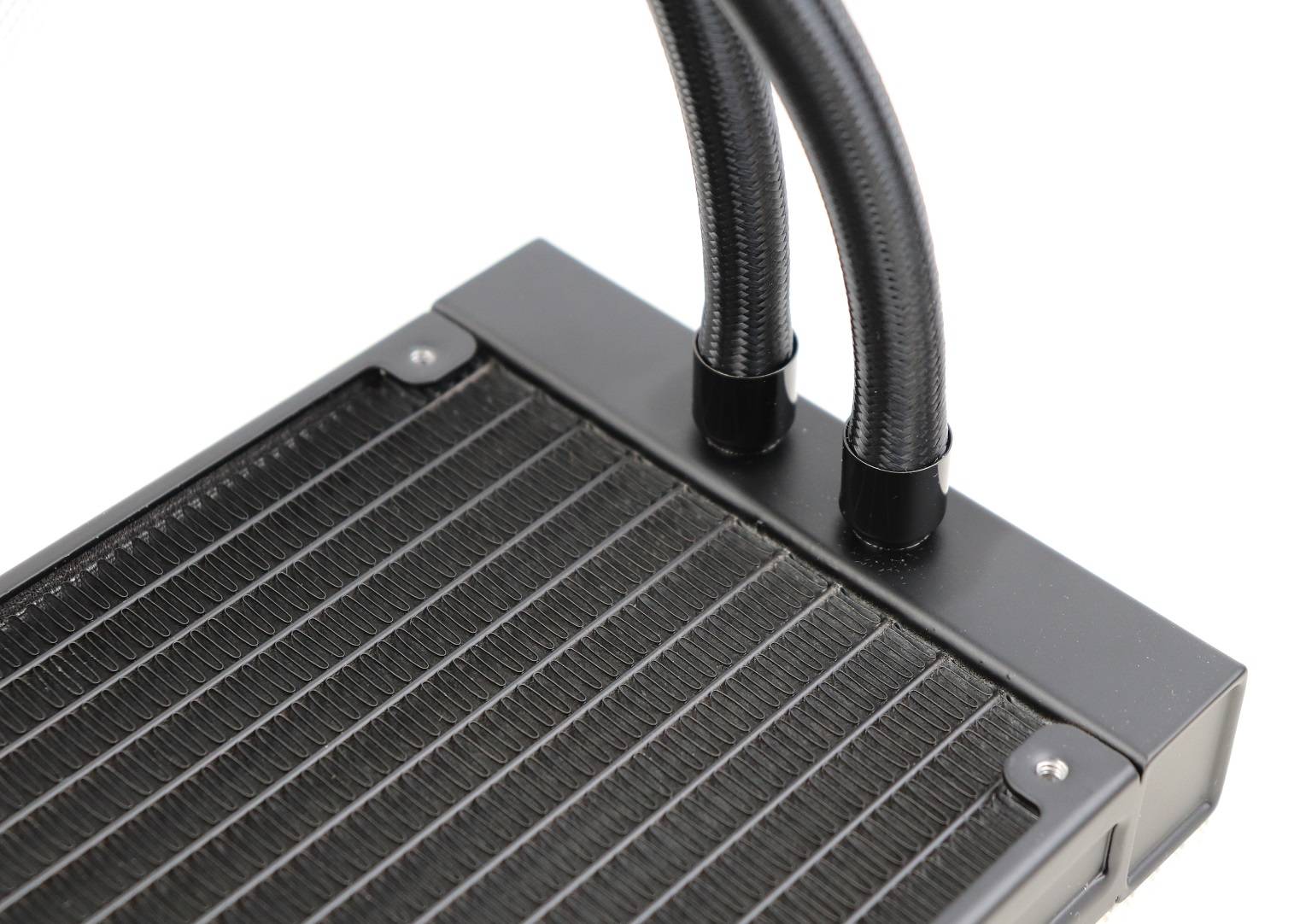 Both the 240 mm and 360 mm coolers are paired with around 400 mm of standard sleeved EPDM (ethylene propylene diene monomer) rubber tubing, which is flexible enough to make room for different mounting positions.
Thermalright decided to use the TY-121BP as the default cooling fans for the Turbo Right AIOs. The fan is capable of running from 600 RPM to 1800 RPM, and can be controlled via a 4-pin PWM connector. It is rated to generate up to 77.28 CFM of airflow and 2.72 mmH2O of static pressure. Anti-vibration pads are found on each corner both sides to reduce unwanted noises.
The addressable RGB lighting on the CPU block can be controlled either by the included controller or compatible motherboard software (such as ASUS Aura Sync and MSI Mystic Light Sync) with a 3-pin 5V header.
Review
We have updated our CPU cooler tests to more reflect real-world cooling performance of coolers.
Testing Methodology
To find out how the cooler performs, a total of three benchmarks are included. AIDA64 is used to run a CPU stress test. CPU, FPU and system cache are all stressed to create as much heat output as possible. Also, Cinebench R15 and Cinebench R20 are used to simulate real-world CPU load (like video-editing or rendering). It will be run continuously for three times. The highest CPU package temperatures are recorded. Ambient temperature is around 20°C to 23°C.
Results will be taken at a 50% fan speed and 100% speed, controlled via the motherboard CPU PWM fan header. Both single-fan and dual-fan configuration of the cooler will be tested.
Performance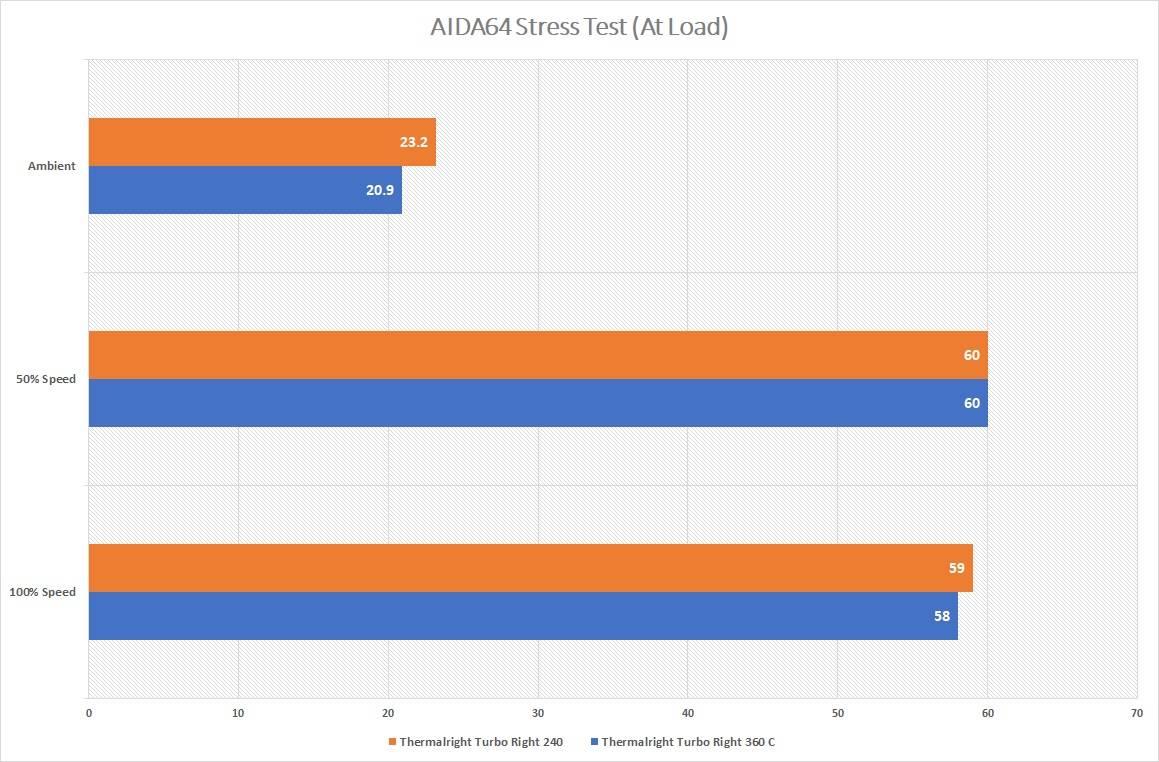 In AIDA64, we observed both the Turbo Right 240 and Turbo Right 360 C reaching 60°C, with the cooling fans set to 50%. Ramping up the fans to full speed, the CPU package's temperatures dropped to 59°C and 58°C respectively. Although the two coolers managed to keep the temps at around the same values, the ambient temps were slightly different. Therefore, the 360 C performed about 2°C to 3°C better, after the adjustments.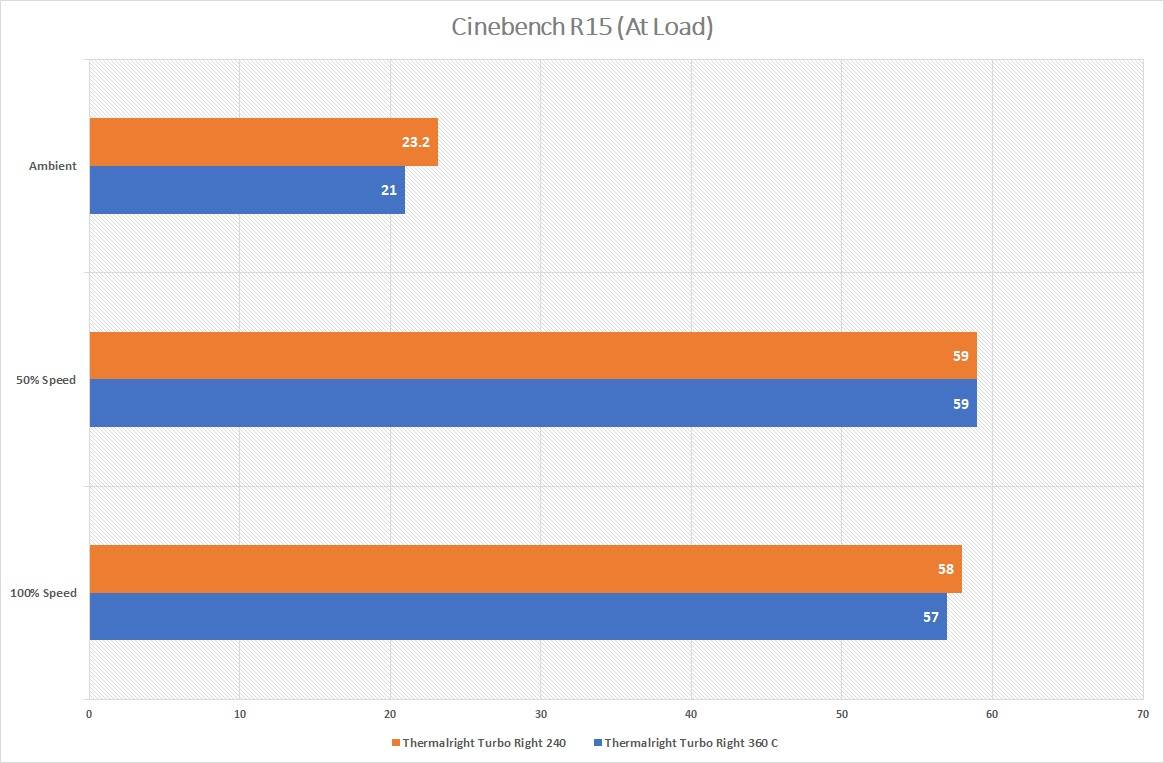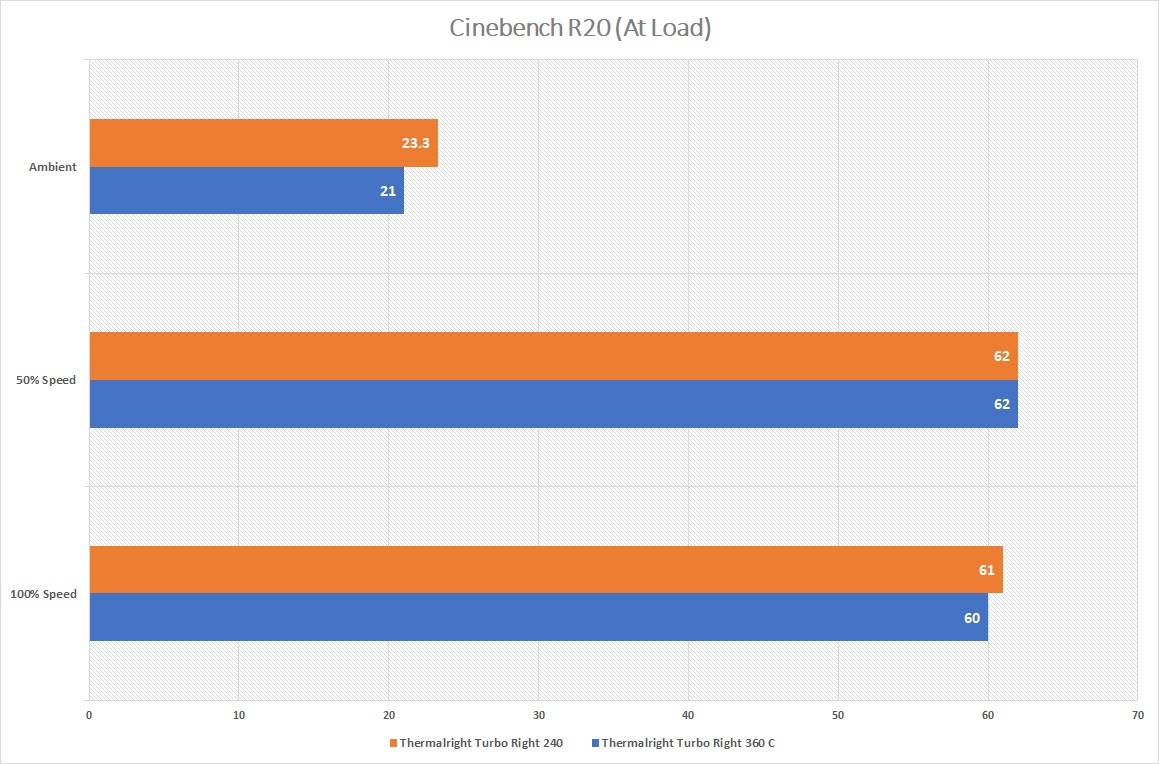 The same pictures happened in Cinbench R15 and R20. The temperatures are equal in 50% PWM fan speed, and they were 1°C apart when in full speed.
Comparison
[visualizer id="5998″]
[visualizer id="6155″]
The Turbo Right 240 performed similar as a large single-tower air coolers, like the Noctua NH-U14S (its review here) and NH-U12A (its review here). The temperature delta sat at around 37°C.
Conclusion
The Turbo Right series AIO CPU coolers are nice attempts from Thermalright, with comparable cooling performance as flagship air coolers. Both the 240 and 360 C were able to maintain our overclocked CPU (drawing over 100 watts of power) at around 60°C. The inclusion of a flow and water level indicator through the plastic window is a great touch to add some uniqueness to the cooler.
The two TY-121BP fans did an acceptable job in removing the heat from the radiator, albeit generating relatively more noises at higher RPM ranges. Unfortunately, Thermalright chose not to pair the coolers with RGB fans, along with the CPU block.
It is harder to purchase the Turbo Right series coolers in North America, which they are priced from $4390 NTD to $5190 NTD (around $150 USD to $175 USD). They cost similar as other same-sized AIO coolers in the market. All versions come with a 2-year warranty.
Thanks Thermalright for providing us the coolers for review. (Review Sample)
Feel free to leave comments below, if you have any opinion about this website. Share the website around if you enjoy reading it. Subscribe to our Newsletter or follow our Twitter, Facebook and Instagram.
Support this website simply by shopping in Amazon and Newegg. It will give us small kickbacks, if you use the above affiliate links to make any purchases, which will help us grow.