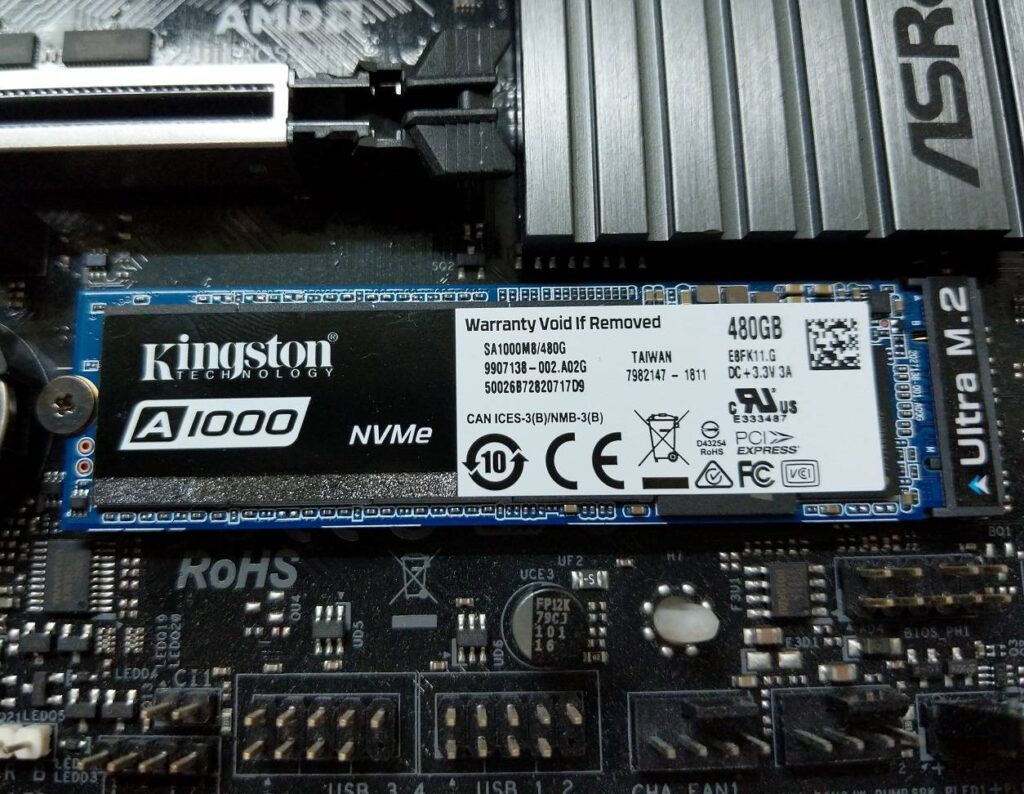 Similar to what SATA SSDs did to traditional spinning hard drives in the past few years, newer and faster NVMe PCIe SSDs are taking over the market. With the introduction of 3D TLC NAND flash, a lot more budget NVMe PCIe SSDs are released recently with lower costs and larger capacities for mainstream consumers. The Kingston A1000 NVMe PCIe SSD is the one we are taking a look at in this review.
Specifications
According to Kingston, the A1000 SSD is using a PCIe 3.0 x2 lane to handle all the file transmission. It will be available in only the M.2 2280 form factor, with three different capacities (240 GB, 480 GB and 960 GB). All models are capable of having sequential read speed of up to 1500 MB/s, while higher capacity one has slightly better write speed up to 1000 MB/s.
Unboxing
The package of the A1000 SSD is very minimal. The SSD is stored inside a small plastic case with tape around to keep it secure. It is similar to what system memory normally would use.
Flipping to the back, there are some information about the SSD, such as the model number, capacity and UPC code.
You will find a user manual and a set of activation key for the Acronis True Image HD software. The program will allow you to back up the entire drive, clone the operating system or restore data from previous backups.
Kingston A1000 NVMe PCIe SSD
Since the A1000 SSD is using the M.2 2280 form factor, the drive is pretty tiny. It is 22 mm in width and 80 mm in length. There is a sticker on the top of the drive's controller and NAND flash chips, with information like capacity and serial number of the SSD.
The A1000 SSD uses the one-sided design, that no chip is located on the back of the PCB. The drive runs on Phison E8 NVMe controller (PS5008-E8) and is paired with the 3D TLC NAND flash from Toshiba.
Review
Testing Methodology
To test the performance of the solid-state drive, we use three well-established storage benchmarking software. They are CrystalDiskMark, ATTO Disk Benchmark, as well as AS SSD Benchmark.
CrystalDiskMark can measure both sequential and random 4KB read/write speeds with a queue depth of 32. ATTO Disk Benchmark can test how the drive performs across different transfer block sizes, mostly in a sequential environment. AS SSD Benchmark can provide both normal read/write speed and the IOPS performance of the drive.
Performance
The PCIe 3.0 x2 Lane has a theoretical bandwidth of about 2 GB/s. In CrystalDiskMark, we can see the Kingston A1000 SSD almost saturated all available bandwidth in sequential operations, at over 1600 MB/s in read and 1000 MB/s in write. At random 4K (Queue Depth 32), the drive did very good with both read and write speed around 500 to 600 MB/s.
The maximum sequential speed dropped to about 1100 MB/s in read and 900 MB/s in write, when using AS SSD Benchmark. In 4K random with queue depth of 64, the drive did exceptionally well with read and write speed at 835 MB/s and 669 MB/s respectively.
IOPS number represents how well a drive handles random input and output operations. The A1000 SSD scored 2351 in the test. It reached 214520 and 171146 IOPS in 4KB (Queue depth 64) read and write operations, which is over 400 times higher than a traditional hard drive.
In ATTO Disk Benchmark, the read and write speeds increased when the test file size became larger. Once the size reached 256 KB, the performance was stabilized at 1600 to 1750 MB/s (read) and 1000 MB/s (write).
Comparison
[visualizer id="2840″]
[visualizer id="2842″]
When comparing the A1000 SSD with other drives we tested, we can see the A1000 outperfroms every SATA HDDs and SATA SSDs as expected. It performs about 8 times better in sequential read and 5 times faster in write than the Seagate Barracuda 1TB HDD (its review here). It is also a noticeable upgrade over a SATA SSD in both random and sequential operations, especially considering the reduced size.
Conclusion
The Kingston A1000 NVMe PCIe SSD is the second NVMe SSD from Kingston, after the high-performance KC1000. This time, Kingston focuses on the more affordable, mainstream consumer market. Though, the A1000 does not sacrifice in performance, able to reach read and write speed as advertised, at over 1600 MB/s and 1000 MB/s.
With the 3D TLC NAND flash, the A1000 offers higher capacity models up to 960 GB and maintains decent durability. It has a MTBF at 1,000,000 hours and acceptable rated endurance at up to 600 TBW (960 GB model).
The A1000 SSD is priced slightly more expensive than other entry-level NVMe SSDs at MSRP $184.99 USD (480 GB), about $20 USD higher over the MyDigitalSSD SBX 512 GB. At the time of this review, the price is dropped to $164.78 USD on Amazon (05-2018). Kingston does provide a 5-year warranty for the drive and the performance is still a worth upgrade from either a HDD or a SATA SSD. You will not be disappointed at all.
You can purchase the SSD from your local/online resellers or the links below from Amazon.
Thanks Kingston for providing us the A1000 SSD for review. (Review Sample)
Feel free to leave comments below, if you have any opinion about this website. Share the website around if you enjoy reading it. Subscribe to our Newsletter or follow our Google+, Facebook and Twitter.
Support this website simply by shopping in Amazon. It will give us small kickbacks, if you use the above affiliate links to make any purchases, which will help us grow.