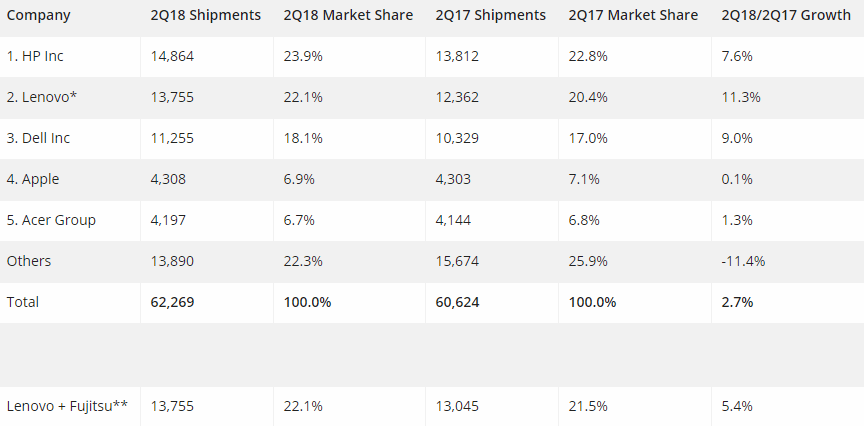 With smartphones, tablets and other mobile devices becoming more important in everyone's daily life, traditional PCs are not the only go-to devices people use like the once were. However, according to two marketing research firms (Gartner and IDC), the shipments of PCs are growing in the 2nd quarter of 2018, first time in 6 years.
There are some differences in the results of the actual shipments for each research firms. For example, IDC's data has included Chromebooks, but Windows Tablets (similar to the Surface Pro) are not counted. On the hand, Gartner excludes all Chromebooks and non-Windows Tablets, but still counts Windows Tablets.
According to IDC, HP shipped the most computers to the customers, at 14.8 million units. This is a 7.6% increase from the 2nd quarter of 2017. The second place was taken by Lenovo (+Fujitsu), which had 13.7 million shipments, another 5.4% increase from last year. Dell also had a 9.0% bump in shipment quantities to 11.2 million. The total PC shipments worldwide in Q2 2018 were standing at 62.2 million, a 2.7% improvement.
It is the same story in Gartner's results, with Lenovo, HP and Dell at the top 3 spots, but Lenovo (+Fujitsu) shipped more units this time. Most large companies had recorded at 3.0% of increase in numbers, when compared to Q2 2017. And the overall PC shipments worldwide improved by 1.4%.
It is believed that the increase in shipments is mostly powered by businesses. Gartner's analyst thinks, "In the business segment, PC momentum will weaken in two years when the replacement peak for Windows 10 passes…". We may not see this kind of growth in the future, after businesses have already updated their machines.
For more information, you can visit IDC's website or Gartner's website.
Feel free to leave comments below, if you have any opinion about this website. Share the website around if you enjoy reading it. Subscribe to our Newsletter or follow our Google+, Facebook and Twitter.
Support this website simply by shopping in Amazon. It will give us small kickbacks, if you use the above affiliate links to make any purchases, which will help us grow.