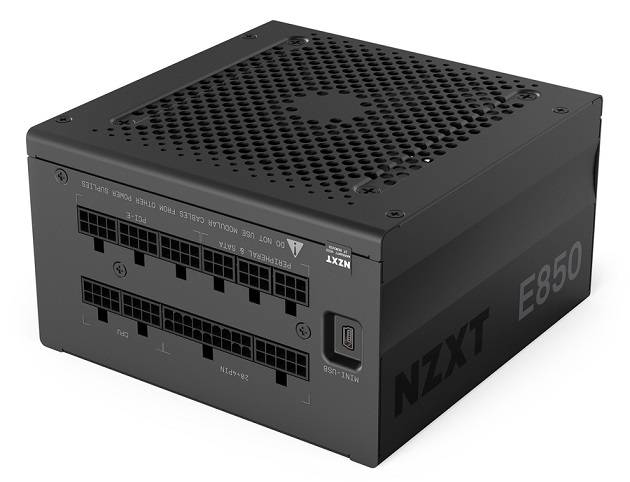 NZXT is known for manufacturing high-quality PC cases and cooling. Recently, NZXT has released a new lineup of power supplies, called the E Series. There are three models with different wattage, available in 500W, 650W and 850W. They are all rated for 80 Plus Gold certification.
The E Series is based on the Seasonic Focus PLUS Gold platform and the PMBus architecture, but NZXT has added new digital signal processor and USB connectivity.
Johnny Hou, founder and CEO of NZXT:
The PSU is a critical part of your PC. Our goal for creating a smarter PC capable of automatically responding to the demands of the application…
The E series PSUs will be using Japanese capacitors with digital multi-rail over-current protection (OCP) over all three of the 12V outputs. The fully modular design helps minimize cable clutters.
One of the main features is the real-time monitoring of the operation of the PSU. Because of the new powerful DSP, the E series can actively track the performance, temperature and total power-on time using NZXT's CAM software.
The PSUs are backed by a 10-year warranty. The 500W, 650W and 850W E Series PSUs will be priced at $124.99 USD, $139.99 USD and $149.99 USD respectively. They are available for purchase now on NZXT.com and late July for the rest of the world. For more information, you can visit NZXT's website or product pages.
Feel free to leave comments below, if you have any opinion about this website. Share the website around if you enjoy reading it. Subscribe to our Newsletter or follow our Google+, Facebook and Twitter.
Support this website simply by shopping in Amazon. It will give us small kickbacks, if you use the above affiliate links to make any purchases, which will help us grow.