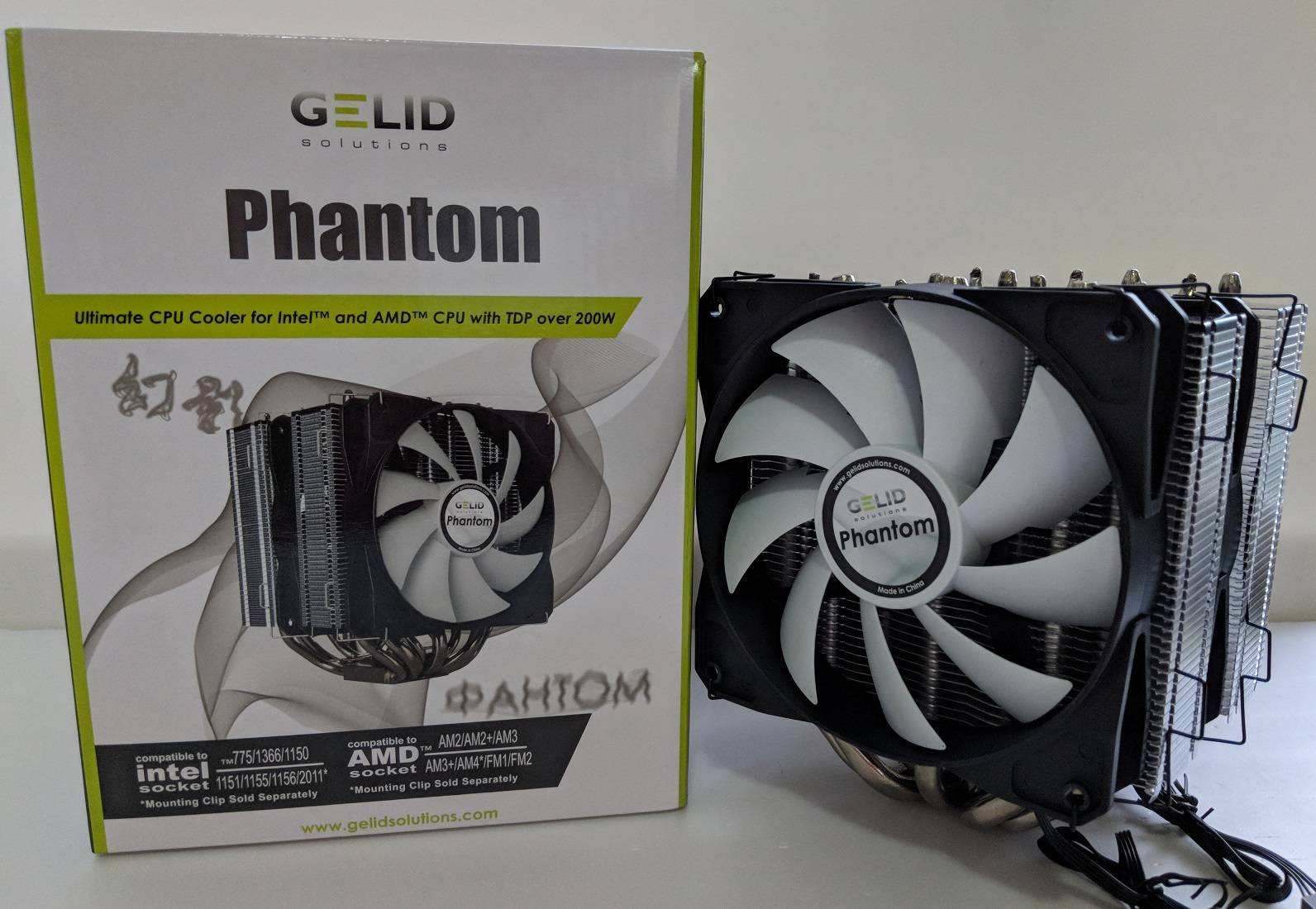 "Gelid" means icy and very cold in English. GELID Solutions Ltd. is the company that specializes in making CPU coolers, fans and accessories. In this article, we are going to take a look at the Phantom CPU cooler from GELID.
Unboxing
At the front of the box, a photo of the Phantom cooler is right at the middle, with the "Phantom" name on top. A list of compatible Intel and AMD CPU sockets can be found.
A few main features of the cooler are highlighted on the back, such as the seven heatpipes configuration and 200 watts TDP support.
A detailed specification list is printed on the side, along with the content of included accessories. The Phantom CPU cooler supports most modern CPU platforms and sockets, like Intel LGA 1150/1151/1155/1156 and AMD AM4/AM3+/AM3.
The cooler is neatly packed inside the box, with two closed-cell foam sandwiched together. It is nicely protected and should not be easily damaged during shipping.
There are two sets of user manuals, one for AMD and one for Intel. A 4-pin PWM Y-cable and a pair of fan mounting clips are included for the two cooling fans.
GELID Phantom CPU Cooler
The Phantom is a large size dual-tower air cooler, designed to handle the heat from a more powerful processor. There are a total of seven nickel-plated heatpipes in two different sizes running through both aluminum fin stacks.
The top of each tower is painted black to give the cooler a better look when installed on a normal PC case.
Instead of evenly spreading the seven heatpipes into the flat contact base, the three larger 8 mm heatpipes are surrounded by the other four smaller 6 mm heatpipes. GELID says this can help improve the efficiency of distributing heat to all heatpipes.
The CPU contact base does not have nickel plating. It is made from copper and is polished to a smooth and flat surface, but not shinny.
The Phantom cooler can support up to three 120 mm fans for maximum airflow, but you will need to purchase the 3rd additional fan and mounting clips yourself.
The included two 120 mm fans can spin from 750 RPM up to 1600 RPM, and can be controlled via PWM. It has a rated MTBF of 50,000 hours.
The fan runs normally as expected, with higher RPM generating noticable but still acceptable noise. The lack of rubber anti-vibration pads around the corners does not help damping the noise either.
Review
We have updated our CPU cooler tests to more reflect real-world cooling performance of coolers.
Testing Methodology
To find out how the cooler performs, a total of two benchmarks is included. AIDA64 is used to run a CPU stress test. CPU, FPU and system cache are all stressed to create as much heat output as possible. Also, Cinebench R15 is used to simulate real-world CPU load (like video-editing or rendering). It will be run continuously for three times. The highest CPU package temperatures are recorded. Ambient temperature is around 26°C.
Results will be taken at a 50% fan speed and 100% speed, controlled via the motherboard CPU PWM fan header. Both single-fan and dual-fan configurations of the cooler will be tested separately.
CPU: AMD Ryzen 5 1600X @ 3.6 GHz (95W TDP)
Motherboard: MSI B350M GAMING PRO (its review here)
Performance
In AIDA64, the Phantom cooler did reasonably well, with the maximum CPU temperature sitting at 67°C. Running with a single fan in full speed pushed the temperature further down to only 60°C, a 10% decrease. Adding an additional fan helped improve the temp by 3°C.
The CPU was not hit as hard as in the stress test, when running Cinebench R15. Therefore, the maximum CPU package temperature was lower at 59°C. Both single-fan/100% speed and dual-fan/50% speed configurations kept the temperature at 57°C. The CPU got as low as 55°C with two fans at full speed.
Conclusion
The GELID Phantom CPU cooler is able to adequately cool our 95W Ryzen 5 1600X processor, holding the temperature under 70°C. You can improve it even more, if you add the third extra fan. The cooler is rated for CPUs with over 200W TDP. You should still have quite a lot of cooling headroom when you are going to overclock the CPU.
The included 120 mm PWM fans do their jobs decently without any major issues. The fans generate audible noise when running close to the full RPM. The lack of anti-vibration rubber pads at the corners does not help either.
The Phantom CPU cooler costs $42.50 USD (MSRP), along with a 5-year warranty. It is competitively priced in the market, and at the same time, providing great cooling performance. If you want to replace your stock cooler for some light overclocking, the Phantom would be an awesome CPU cooler to consider.
You can purchase the cooler from your local/online resellers.
Thanks GELID Solutions Ltd. for providing us the Phantom Cooler for review. (Review Sample)
Feel free to leave comments below, if you have any opinion about this website. Share the website around if you enjoy reading it. Subscribe to our Newsletter or follow our Google+, Facebook and Twitter.
Support this website simply by shopping in Amazon. It will give us small kickbacks, if you use the above affiliate links to make any purchases, which will help us grow.