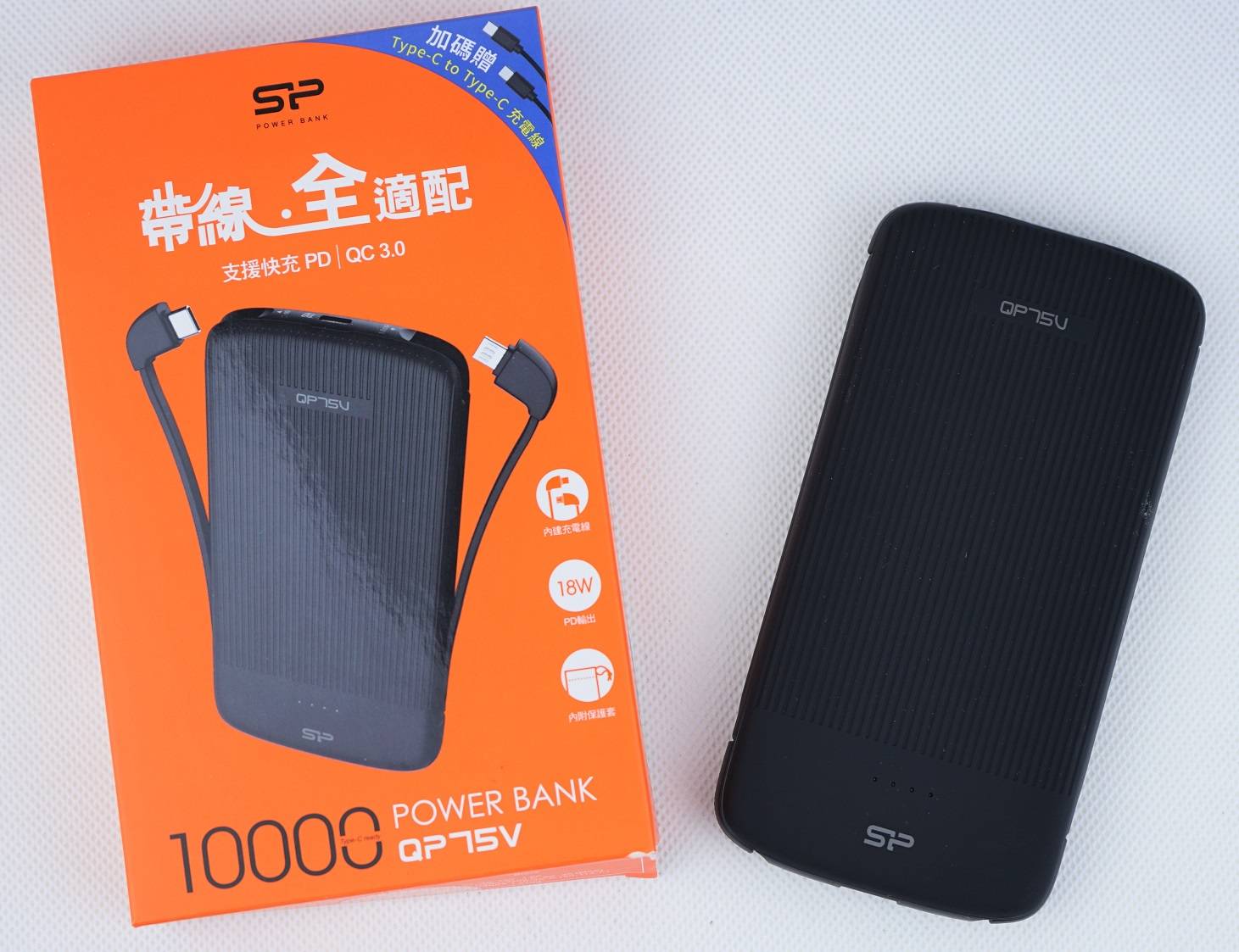 The QP75 is one of three recently-launched 10000 mAh power bank from Silicon Power. It has up to four USB outputs to quickly charge all your mobile devices.
Unboxing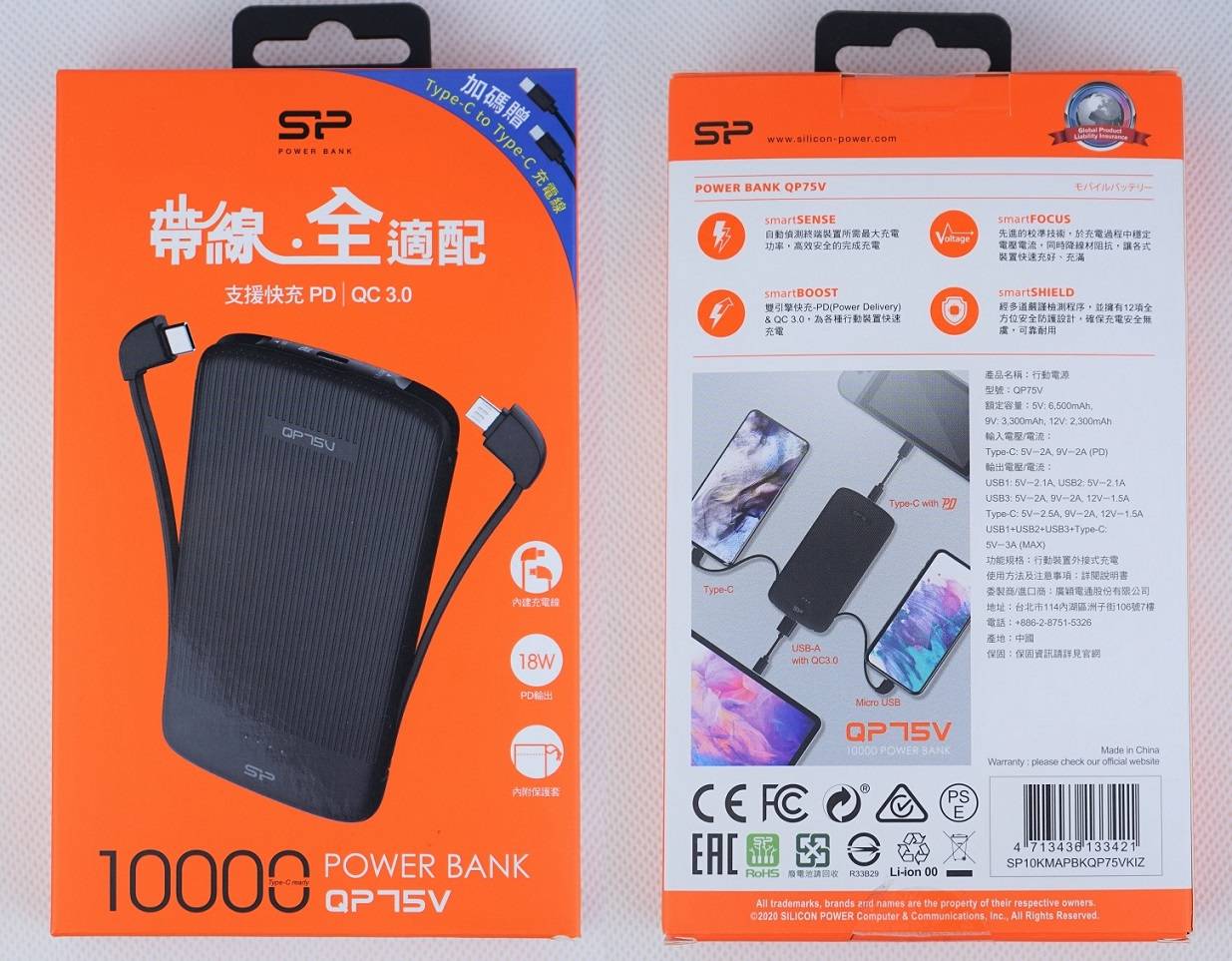 The QP75 is shipped inside the same orange-colored cardboard box, just like the QP60. We can see the three highlighted features on the packaging, like the 18-watt USB-PD output and integrated charging cables. There are two specification lists, printed at the back and bottom.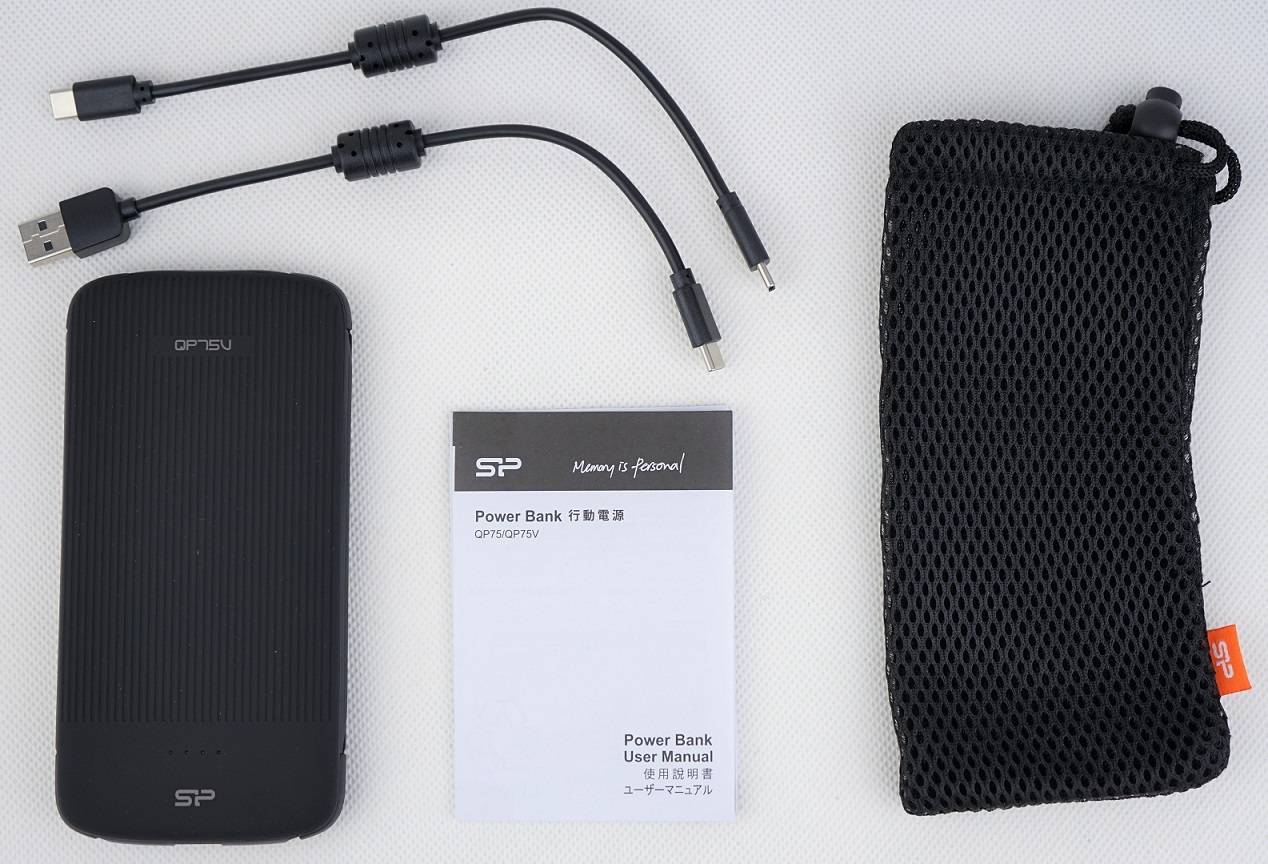 Silicon Power includes two 22 cm non-braided USB Type-C to Type-C and USB Type-A to Type-C cables, as well as a mesh carrying pouch.
Silicon Power QP75 10000mAh Power Bank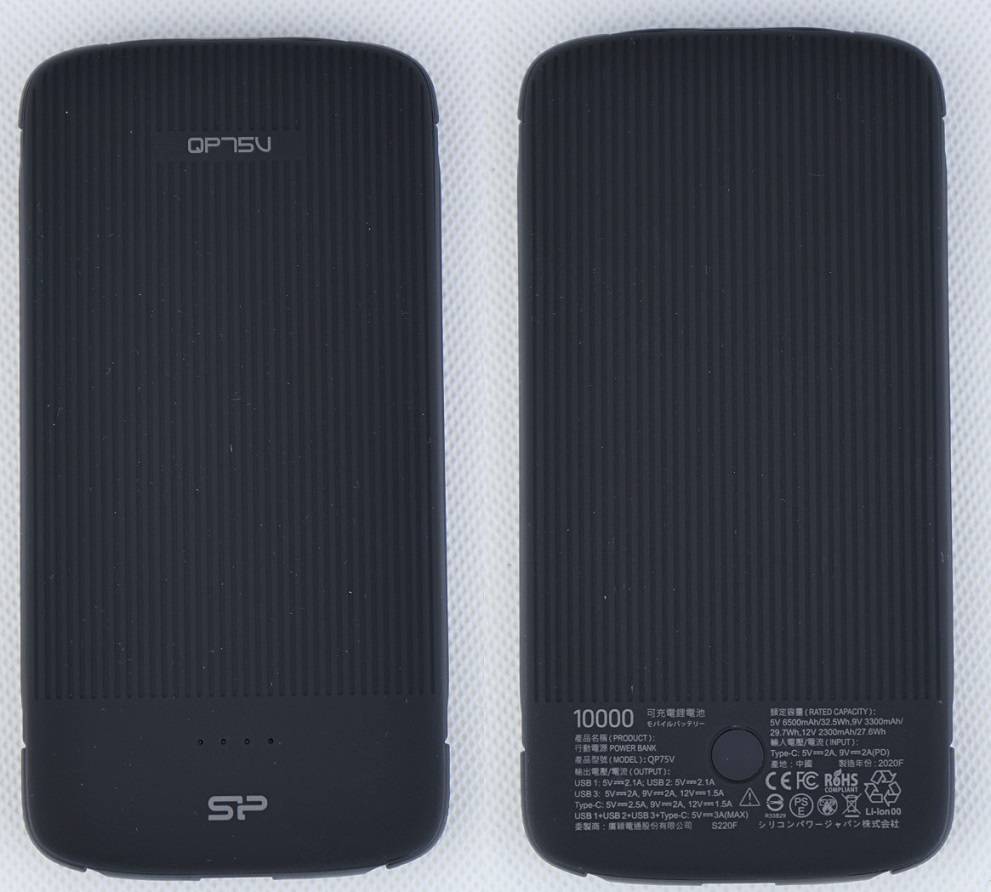 The QP75 has a black plastic enclosure with rubberized coating on the surface. The straight line grooves provide better grip to handle the power bank, as well as giving it a more rugged appearance. A circular power button can be found at the back, which can be pressed to activate the LED indicators at the front. Each LED represents approximately 25% of the battery capacity.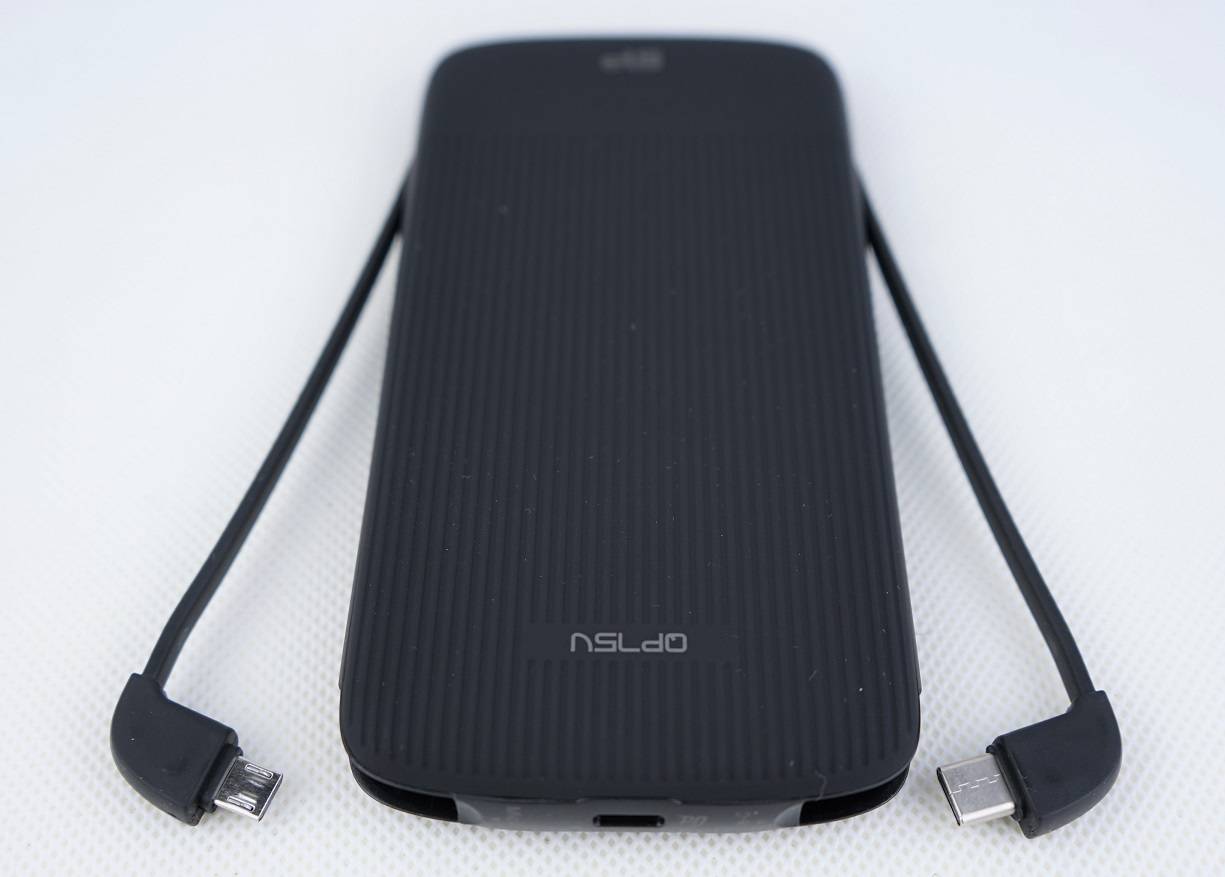 Two built-in charging cables are hidden on the sides of the QP75, which have a USB Type-C and Micro-USB connectors respectively.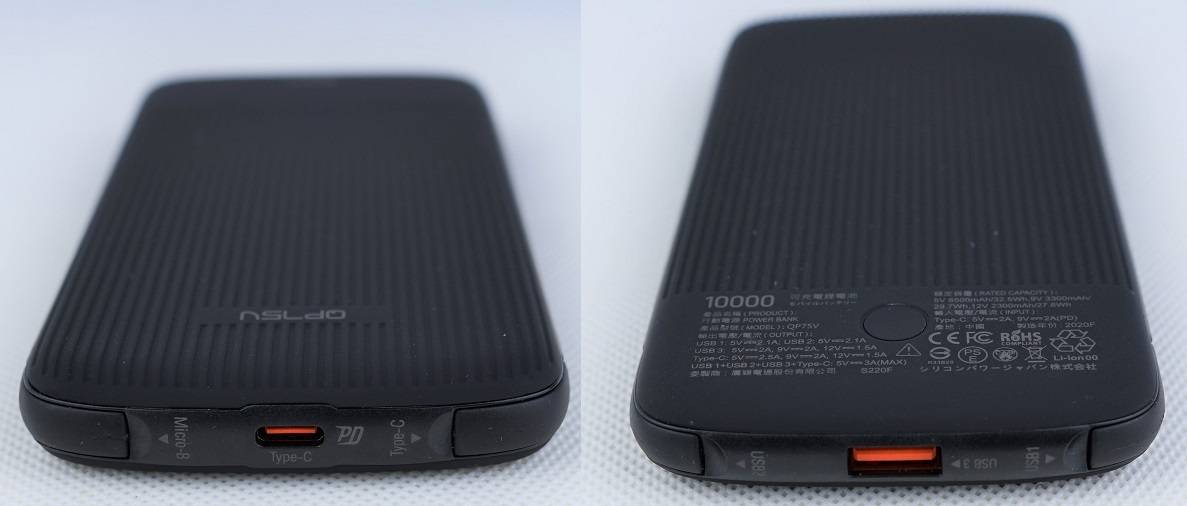 The additional USB Type-C and full-sized USB Type-A ports are separated at the top and bottom. The Type-C port is the only input port to charge the power bank, but can also be used as output.
Review
Portability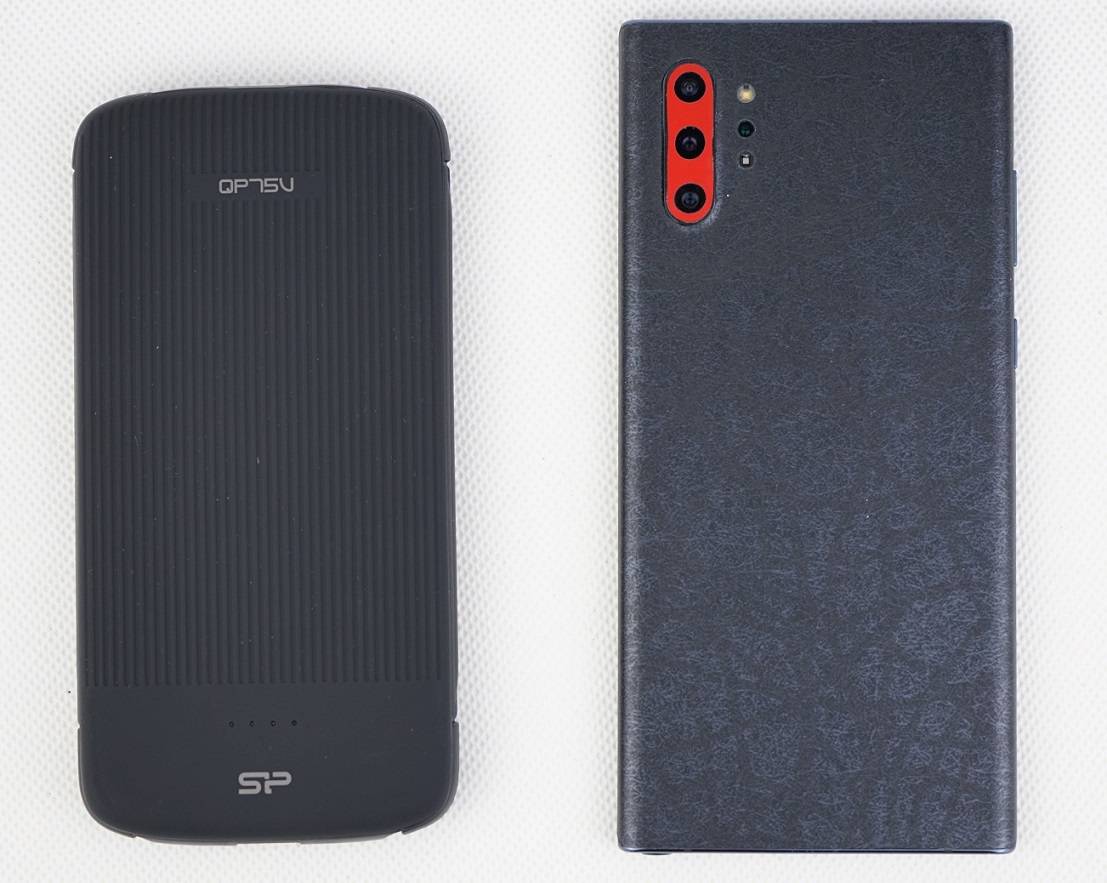 The QP75 is 147.6 mm long, 74.4 mm wide and 15.5 mm thick. It weighs in at around 213 grams (~220 grams in our scale). It has roughly the same size as a normal smartphone, but is a bit smaller than a Galaxy Note 10+.
Capacity
The internal lithium-polymer battery is non-removable. It has a capacity of 10000 mAh (37 wh), which should be able to fully charge a smartphone at least two to three times. For reference, the QP75 can top up the Nintendo Switch's 4310 mAh battery around 2.32 times.
Power
The orange USB Type-A and USB Type-C ports support Qualcomm Quick Charge 3.0 and USB Power Delivery (USB-PD) respectively. Both can output at a maximum of 18 watts (5V/2.5A, 9V/2A or 12V/1.5A). The two integrated cables can only supply 10.5 watts of power (5V/2.1A). However, the power bank will be limited to 15 watts, if all four ports are occupied. The QP75 will automatically decide and stabilize the charging speed and power for the connected devices.
The power bank can be re-charged in about 3 to 3.5 hours, if a compatible 18-watt USB-PD power adapter is used.
Safety
Identical to the QP60, Silicon Power equips the QP75 with smartSHIELD technology, which has up to 12 types of protections. It can protect against situations like over-voltage, over-current, short circuit, overcharging and more.
Conclusion
The Silicon Power QP75 power bank offers a very convenient and smooth user experience, with those integrated USB charging cables. You can charge most mobile devices nowadays without the need to bring any additional cables. The support for QC 3.0 and USB-PD (18-watt) decreases the time to top up compatible devices. The rubberized enclosure is durable, which is also tiny enough to be carried around easily.
We were not be able to find the pricing in North America at the moment, but it costs about $700 TWD to $900 TWD (~$24 USD to $32 USD) with a 13-month warranty. For comparison, the Anker PowerCore Slim is on sale for $29.99 USD, having only two inputs/outputs USB ports.
Thanks Silicon power for providing us the power bank for review. (Review Sample)
Feel free to leave comments below, if you have any opinion about this website. Share the website around if you enjoy reading it. Subscribe to our Newsletter or follow our Twitter, Facebook and Instagram.
Support this website simply by shopping in Amazon and Newegg. It will give us small kickbacks, if you use the above affiliate links to make any purchases, which will help us grow.