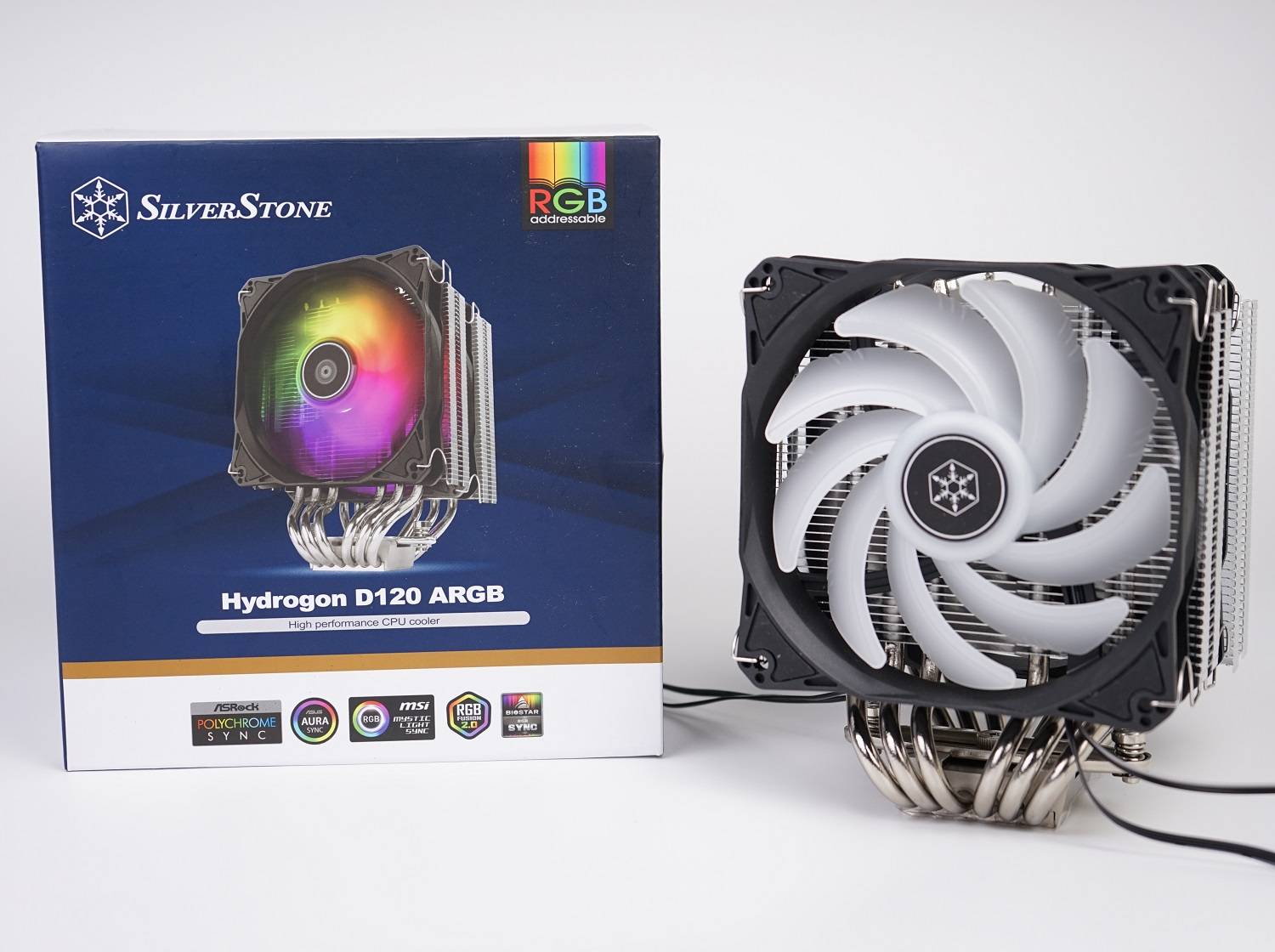 The Hydrogon D120 ARGB is the first product in the new Hydrogon series of CPU air coolers, launched in January 2021 by SilverStone. It is a dual-tower cooler with two 120 mm RGB cooling fans.
Unboxing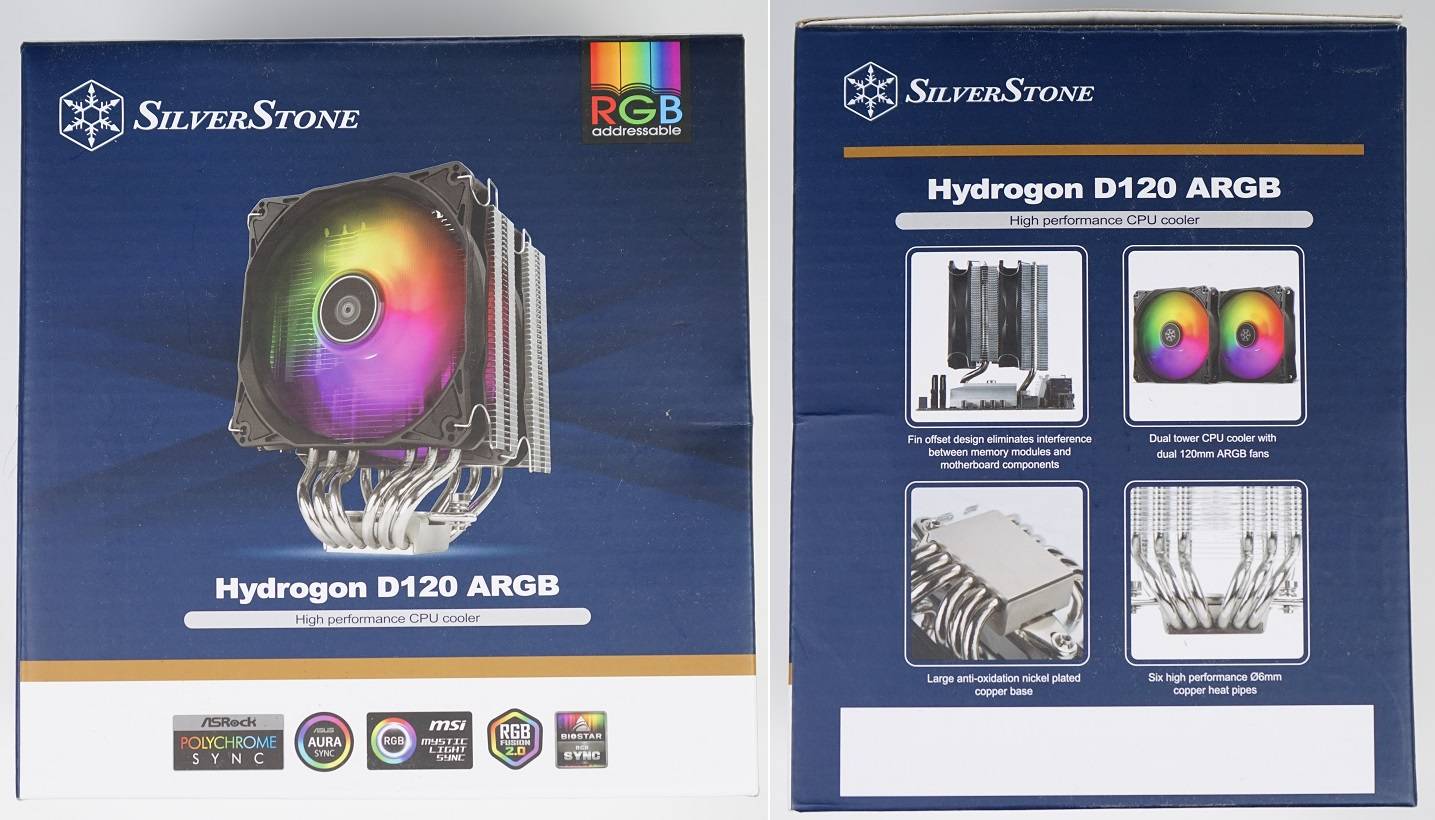 The Hydrogon D120 ARGB (SST-HYD120-ARGB) is shipped in a large cardboard box, with the typical SilverStone blue and white theme. The sides of the box are printed with short descriptions of the cooler's features and supported RGB software.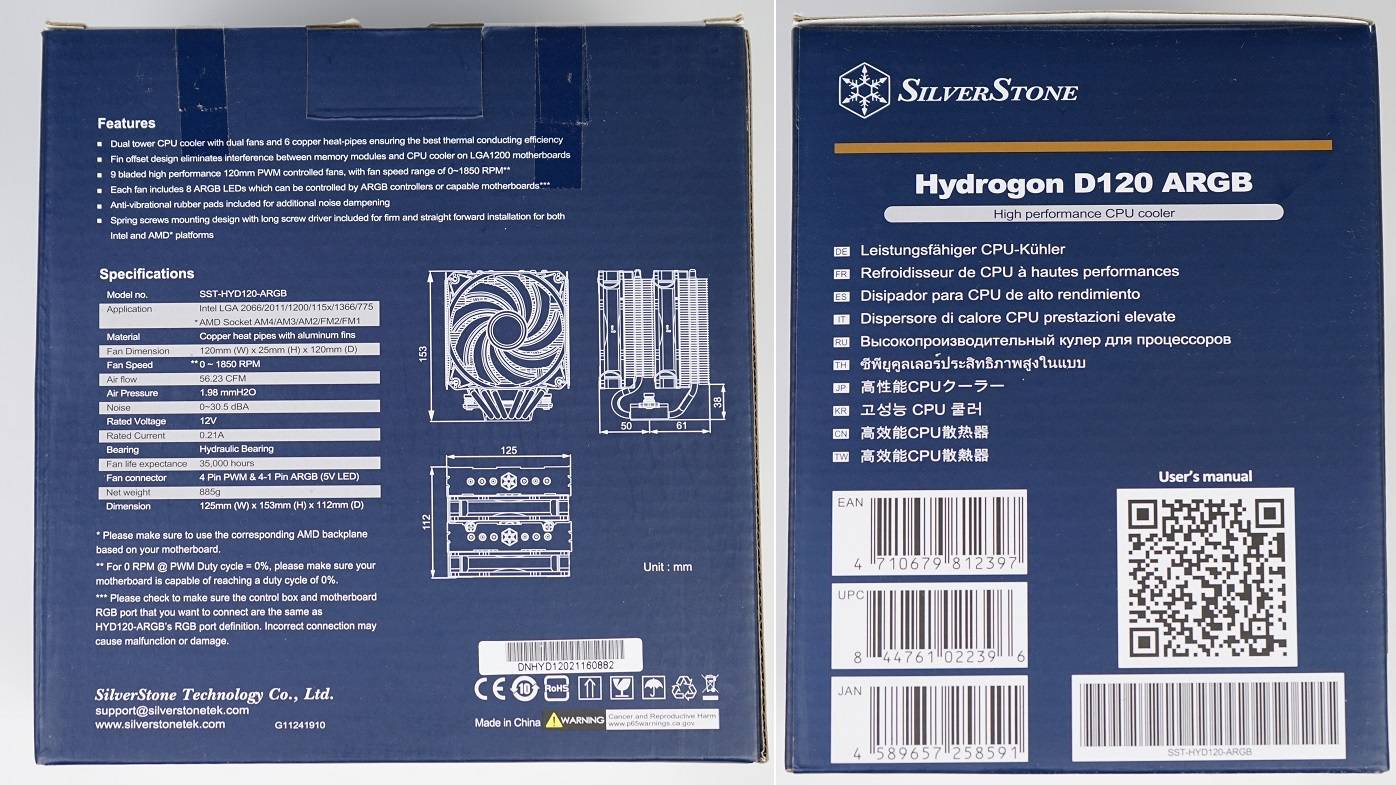 You can also find a specification list on the box with information, like heatsink's physical dimensions, weight and the fans' RPM range.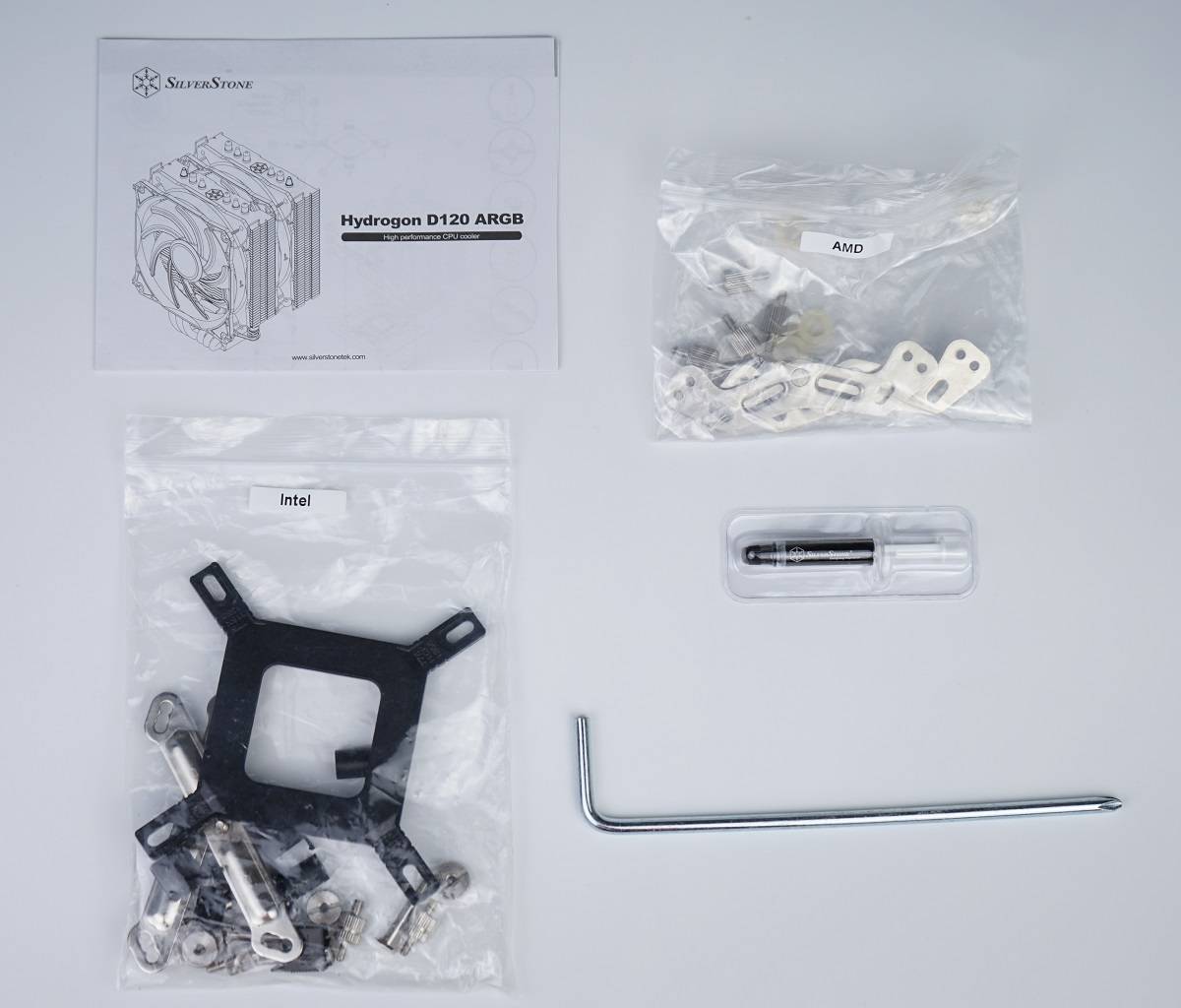 Apart from all the mounting hardware, there are a user manual, a L-shaped screwdriver and a small tube of thermal paste. The Hydrogon D120 ARGB can be installed on most modern motherboards and CPU platforms, such as AMD AM4 and Intel LGA 1200/1700/2066 sockets. You may need to purchase an upgrade kit separately from SilverStone, if you purchased an older version of the cooler before the LGA 1700 socket launched in Q4 2021.
SilverStone Hydrogon D120 ARGB CPU Cooler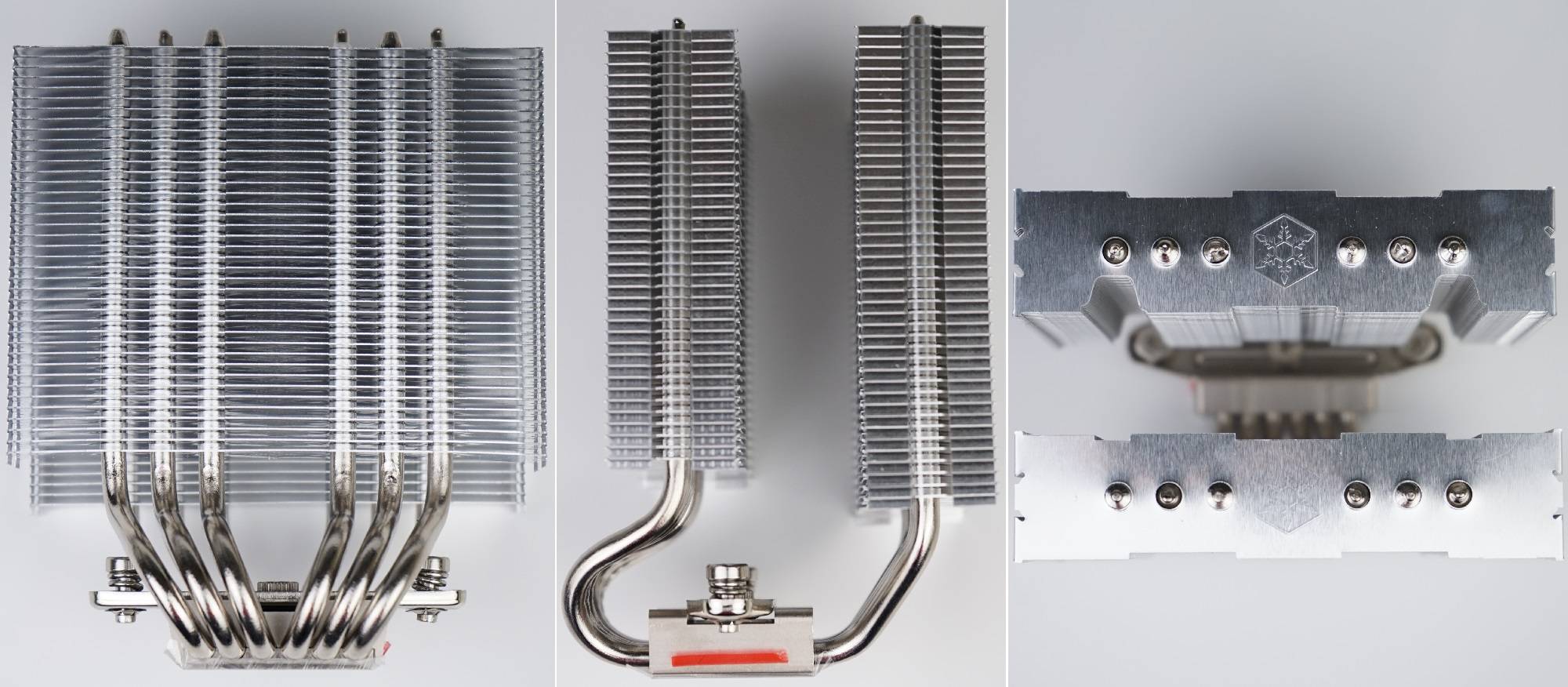 The heatsink of the Hydrogon D120 ARGB is 153 mm tall, 125 mm wide, and 87 mm deep. The two separate aluminum heatsink fin stacks are connected by six 6 mm nickel-plated copper heatpipes. The heatpipes on one side are bent slightly inwards with a shorter fin stack to provide more clearance for RAM modules and PCIe devices.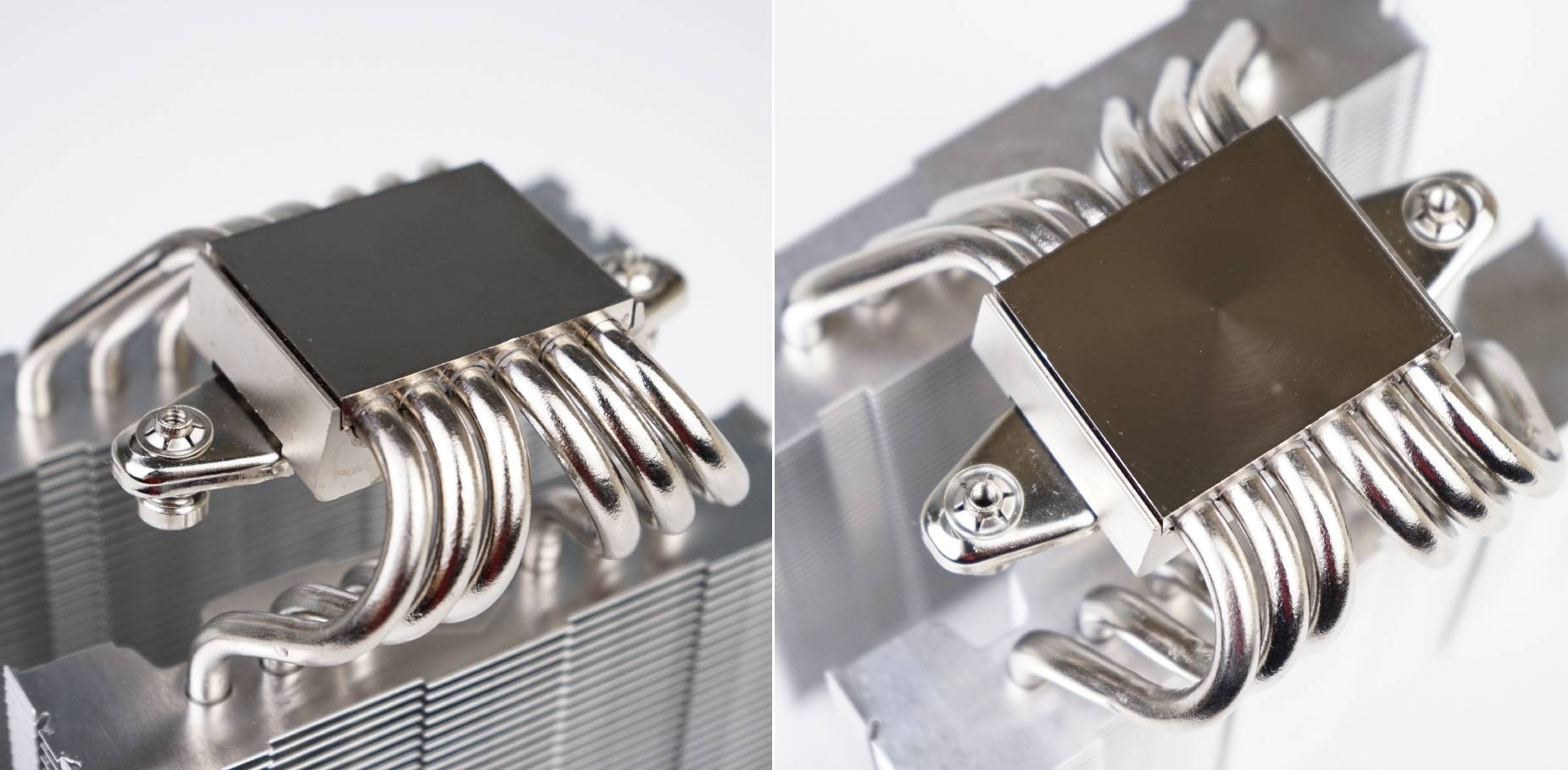 The machined CPU contact base (38 mm x 44 mm) is also plated with nickel, and has a mirror finish.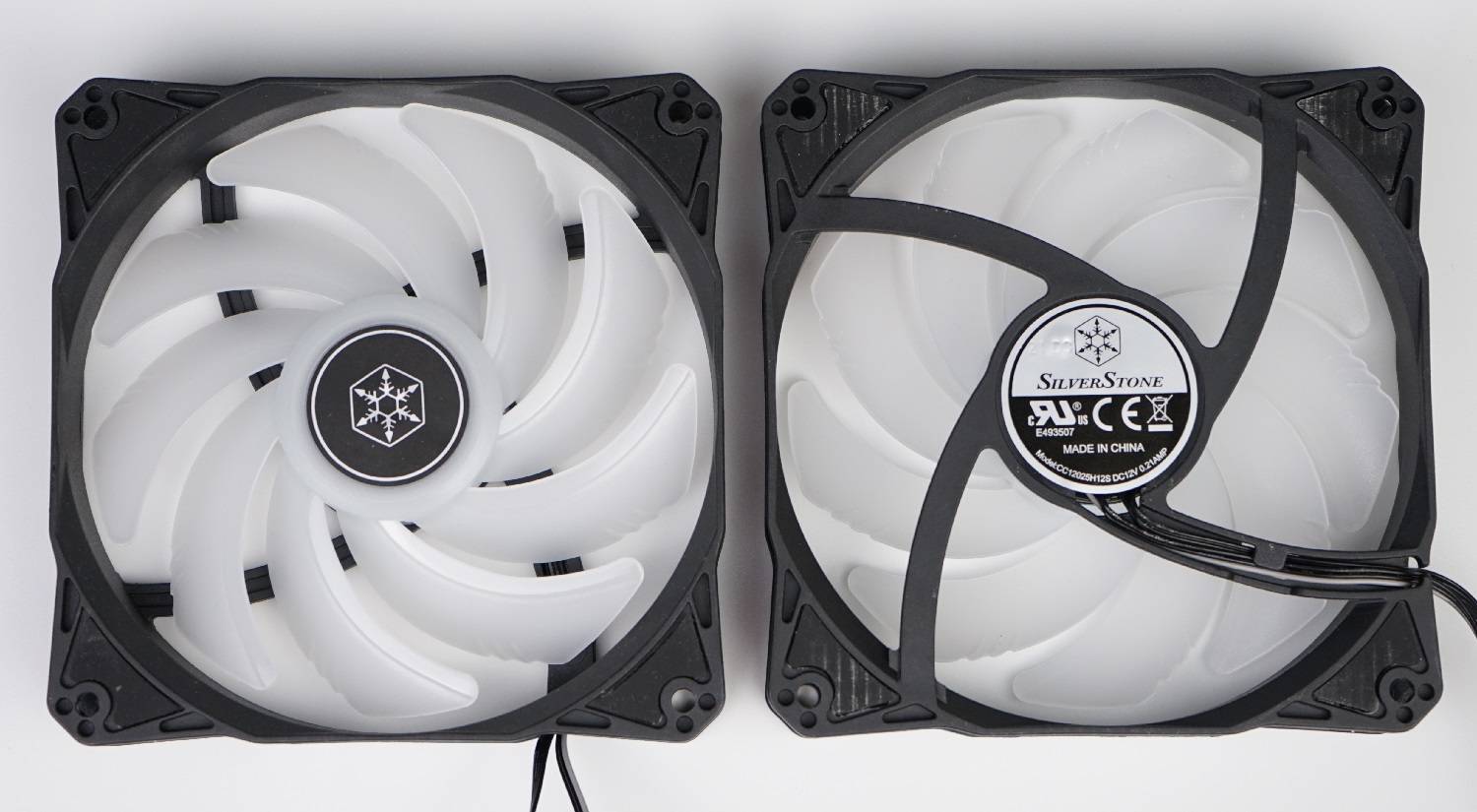 The two included cooling fans have a model number of CC12025H12S. According to SilverStone, they are equipped with hydraulic bearing, that have a rated MTBF of around 35,000 hours. They can spin from 0 RPM to 1850 RPM, controlled via a 4-pin PWM header. The nine curved blade design can generate about 56.23 CFM of airflow and 1.98 mmH2O of static pressure. There are some anti-vibration pads at the corners to dampen the noise.
The RGB lighting can be customized using motherboard software, such as ASRock Polychrome Sync, ASUS AURA Sync, MSI Mystic Light Sync, GIGABYTE RGB Fusion and Biostar RGB Sync. A total of eight ARGB LEDs are installed around the motor hub of each fan. The lighting is diffused quite evenly through the translucent fan blades. Transitions between effects are smooth.
Review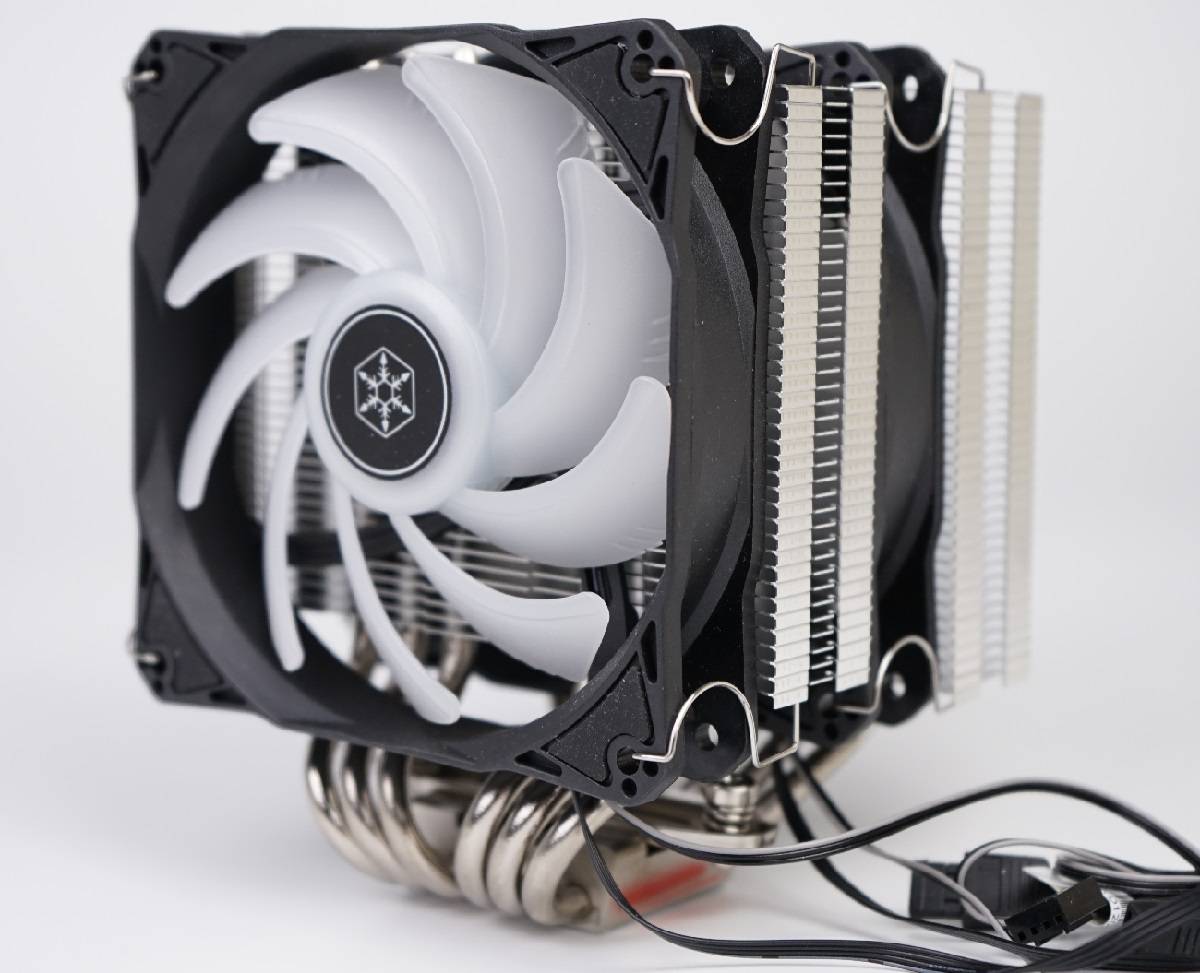 Testing Methodology
To find out how the cooler performs, a total of three benchmarks are included. AIDA64 is used to run a CPU stress test. CPU, FPU and system cache are all stressed to create as much heat output as possible. Also, Cinebench R15 and Cinebench R20 are used to simulate real-world CPU load (like video-editing or rendering). It will be run continuously for three times. Ambient temperature is around 21°C.
Results will be taken at a 50% and 100% fan speed, controlled via the motherboard CPU PWM header. Stress test will run for at least 15 minutes. Once the CPU has reached the equilibrium temperature, we will record both the average and highest temperatures of the CPU package/hottest core with HWiNFO in the next 5 minutes.
Performance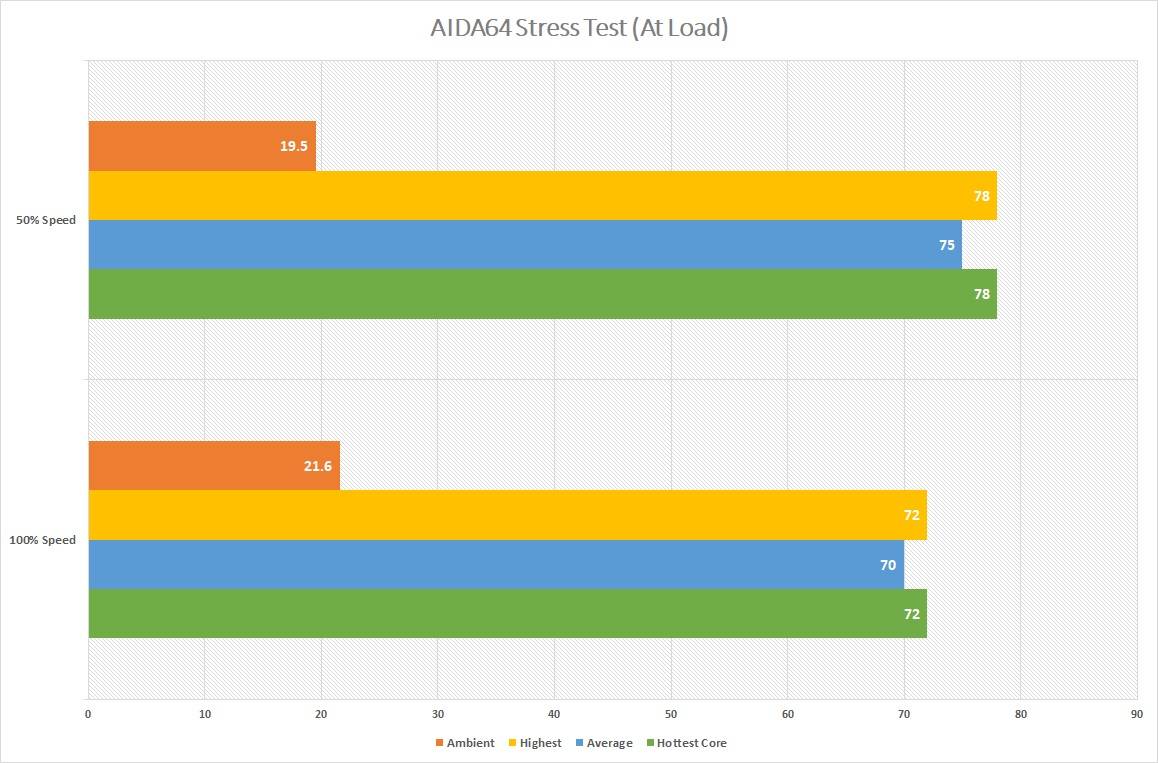 The ambient temperature was hovering around 19°C to 22°C. In AIDA64, the Hydrogon D120 ARGB could manage the CPU temperature under 80°C. The package and hottest core was at 72°C (~1850 RPM) and 78°C (~1050 RPM) respectively. We did not observe any thermal throttling during the benchmarks.
The cooler kept the CPU temperature at 75°C at 50% PWM fan speed in Cinebench R15. Pushing the fan speed to 100% resulted in a 2°C improvement, at 73°C.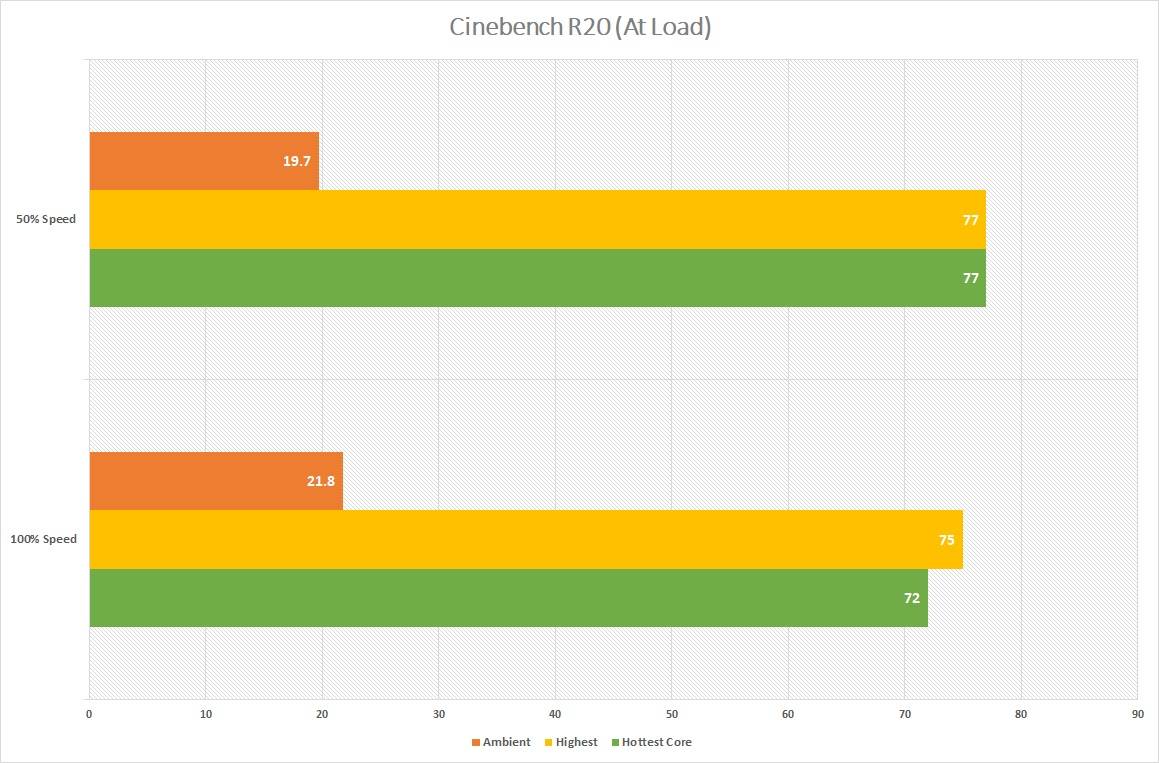 We saw the same 2°C lower CPU temperature when the fans were running at 100% in Cinebench R20. The hottest core dropped even further to 72°C, compared to the package temp at 75°C.
Comparison
The Hydrogon D120 ARGB's cooling performance sits between the Noctua NH-U12S redux and CRYORIG R5. It has about 2.3°C to 2.4°C lower temperature differences than the NH-U12S redux, and about 1.5°C to 1.9°C higher than the R5 in AIDA64 and Cinebench R15. In Cinebench R20, the two coolers beat the Hydrogon D120 by 0.6°C to 5.4°C.
Conclusion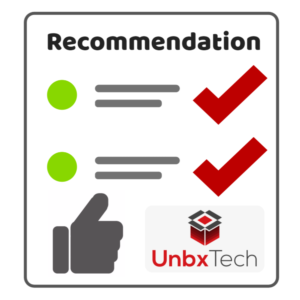 The SilverStone Hydrogon D120 ARGB was able to perform slightly better than some single-tower air coolers in some situations, because of its larger heatsink area. However, it has to sacrifice its size to gain only marginally-better cooling results. I would expect it to show a more substantial performance difference, as a dual-tower cooler. Memory and PCIe slot compatibility is great, thanks to the asymmetrical heatsink design. The included RGB lighting on the two fans is a nice addition for users to customize the look of their PC builds.
The Hydrogon D120 ARGB costs $49.99 USD (MSRP) with a 2-year warranty. The price is very similar to the Noctua NH-U12S redux at $49.90 (MSRP). The Hydrogon D120 is equipped with two ARGB fans, but has a shorter warranty period (2-year vs 6-year). It can be a decent option, if you want the extra RGB lighting and intend to run the processor at stock frequency.
You can purchase the cooler from your local/online retailers or the links below from Amazon and Newegg.
Thanks SilverStone for providing us the cooler for review. (Review Sample)
Feel free to leave comments below. Share the article if you enjoy reading it. Follow us on Twitter, Facebook, Instagram and Pinterest.
Support this website simply by shopping on Amazon and Newegg. We will receive small kickbacks, if the above affiliate links are used to make any purchases.