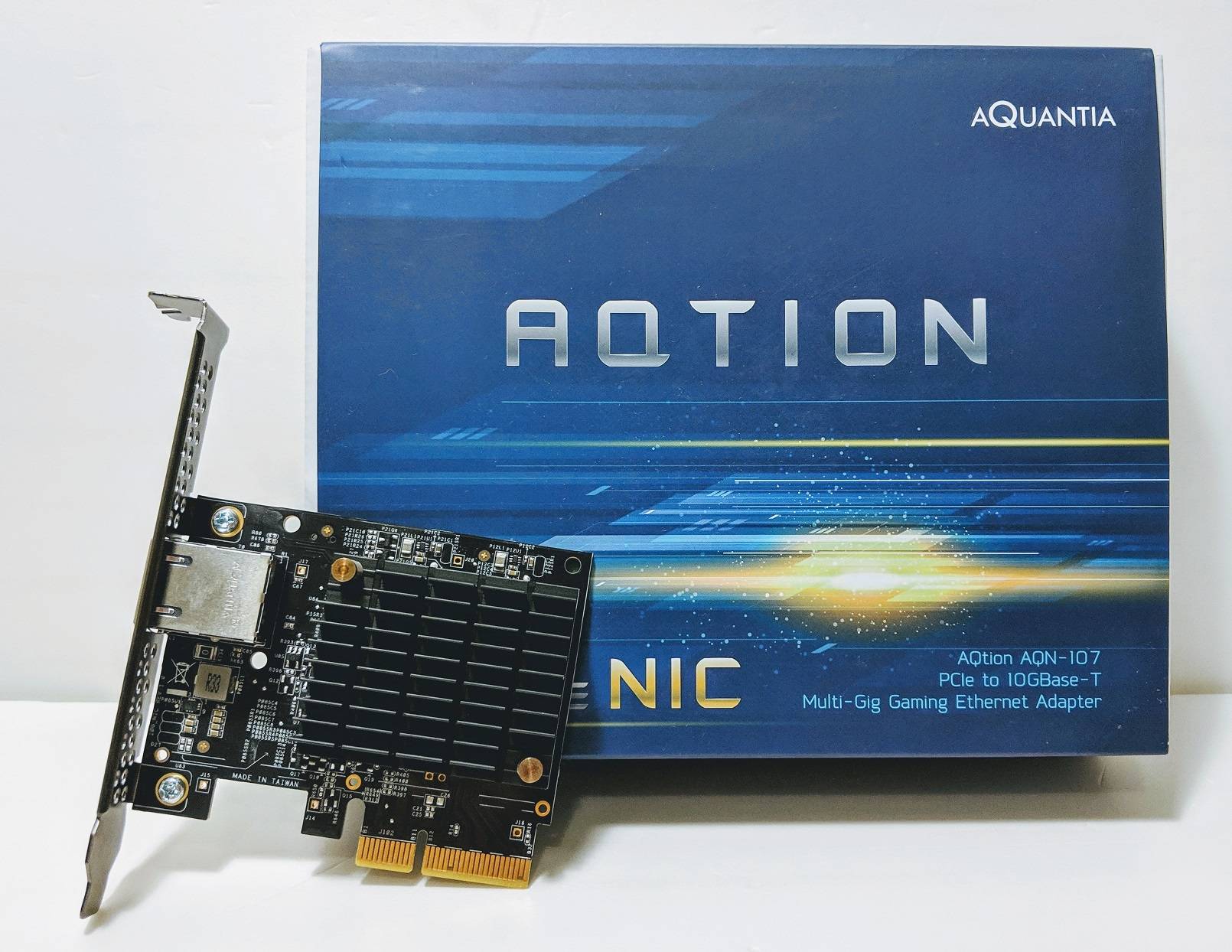 Over the past few years, the maximum networking speed remains the same at 1 Gbps for most average consumers. 5 Gbps/10 Gbps are not accessible due to the much higher service and equipment costs. Until now, you can upgrade your computers to support up to 10 Gbps over the network with the Aquantia AQtion AQN-107 NIC, at a relatively affordable price.
Unboxing
The hard cardboard box is covered with a paper sleeve outside, with information about the product. There is a specification list on the back, stating the OS compatibility and rated speeds of the NIC.
The AQN-107 card is packed neatly inside a plastic tray. A low-profile PCI bracket is included for those users using the card in a small form-factor machine. There is a Quick Start Guide, that have basic requirements and brief instructions on installing the card and its driver.
Aquantia AQtion AQN-107 10G Network Interface Card
The AQN-107 card has a stealthy black printed circuit board with the full length PCI bracket installed by default. The main AQtion AQC-107 Ethernet controller is located beneath the large aluminium heatsink.
The controller is designed to support five different speeds (10 Gbps, 5 Gbps, 2.5 Gbps, 1 Gbps and 100 Mbps) over a single RJ-45 Ethernet port and conventional Category 6 or Category 5e cables.
All network traffic is transferred through the PCI Express 3.0 x4 interface. It is also backward compatible with PCIe 2.0 standard (but with less bandwidth).
The single RJ-45 Ethernet port has two integrated LED lights, which are used to indicate both power and connection/activity status. The full 10 Gigabit link speed can only be achieved by using Category 6A or higher Ethernet cables.
Review
Testing Methodology
To minimize the number of variables that will affect the benchmark results, all of our tests will be performed by two computers directly connected via Ethernet. We use the TamoSoft Throughput Test to measure the total bandwidth between the two NICs. A Windows 10 shared folder is created on RAM disks to prevent HDD's bottlenecks. The peer-to-peer file transfer times of the three files, sized in 10 GB, 500 MB and 250 MB, will be recorded.
Performance
In TamoSoft Throughput Test, the download and upload speeds were similar at over 7100 Mb/s (around 888 MB/s), which is over 7 times faster than the theoretical throughput of a 1 Gbps connection. The round-trip time between the two AQN-107 cards is about 0.3 ms.
In a real world scenario, which one system is trying to read or write data to a shared drive/folder over a local network, the AQN-107 NICs performed very well. We achieved about 745 MB/s when copying three files, sized in 10 GB, 500 MB and 250 MB, to our RAM disk. It took only 14.75 seconds to complete. Writing the same files to the shared folder took slightly longer at 15.5 seconds, reaching speed up to 724 MB/s. The insufficient use of the bandwidth may be caused by the finicky network drive support on Windows 10.
In task manager, the throughput is capped at 6.5 Gbps with minimal CPU usage at around 13%. The AQN-107 network cards are able to process this large amount of traffic without stressing the CPU, which allows precious CPU cycles to be freed up for other programs. We believed the performance of the file transfer would further improve with some small tweaks in the settings, such as enabling jumbo frames.
Aquantia AQtion Command Center
Combined with the hardware, Aquantia also provides AQN-107 users the AQtion Command Center software, which can be used to prioritize network traffic for different applications in your system. For example, you can make your streaming services, like YouTube and Netflix, to be the top priority for smoother playback. The software gives you an overview of which applications/services are consuming most of the bandwidth.
Conclusion
The Aquantia AQtion AQN-107 10G Gaming Network Interface Card is a large step forward in pushing faster Internet/network speed for the general consumers. For now, it may not be possible or feasible to have a 10 Gbps Internet service, but the AQN-107 allows users to create a blazingly fast local network (LAN) in their homes at an affordable price. It is ideal for connection between your workstation and network-attached storage (NAS), without the need to invest in a costly 10 Gigabit network switch.
At our benchmarks, the AQN-107 performed reasonably well. It reached around 720 to 750 MB/s when transferring large size files to a shared folder in Windows 10, which is way beyond most hard disk drives (HDD) are capable of delivering.
The Aquantia AQN-107 Gaming NIC is priced at $89.99 USD (MSRP). In the market, most single-port 10 Gigabit NICs will cost you over $150 USD, which uses SFP+ port or other proprietary ports. You will have to purchase another set of cables in order to set up the connection. A more conventional and popular RJ-45 port on the AQN-107 makes it more accessible for average users. It is also cheaper than the ASUS XG-C100C NIC, which uses the same AQC-107 Ethernet controller. If you want to upgrade your network configuration from 1 Gbps, look no further than the AQN-107.
You can purchase the NIC from your local/online resellers or the links below from Amazon US.
Thanks Aquantia for providing us the NIC for review. (Review Sample)
Feel free to leave comments below, if you have any opinion about this website. Share the website around if you enjoy reading it. Subscribe to our Newsletter or follow our Google+, Facebook and Twitter.
Support this website simply by shopping in Amazon. It will give us small kickbacks, if you use the above affiliate links to make any purchases, which will help us grow.