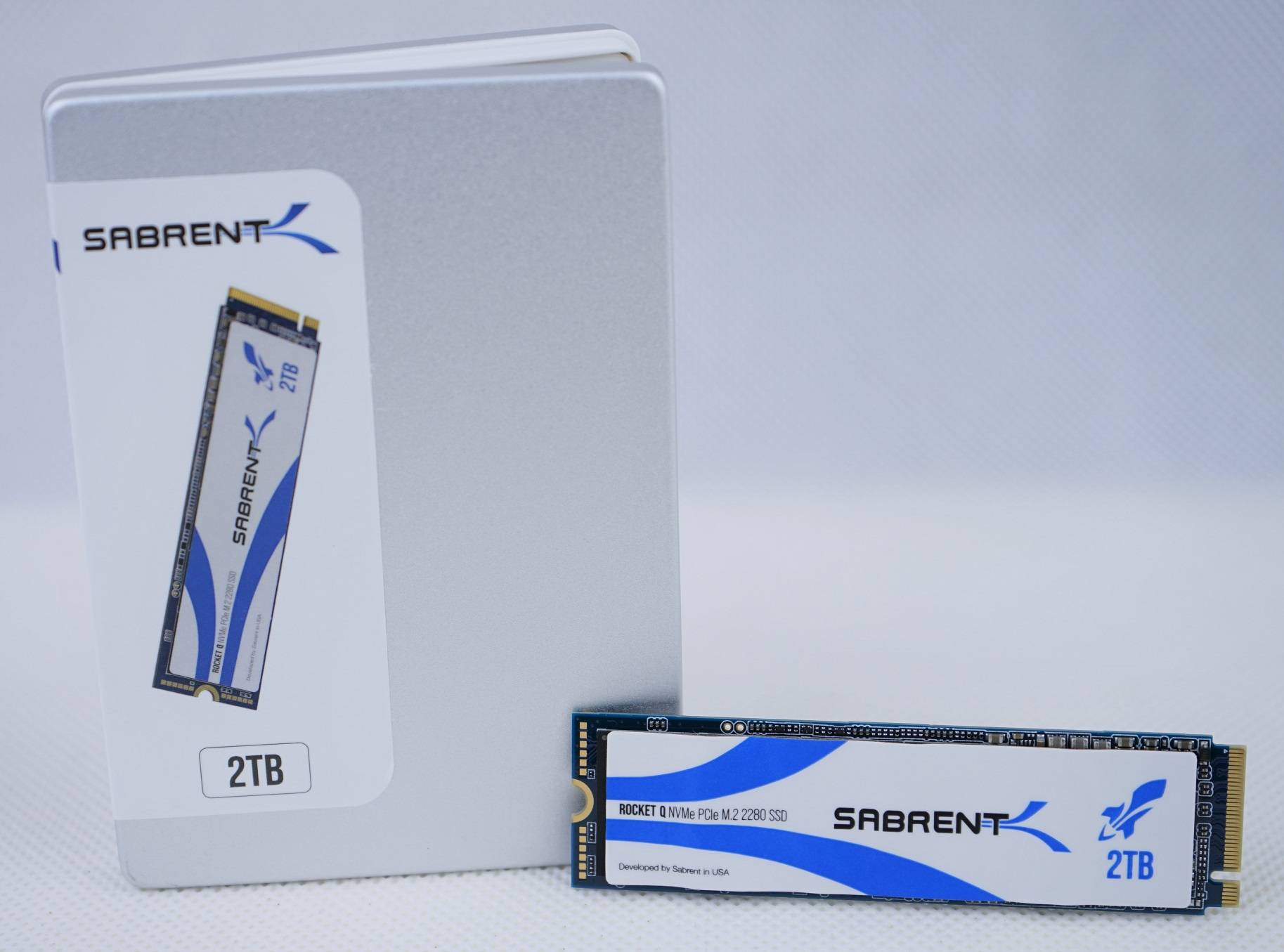 The Sabrent Rocket Q surprised the PC community in May 2020 as the industry-first 8 TB internal NVMe SSD, thanks to the use of QLC NAND flash. We were able to get our hands on it and see how it performs.
Specifications
[table id=432 /]
Available only in M.2 2280 form factor, Rocket Q can have capacities from 500 GB to 8 TB. The advertised maximum sequential read/write speeds are 3300 MB/s and 3000 MB/s through the PCIe 3.0×4 interface, which will be slightly different for each size.
The SSD has a MTBF of 1.8 million hours and rated endurance levels from 120 TBW to 1800 TBW. It is provided with a 5-year warranty.
Unboxing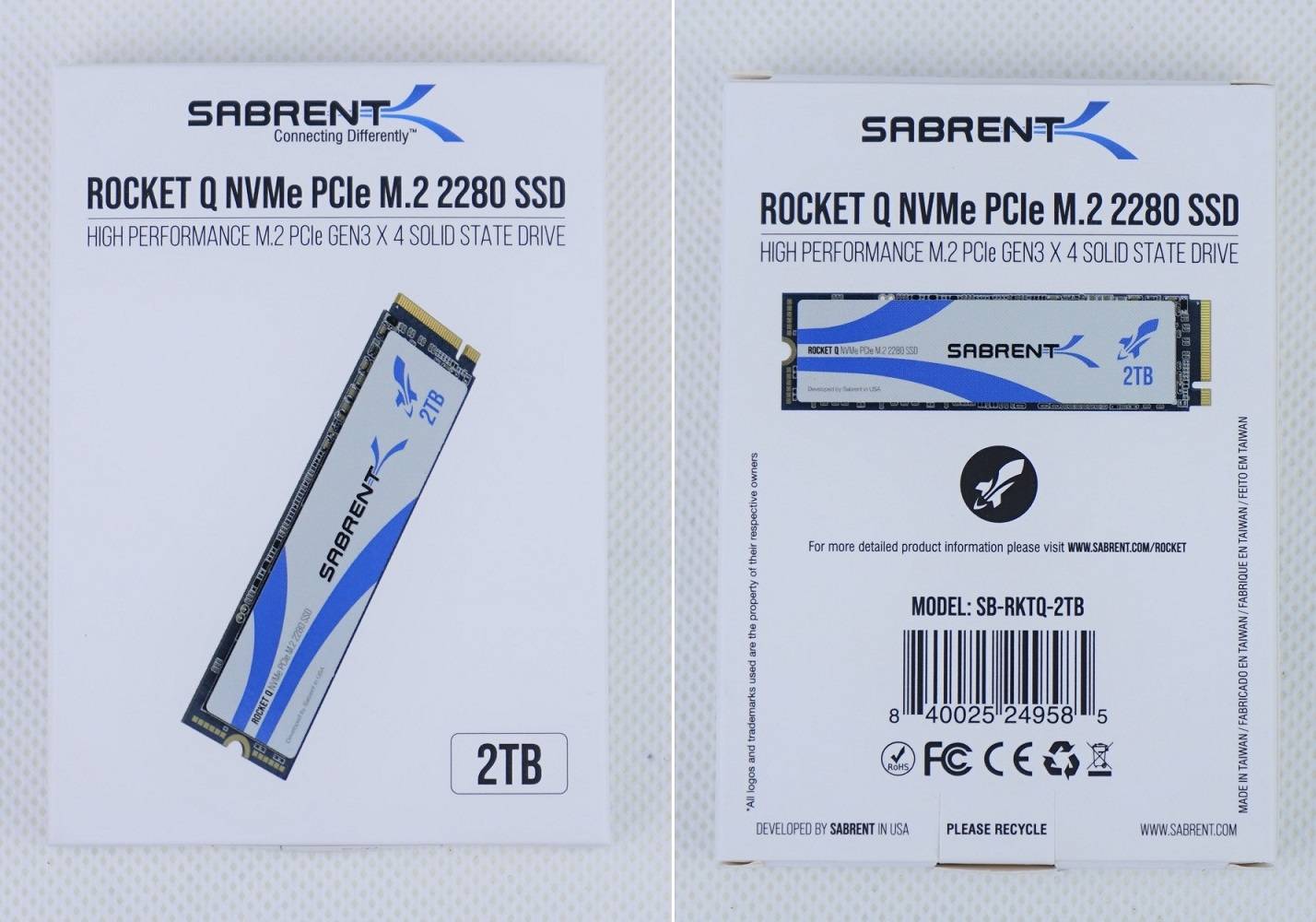 The Rocket Q is packed in a tiny metal box, painted in white. The outer cardboard box is printed with the SSD's model name, capacity, UPC code and some regulatory labels.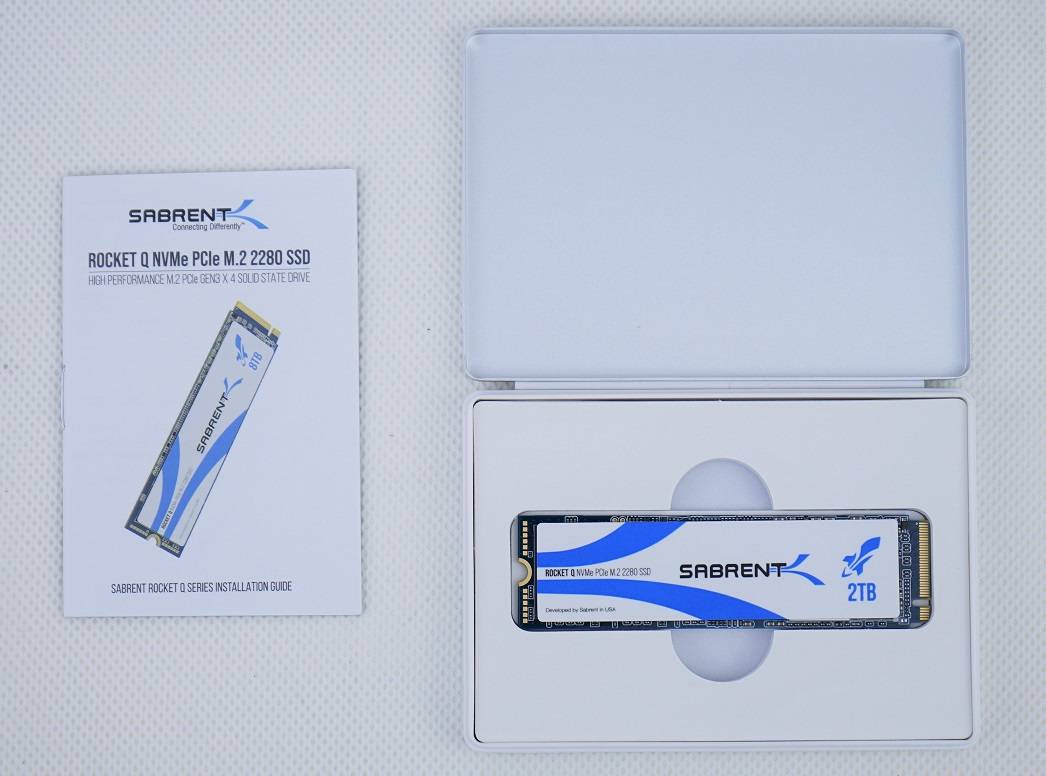 Included in the box is a user manual for the installation, as well as a free copy of Acronis True Image software. It allows you to easily backup, clone and move your data and operating system to the new drive.
Sabrent Rocket Q PCIe NVMe SSD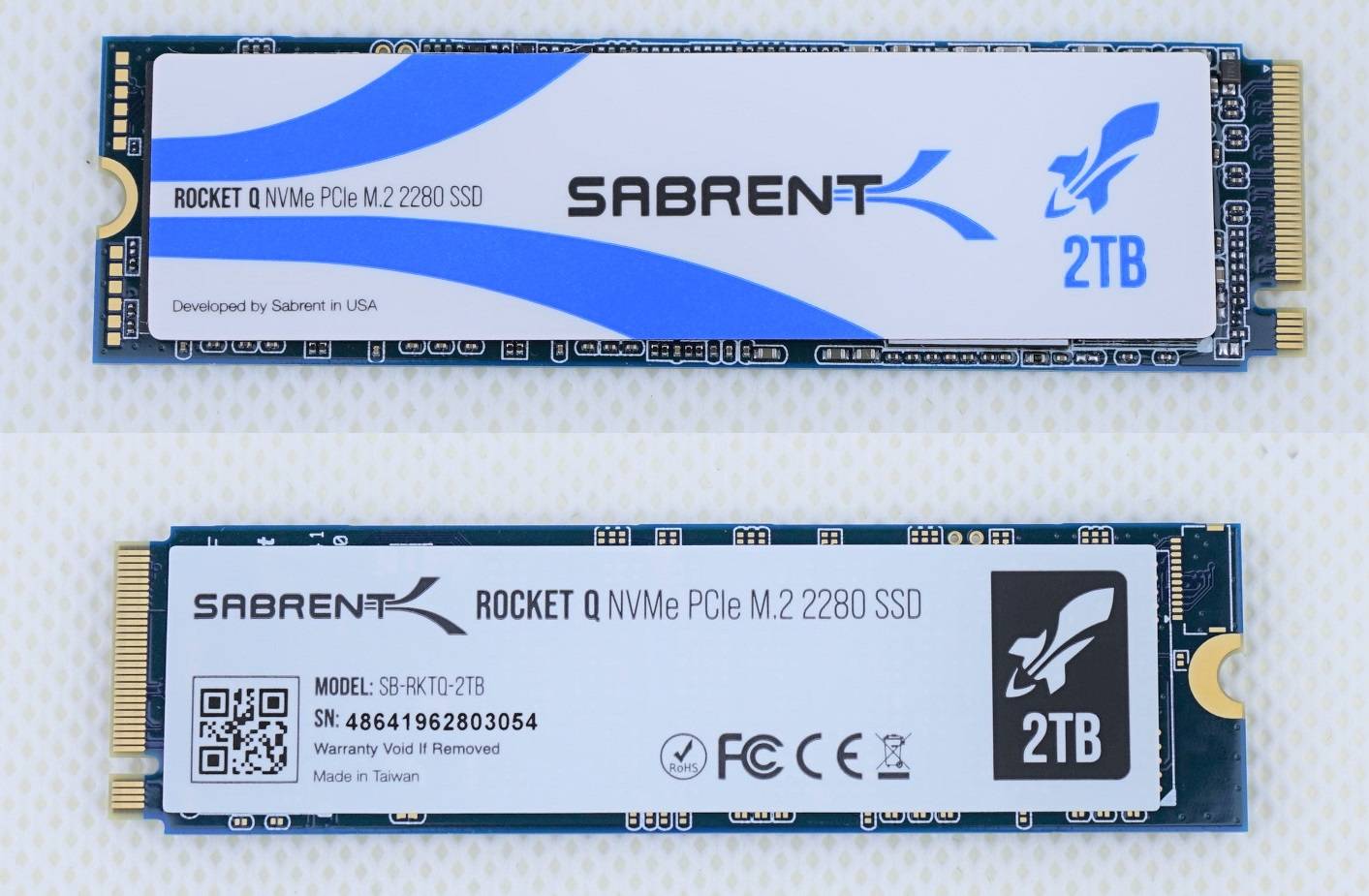 Only the top side of the blue printed circuit board (PCB) is occupied by the components for our 2 TB model (SB-RKTQ-2TB). There is not much information on the stickers, except for the model name and serial number.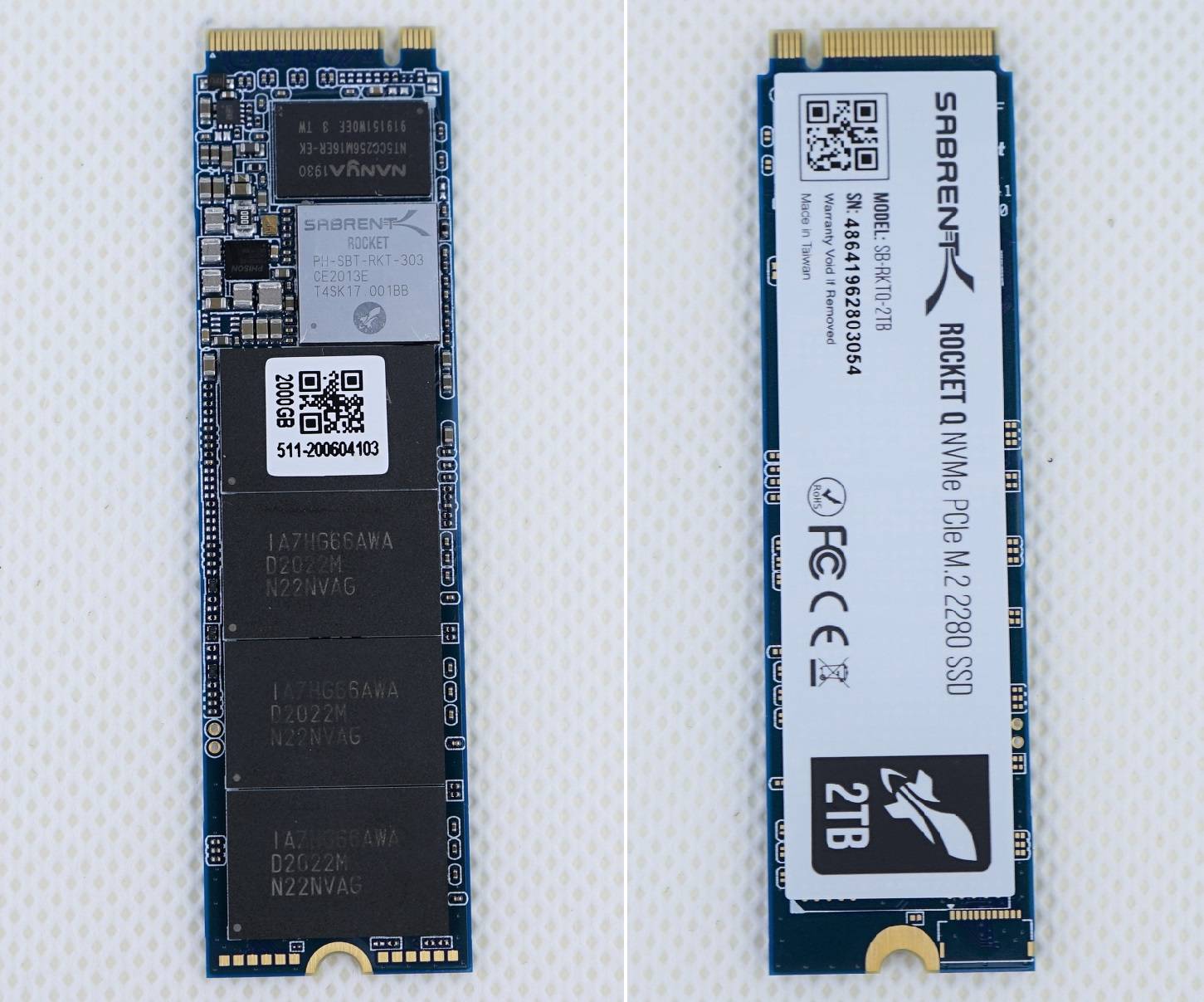 Paired with the SSD are the custom RKT 303 memory controller and Micron's latest 96-Layer 3D QLC NAND flash (IA7HG66AWA). The controller is basically a rebranded version of the Phison PS5012-E12S. A single 4 Gb (512 MB) DDR3L-1866 RAM chip from Nanya (NT5CC256M16ER-EK) is also present for caching.
*We have briefly explained the differences between TLC and QLC NAND flash in the UD70's review, which you can read for more details. In short, QLC-based SSDs allow for higher capacities and cheaper costs, but sacrifice some endurance and raw write speeds.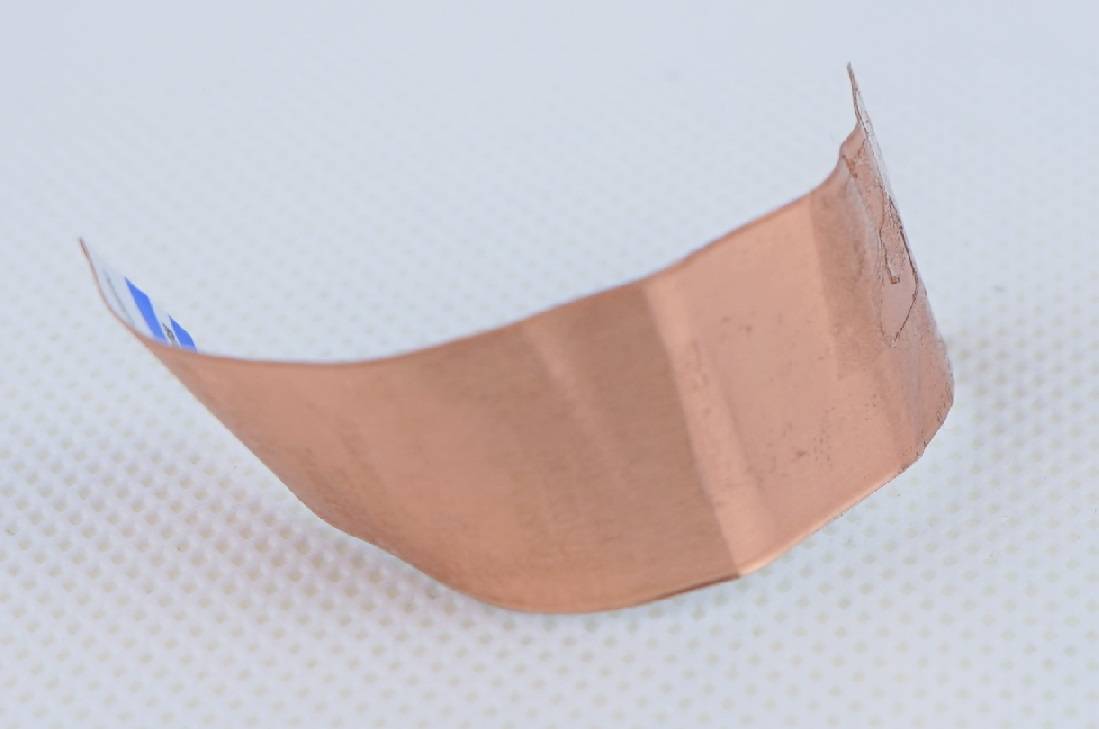 Same as the Rocket, the sticker on top is a copper foil, which helps increase the total heat capacity to delay thermal throttling in long transfer.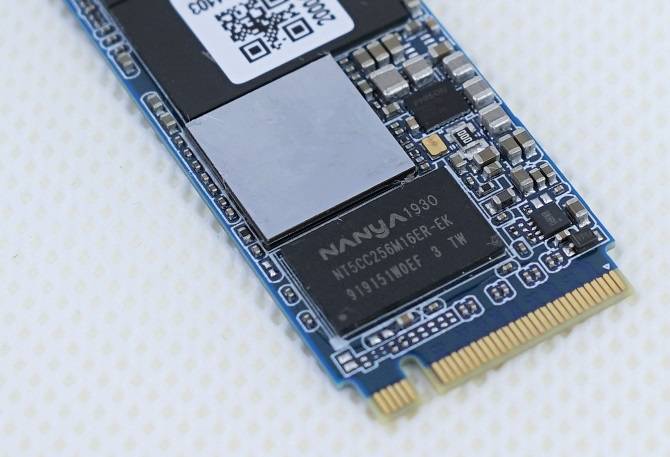 The PCIe 3.0×4 interface has a theoretical bandwidth of 32 GT/s or 3.94 GB/s, achieved via the M.2 (M-Key) connector.
Review
Testing Methodology
To test the performance of the solid-state drive, we use four well-established storage benchmarking software. They are CrystalDiskMark, ATTO Disk Benchmark, AS SSD Benchmark, as well as HD Tune Pro.
CrystalDiskMark can measure both sequential and random 4KB read/write speeds with a queue depth of 32. ATTO Disk Benchmark can test how the drive performs across different transfer block sizes, mostly in a sequential environment. AS SSD Benchmark can provide both normal read/write speed and the IOPS performance of the drive. HD Tune Pro can be used to simulate a large file transfer of up to 100 GB.
We also recorded the time to copy three files of 10 GB, 500 MB and 250 MB from a RAM disk to the SSD, to simulate a real-world situation.
Performance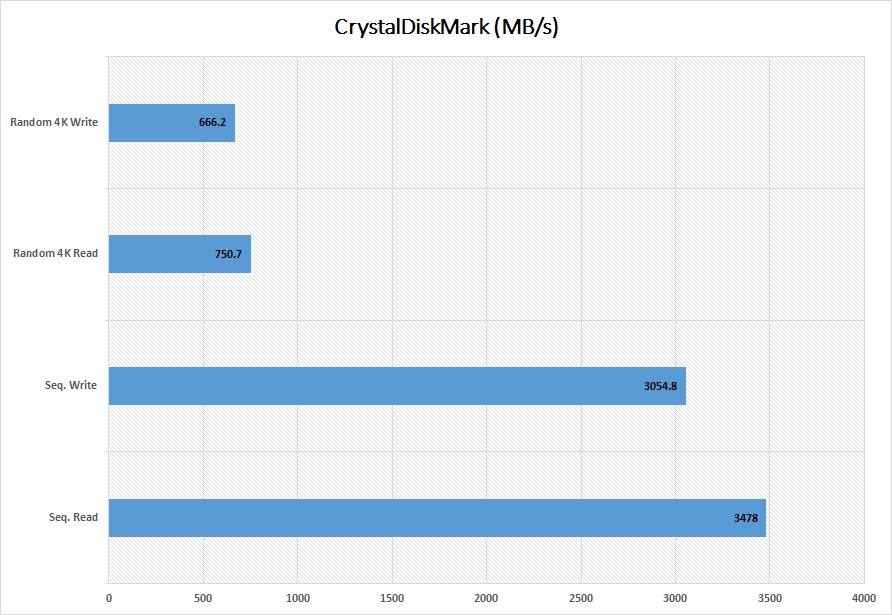 In CrystalDiskMark, the Rocket Q was able to reach sequential read/write speeds at 3470 MB/s and 3050 MB/s. At queue depth 32, the random 4K performance was sitting at 750 MB/s and 660 MB/s.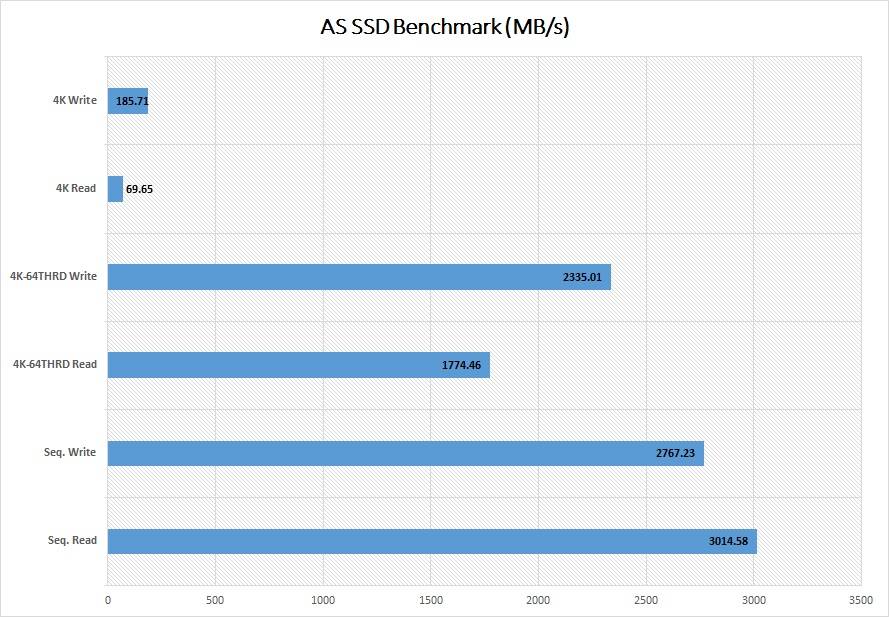 Slower performance was observed in AS SSD Benchmark than CDM. Sequential read/write speeds dropped to around 3010 MB/s and 2760 MB/s. With higher queue depth at 64, the random 4K speeds increased to 1770 MB/s and 2330 MB/s.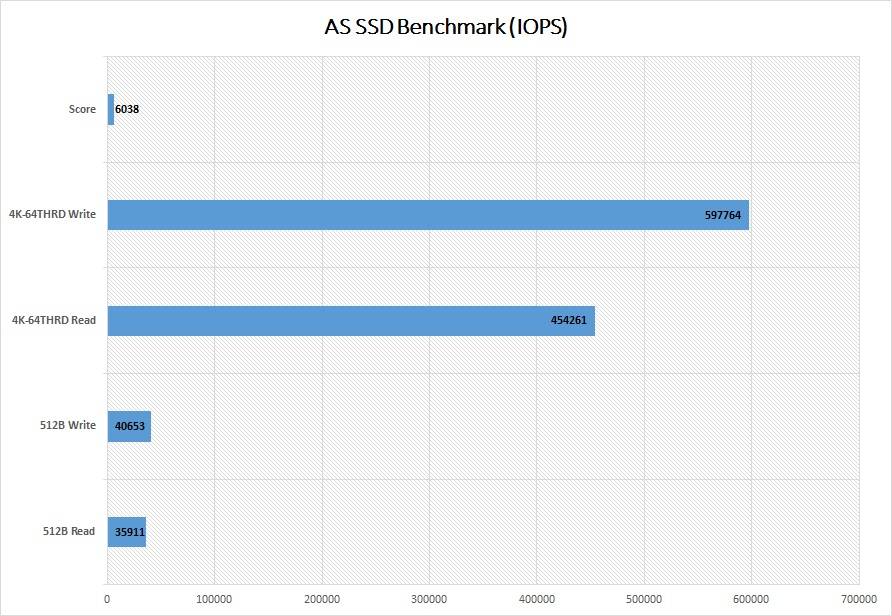 The Rocket Q scored 6038 in the test. It achieved a maximum 454261 IOPS in read and 597764 IOPS in write. IOPS number represents how well a drive handles random input and output operations.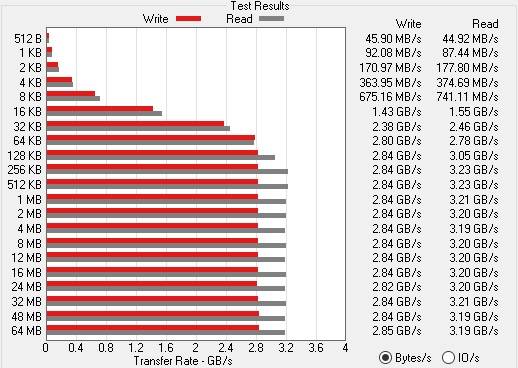 Performance started to stabilize in ATTO Disk Benchmark, when the test file size was larger than 64 KB. The read/write speeds topped out at about 2850 MB/s and 3200 MB/s.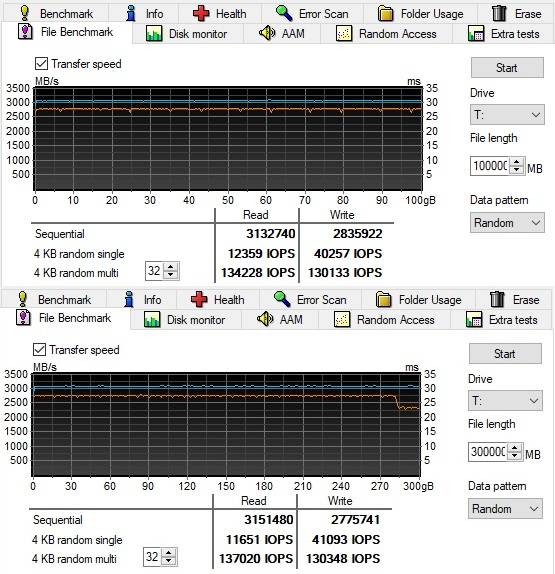 We got an extremely similar situation as the Silicon Power UD70, while simulating large-sized file transfer in HD Tune. The Rocket Q maintained a steady write speed at over 2800 MB/s for the first 100 GB of data.
Since both the Rocket Q and UD70 are QLC-based SSDs, the manufacturers will have to assign 20% to 25% of the total capacity as pseudo-SLC cache, in order to hide the slow raw write speed of the QLC NAND flash (~300 MB/s vs ~1000 MB/s for TLC). That's why their write speeds in HD Tune did not decreased much in the 100 GB and 300 GB tests. However, this technique will require a certain amount of free space in the drive to function well.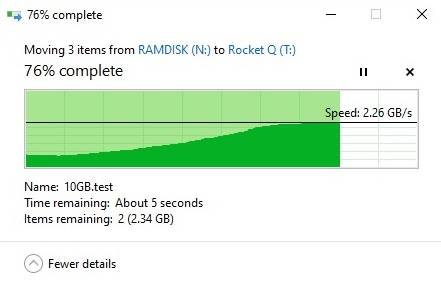 The Rocket Q took approximately 6.72 seconds to complete copying three files, sized around 15 GB. The write speed stayed at 2.26 GB/s during the transfer.
Comparison
[visualizer id="2840″]
[visualizer id="2842″]
The Rocket Q was able to match the similarly-equipped Silicon Power UD70 in almost all areas of the benchmarks, if not slightly better. Both sequential and random 4K performance was ranked on the top 5 in our tested drives.
[visualizer id="4796″]
The 100 GB HD Tune test looks "small", compared to the huge SLC cache (> 270 GB) of the Rocket Q. It could sustain write speed at around 2830 MB/s.
Conclusion
The Sabrent Rocket Q utilizes the QLC NAND flash to hit a lower price or create previously-impossible capacities. The read/write performance is great, matching most normal TLC-based NVMe SSDs, when the SLC cache is not saturated. Please bear in mind the drastically lower durability (TBW or Terabytes Written) ratings, if you tend to run a lot of write-heavy tasks on the drive.
The Rocket Q is priced at $219.99 USD for 2 TB and $109.99 USD for 1 TB (MSRP) with a 5-year warranty. This means it only costs about $0.11 USD per GB. It is slightly more expensive than the UD70 at $191.99 USD (MSRP), but the advantage of the Rocket Q is having the higher 4 TB and 8 TB models.
You can purchase the SSD from your local/online resellers or the links below from Amazon and Newegg.
Thanks Sabrent for providing us the SSD for review. (Review Sample)
Feel free to leave comments below, if you have any opinion about this website. Share the website around if you enjoy reading it. Subscribe to our Newsletter or follow our Twitter, Facebook and Instagram.
Support this website simply by shopping in Amazon and Newegg. It will give us small kickbacks, if you use the above affiliate links to make any purchases, which will help us grow.