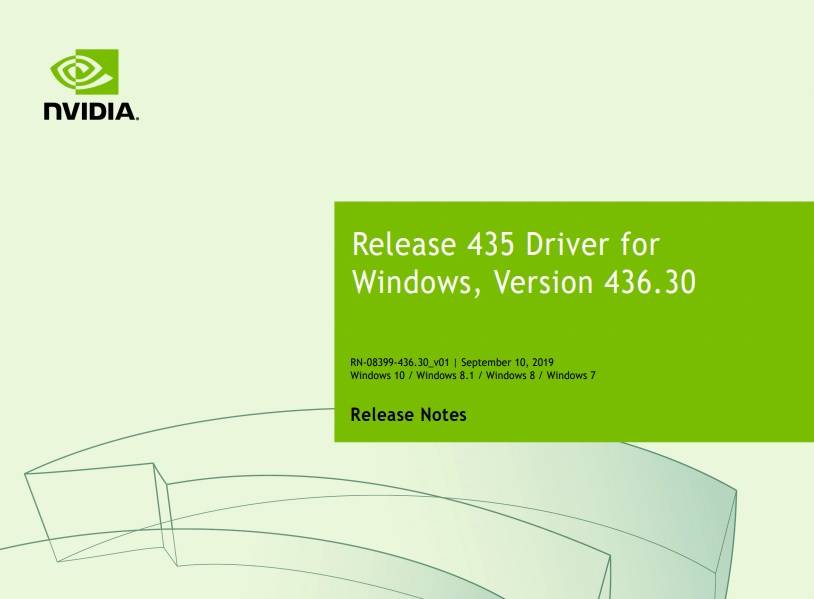 NVIDIA just rolls out the new GeForce Game Ready drivers update, version 436.30, to users. It is going to deliver optimizations to three Triple-A (AAA) games and add supports to more G-SYNC compatible monitors.
According to NVIDIA, this update will improve performance and gaming experience to Gears 5, Borderlands 3 and Call of Duty: Modern Warfare PC Open Beta. It also adds the SLI profile for Close to the Sun.
We have attached the official release notes for the software below:
Game Ready

Provides increased performance and the optimal gaming experience for the Call of Duty:
Modern Warfare PC Open Beta, Gears 5, and Borderlands 3.

Gaming Technology

Adds support for six new G-SYNC compatible monitors.

Application SLI Profiles

Added or updated the following SLI profiles:

Fixed Issues in this Release

[Fortnite][CS:Go]: Eliminated cases of stutter when Ultra low latency mode was
enabled. [2682105]
[Forza Motorsport 6/7]: The game may crash during gameplay. [2686338]
[World of Warcraft]: The game may flicker at the character-selection screen. [2684628]
[Notebook][GeForce GTX 970M]: The GPU clock speed on some notebooks is stuck at
the base clock speed and does not boost. [2683147]
[GeForce RTX 20 series][Forza Horizon 4][Gears of War 4][Gears 5]: Colored
corruption may appear on some surfaces throughout the game. [200544234
[Firefox][G-SYNC]: When G-SYNC is enabled, flickering occurs with YouTube fullscreen video playback on FireFox when hovering over the timeline. [200544130]
[Control][DirectX 12][Pascal GPUs]: Blue-screen crash occurs pointing to
nvlddmkm.sys when in-game software Ray Tracing is enabled. [200543646]
You can download the GeForce GPU Drivers version 436.30 at NVIDIA's website.
Feel free to leave comments below, if you have any opinion about this website. Share the website around if you enjoy reading it. Subscribe to our Newsletter or follow our Twitter, Facebook and Instagram.
Support this website simply by shopping in Amazon and Newegg. It will give us small kickbacks, if you use the above affiliate links to make any purchases, which will help us grow.