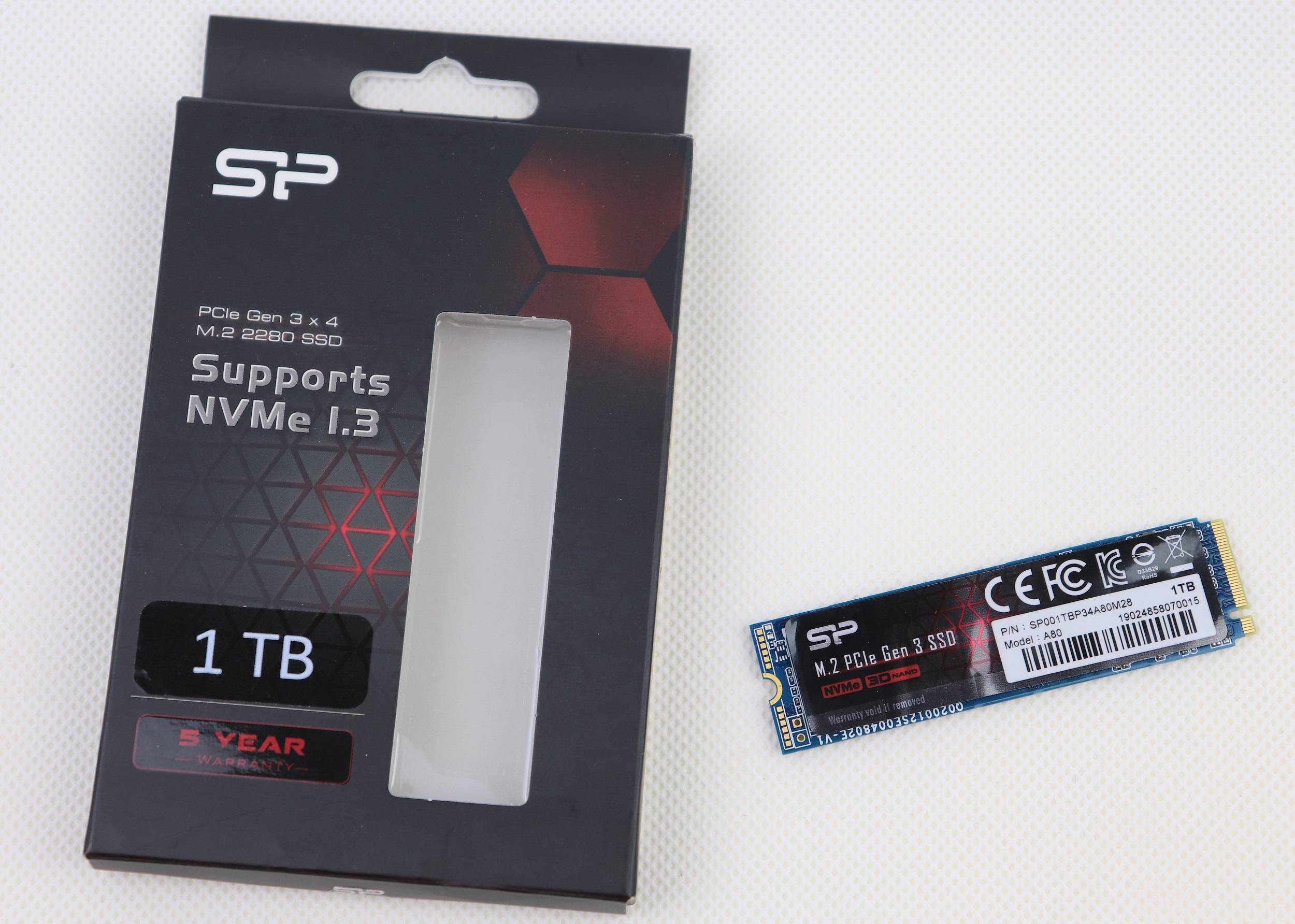 The P34A80 from Silicon Power is the top-end PCIe 3.0 NVMe SSD in their lineup. The company has long been a reputable brand for making incredible storage devices, but it is relatively new in the NVMe SSD market. The P34A80 is the second NVMe SSD they have ever released. Let's see how well it performed in our tests.
Specifications
[table id=290 /]
The Silicon Power P34A80 is only available in M.2 2280 form factor with four capacities, from 256 GB to 2 TB. It uses a PCIe 3.0×4 interface and NVMe 1.3 protocol to transfer the data.
It is advertised to reach sequential read/write speeds of up to 3400 MB/s and 3000 MB/s. Smaller-sized drives will have slightly slower write speed at around 1100 MB/s to 2300 MB/s. All models have a rated MTBF of about 2 million hours, with endurance of 380 TBW to 3115 TBW. A 5-year warranty is also provided.
Unboxing
The packaging for the P34A80 is extremely simple. There is a plastic window on the top, showing the actual drive underneath. You get information like capacity, warranty and a bunch of regulatory labels.
Silicon Power P34A80 PCIe NVMe SSD
The P34A80 SSD is not equipped with any heatsink or LEDs. Our test sample is the 1 TB model, which is packed with components on both sides of the printed circuit board (PCB). The top is covered with the usual sticker, containing the part number, serial number and model name.
Identical to most high-end PCIe 3.0 SSDs, the P34A80 also features the Phison PS5012-E12 memory controller and the Toshiba 64-Layer 3D TLC NAND flash (BiCS3). The four NAND flash packages (TABBG55AIV) are spread evenly on both sides. The two 4 Gb (512 MB) DDR4 RAM cache chips are manufactured by SK hynix (H5AN4G8NBJR), with total capacity of 1 GB.
The P34A80 connects to the motherboard via a M.2 connector (M key). It routes all the data through the PCIe 3.0×4 interface, which has a theoretical bandwidth of 32 GT/s or 3.94 GB/s.
Review
Testing Methodology
To test the performance of the solid-state drive, we use four well-established storage benchmarking software. They are CrystalDiskMark, ATTO Disk Benchmark, AS SSD Benchmark, as well as HD Tune Pro.
CrystalDiskMark can measure both sequential and random 4KB read/write speeds with a queue depth of 32. ATTO Disk Benchmark can test how the drive performs across different transfer block sizes, mostly in a sequential environment. AS SSD Benchmark can provide both normal read/write speed and the IOPS performance of the drive. HD Tune Pro can be used to simulate a large file transfer of up to 100 GB.
We also recorded the time to copy three files of 10 GB, 500 MB and 250 MB from a RAM disk to the SSD, to simulate a real-world situation.
Performance
The P34A80 SSD performed as claimed in CrystalDiskMark, with sequential read/write speeds at 3464 MB/s and 3042 MB/s. They dropped down to around 490 MB/s and 430 MB/s when tested with random 4K operations at queue depth 32. Most SATA-based SSDs will stay below 300 MB/s in similar scenario.
Overall numbers decreased slightly in AS SSD Benchmark. The maximum sequential speeds hovered around 2500 MB/s. At higher queue depth of 64, performances climbed up to around 1800 MB/s in random read and 1600 MB/s in write.
IOPS number represents how well a drive handles random input and output operations. The P34A80 scored 5228 in the benchmark. It reached 466076 IOPS and 410336 IOPS respectively in random 4K read/write.
At ATTO Disk Benchmark, the drive achieved speeds over 1000 MB/s when the file sizes increased to 32 KB. It then plateaued at about 3300 MB/s in read and 3000 MB/s in write.
A 100 GB file transfer was simulated in HD Tune Pro. For the first 25 GB of data, the P34A80 managed to sustain a higher write speed at around 2500 MB/s. It lowered significantly to 1000 MB/s afterwards, due to the saturation of internal DRAM and SLC cache. Read performance was a bit weird with quite a lot of fluctuations, averaging about 1500 MB/s.
Three files, total sized at about 15 GB, were transferred from a RAM Disk to the P34A80. It took approximately 5.28 seconds to complete, with speed of around 2 GB/s. As observed in the HD Tune Pro test, the cache will still functioning as designed, if the file sizes are under 25 GB.
Comparison
[visualizer id="2840″]
[visualizer id="2842″]
[visualizer id="4796″]
Similar to the Asura Genesis Xtreme (its review here), the Silicon Power P34A80 SSD's performance was in line with what we would expect from a SSD in the same configuration (Phision PS5012-E12 controller + Toshiba 64-Layer 3D TLC NAND). However, the P34A80 did have slightly slower sequential speeds in AS SSD Benchmark and HD Tune Pro.
Conclusion
The Silicon Power P34A80 performed similar to the other identically-equipped PS5012-E12 NVMe SSD we tested. It could achieve very respectable speeds in both sequential read and write, above 3000 MB/s. Despite it dropping to around 1200 MB/s when writing large files, there is still a noticeable advantage over standard SATA-based or DRAM-less SSDs.
The P34A80 is provided with a 5-year warranty, and costs $114.99 USD (MSRP) for the 1 TB model. Other high-end NVMe SSDs are priced at over $120 USD. For roughly the same price at about $100 USD, you can either get a slower SATA SSD or less durable QLC NVMe SSD, such as the Samsung 860 EVO or Crucial P1. Paying an extra $15 USD, you can have much better performance and the same capacity with the P34A80. If you want to upgrade your storage with limited budget, I would definitely recommend the P34A80.
You can purchase the SSD from your local/online resellers or the links below from Amazon and Newegg.
Thanks Silicon Power for providing us the SSD for review. (Review Sample)
Feel free to leave comments below, if you have any opinion about this website. Share the website around if you enjoy reading it. Subscribe to our Newsletter or follow our Twitter, Facebook and Instagram.
Support this website simply by shopping in Amazon and Newegg. It will give us small kickbacks, if you use the above affiliate links to make any purchases, which will help us grow.