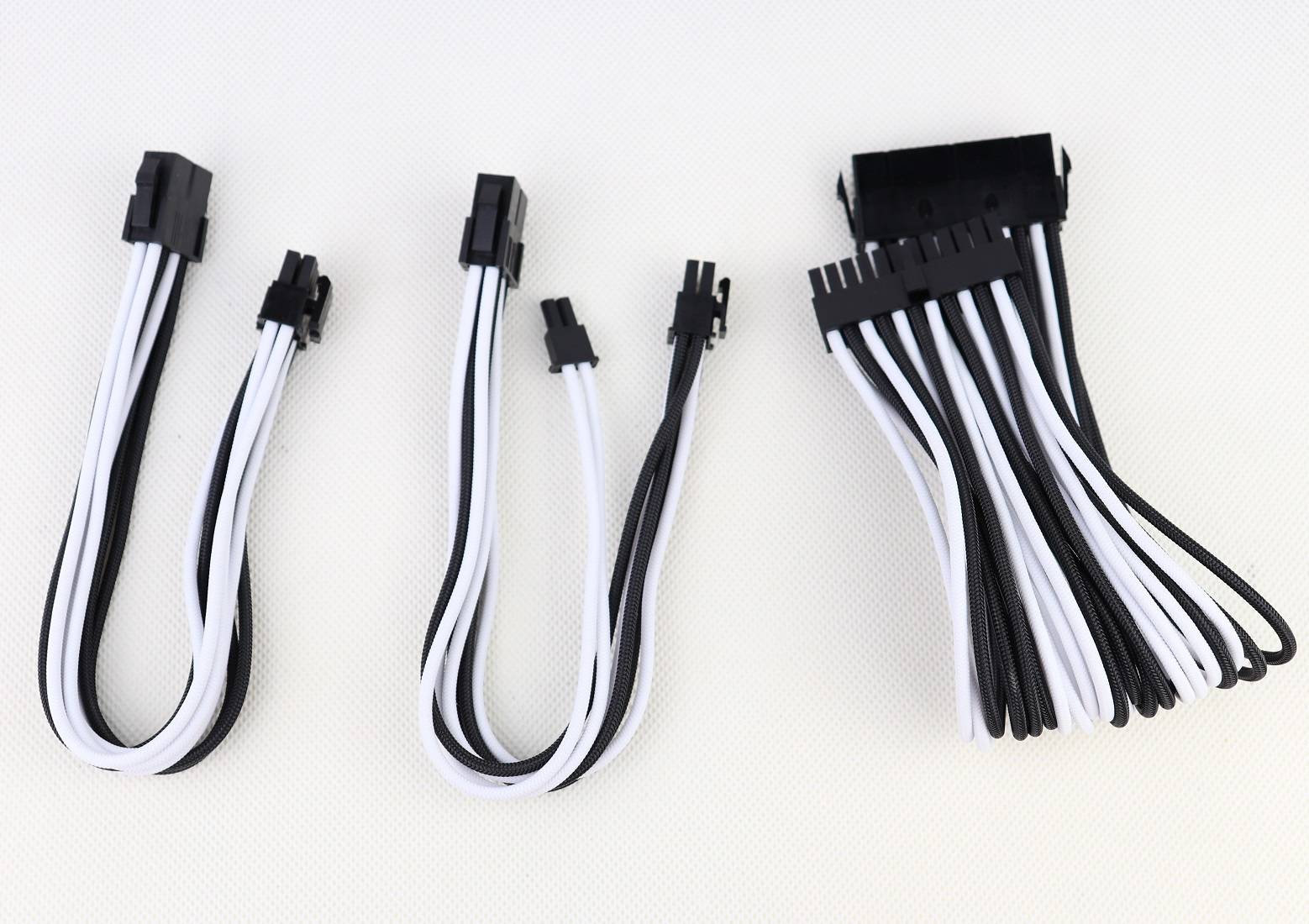 Tidying up cables plays an important role in making a PC look sharp and clean. The power supply cables do not often match the color scheme of the build. Custom length and colored cables for a fully-modular PSU can be expensive, and are limited to be used in a particular PSU model.
SilverStone recently updated their PP07 power supply extension cables with the PP07E, which could be a simple solution to fix your PC's cable problem.
Unboxing
There are three different types of cable in the PP07E lineup, including the 24-pin ATX, 8-pin (4+4) EPS and 8-pin (6+2) PCIe. All of them are packaged inside a reusable zip-lock bag. You can find short descriptions of the product, its model number and specifications at the back.
SST-PP07E-EPS8BW
SST-PP07E-MBBW
SST-PP07E-PCIB
Each cable is provided with four cable combs for organizing and separating the wires.
SilverStone PP07E Power Supply Extension Cables
Our SilverStone PP07E samples has a black and white color scheme, where an all-black version is also available. All three cables have a length of 300 mm. According to SilverStone, the extension cables are compatible with all ATX and SFX power supplies, as long as they use the same connectors.
Review
Every PP07E wire is individually-sleeved with nylon braid, alternating black and white colors. Compared to paracord, nylon is more durable and allows for more vibrant colors. There is no visible heat-shrink on both ends of each wire, which ensures a uniform and clean look for the extension cable. They are miles better and more beautiful than the stock rainbow or black ribbon cables from the power supply. The included cable comb help align the wires evenly and prevent tangling.
Installation for the PP07E cables is quick and straightforward for both new and existing PC builds. They are flexible and can be easily routed around tight corners. Simply connect the extension cables to the end of the stock cables, before plugging into your motherboard from the power supply.
SilverStone decided to use 18 gauge (AWG) oxygen-free copper wires on the PP07E, which should be more than enough for the intended current and voltage. Thicker 16 gauge (AWG) wires can offer slightly more headroom for higher power usage, but may make the cables stiffer to bend inside the PC chassis.
Conclusion
The SilverStone PP07E extension cables give most users an almost effortless way to tidy up the cable mess in their PC builds. The nylon braid is soft and flexible to maneuver around the chassis without much hassle. One thing to keep in mind is the excess cable length (300 mm) increased on top of the stock power supply cables, which enough space is required to store behind the case. It would also be great, if SilverStone can offer more color and pattern options in the future.
The PP07E is priced at $14 USD for the 24-pin ATX cable, $7 USD for 8-pin EPS and $8 USD (MSRP) for 8-pin PCIe. Compared to other PSU extension kits in the market at around $30 to $40 USD, the total cost of around $29 USD is pretty reasonable and affordable. If you do not want to spend a boatload of money on fully-modular power supply and its dedicated custom sleeved cables, the PP07E can be an excellent choice to pimp up your existing PC builds.
You can purchase the extension cables from your local/online resellers or the links below from Amazon.
Thanks SilverStone for providing us the cables for review. (Review Sample)
Feel free to leave comments below, if you have any opinion about this website. Share the website around if you enjoy reading it. Subscribe to our Newsletter or follow our Twitter, Facebook and Instagram.
Support this website simply by shopping in Amazon and Newegg. It will give us small kickbacks, if you use the above affiliate links to make any purchases, which will help us grow.