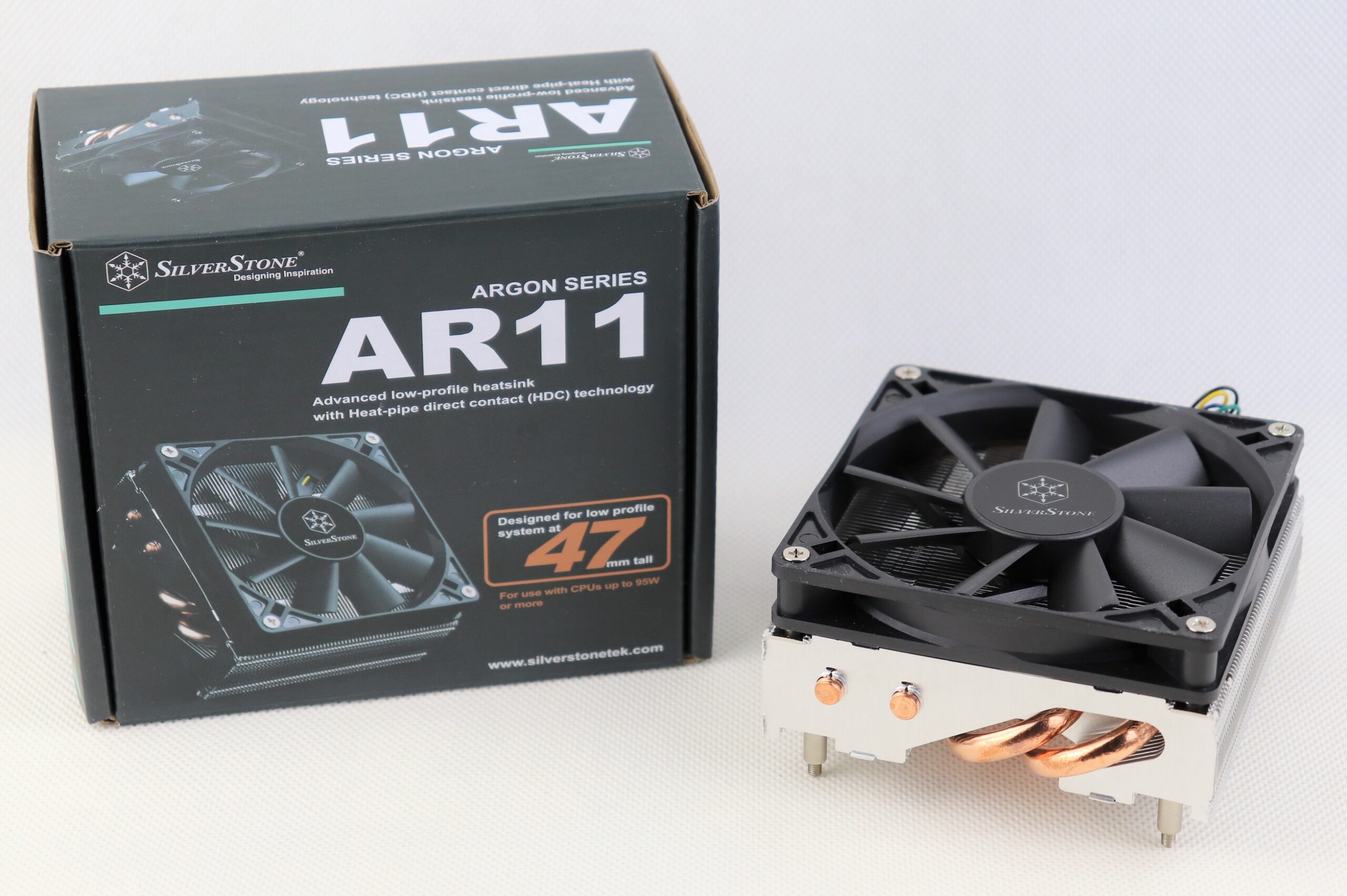 The Argon Series AR11 CPU cooler from SilverStone is designed for small form factor (SFF) computer builds. In this review, we will compare the AR11 with a few other compact coolers to see how it performs.
Unboxing
The AR11 cooler comes in a tiny black cardboard box with photos of the cooling fan and heatpipes on both the front and the back. There is a specification list with information like dimensions and weight. Short descriptions of features can be found in 11 different languages on the sides of the box.
The accessories included are sparse, with only four mounting screws, a user manual and a bag of single-use thermal compound. Unlike most CPU coolers, the AR11 is only compatible with Intel LGA 115x CPU sockets, from LGA 1156 to LGA 1151.
SilverStone AR11 CPU Cooler
The AR11 is 32 mm in height, 97 mm in width and 94 mm in depth without the cooling fan. It should have no problem with RAM and PCIe slots compatibility. However, the cooler will sit extremely close against the VRMs and chokes of the motherboard, but should not interfere with the installation, unless they are particularly tall.
Don't be fool by the small size of the cooler though. It is packed with four 6 mm copper heatpipes, which route through the aluminum heatsink to transfer heat away from the CPU. It is rated to work with processors under 95W of TDP.
The AR11 uses the HDC technology, which the heatpipes will directly contact the integrated heat spreader (IHS) of the CPU. No nickel plating and polish has been done to the base.
The AR11 cooler is equipped with a 92 mm slim fan, named PLA09215B12H, with a thickness of 15 mm. The 9-blade fan is advertised to produce a maximum of 4.53 mmH2O of static pressure and 55.76 CFM of airflow. It can spin from 1200 RPM to 3000 RPM, and controlled via a 4-pin PWM header. There is no anti-vibration rubber pad on each corner, which may introduce some rattling noises at high speed.
Review
We have updated our CPU cooler tests to more reflect real-world cooling performance of coolers.
Testing Methodology
To find out how the cooler performs, a total of three benchmarks are included. AIDA64 is used to run a CPU stress test. CPU, FPU and system cache are all stressed to create as much heat output as possible. Also, Cinebench R15 and Cinebench R20 are used to simulate real-world CPU load (like video-editing or rendering). It will be run continuously for three times. The highest CPU package temperatures are recorded. Ambient temperature is around 26°C.
Results will be taken at a 50% fan speed and 100% speed, controlled via the motherboard CPU PWM fan header. Both single-fan and dual-fan configuration of the cooler will be tested.
Performance
The CPU's idle temperature hovered about 35°C, while the ambient temp at 26°C. The AR11 cooler was capable of maintaining the CPU package at around 72°C with 50% fan speed (~1700 RPM) in AIDA64 stress test. Increasing to full fan speed (~2900 RPM), the temperature dropped down to 66°C, which is a 8.33% improvement.
The AR11 could not further decrease the load temperature at maximum RPM in Cinebench R15, at 66°C. Though, the temperature was reduced to 70°C at lower fan speed.
In Cinebench R20, we saw the same picture with the load temperature stayed at 66°C, when the fan was spinning at its maximum. The CPU temperature gained an extra 1°C, than in Cinebench R15.
Comparison
[visualizer id="5616″]
Compared to other similar slim CPU coolers, the AR11 performed on par with the Noctua NH-L9i, which is an even smaller 37 mm thick cooler. Both had temperature delta of around 40°C. The larger Noctua NH-L9x65 (its review here) did about 5°C to 8°C better among the three benchmarks.
Conclusion
The SilverStone Argon Series AR11 does what a 47 mm compact CPU cooler is expect to do. It will be able to sufficiently cool a non-overclocked processor without major issue, under 95W TDP. The small-sized heatsink provides awesome RAM and PCIe slots compatibility. However, the LGA 115x-only mounting system will limit your options for CPU platforms to Intel.
The included 92 mm fan did an acceptable job in pushing enough airflow to through the heatsink. Spinning at 3000 RPM, the fan noise is noticeable. The OEM fan seems to be reasonably reliable with a rated MTBF of about 70,000 hours.
The AR11 CPU cooler is priced at $37.99 USD (MSRP), and comes with a 1-year warranty. It costs about $2 USD less than the similarly-performed Noctua NH-L9i, which is currently on sale for $39.95 USD at the time of this review. If you have a slightly more space to work with, you can pay more to get the bigger Noctua NH-L9x65 for better cooling. Overall, the AR11 is a decent and affordable compact cooler with solid build quality.
You can purchase the cooler from your local/online resellers or the links below from Amazon and Newegg.
Links to purchase in Hong Kong
Thanks SilverStone for providing us the AR11 for review. (Review Sample)
Feel free to leave comments below, if you have any opinion about this website. Share the website around if you enjoy reading it. Subscribe to our Newsletter or follow our Twitter, Facebook and Instagram.
Support this website simply by shopping in Amazon and Newegg. It will give us small kickbacks, if you use the above affiliate links to make any purchases, which will help us grow.