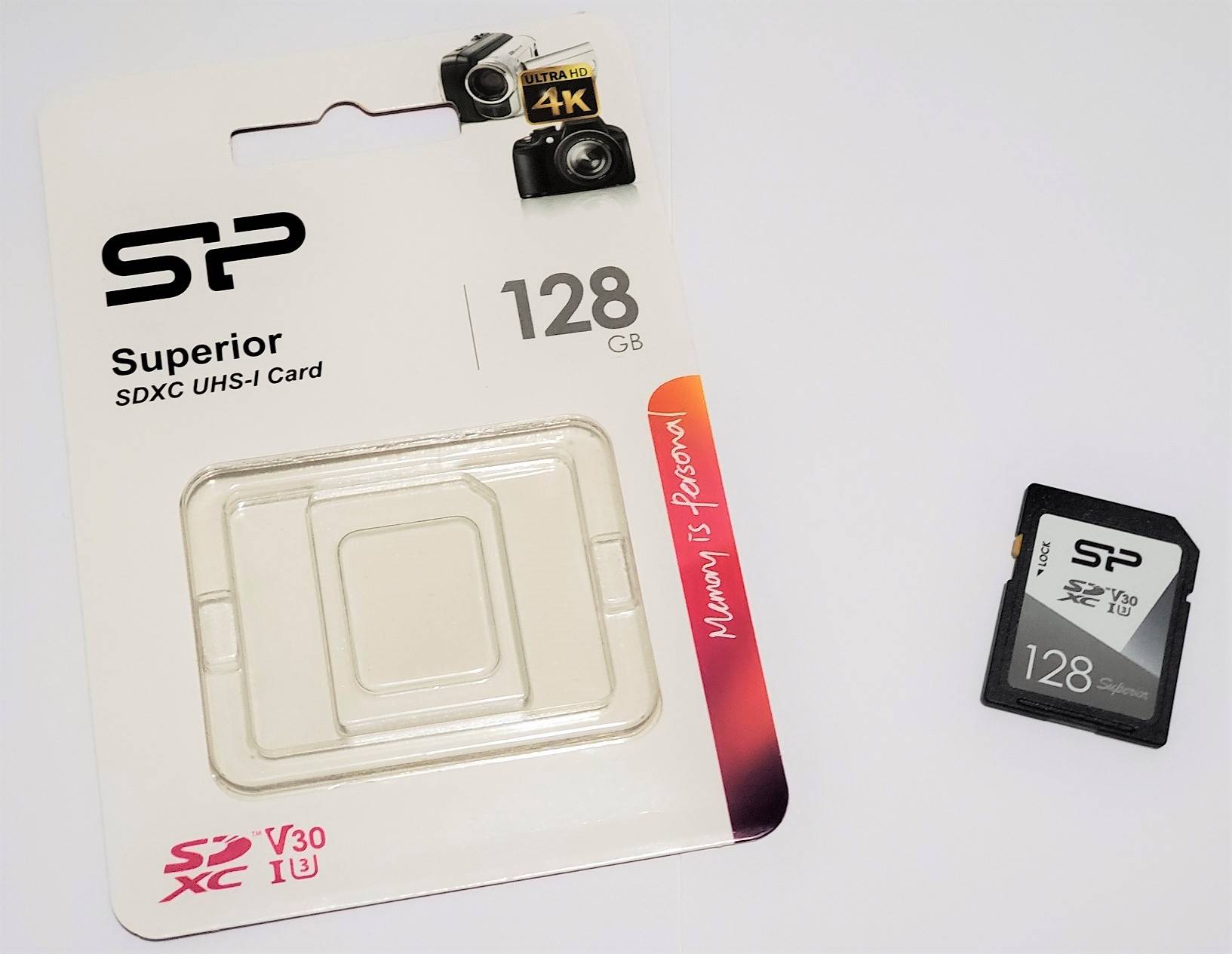 We are able to get our hands on the Superior V30 SD card, which is one of the two recently launched SD cards from Silicon Power in February 2020. Let's see how it performs in our benchmarks.
Specifications
[table id=316 /]
The Superior V30 series SD cards have capacities from 64 GB to 512 GB, with maximum sequential read/write speeds of 100 MB/s and 80 MB/s respectively. It is certified with the Class 10, UHS-I, U3 and V30 speed classes from SD Association, that is tested to have a minimal sequential write speed of up to 30 MB/s and good for recording 4K Ultra-HD videos at 60 FPS or 120 FPS.
The card has a 5-year warranty, with a rated durability of at least 10,000 insertions.
Unboxing
The packaging of the Superior SD card is relatively simple, with a plastic window showcasing the actual card. The capacity and various supported standards are clearly printed at the front, while a short description can be found at the back in 12 different languages.
Silicon Power Superior V30 SD Card
The Superior V30 has the same physical dimensions of a standard SD card, which should be compatible with most SD/SDHC/SDXC card slots in readers and laptops. There is a lock switch on the top left, that can be used to prevent modifying or deleting contents in the SD card (write-protected).
After formatting, the SD card has about 115 GB of storage remaining in Windows.
Review
Testing Methodology
To test the performance of the SD card, we use three well-established storage benchmarking software. They are CrystalDiskMark, ATTO Disk Benchmark and AS SSD Benchmark.
CrystalDiskMark can measure both sequential and random 4KB read/write speeds with a queue depth of 32. ATTO Disk Benchmark can test how the drive performs across different transfer block sizes, mostly in a sequential environment. AS SSD Benchmark can provide both normal read/write speed and the IOPS performance of the drive.
We also recorded the time to copy 62 files of 500 MB, 250 MB, 10 MB and 5 MB from a SSD to the SD card, to simulate a real-world situation.
Performance
In CrystalDiskMark, the SD card reached sequential read/write speeds of about 92 MB/s and 80 MB/s, which are close to the advertised performance. 4K random operations dropped to around 14 MB/s to 7 MB/s.
Sequential read speed was similar in AS SSD Benchmark at around 92 MB/s, but write speed decreased to only 47 MB/s. Increasing the queue depth from 32 to 64 made the 4K random write performance to climb to about 25 MB/s.
IOPS number represents how well a SD card handles random input and output operations. The Superior V30 got a score of 87 in the benchmark, and had a read/write IOPS of 2964 and 6432.
We saw the read and write speeds to stabilize, once the file sizes were larger than 32 KB. It was able to attain upwards of 80 MB/s to 97 MB/s. However, the write performance would fall to only around 47 MB/s.
We simulated a real-world situation of a camera writing a series of photos or videos to the SD card, by transferring 62 small-sized test files. It took the Superior V30 SD card about 19.60 seconds to complete, and achieved speed at around 65 MB/s to 80 MB/s.
Conclusion
The Silicon Power Superior V30 SD card performed mostly as advertised, with sequential read/write speeds at 92 MB/s and 80 MB/s. Although we occasionally observed slight write speed drops in our benchmarks, they were still higher than the minimum requirements for V30 and U3 speed classes of 30 MB/s. The card is good enough for professionals, who need to capture photos in burst and 4K UHD videos.
The Superior V30 SD card seems to be hard to find at the moment, possibly due to the current global supply chain issues from the coronavirus pandemic. According to Silicon Power, the 128 GB version of the card will be priced at around $20 USD, which is in line with other similar offerings in the markets.
You can purchase the SD Card from your local/online resellers.
Thanks Silicon Power for providing us the SD Card for review. (Review Sample)
Feel free to leave comments below, if you have any opinion about this website. Share the website around if you enjoy reading it. Subscribe to our Newsletter or follow our Twitter, Facebook and Instagram.
Support this website simply by shopping in Amazon and Newegg. It will give us small kickbacks, if you use the above affiliate links to make any purchases, which will help us grow.