In August 2019, SK hynix, the world's third largest semiconductor manufacturer located in South Korea, released two new SSDs to the consumer market. In this article, we are reviewing the Gold S31 SATA SSD.
Specifications
[table id=440 /]
The Gold S31 SSD has storage capacities from 250 GB to 1 TB, only available in a 2.5-inch form factor. Through the SATA 3.0 interface, the drive is advertised to achieve sequential read/write speeds up to 560 MB/s and 525 MB/s. All models have a rated MTBF (Mean Time Between Failures) of 1.5 million hours, and write endurance of 150 TBW to 600 TBW. SK hynix provides the SSD with a 5-year warranty.
Unboxing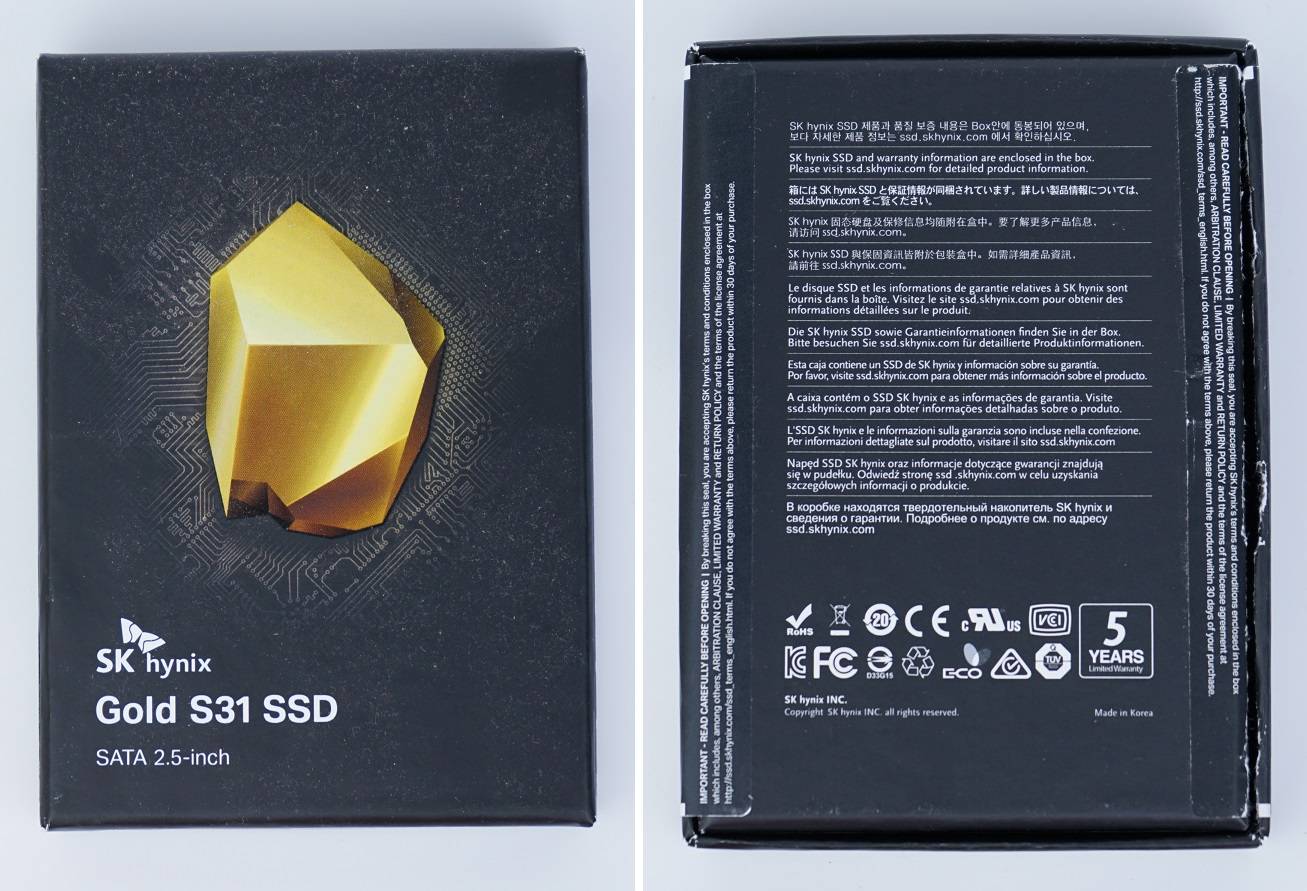 The Gold S31 SSD comes in a tiny black cardboard box. The picture of a gold ore and model name at the front indicate the drive as the "Gold" series in the company's product lineup. Not much is printed at the back, except for the safety and regulatory certification labels. Our particular sample is the 1 TB version with the model number of SHGS31-1000GS-2.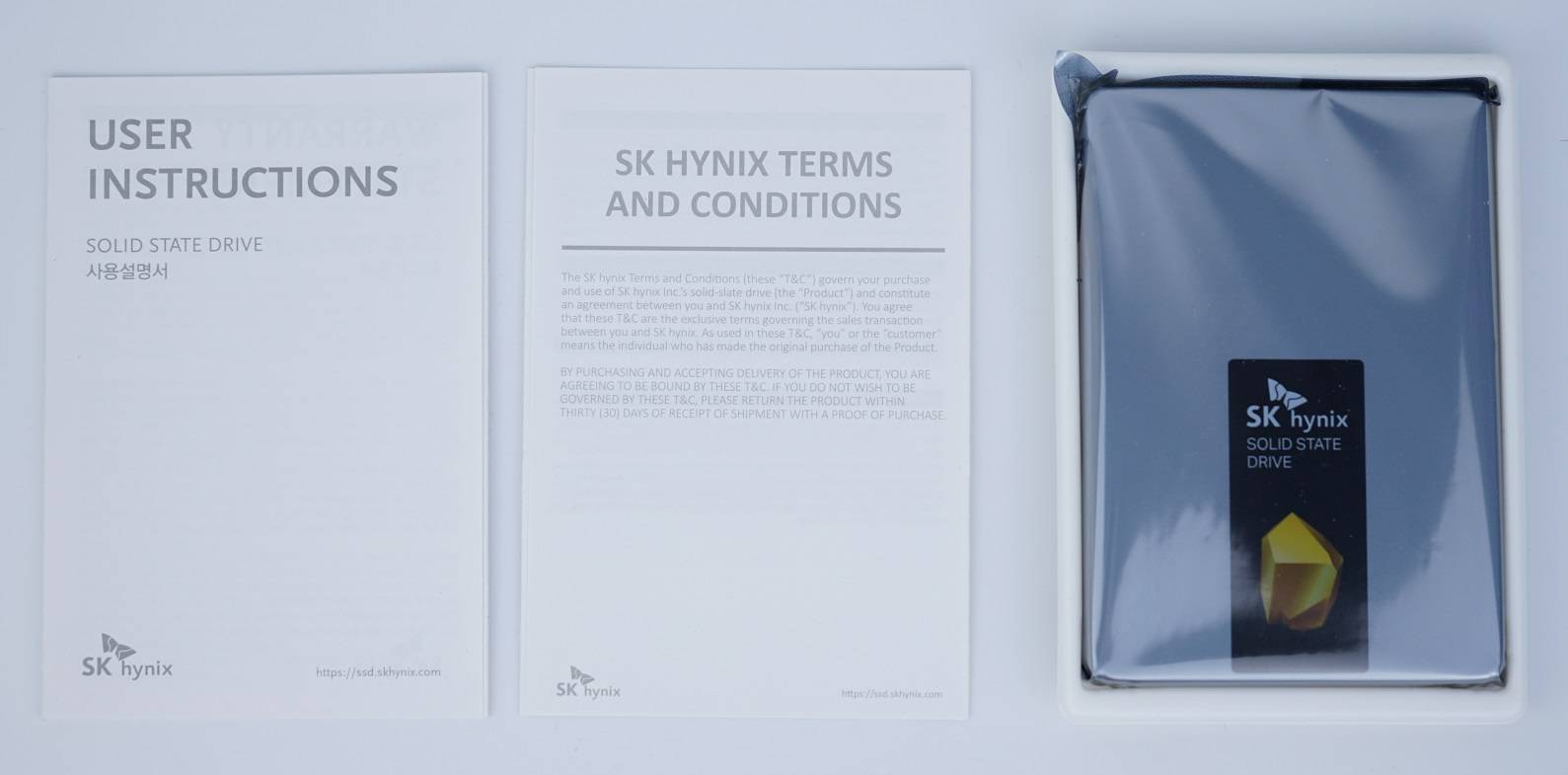 The actual drive sits in a paper tray, packed inside an anti-static bag. You also get a set of user manual and warranty information (T&C).
SK hynix Gold S31 SATA SSD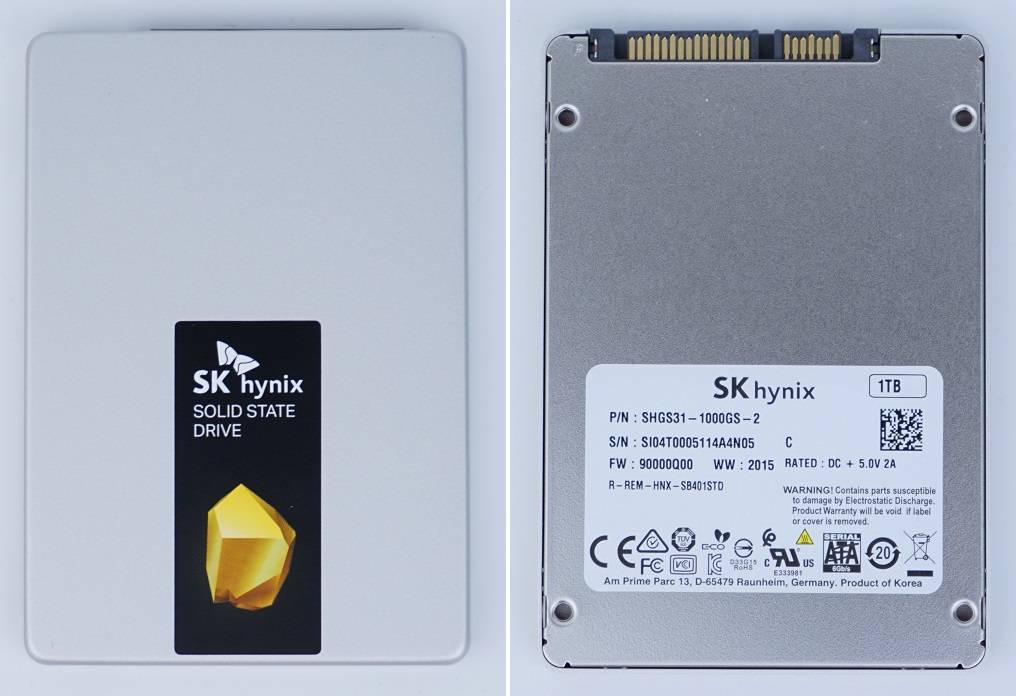 The Gold S31 is a fairly standard 2.5-inch solid-state drive from the outside. You can find a sticker with information like the part number, serial number and firmware version (90000Q00) on the back of the silver metal enclosure.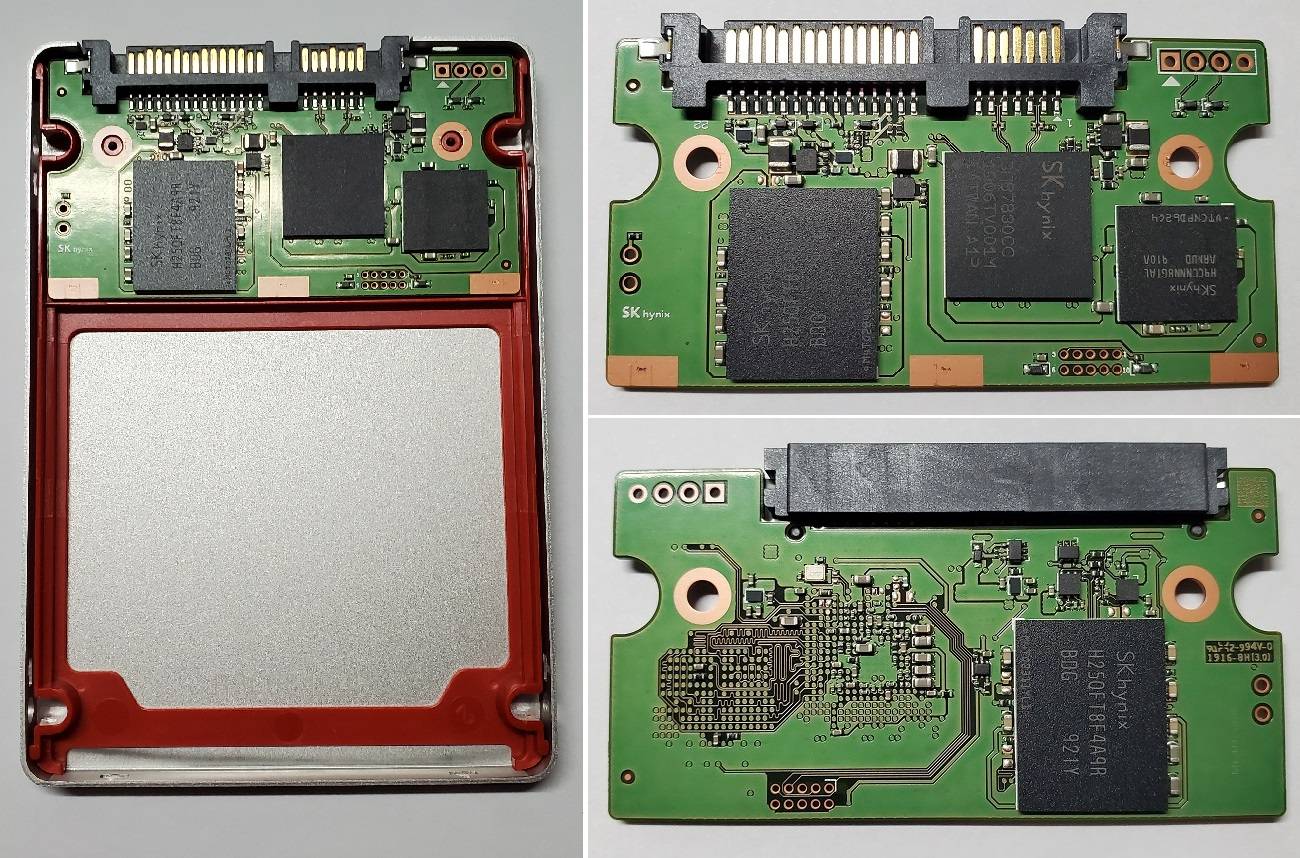 Inside the drive, the green printed circuit board (PCB) is held in place by the red plastic spacer, which only covers about one-third of the enclosure's length.
Unsurprisingly, most critical hardware components on the Gold S31 are designed and manufactured by SK hynix itself. This high level of vertical integration is extremely rare in the industry, only possible from top memory/semiconductor companies in the world, such as Samsung and Micron. The SSD is equipped with an custom in-house designed memory controller (SH87830CC), named Quartz, which is then paired with 72-Layer 3D TLC NAND flash (H25QFT8F4A9R) and LPDDR3 DRAM cache (H9CCNNN8GTAL) from SK hynix.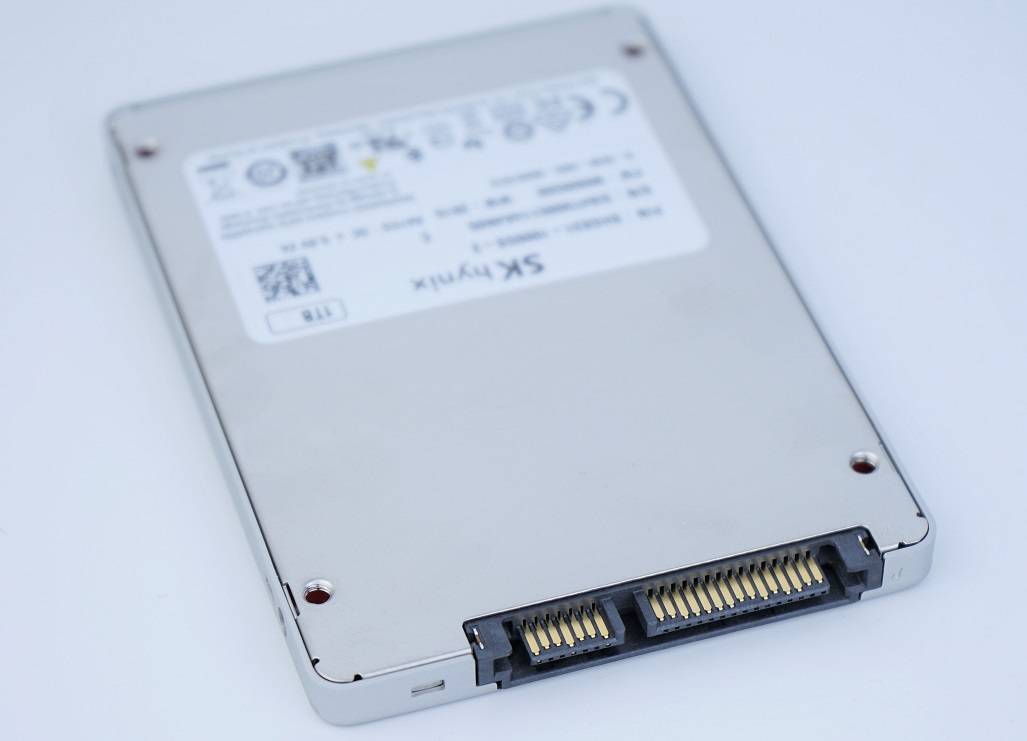 The SATA 3.0 interface on the Gold S31 has a maximum theoretical bandwidth of 6 Gbps, which is about 750 MB/s. The SATA connector also requires two separate cables for power and data transfer.
Review
Testing Methodology
To test the performance of the solid-state drive, we use four well-established storage benchmarking software. They are CrystalDiskMark, ATTO Disk Benchmark, AS SSD Benchmark, as well as HD Tune Pro.
CrystalDiskMark can measure both sequential and random 4KB read/write speeds with a queue depth of 32. ATTO Disk Benchmark can test how the drive performs across different transfer block sizes, mostly in a sequential environment. AS SSD Benchmark can provide both normal read/write speed and the IOPS performance of the drive. HD Tune Pro can be used to simulate a large file transfer of up to 100 GB.
We also recorded the time to copy three files of 10 GB, 500 MB and 250 MB from a RAM disk to the SSD, to simulate a real-world situation.
Performance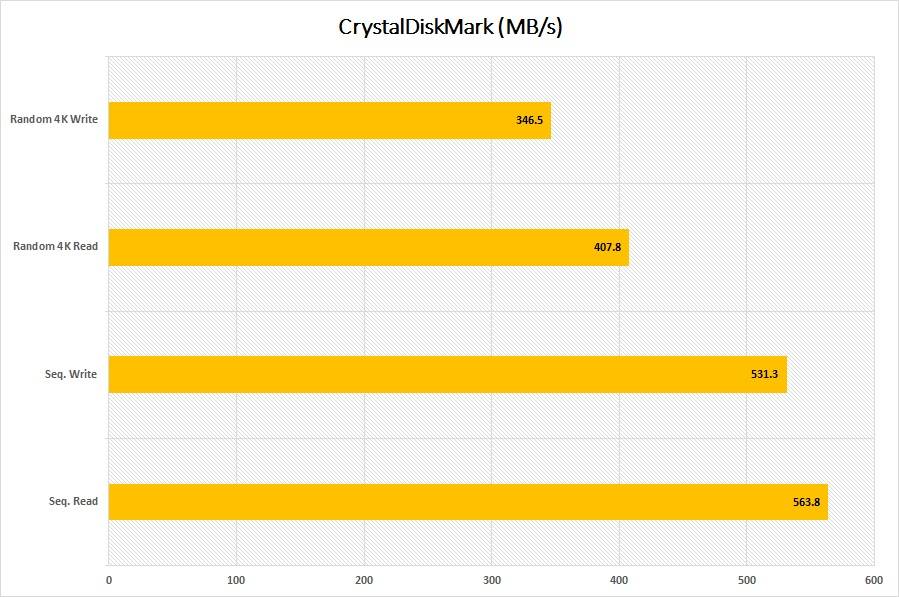 In CrystalDiskMark, the SK hynix Gold S31 performed as good as, if not better sequential read/write speeds than the company claims, reaching about 563 MB/s and 531 MB/s respectively. Random 4K at queue depth 32 decreased the speeds to 407 MB/s and 346 MB/s.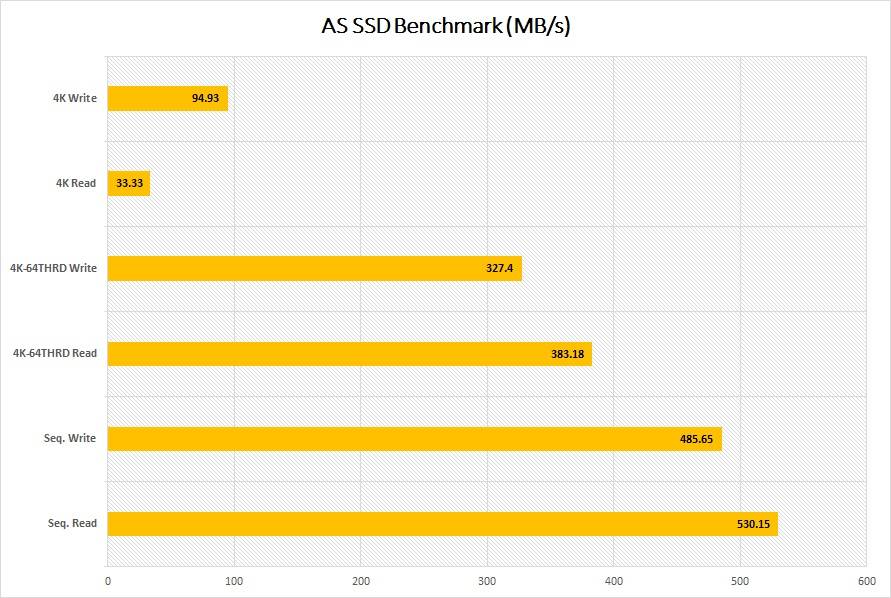 Sequential read/write performance dropped slightly to 530 MB/s and 485 MB/s in AS SSD Benchmark. Increasing the queue depth to 64 did not improve the random 4K speeds, sitting at 383 MB/s and 327 MB/s.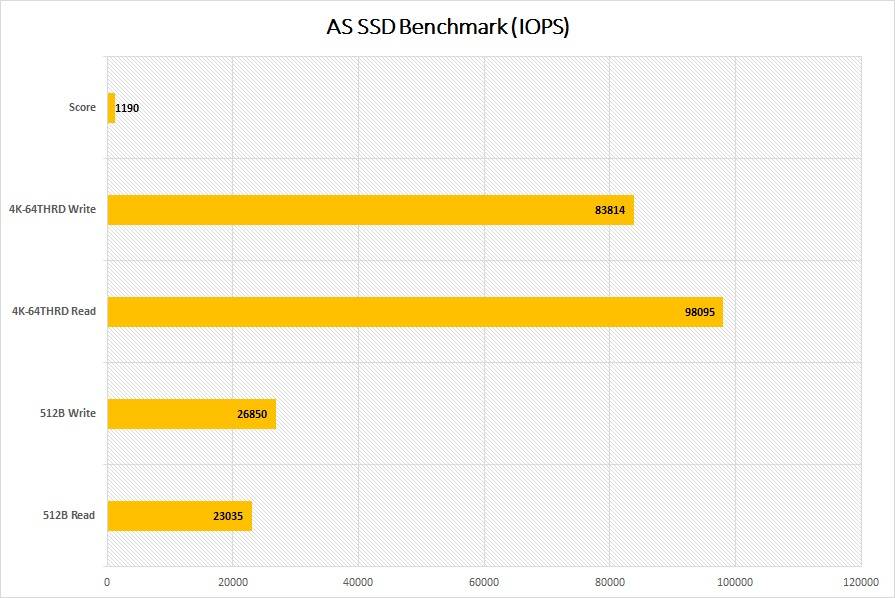 IOPS number represents how well a drive handles random input and output operations. The Gold S31 scored 1190 in the benchmark. It was able to achieve 98095 IOPS for read and 83814 IOPS for write.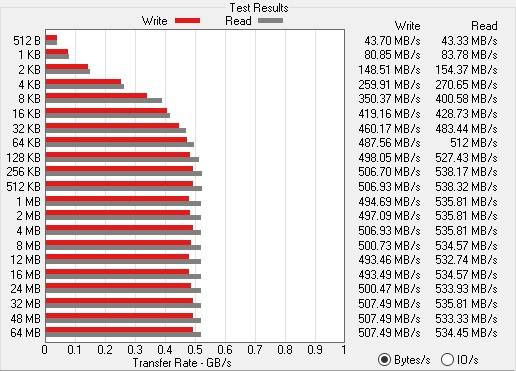 When the test file sizes in the ATTO Disk Benchmark climbed to 32 KB or larger, the read/write speeds started to stabilize and plateau at around 535 MB/s and 505 MB/s.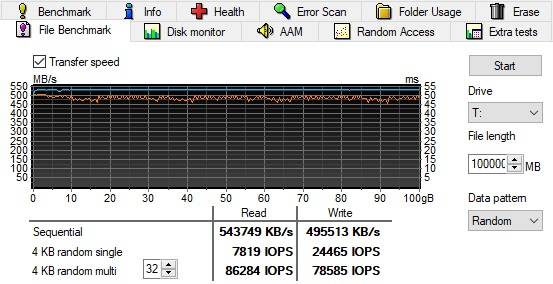 We used the HD Tune Pro software to simulate a massive 100 GB file transfer. The Gold S31 did not experience any noticeable performance drop, even after the internal pseudo-SLC cache was filled up. The raw writing speed of the 3D TLC NAND flash was enough to sustain the intended rate for the SATA 3.0 interface at around 495 MB/s.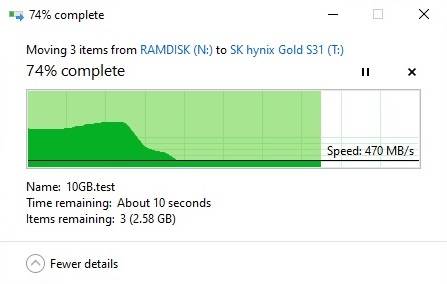 The Gold S31 took approximately 17.91 seconds to complete a three-file copy (sized about 15 GB) from the RAM disk. The write speed stayed at around 470 MB/s in the process.
Comparison
[visualizer id="14404″ lazy="no" class=""]
[visualizer id="14406″ lazy="no" class=""]
[visualizer id="4796″]
The Gold S31 had an overall very similar benchmark results as the Kingston KC600. It had slightly better sequential write speeds in most of the tests, which are about 10 MB/s to 15 MB/s faster. The drive performed as expected as a SATA-based SSD.
Conclusion
The SK hynix Gold S31 SATA SSD is a great choice for everyone, who wants to upgrade their storage drives from traditional HDDs or add a new affordable SSD to their system. Although its performance will never match those from higher-end PCIe NVMe drives, the 490 MB/s to 530 MB/s read/write speeds are still perfectly adequate for most consumers, who do not have the need to constantly transferring large-sized files.
The Gold S31 costs $104.99 USD (MSRP) for the 1 TB model at the time of this review, with a 5-year warranty. It is priced very competitively, when comparing to other offerings in the market. For example, the Samsung 870 EVO, Western Digital WD Blue and Crucial MX500 are sold at $134.99 USD, $129.99 USD and $114.99 USD (MSRP) respectively. All of them have similar rated performance and same 5-year warranty period, but both the WD Blue and MX500 have worse write endurance at 400 TBW and 360 TBW (vs 600 TBW).
The 250 GB and 500 GB version of the Gold S31 are priced at $56.99 USD and $43.99 USD (MSRP). Please keep in mind that the pricing of solid-state drives are constantly adjusting, depending on the supply and demand in the market. You should always check the latest pricing before making any purchasing decision.
You can purchase the SSD from your local/online retailers or the links below from Amazon and Newegg.
Thanks SK hynix for providing the SSD for review. (Review Sample)
Feel free to leave comments below, if you have any opinion about this website. Share the website around if you enjoy reading it. Subscribe to our Newsletter or follow our Twitter, Facebook and Instagram.
Support this website simply by shopping in Amazon and Newegg. It will give us small kickbacks, if you use the above affiliate links to make any purchases, which will help us grow.