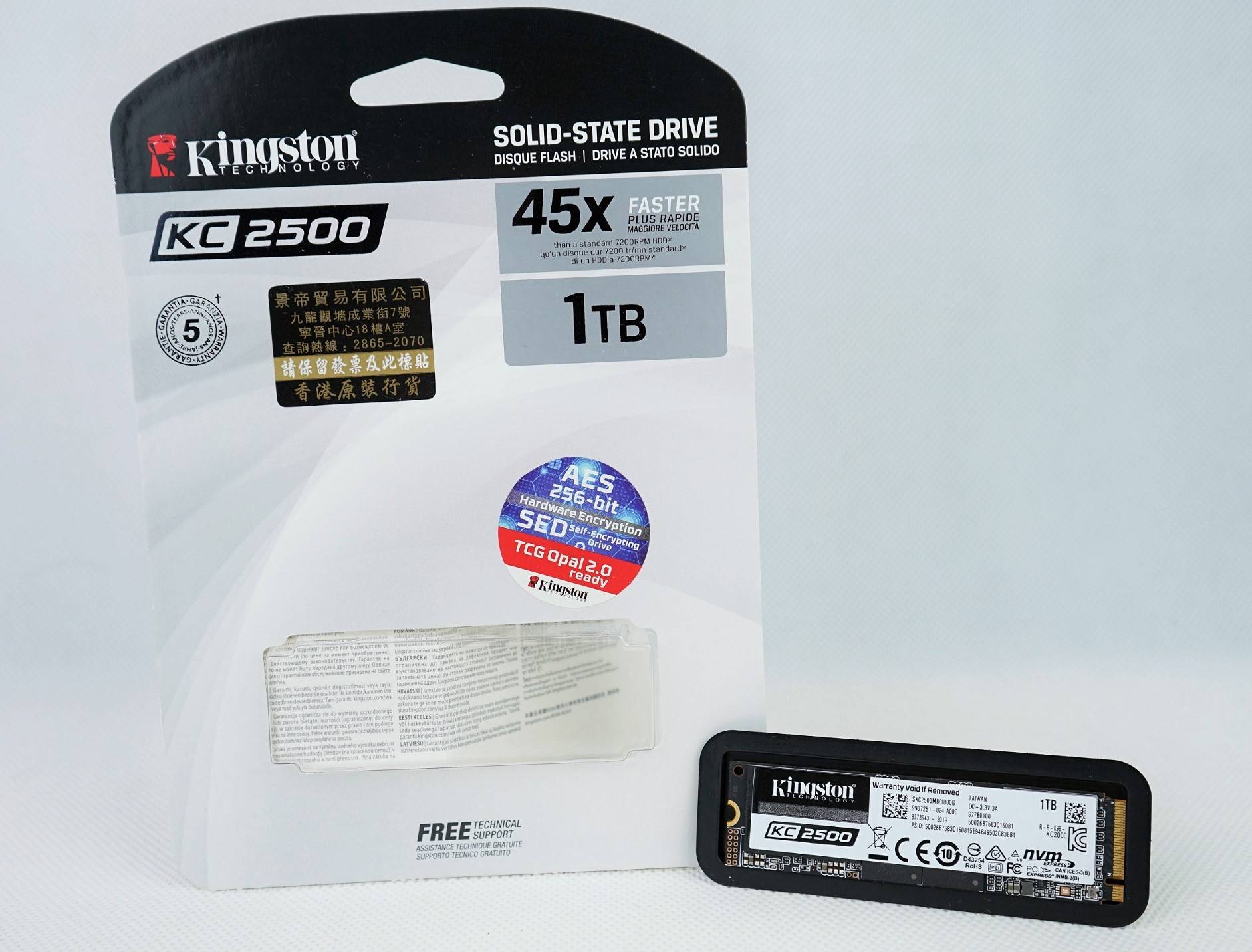 The KC2500 is the newest top-tier NVMe SSD from Kingston, with identical hardware configuration as the older KC2000 (its review here). However, its performance across the board has improved significantly via the more optimized and mature firmware. How big is the difference can we discover in our benchmarks?
Specifications
[table id=425 /]
The KC2500 does not come in other form factors, except for the M.2 2280. It is available in four capacities, from 250 GB to 2 TB. The SSD utilizes a PCIe 3.0×4 interface and NVMe 1.3 protocol for data transmission. It is advertised to reach maximum sequential read/write speeds at 3500 MB/s and 2900 MB/s. Write performance is slightly lower for smaller-sized drives.
All models have a rated MTBF of around 2 million hours and endurance from 150 TBW to 1200 TBW. Kingston provides the SSD with a 5-year warranty.
Unboxing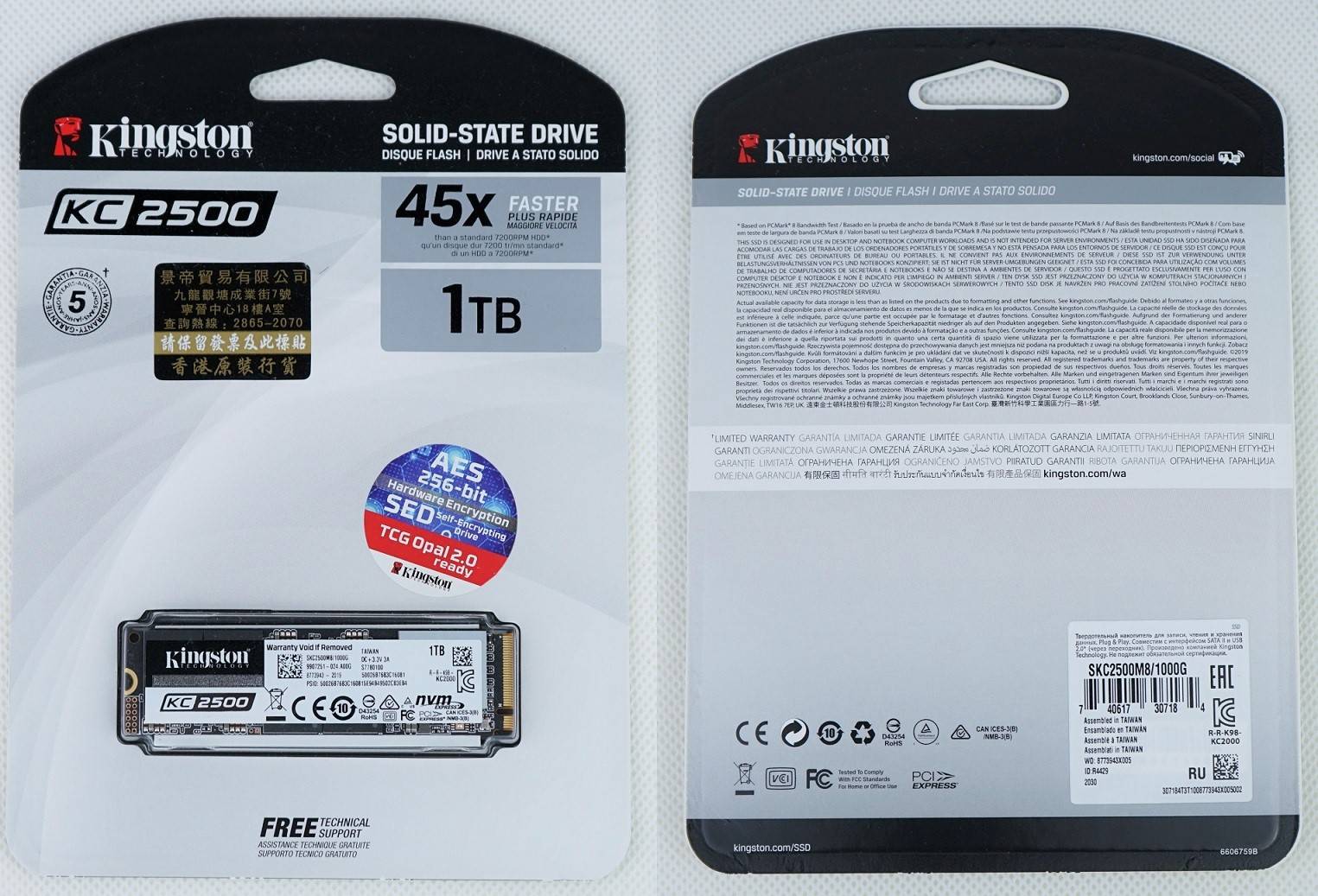 The packaging of the KC2500 remains very minimal, with the cardboard and plastic window design. The capacity, serial number and UPC code are clearly printed on either sides. SKC2500MB/1000G is our 1 TB sample unit's part number.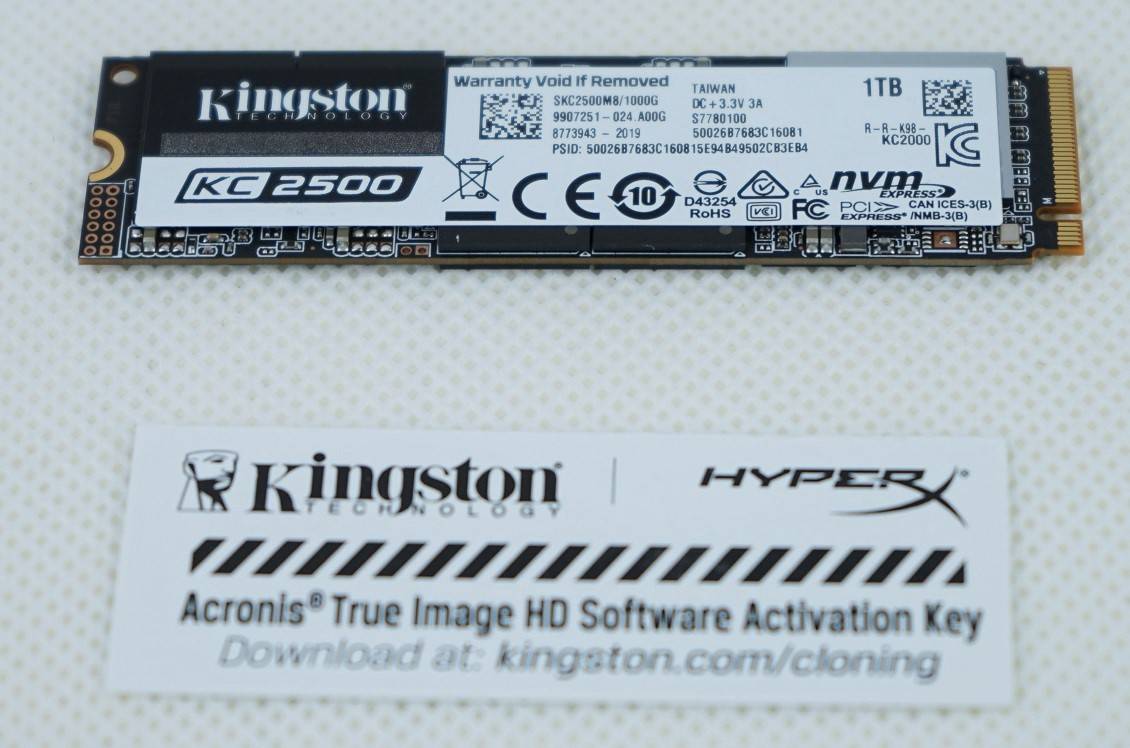 Kingston has included a license of the Acronis True Image HD software, which can be used to clone/backup your existing drives before installing the KC2500.
Kingston KC2500 PCIe NVMe SSD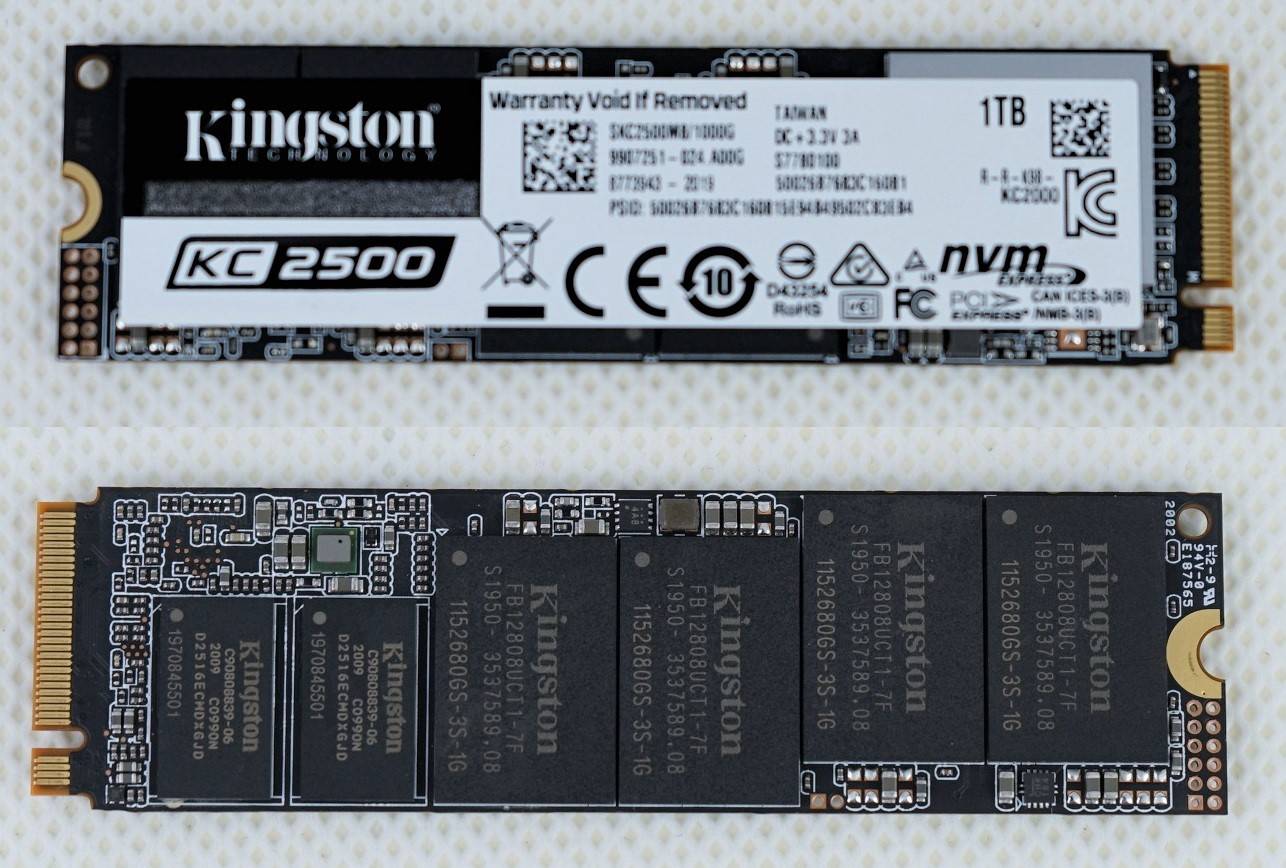 Apart from the top label, the KC2500 does not include a heat spreader or exterior enclosure. Both sides of the printed circuit board (PCB) are filled with components.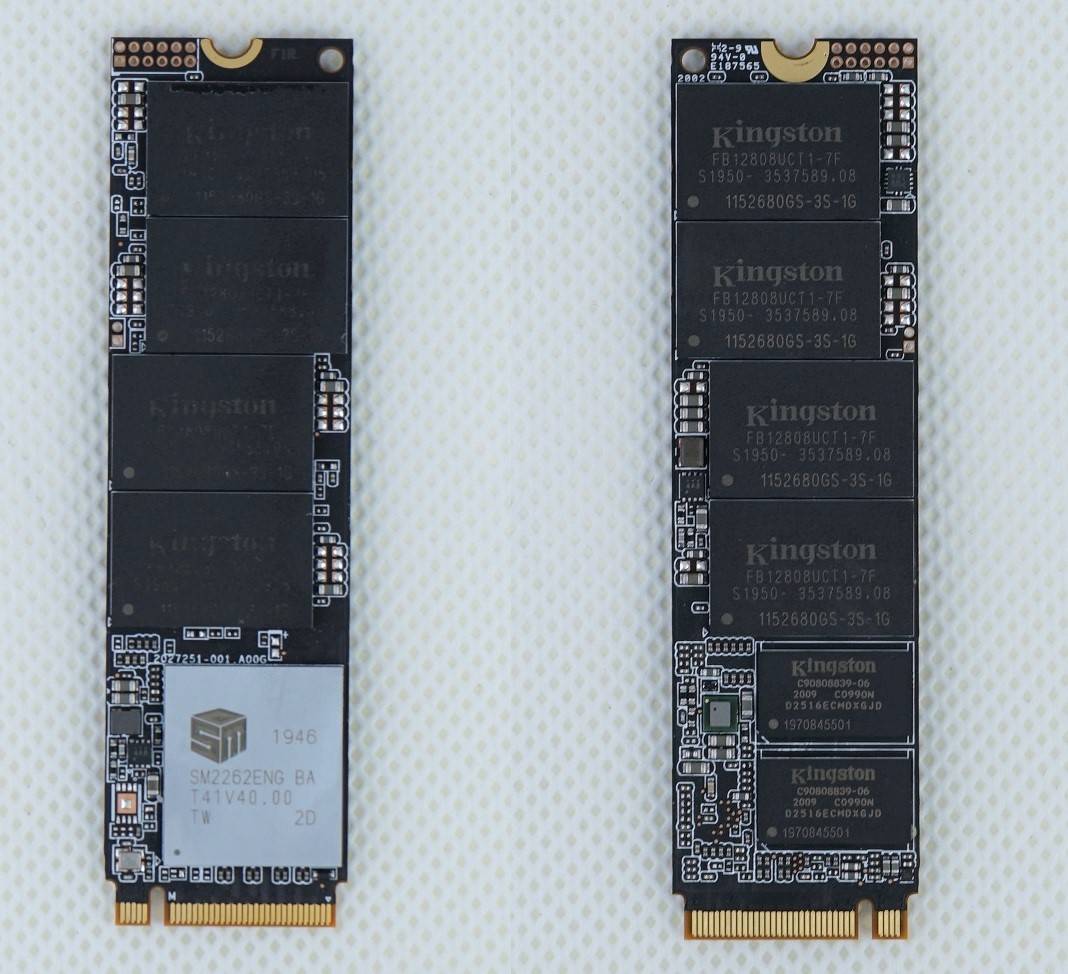 The KC2500 is packed with the same 8-channel Silicon Motion SM2262ENG memory controller and Kioxia's (formerly known as Toshiba) 96-Layer 3D TLC NAND flash (BiCS4). A total of eight NAND flash modules are spread across both sides of the PCB to make up for the 1 TB of capacity. There are two 4 Gb (512 MB) of DDR3L-1866 (D2516ECMDXGJD) DRAM chips as caching.
The SSD also supports a selection of security technologies/standards, such as hardware-based AES 256-bit encryption, TCG Opal and Microsoft Windows eDrive.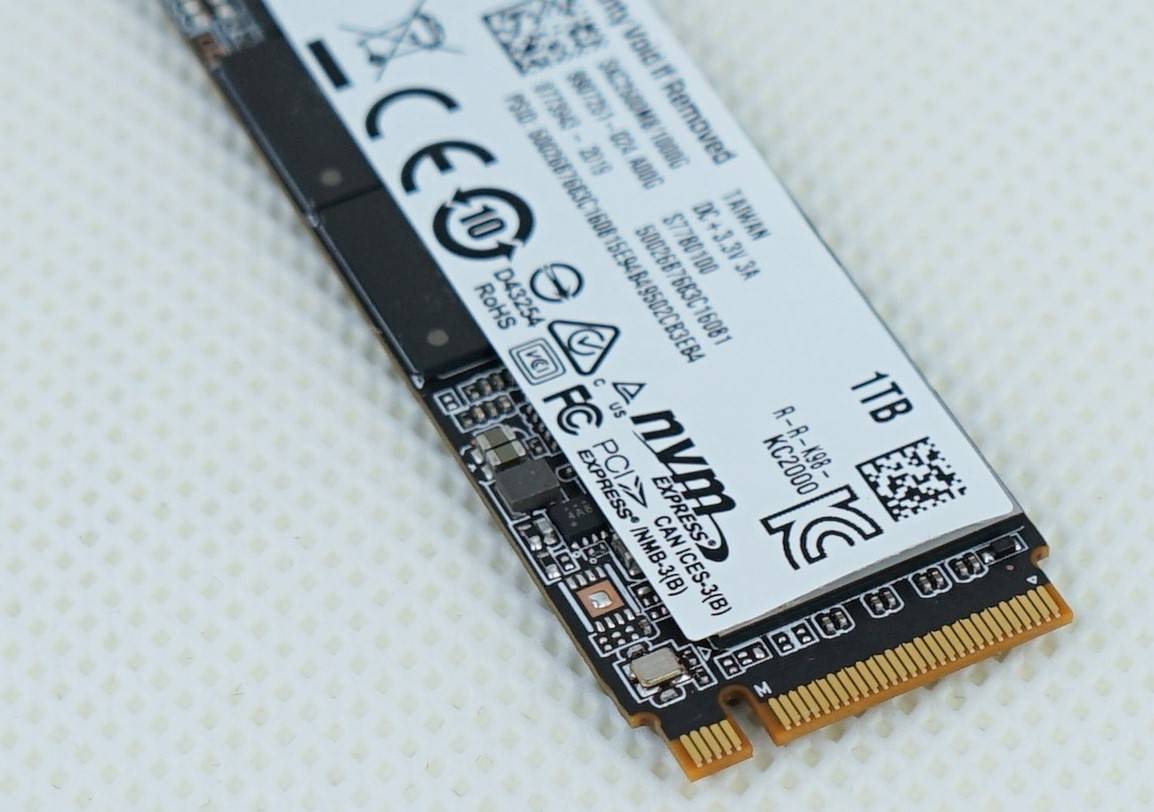 A M.2 connector (M key) is used to transfer both power and data for the SSD. The PCIe 3.0×4 interface has a theoretical bandwidth of up to 32 GT/s or 3.94 GB/s.
Review
Testing Methodology
To test the performance of the solid-state drive, we use four well-established storage benchmarking software. They are CrystalDiskMark, ATTO Disk Benchmark, AS SSD Benchmark, as well as HD Tune Pro.
CrystalDiskMark can measure both sequential and random 4KB read/write speeds with a queue depth of 32. ATTO Disk Benchmark can test how the drive performs across different transfer block sizes, mostly in a sequential environment. AS SSD Benchmark can provide both normal read/write speed and the IOPS performance of the drive. HD Tune Pro can be used to simulate a large file transfer of up to 100 GB.
We also recorded the time to copy three files of 10 GB, 500 MB and 250 MB from a RAM disk to the SSD, to simulate a real-world situation.
Performance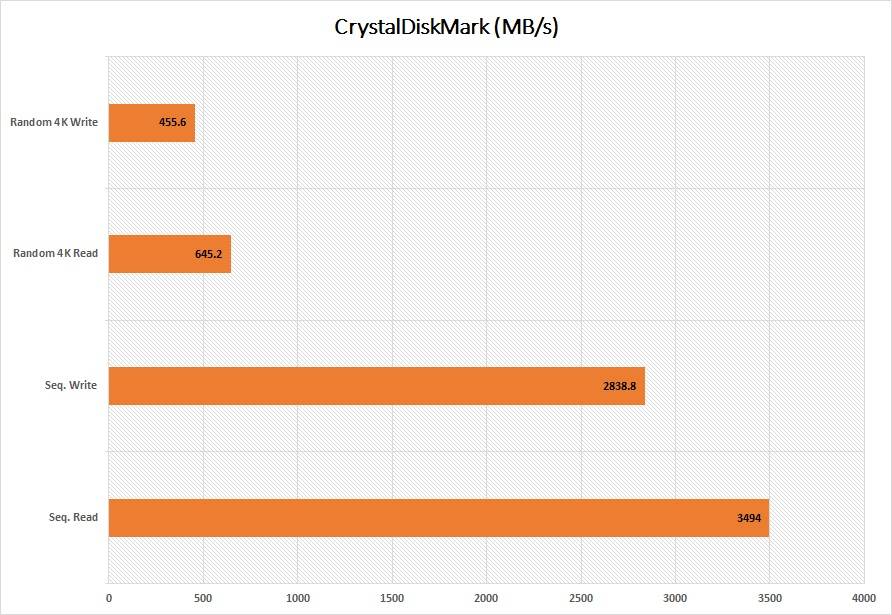 The Kingston KC2500 could reach similar sequential read/write speeds as claimed in CrystalDiskMark, at 3490 MB/s and 2840 MB/s. 4K random operations at queue depth 32 were really good at around 645 MB/s and 455 MB/s. Most SATA-based SSDs often sits at under 300 MB/s.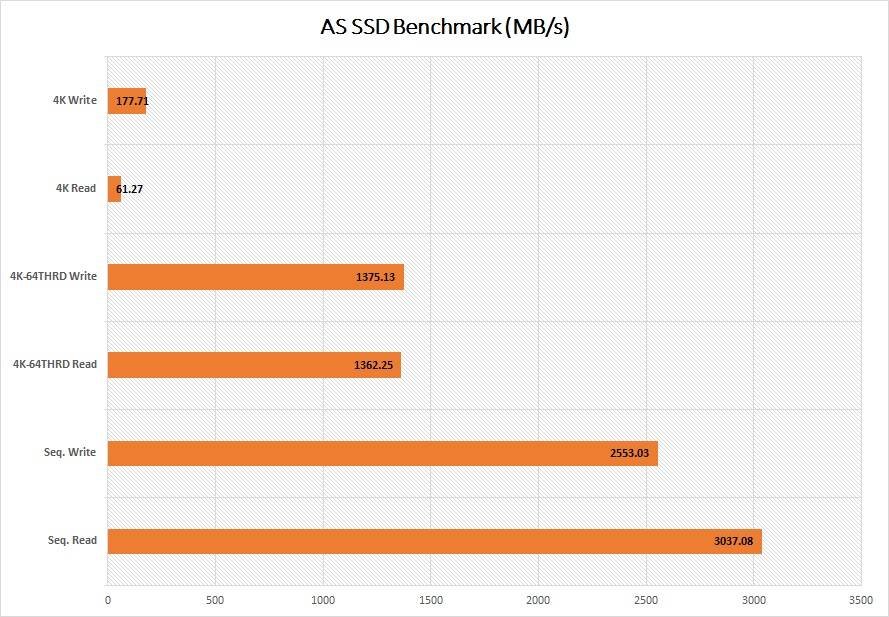 Results in AS SSD Benchmark were slightly lower. The sequential read/write speeds decreased to 3040 MB/s and 2550 MB/s respectively. With the queue depth at 64, the random 4K performance jumped up to around 1350 MB/s.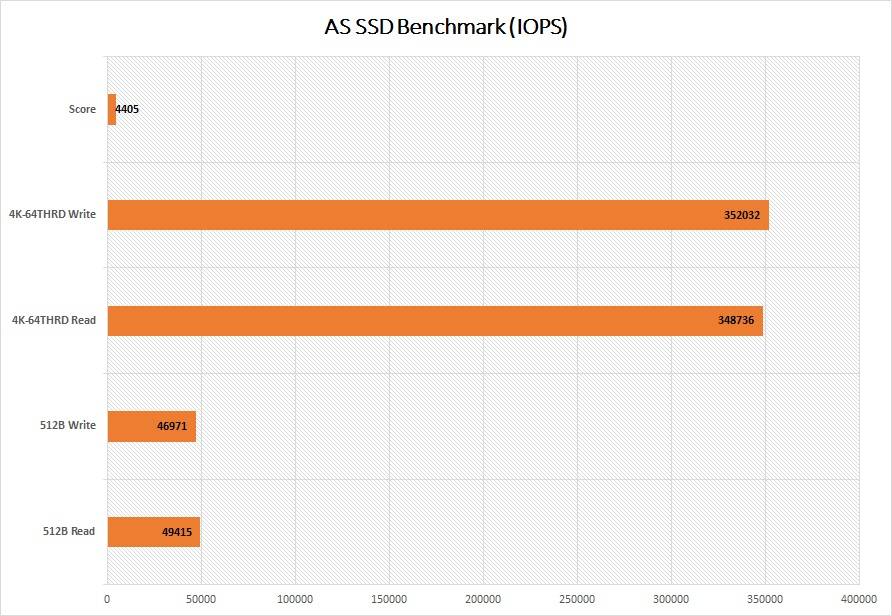 The KC2500 scored 4405 in the benchmark. It was able to achieve a maximum of 348736 IOPS in read and 352032 IOPS in write. IOPS number represents how well a drive handles random input and output operations.
Read/write performance started to become steadier at around 2500 MB/s to 3200 MB/s, when test file sizes were increased to 64 KB.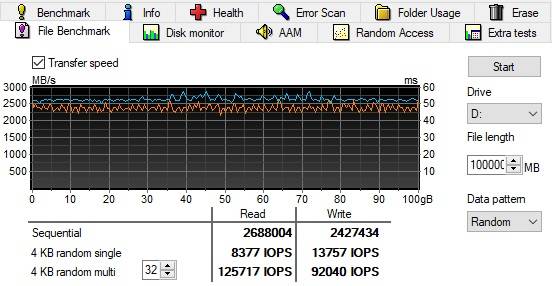 Like the KC2000, Kingston has tuned the KC2500 to shine in transferring massive files. The drive was able to maintain a stable writing speed of around 2400 MB/s with 100 GB of data. The internal DRAM and SLC cache was yet to be saturated, which is considerably larger than most NVMe SSDs we tried.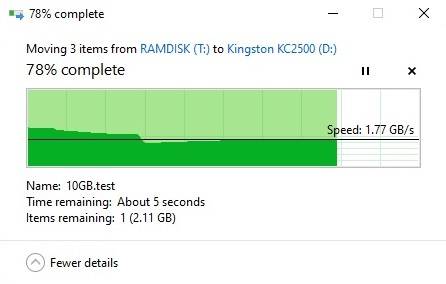 It took the KC2500 about 5.56 seconds to copy the three files, sized about 15 GB. The speed was hovering around 1.77 GB/s, which is expected from what we observed in the HD Tune Pro test.
Comparison
[visualizer id="2840″]
[visualizer id="2842″]
The Kingston KC2500 is one of the fastest NVMe SSDs in our charts, trading punches with the Sabrent Rocket, Silicon Power P34A80 and Asura Genesis Xtreme. Most Phison PS5012-E12-equipped drives had higher 4K random read/write speeds. Performance in almost every aspect was noticeably better, compared to the KC2000.
[visualizer id="4796″]
Once again, the biggest strength for the KC2500 is in writing gigantic files, thanks to the sizable SLC cache. It took away the crown from the KC2000 with a 14.5% improvement, at over 2400 MB/s.
Conclusion
Despite having identical hardware, the Kingston KC2500 had significantly better performance than its predecessor (KC2000). It pushed the already awesome sustained write speed for huge-sized files even further, which maintained over 2400 MB/s during our 100 GB transfer test. Professionals, like video editor, who need to ingest footage to the drive regularly, can take this advantage to save quite a bit of time. The comprehensive hardware encryption and security standards supports can also be helpful, if you want to store sensitive information to the SSD.
The 1 TB KC2500 costs $235 USD (MSRP) with a 5-year warranty, which closely matches the original pricing of high-end PCIe 3.0 NVMe SSDs in the market, such as the Samsung 970 EVO Plus and Western Digital WD Black SN750. However, they are currently on sale for much less, not to mention the abundance of cheaper drives at around $120 USD to $140 USD, like the Silicon Power P34A80 and addlink S70. The KC2500 is still the one of best SSDs in write performance, unless you go for PCIe 4.0, and can be useful in certain situations.
You can purchase the SSD from your local/online resellers or the links below from Amazon and Newegg.
Thanks Kingston for providing us the SSD for review. (Review Sample)
Feel free to leave comments below, if you have any opinion about this website. Share the website around if you enjoy reading it. Subscribe to our Newsletter or follow our Twitter, Facebook and Instagram.
Support this website simply by shopping in Amazon and Newegg. It will give us small kickbacks, if you use the above affiliate links to make any purchases, which will help us grow.