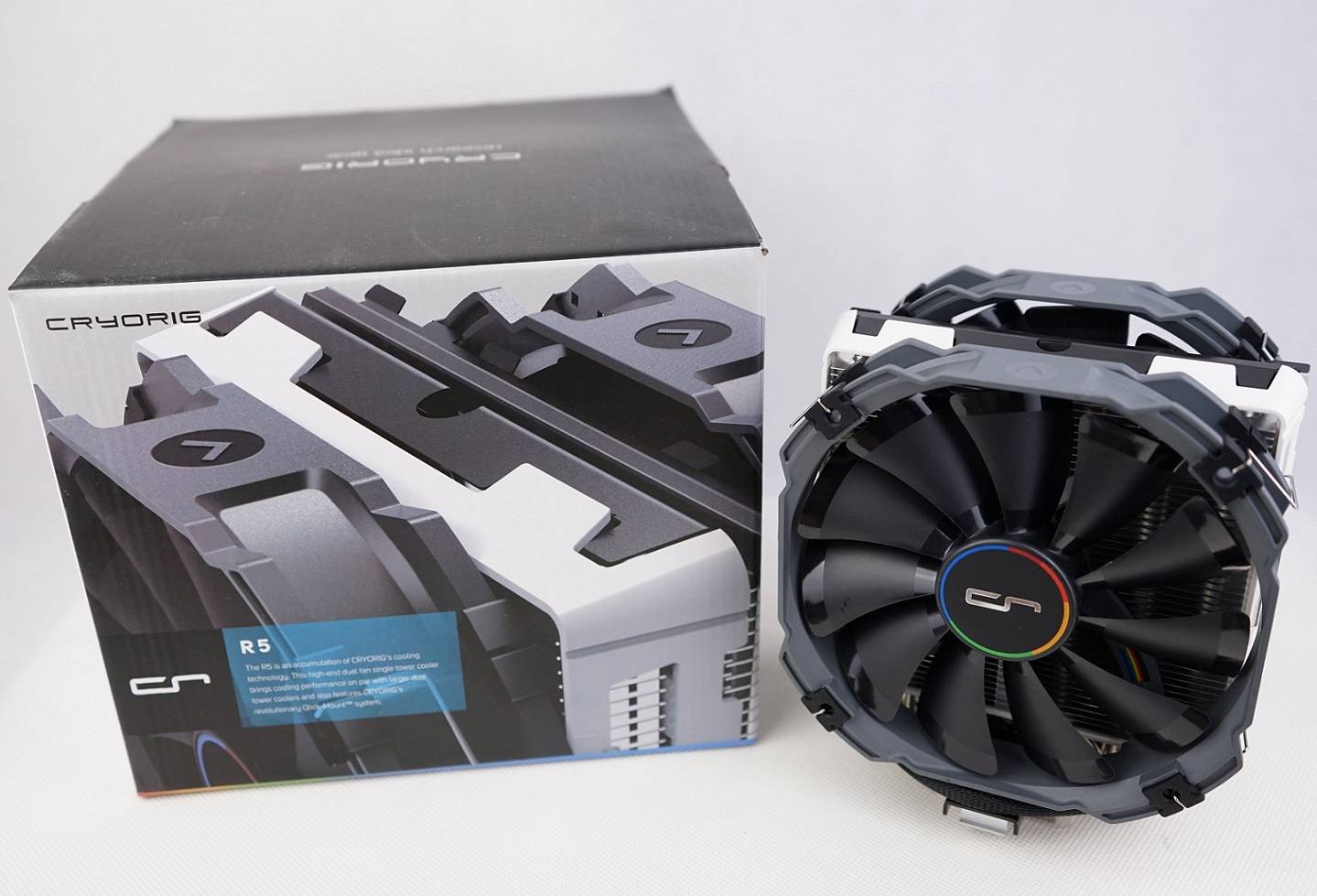 CRYORIG, specialized in PC cooling hardware, finally shined some new light to its flagship R series CPU cooler lineup in late 2020. It took the company about three years to deliver the latest R5 cooler, which was first revealed in Computex 2017. Let's see how it performs in our benchmarks.
Unboxing

The R5 cooler comes in a decently-sized cardboard box. A few features are highlighted with brief descriptions, while large "R5" letterings are printed on one of the side.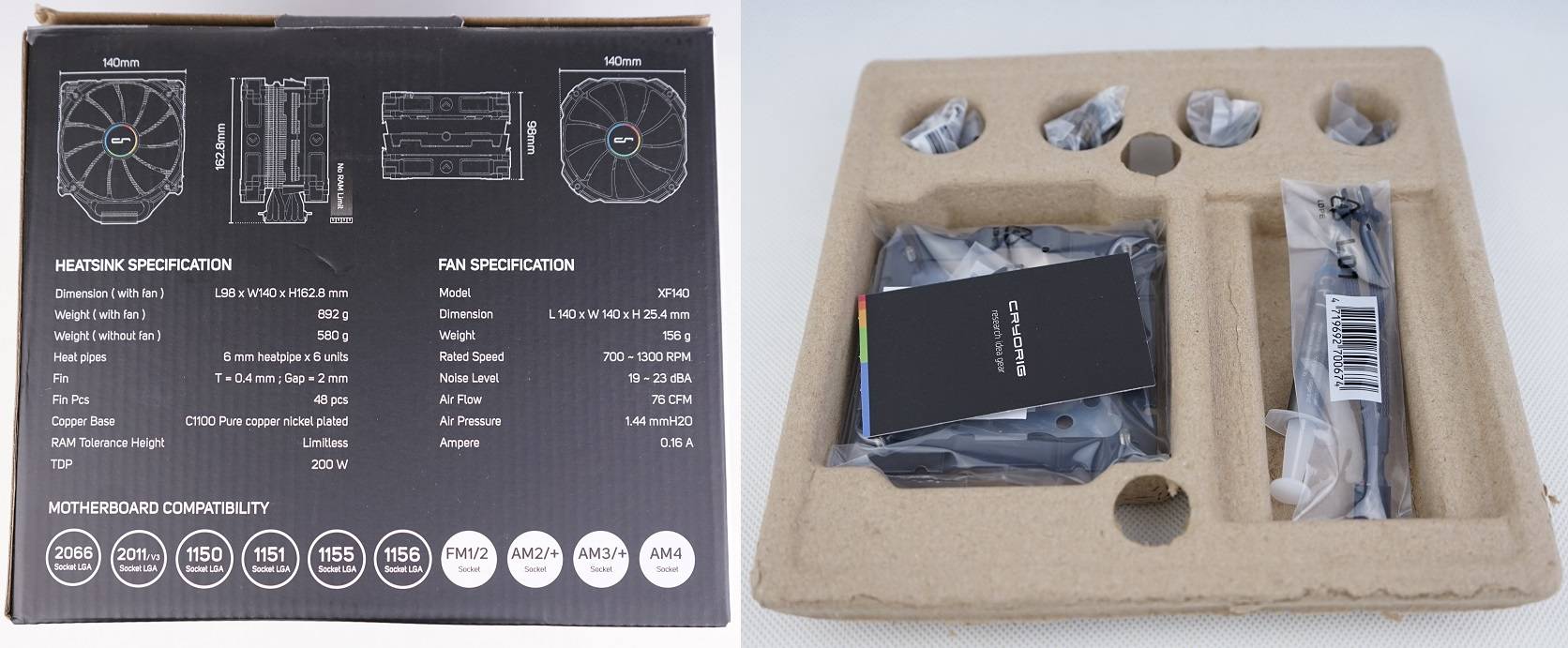 You can easily know more information about the cooler as a buyer, with the two specification lists on the side of the box. After opening the box, you will be greeted by the accessories, that are neatly stored on a cardboard tray.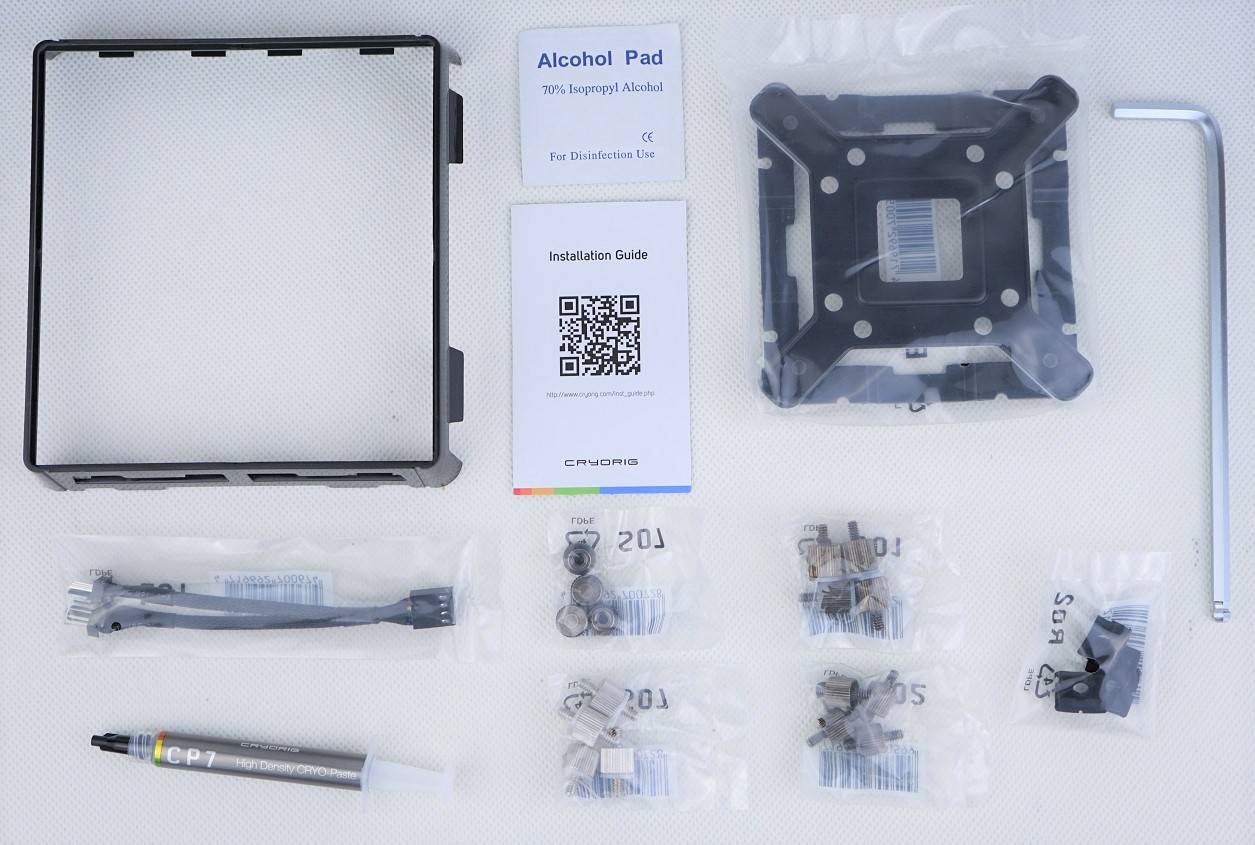 Apart from the usual mounting hardware for the cooler, CRYORIG includes a tube of their CP7 thermal compound, a long hex wrench and a extra black heatsink cover. The R5 cooler supports most modern CPU sockets from both AMD and Intel, such as AM4, LGA1200 and LGA2066.
CRYORIG R5 CPU Cooler

The R5 is a single-tower, dual-fan style air cooler. Its heatsink is 161 mm tall, 139 mm wide and 45 mm thick without the fans installed. Six 6 mm nickel-plated copper heatpipes are responsible to transfer the heat to the aluminum fin stack. There is also a black metal cover at the top, which creates a more uniform look, combined with the plastic piece.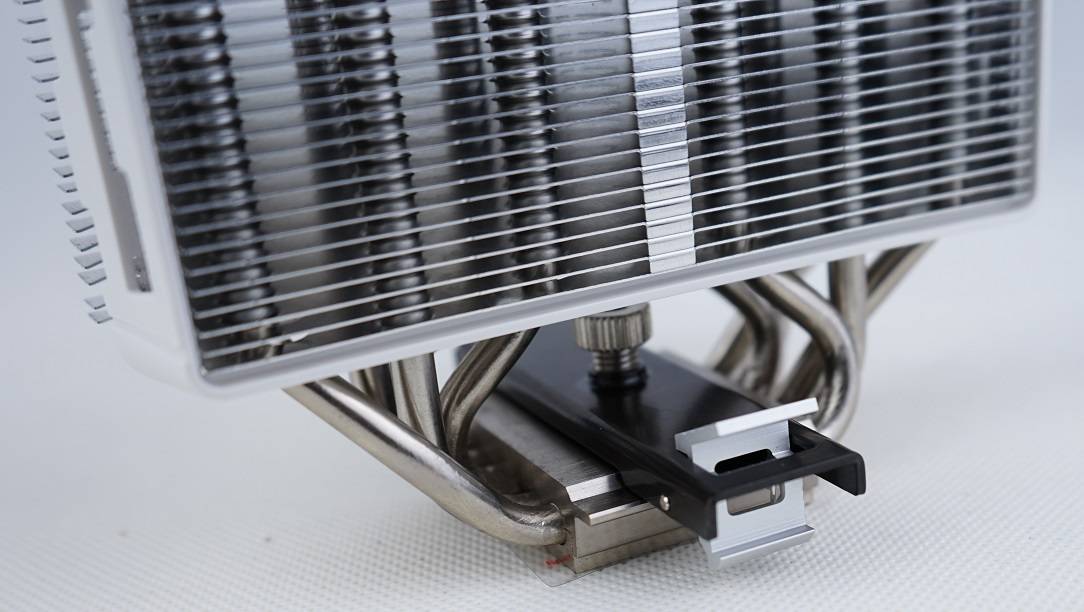 CRYORIG implements a patent-pending "MultiSeg" mounting system for the R5 cooler. User can can "clip" the cooler onto the socket and tighten the hex screw in the middle to complete the installation with ease. The experience is great and pretty unique.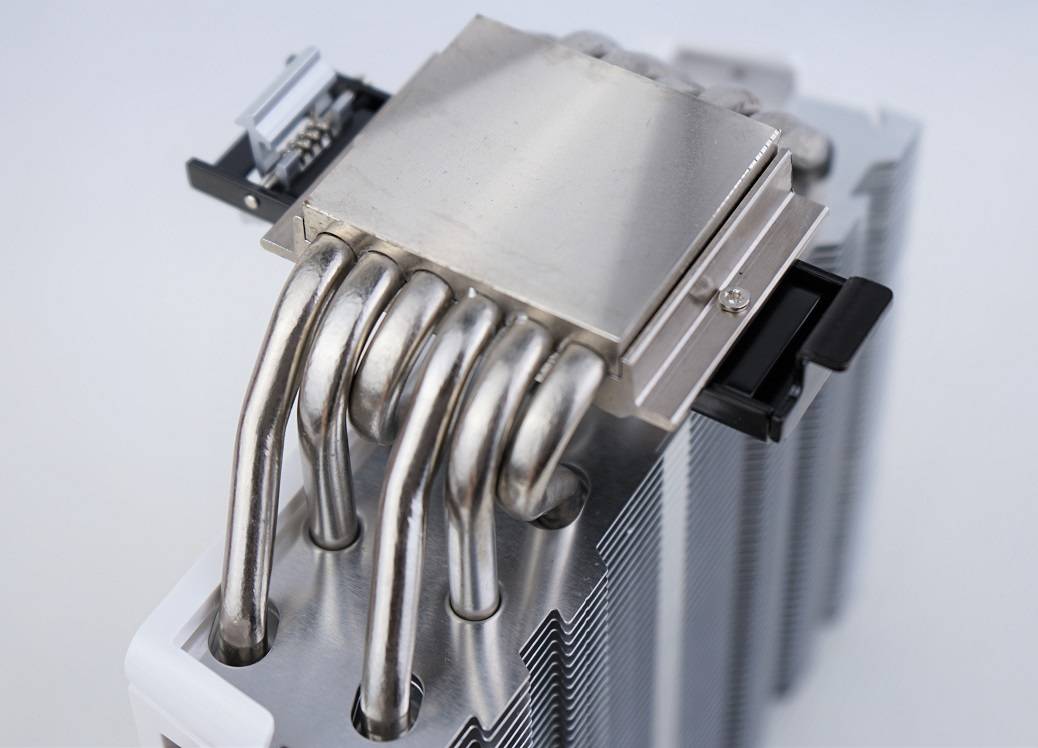 All six heatpipes are bent at the bottom to create a flatter area for the CPU contact base. The base is made from copper (C1100-grade), which is plated with nickel and polished to a smooth surface. It has a dimension of around 39.5 mm x 44 mm.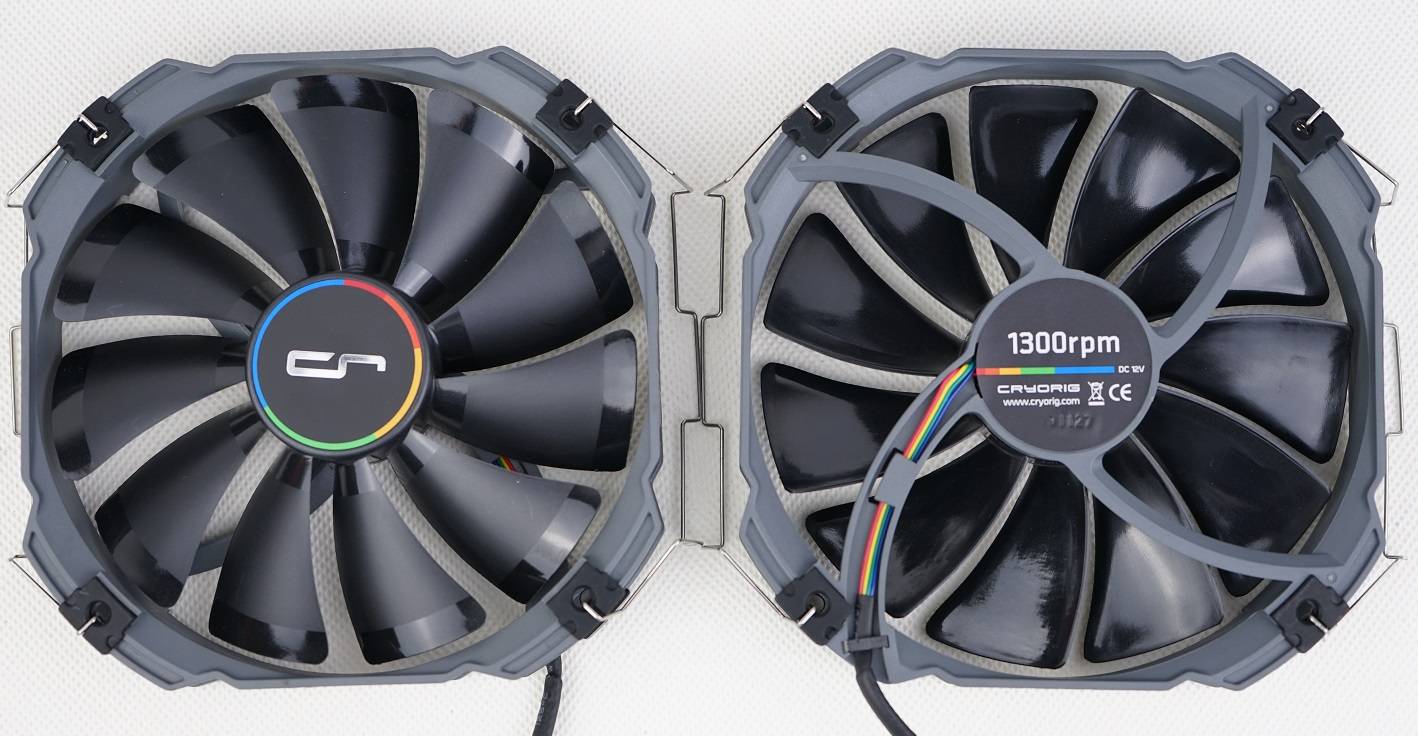 CRYORIG paired the R5 with two large XF140 fans for cooling. It is a 140 mm fan, capable of spinning from 700 RPM to 1300 RPM. Speed is controlled via the 4-pin PWM connector. The fan is equipped with a proprietary HPLN (High Precision Low Noise) bearing, which should be rather durable, as the company is backing it up with a 6-year warranty. All corners have a small anti-vibration rubber pad.
Review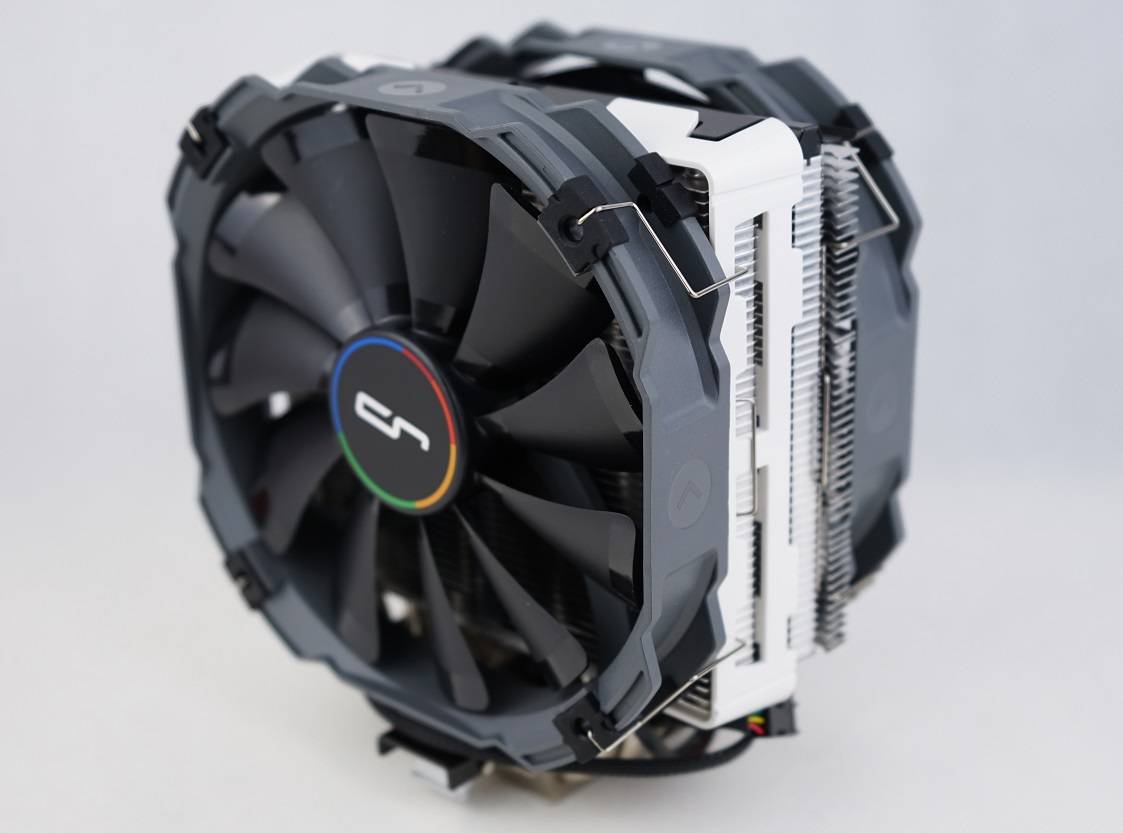 We have updated our CPU cooler tests to more reflect real-world cooling performance of coolers.
Testing Methodology
To find out how the cooler performs, a total of three benchmarks are included. AIDA64 is used to run a CPU stress test. CPU, FPU and system cache are all stressed to create as much heat output as possible. Also, Cinebench R15 and Cinebench R20 are used to simulate real-world CPU load (like video-editing or rendering). It will be run continuously for three times. Ambient temperature is around 23°C.
Results will be taken at a 50% and 100% fan speed, controlled via the motherboard CPU PWM header. Stress test will run for at least 15 minutes. Once the CPU has reached the equilibrium temperature, we will record both the average and highest temperatures of the CPU package/hottest core with HWiNFO in the next 5 minutes.
Performance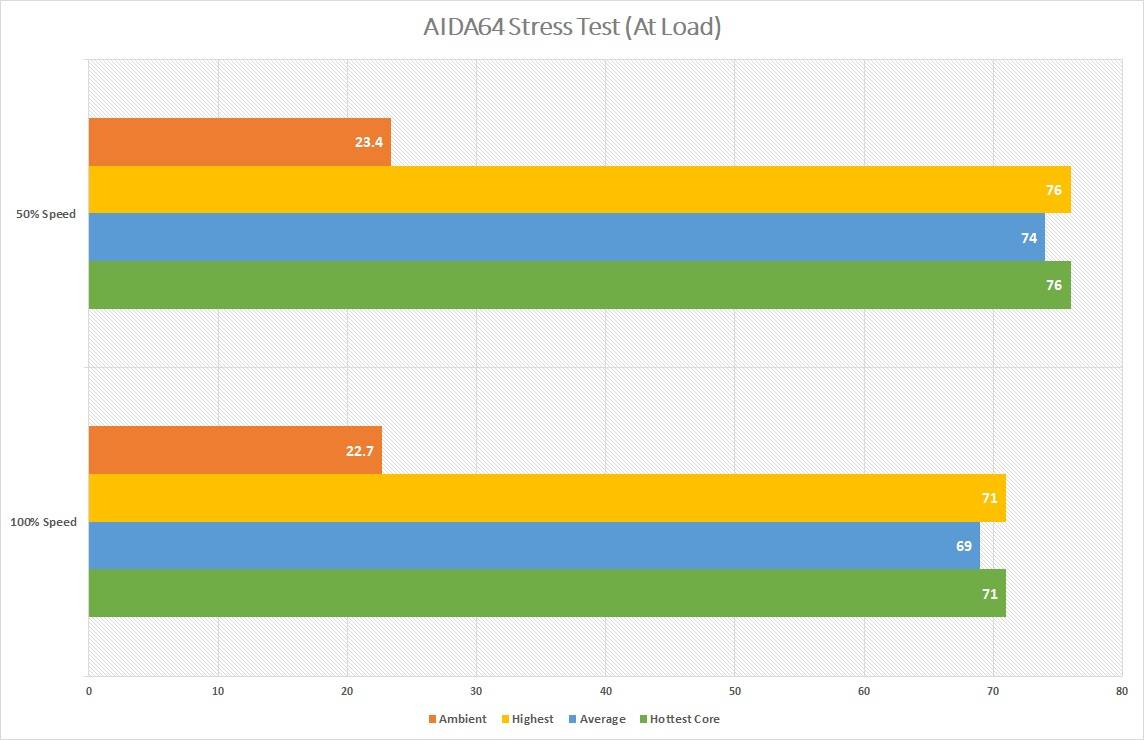 CPU idle temperature stayed around 30°C. In AIDA64 stress test, the R5 managed to maintain the temperatures in the mid-70s °C at both fan speeds under heavy load. The CPU averaged at 69°C and reached the a maximum of 71°C at full fan speed (~1300 RPM). Temperatures were increased by 5°C when lowering to 50% PWM speed (~800 RPM), about 7.04% and 7.25% hotter. No thermal throttling was observed.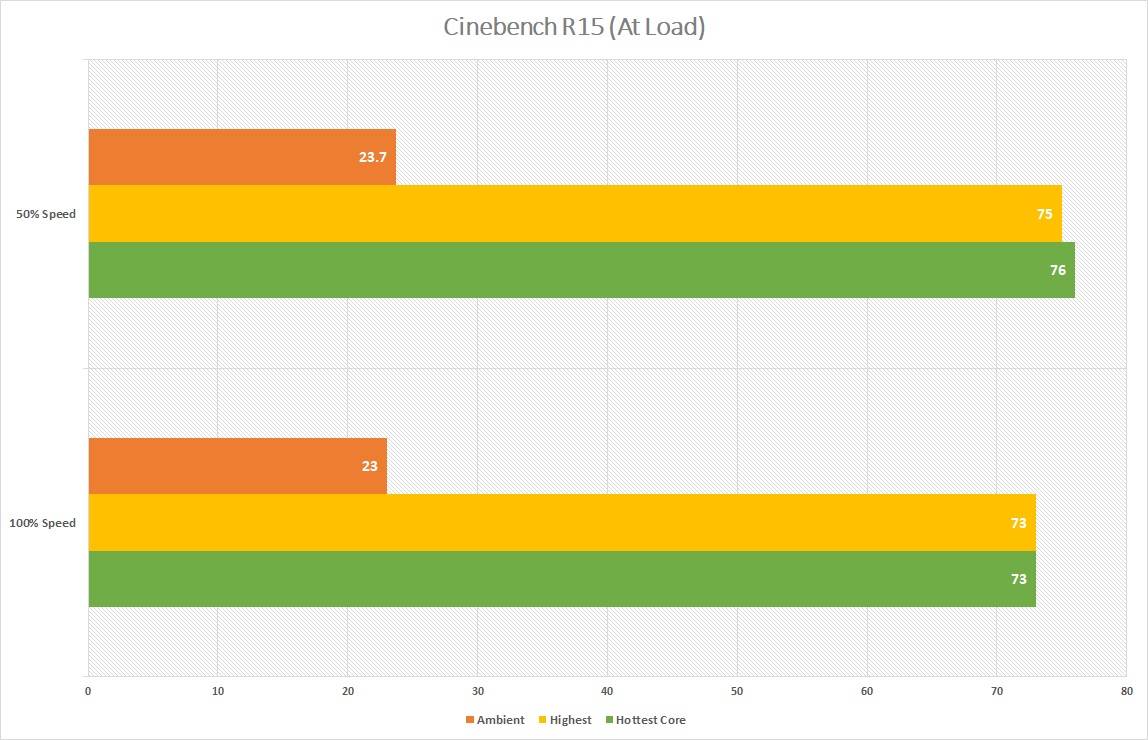 In Cinebench R15, the temperature differences between two fan speeds were at 2°C and 3°C. The CPU package peaked at 73°C and 75°C respectively.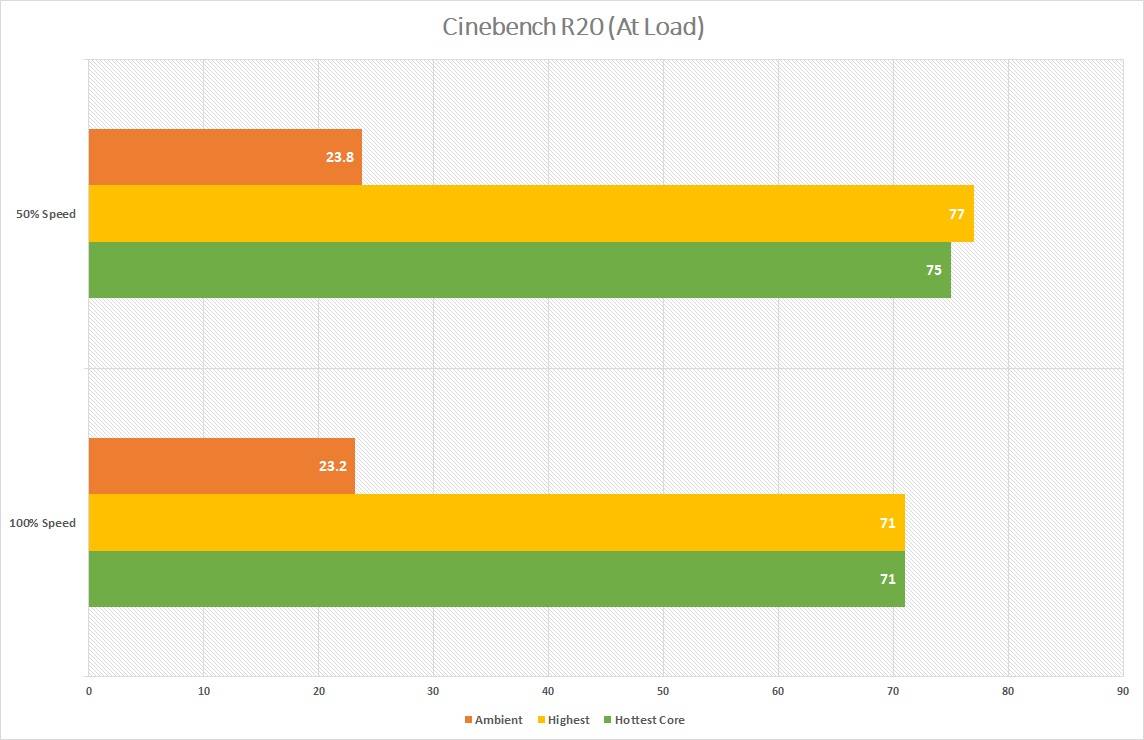 We saw larger improvements, running the fans at full speed, in Cinebench R20. Results were 6°C and 4°C better, maxed out at 71°C.
Comparison
[visualizer id="8645″ lazy="no" class=""]
The R5 beat the Noctua NH-U12S by 2°C to 3°C in two of the benchmarks (at 100% fan speed). It slightly trailed behind the Noctua NH-U14S and Noctua NH-U12A by 2°C to 3°C. However, the R5 cooler, with its larger footprint and an extra fan, performed much closer to other similar-sized 140 mm-class coolers at reduced fan speed (about 8°C to 11°C better than NH-U12S).
Conclusion
The CRYORIG R5 is certainly part of the higher-end and premium CPU coolers in the market. Its cooling performance was on par to air coolers in the same 140 mm-class, especially at lower fan speeds. The excellent build quality, simple installation process and incredible RAM/PCIe slot clearance are its major advantages.
The two XF140 fans did a great job pushing air through the heatsink, while keeping the overall noise low.
The R5 costs $85 USD (MSRP), along with a 6-year warranty. It is definitely on the pricier side for a single-tower cooler. Compare to the competitors, the Noctua NH-U14S and be quiet! Dark Rock 4 is priced at $69.95 USD and $74.90 USD (MSRP) respectively. You will need to pay the slight price premium, if you love the aesthetic design of the R5.
You can purchase the cooler from your local/online resellers or the links below from Amazon and Newegg.
Thanks CRYORIG for providing us the cooler for review. (Review Sample)
Feel free to leave comments below, if you have any opinion about this website. Share the website around if you enjoy reading it. Subscribe to our Newsletter or follow our Twitter, Facebook and Instagram.
Support this website simply by shopping in Amazon and Newegg. It will give us small kickbacks, if you use the above affiliate links to make any purchases, which will help us grow.