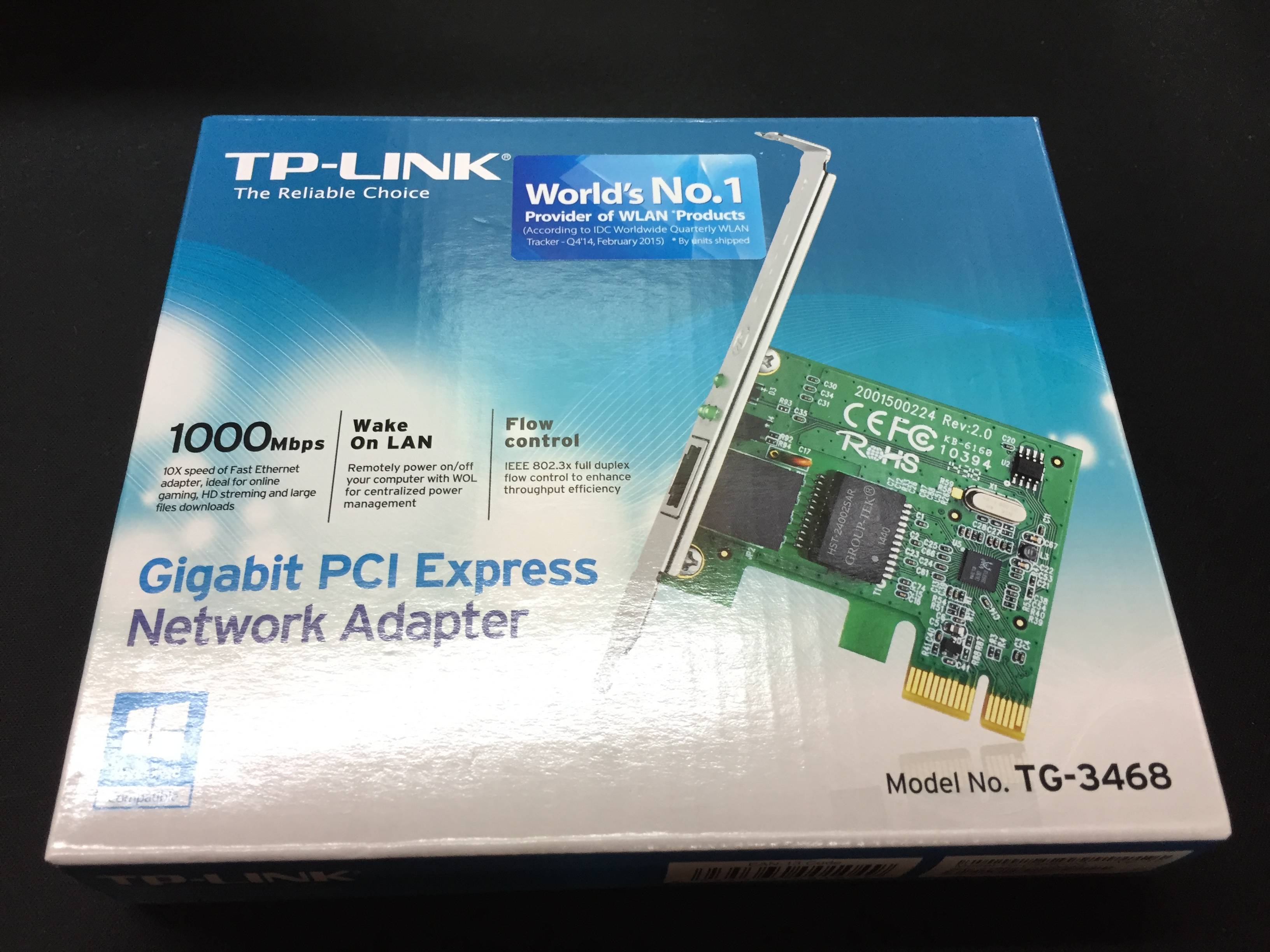 The TG-3468 is a budget PCIe Gigabit NIC (Network Interface Card) from TP-Link.
Unboxing
The back of the box highlights some of the main features for the network adapter, in different languages.
As we can see, TP-Link highlights the main selling points of the product on the front of the box, such as the speed (1000 Mbps), wake on LAN. On the back, a typical network setup image is shown as well as more features described in different languages.
The TG-3468 V2 network adapter is wrapped inside the anti-static bag with the pre-installed full length PCIe bracket. However, no low profile bracket is included.
There is a driver CD, which I do not recommend using it. Just download the latest driver version on the product website. A warranty card and a quick installation guide are also included.
Review
Installing the network card is easy as other PCIe peripherals. Only need to plug it into a PCIe x1 slot on the motherboard. The computer will detect it automatically as a generic ethernet adapter.
You will see the detailed information of the network card if you install the driver correctly. The chipset is made by Realtek, which is expected for a budget network card.
To test out the performance of the TG-3468 network adapter, I directly connect two computers together with ethernet cable. Both computers have a gigabit ethernet port, one of which is the TG-3468. The computers transfer a 5 GB test file to a SSD to simulate real world scenario. This is to reduce the bottle-necking (limiting) by the ISP's internet speed and slow HDD write speed.
The 5 GB file finishes transferring in less than 1 minutes, which is quite impressive. The transfer speed reaches over 110 MB/s, almost at the theoretical maximum of 125 MB/s (1 Gbps).
Conclusion
The TP-Link TG-3468 gigabit PCIe network adapter is not a bad budget model. It delivers acceptable performance using a lower end chipset. It will fit into some small ITX cases perfectly with its compact size.
Unboxing Experience: 65%
– No product presentation at all.
– Costs have to be cut in packaging for budget model.
Performace: 75%
– Adequate transfer speed
– Lack support for more advanced features like 802.3ad (Link Aggregation)
Value: 80%
– Strike a great balance between price, features, and performance
Product link: http://www.tp-link.com.au/products/details/cat-11_TG-3468.html


Feel free to leave comments below, if you have any opinion about this website. Share the website around if you enjoy reading it. Subscribe to our Newsletter or follow our Google+, Facebook and Twitter.
Support this website simply by shopping in Amazon. It will give us small kickbacks, if you use the above affiliate links to make any purchases, which will help us grow.