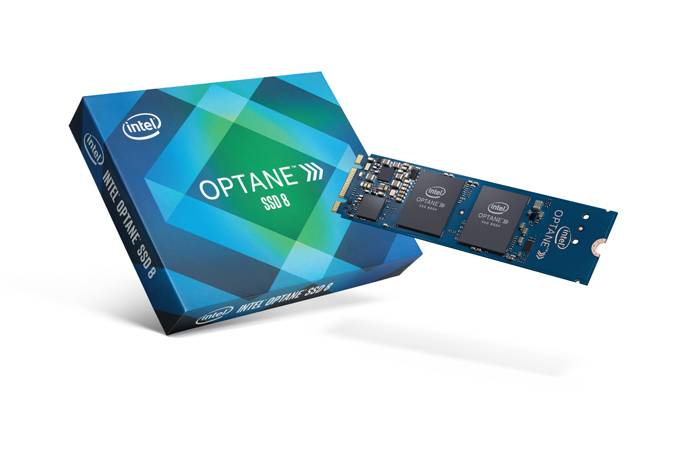 Last year (2017), Intel introduced the Optane memory and solid-state drives for data centers, using the 3D XPoint technology. At that time, normal consumers are stuck with smaller storage capacity of up to only 32GB, and is not user-accessible. This type of Optane memory is more suitable and effective when combining with an traditional spinning hard drive (Optane + HDD). Now, Intel is announcing the release of a consumer-grade Optane SSD in a more affordable price finally.
The new consumer-oriented Optane SSD is named the 800p series. There are two capacities in the series, 58GB and 118GB. Unlike the Optane memory, the 800p SSD can not only be used as a system cache to assist slow HDDs, but also act as standalone drive in the operating system.
For performance, the 800p SSD can achieve sequential read speed at 1450 MB/s and write speed at 650 MB/s, running in an NVMe PCIe 3.0×2 interface. This may not sound impressive for an NVMe SSD these days, but the 800p should show its power in terms of lower latency (7 µs to 18 µs) and better durability (365 TBW), thanks to the 3D XPoint memory technology.
The Optane 800p SSD will cost $129.99 USD for the 58GB model and $199.99 USD for 118GB. The SSD will only come in the M.2 2280 form factor. For more information, you can visit its product page or check out Intel's press release.
Feel free to leave comments below, if you have any opinion about this website. Share the website around if you enjoy reading it. Subscribe to our Newsletter or follow our Google+, Facebook and Twitter.
Support this website simply by shopping in Amazon. It will give us small kickbacks, if you use the above affiliate links to make any purchases, which will help us grow.