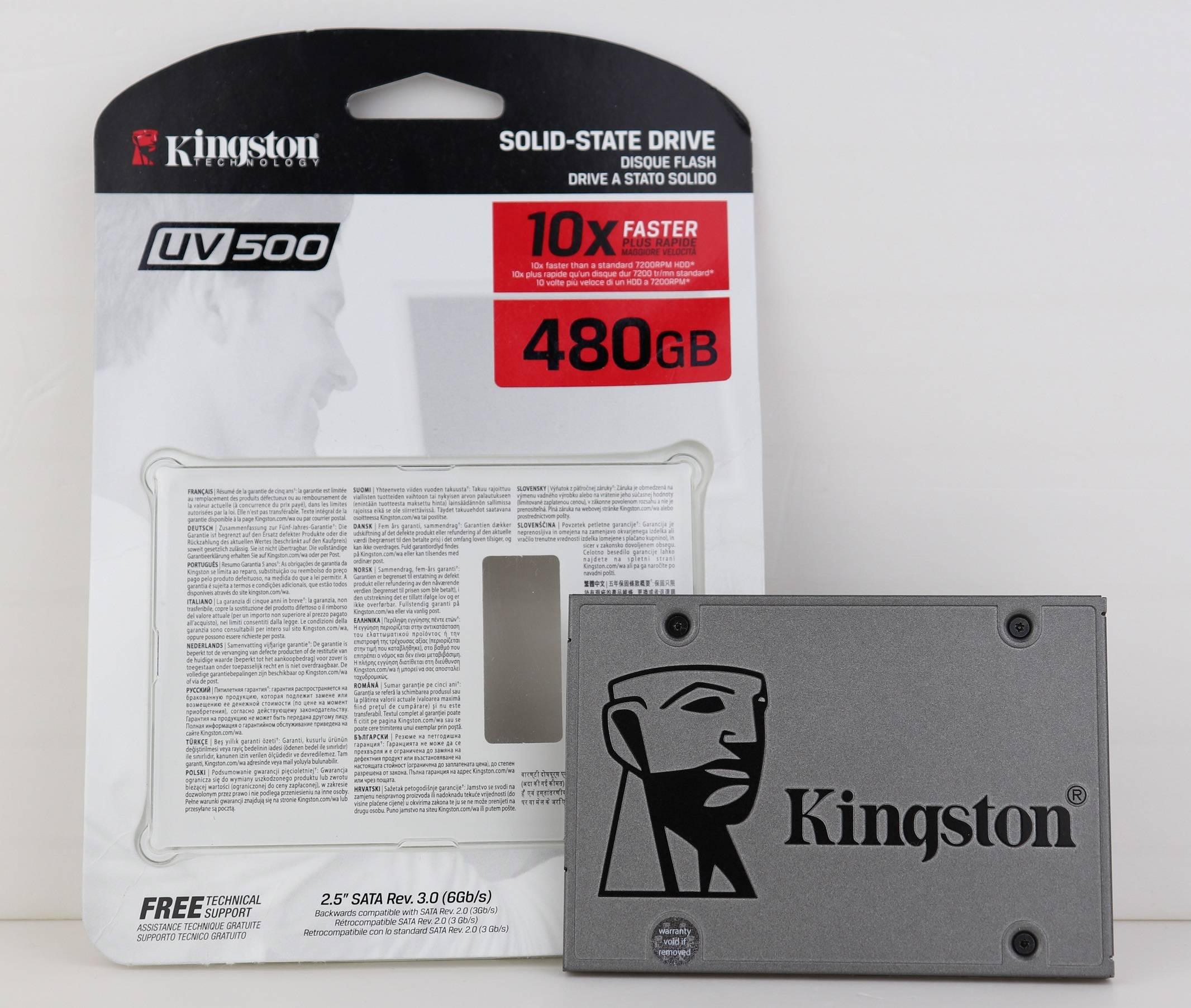 In late 2018, Kingston replaced the UV400 SSDs with the UV500 series. The new SSDs expands the compatibility with different form factors, and integrates hardware encryption for better security. Let's us see how it performs.
Specifications
[table id=162 /]
The UV500 series comes with three different form factors, including the standard 2.5-inch, mSATA and M.2 2280. This is a welcome choice, as more laptops are now equipped with M.2 slots. You can choose between a total of five storage capacities, from 120 GB to 1.92 TB.
They are advertised to have sequential read and write speeds up to 520 MB/s and 500 MB/s respectively, which are lower than the UV400's 550 MB/s and 500 MB/s. The drives have a rated MTBF of 1,000,000 hours and are provided with a 5-year warranty.
Unboxing
The packaging of the UV500 SSD is very simple with no cardboard box. The SSD is sitting behind a plastic window. You get the Kingston logo, as well as the drive capacity at the front. Model number, serial number and assemble location are printed at the back. The drive is also compatible with Kingston SSD Manager, which can be used to update the firmware, monitor drive status/health and securely erase data.
If you choose to buy the Notebook upgrade kit, there will be an external drive enclosure,  3.5-inch bracket and cloning software included.
Kingston UV500 SATA SSD
Like the UV400, the 2.5-inch UV500 SSD is fitted inside the same aluminum enclosure with a matte finish, but is colored in a darker grey. There are nothing on the top of the drive, except for the Kingston logo.
The UV500 is equipped with a Marvell 88SS1074 memory controller and Toshiba's 64-layer TLC NAND flash. SLC cache is available to increase and smooth out transmission speeds, during intense writing operations.
What makes the UV500 special is the addition of 256-bit AES hardware-based encryption, which the drive will self-encrypt and provides end-to-end protection. The SSD also supports TCG Opal 2.0 specification for business users.
The UV500 SSD utilizes a SATA 3 interface to transfer data, which has a theoretical bandwidth of 6 Gbps or about 750 MB/s. For the 2.5-inch model, the SATA data and power cables are separated.
Review
Testing Methodology
To test the performance of the solid-state drive, we use three well-established storage benchmarking software. They are CrystalDiskMark, ATTO Disk Benchmark, as well as AS SSD Benchmark.
CrystalDiskMark can measure both sequential and random 4KB read/write speeds with a queue depth of 32. ATTO Disk Benchmark can test how the drive performs across different transfer block sizes, mostly in a sequential environment. AS SSD Benchmark can provide both normal read/write speed and the IOPS performance of the drive.
We also recorded the time to transfer three files of 10 GB, 500 MB and 250 MB from a RAM disk to the SSD, which is used to simulate a real-world situation.
Performance
The UV500 is advertised to reach sequential speeds at 520 MB/s for read and 500 MB/s for write. In CrystalDiskMark, the SSD matched the rated performance, which topped at 542.4 MB/s and 506.2 MB/s. The random 4K operations with queue depth 32 are decent, that could achieve read and write speeds at 280.9 MB/s and 262.8 MB/s.
The sequential read/write performance decreased to 520.35 MB/s and 494.95 MB/s in AS SSD Benchmark. For 4K-64THRD read and write, speeds were similar to results from CrystalDiskMark, they increased to 301.3 MB/s and 287.36 MB/s respectively.
IOPS number represents how well a drive handles random input and output operations. The UV500 attained a score of 1013 in the benchmark. It reached 77132 and 73565 IOPS in random 4K operations.
Read and write speeds started to stabilize at around 540 MB/s and 500 MB/s correspondingly, when file sizes increased from 16 KB, in ATTO Disk Benchmark.
In our real-world test, the UV500 SSD took 44.0 seconds to transfer three files of about 15 GB in size. The SSD reached its bottleneck of the primary TLC NAND flash at around 170 MB/s after the internal SLC cache was full.
Comparison
[visualizer id="14404″ lazy="no" class=""]
In CrystalDiskMark, the UV500 performances were in line with other SATA-based SSDs we tested. Compared to the HyperX FURY RGB (its review here), the read speeds in both sequential and random 4K were slightly lower, but write speeds were very close. The WD Blue 3D NAND (its review here) did better overall.
[visualizer id="14406″ lazy="no" class=""]
The results were similar in AS SSD Benchmark. The UV500 surpassed the WD Blue 3D NAND in sequential performance, but still trailed behind in random 4K operations.
Conclusion
The Kingston UV500 SSD may not be the best performer in the market, but it is reliable and cost-effective. The tiny difference in speeds is hard for general consumers to notice and the UV500 is still very responsive, superior than any traditional mechanical hard drives. You can expect the SSD to reach sequential read/write speeds at around 500 MB/s.
As data security becomes more important in today's world, the integration of hardware-level encryption is a major advantage for the UV500 SSD. It should be helpful for those who use the same computer for both work and home. The drive can be secured in seconds with compatible security software, such as WinMagic and McAfee.
The UV500 is backed by a respectable 5-year warranty, and has decent endurance rating. The prices of SSDs fluctuate a lot from time to time. The UV500 480 GB model costs around $72.99 USD, 240 GB for $40 USD and 960 GB for $140 USD at the time of this review. It is a few dollars more expensive than comparably-sized SSDs, but they often lack the built-in hardware encryption and longer warranty period. If you care about data security a lot, especially for sensitive business information, the UV500 may worth your consideration.
You can purchase the SSD from your local/online resellers or the links below from Amazon and Newegg.
Thanks Kingston for providing the SSD for review. (Review Sample)
Feel free to leave comments below, if you have any opinion about this website. Share the website around if you enjoy reading it. Subscribe to our Newsletter or follow our Twitter, Facebook and Instagram.
Support this website simply by shopping in Amazon and Newegg. It will give us small kickbacks, if you use the above affiliate links to make any purchases, which will help us grow.