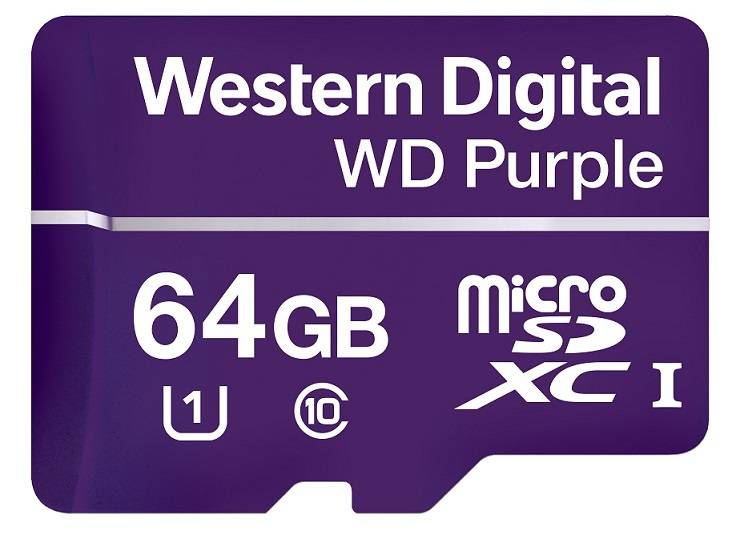 Generally, microSD card is not considered as an extremely reliable form of storage media. It is not recommend to keep any mission-critical data inside a microSD card. However, the small physical size of a microSD card makes implementing a slot into a mobile/portable device easier. With 4K Ultra HD surveillance cameras becoming more popular, Westernn Digital introduced a new Purple microSD card to meet the demand.
The microSD card is available in either 32 GB or 64 GB capacity. For performance, it can have speed up to 80 MB/s in sequencial read and 50 MB/s in write. It supports both Speed Class 10 and UHS Speed Class 1. In terms of durability, the microSD card can operate in environments from -25°C to 85°C. It is also specifically optimized for 24/7 video capture and continous recording (up to 1000 Program-Erase cycles), which is essential for using in surveillance cameras. It is rated at 32 TBW to 64 TBW for endurance. The card should be more than capable in capturing 4K Ultra HD video smoothly.
The new Purple microSD card will be on sale in April 2018, with the 32 GB model costing $18.99 USD and the 64 GB one costing $31.99 USD (MSRP). There will also be 25-packs for system integraters to purchase in bulk.
For more information, you can visit Western Digital's press release or its product page.
Feel free to leave comments below, if you have any opinion about this website. Share the website around if you enjoy reading it. Subscribe to our Newsletter or follow our Google+, Facebook and Twitter.
Support this website simply by shopping in Amazon. It will give us small kickbacks, if you use the above affiliate links to make any purchases, which will help us grow.