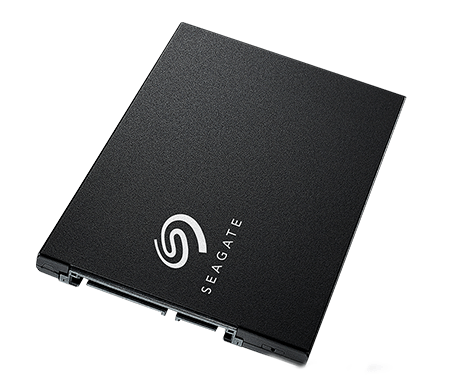 Seagate is known for its high-capacity and fast mechanical hard drives in the industry. It only released the FireCuda Hybrid HDD, with a SSD cache to speed up frequently used applications. Seagate does not involve too much in the consumer SSD market, although it has the Nytro Series Enterprise SSDs available. Now, Seagate announces its latest BarraCuda SATA SSD to the public.
The BarraCuda SSD is using the standard SATA 3 6Gb/s interface, with a 2.5-inch form factor. The drives will have four different storage capacities, including 250 GB, 500 GB, 1 TB and 2 TB. 3D TLC NAND flash is used for the SSD, probably from Toshiba. The exact model of the controller is yet to know.
For performance, the BarraCuda SSD is rated to have sequential read and write speed at up to 560 MB/s and 540 MB/s. Both 4K random read and write IOPS are at 90,000. Smaller capacity drives may have slightly less write performance at 530 MB/s. All models come with a 5-year warranty and have a MTBF of about 1.8 million hours. The 2 TB SSD has up to 1067 TBW (Total Bytes Written) and 1 TB at 485 TBW, 500 GB at 249 TBW,250 GB at 120 TBW.
Seagate decides to launch the BarraCuda SSD on Amazon Prime Day 2018 exclusively for 36 hours (July 16), with limited supply. Wider availability around the globe will be started in September. The 1 TB SSD will cost $249.99 USD, 500 GB at $129.99 USD and 250 GB at $79.99 USD (MSRP). For more information, you can visit Seagate's product page.
Feel free to leave comments below, if you have any opinion about this website. Share the website around if you enjoy reading it. Subscribe to our Newsletter or follow our Google+, Facebook and Twitter.
Support this website simply by shopping in Amazon. It will give us small kickbacks, if you use the above affiliate links to make any purchases, which will help us grow.