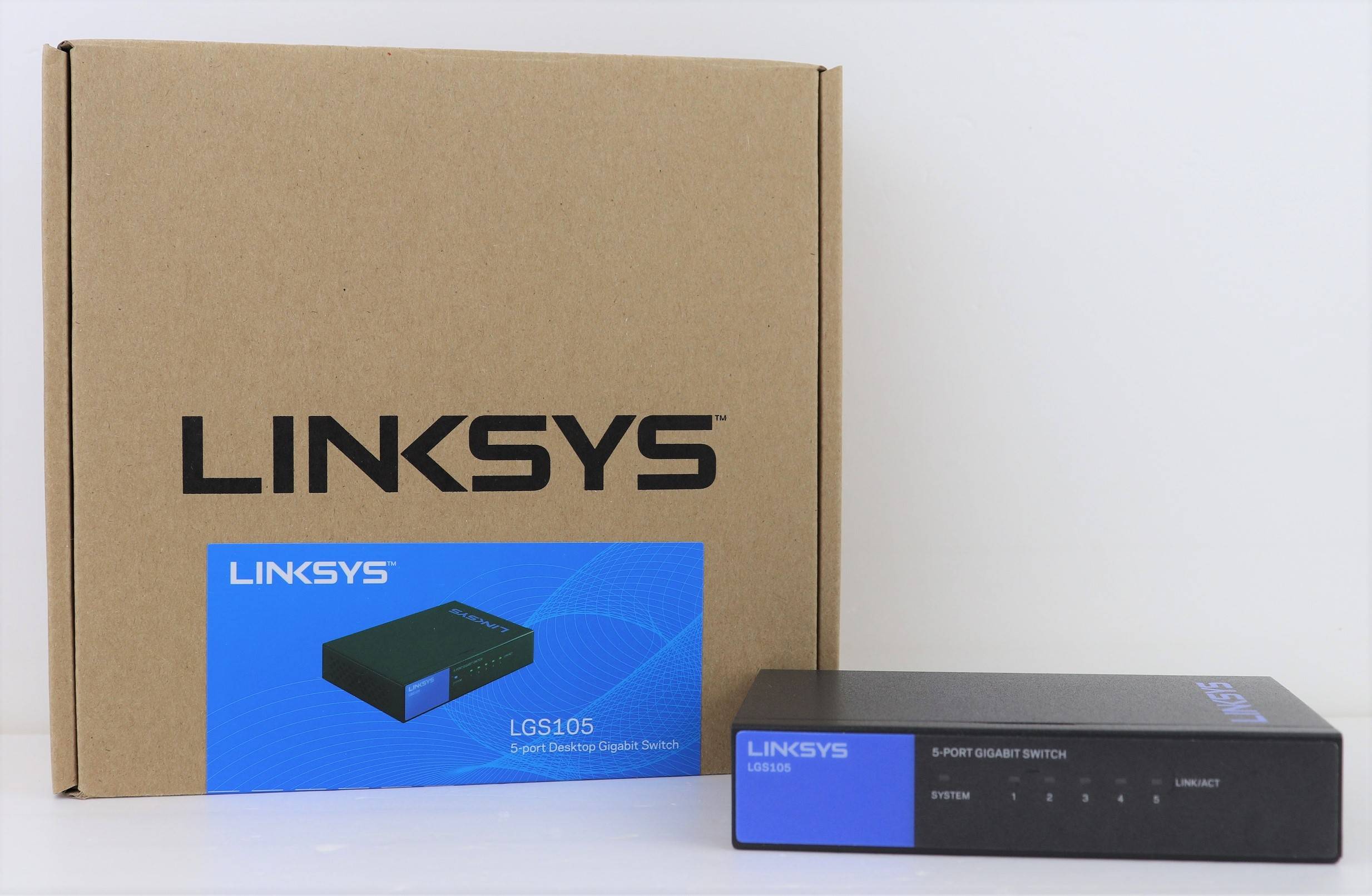 If your existing router does not have enough free ports, but you still want to connect extra devices via Ethernet. This means you will need to add a network switch, which we will check out the LGS105 from Linksys in this article.
Unboxing
The packaging of the LGS105 is very plain and simple. The brown cardboard box does not have any fancy product images, only the "LINKSYS" logo in the middle.
There is a sticker on top with more information about the gigabit switch, including the serial numbers, as well as the UPC and EAN codes.
Inside, you will first find the warranty information, quick installation guide and a documentation CD. There are four rubber feet and two wall-mounting screws provided in the box, depending on your mounting options.
The 5-watt power adapter comes with a swappable UK and Europe plug. It can accept input from 100V to 240V and output at 5V/1A.
Linksys LGS105 Desktop Gigabit Ethernet Switch
The LGS105 has a metal outer casing with a blue "LINKSYS" logo on top. The sticker at the bottom shows the model number and serial number of the switch. The rated power of the switch is at 5V/1A.
At the front of the LGS105, there are a total of six LEDs, which are used to indicate both power and network activity. Each Ethernet port gets its own respective status LED.
A switch is a multi-port network bridge that process and forward network packets. The five RJ-45 Ethernet ports are all capable of full gigabit speed (1 Gbps) and backward compatible with slower 10/100 Mbps speeds. Next to them is the DC power input.
Because the LGS105 is a non-managed switch, no software is required to install on any devices, as long as you have a vacant Ethernet port. Everything will be handled automatically and plug-and-play.
Update: Newer LGS105 model seems to have both the Ethernet ports and activity LEDs on the front. Please check before purchasing.
The sides of the LGS105 are drilled with plenty of holes for ventilation. You will have to keep some distance from the wall, in order to prevent overheating.
Conclusion
The Linksys LGS105 is a very simple network switch, that is ideal for home and small office use. It is extremely useful if you have limited Ethernet ports on your primary router/switch. It is also easy to operate without any proprietary software and support plug-and-play. It costs $27.99 (MSRP) and is on sale for $24.99 USD at the time of this article.
You can purchase the router from your local/online resellers, or from the links below from Amazon or Newegg.
Feel free to leave comments below, if you have any opinion about this website. Share the website around if you enjoy reading it. Subscribe to our Newsletter or follow our Twitter, Facebook and Instagram.
Support this website simply by shopping in Amazon. It will give us small kickbacks, if you use the above affiliate links to make any purchases, which will help us grow.