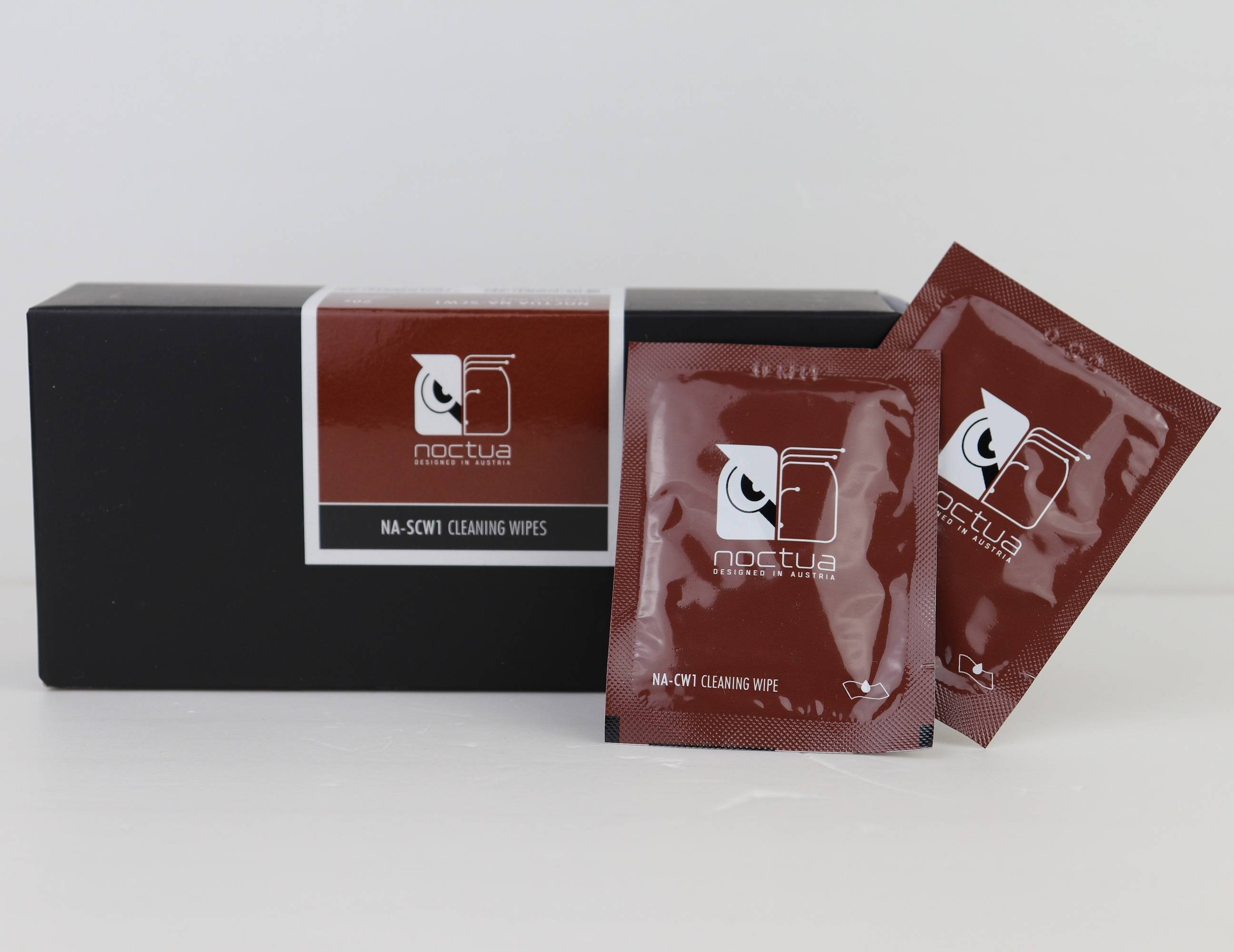 Along with the NT-H2 thermal compound, Noctua also releases the NA-SCW1 cleaning wipes. It is used to remove the old thermal compound on the CPU and heatsink surfaces.
Unboxing
When you purchase the NT-H2 thermal compound (its review here), a few NA-CW1 cleaning wipes are already bundled inside, 3 for the 3.5g and 10 for the 10g versions. If you need more or only want the cleaning wipes, you can buy a set of 20 in a box, named NA-SCW1.
The packaging of the NA-SCW1 has a mostly black background and some brown accents, where information is printed on the sticker. There are usage instructions on how to use the cleaning wipes, and some safety warnings at the back.
Each NA-CW1 cleaning wipe is individually sealed to prevent the wipe from drying and is designed for one-time use. You get the same instructions and warnings on the package.
Noctua NA-SCW1 Cleaning Wipes
The NA-CW1 cleaning wipe is soaked with a custom detergent mixture (probably alcohol-based) to efficiently remove thermal compound. Once unfolded, the wipe measures in 15 cm x 12 cm, which is fairly large. A single wipe should be able to clean both the CPU and the heatsink, without much problem. It is thick and durable enough to not tear and leave residue easily on the surface.
Review
The NA-CW1 did a pretty good job in cleaning the surface of heatsink contact base. With the detergent mixture, the thermal compound came off very quickly. I did not need rub the wipe against the heatsink repeatedly. As you can see, there was no remaining thermal compound and residue left after using the cleaning wipes.
The same story appeared on the CPU's integrated heat spreader (IHS). The surface was cleaned and was ready to reapply the thermal compound. However, if you find some residues from the cleaning wipes are left behind, Noctua suggests you to either use a dry paper towel or tissue to polish them off. Those are only visual concerns and will not affect cooling performance.
Conclusion
The NA-CW1 or NA-SCW1 cleaning wipes is an interesting product from Noctua. The wipe itself certainly did its job very well, which can effectively remove thermal compound.
Although you can achieve similar effects through soaking a paper towel with isopropyl alcohol, Noctua's solution makes it simpler and more convenient. You can clean both the CPU and heatsink with one wipe.
The 20-pack NA-SCW1 cleaning wipes is priced at $7.90 USD (MSRP), which turns out to be about $0.359 USD per wipe. It may sound a bit too expensive, but each wipe has a size of 15 cm x 12 cm and is specifically designed for removing thermal compound.
You can purchase the cleaning wipes from your local/online resellers or the links below from Amazon US.
Thanks Noctua for providing us the NT-H2 for review. (Review Sample)
Feel free to leave comments below, if you have any opinion about this website. Share the website around if you enjoy reading it. Subscribe to our Newsletter or follow our Twitter, Facebook and Instagram.
Support this website simply by shopping in Amazon. It will give us small kickbacks, if you use the above affiliate links to make any purchases, which will help us grow.