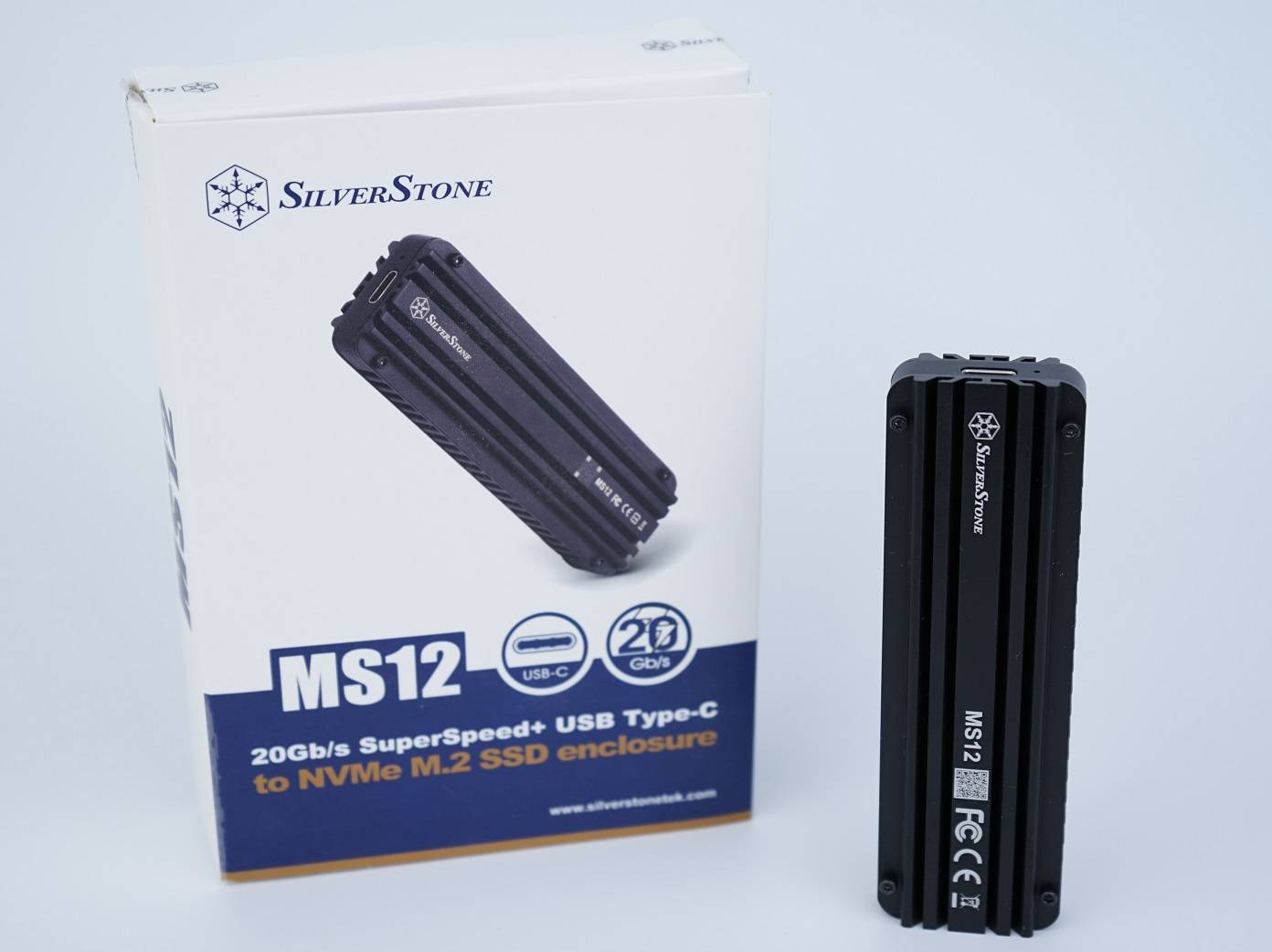 The SilverStone MS12 external M.2 SSD enclosure is the successor of the MS11. It is upgraded with a faster USB 3.2 Gen 2×2 port (20 Gbps).
Unboxing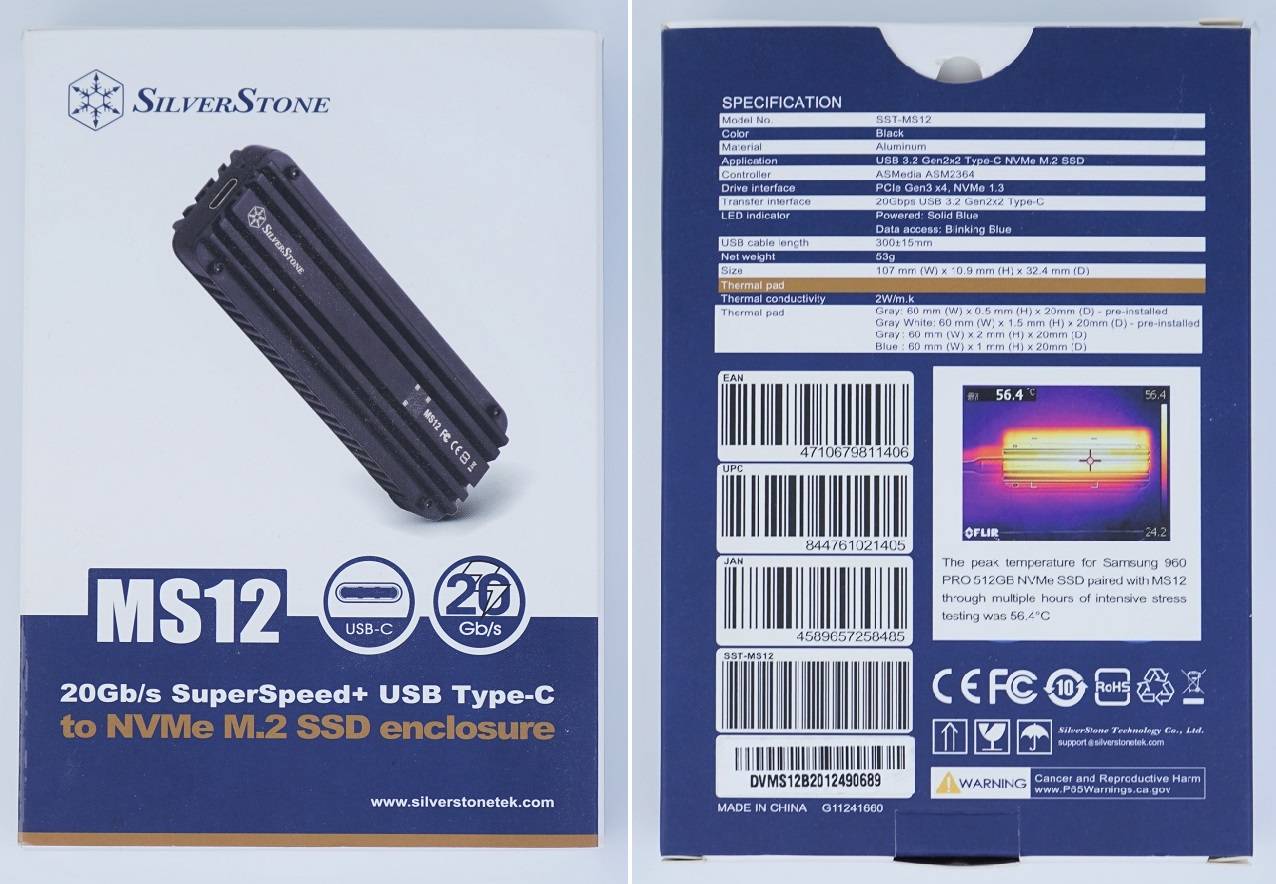 The MS12 is packed inside a white and blue cardboard box. A specification list with information, such as weight and dimensions, is printed at the back. There is also a FLIR image showcasing the enclosure's cooling ability. (SST-MS12)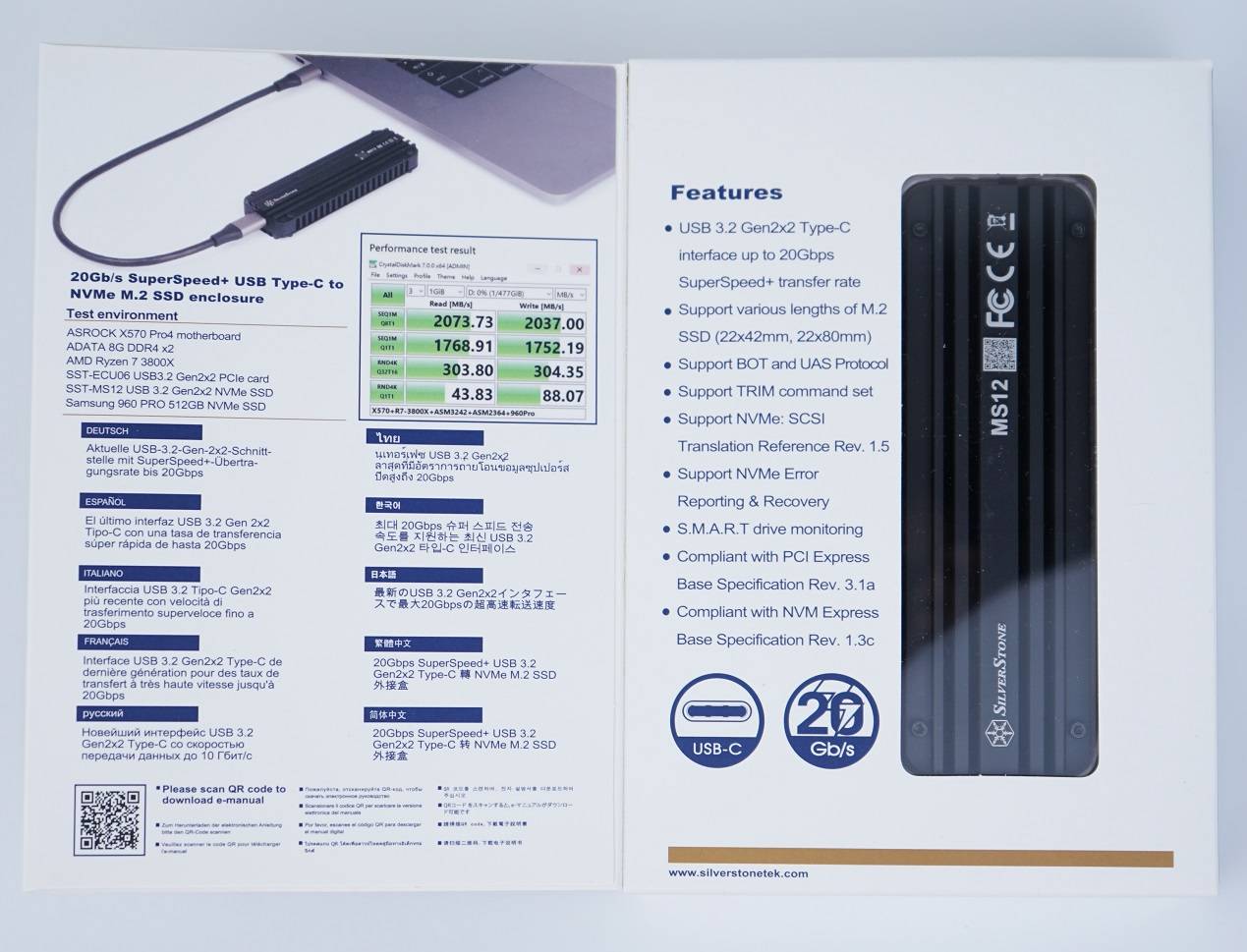 Opening the flap of the box can see more highlighted features of the MS12.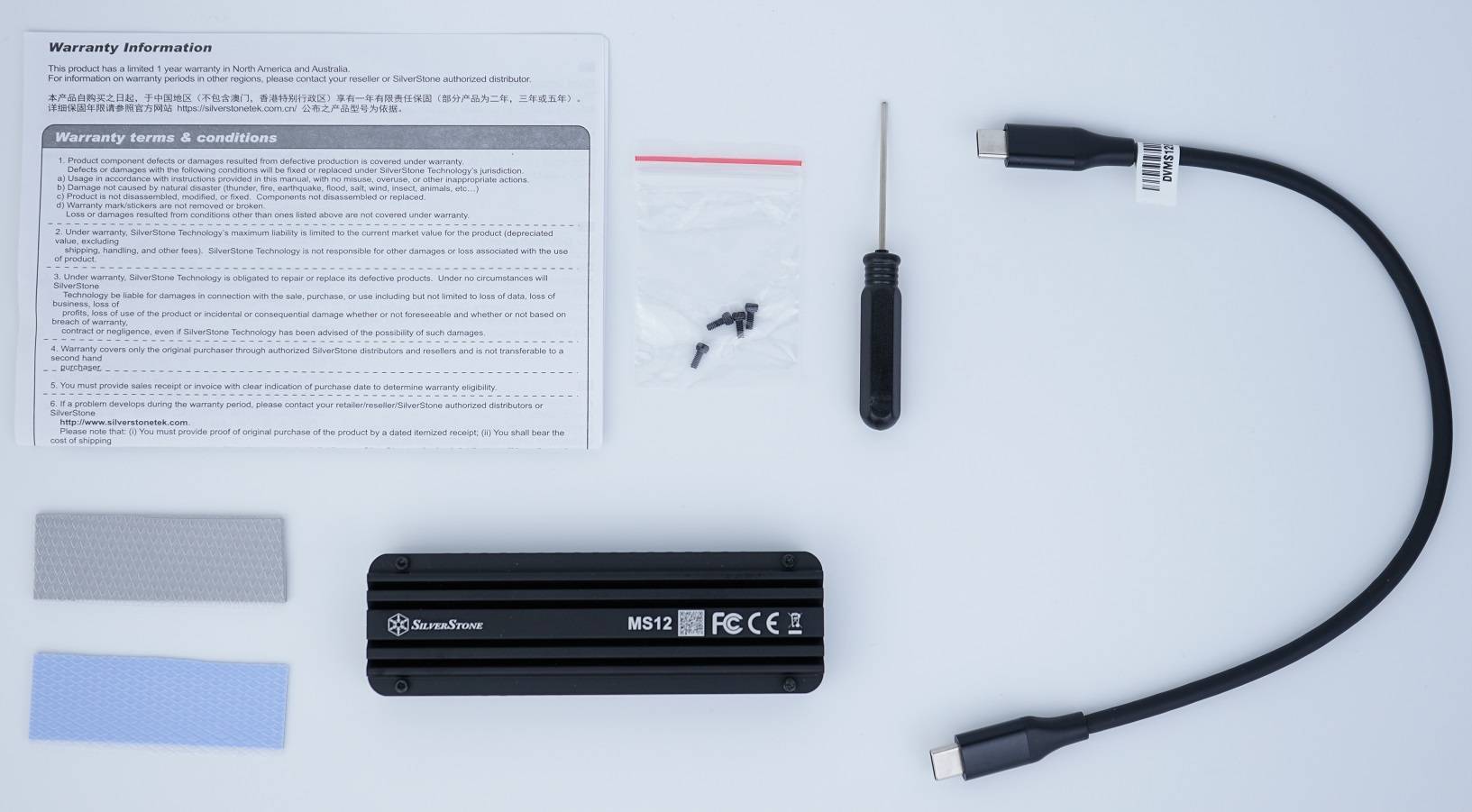 No user manual is given in the packaging, but you can access the PDF file on the product support page. A tiny hex key screwdriver and a few thermal pads are included for SSD installation, as well as an additional bag of screws. There is no USB Type-A to Type-C adapter, unlike in the MS11, apart from the short 30 cm USB Type-C to Type-C cable.
SilverStone MS12 External M.2 SSD Enclosure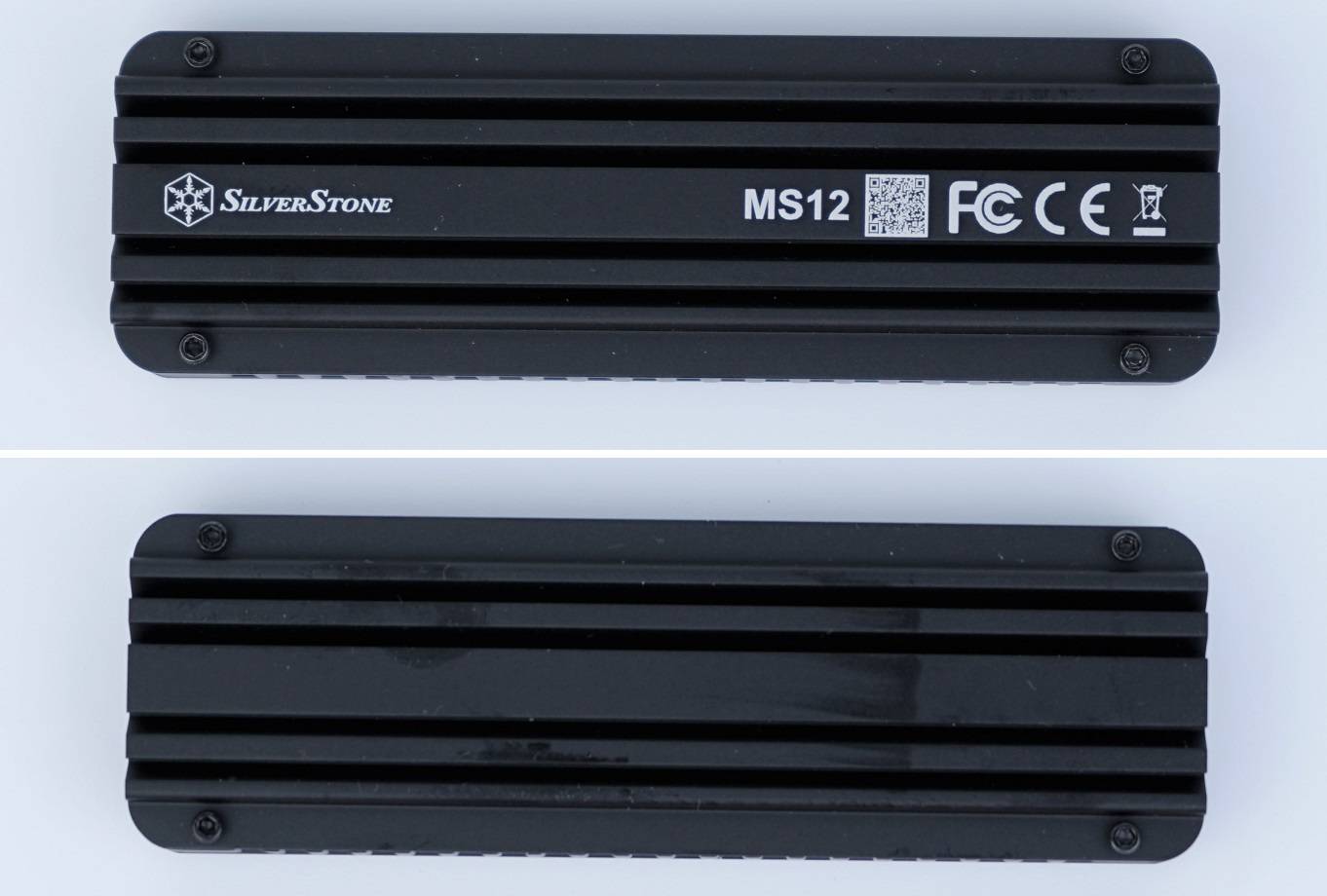 The MS12's chassis mainly consists of three metal parts (top/bottom panels and middle frame), which are made out of black anodized aluminium. They are shaped like heatsink fins to better dissipate the heat from the SSD inside. The enclosure weighs in at about 53 grams, and has a physical footprint of 106.15 mm x 15.3 mm x 33.3 mm.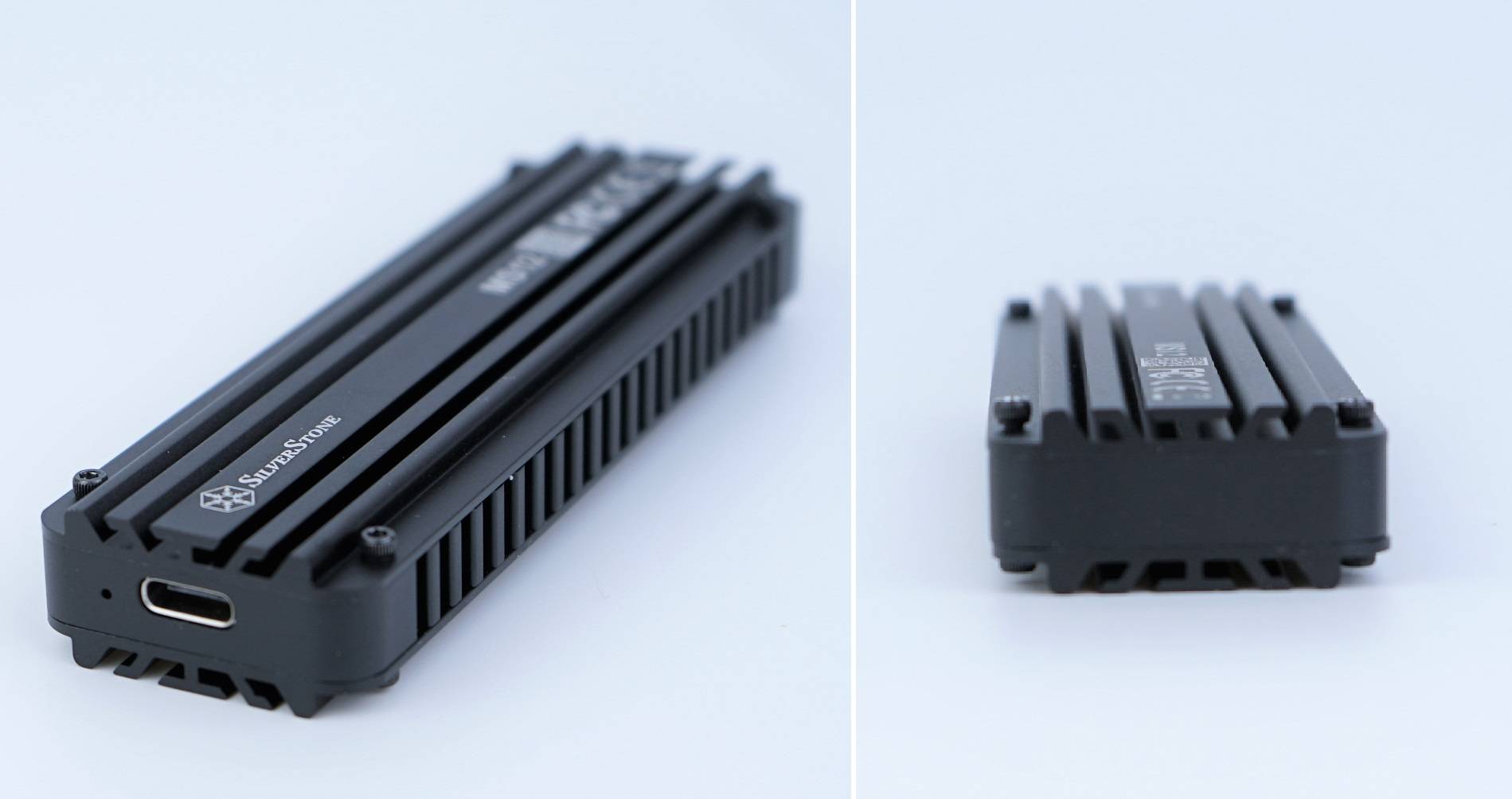 Next to the USB Type-C port is a blue activity LED. To install your drive to the MS12, you will have to remove the eight small hex screws, that are holding the top and bottom panels.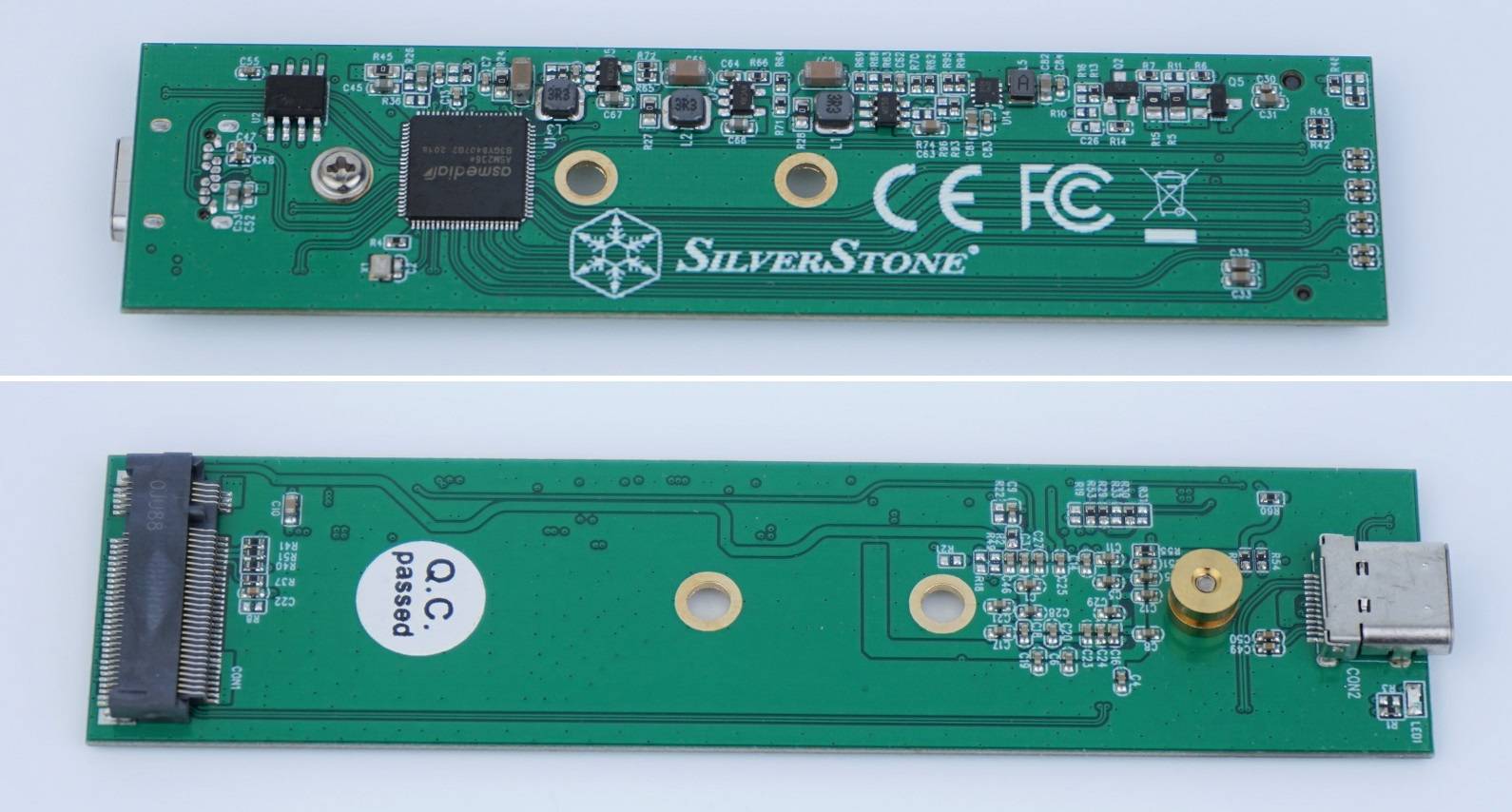 The green printed circuit board (PCB) houses the USB Type-C port, M.2 slot and data/power management components. The MS12 is paired with an ASMedia ASM2364 bridge controller, that can handle speeds up to 20 Gbps (~2500 MB/s) via the USB 3.2 Gen 2×2 interface. It only supports M-key M.2 PCIe NVMe SSDs at 42, 60 or 80 mm in length.
For the test, we loaded the MS12 with the Silicon Power P34A80 1TB.
SilverStone ECU06 USB 3.2 Gen 2×2 PCIe Expansion Card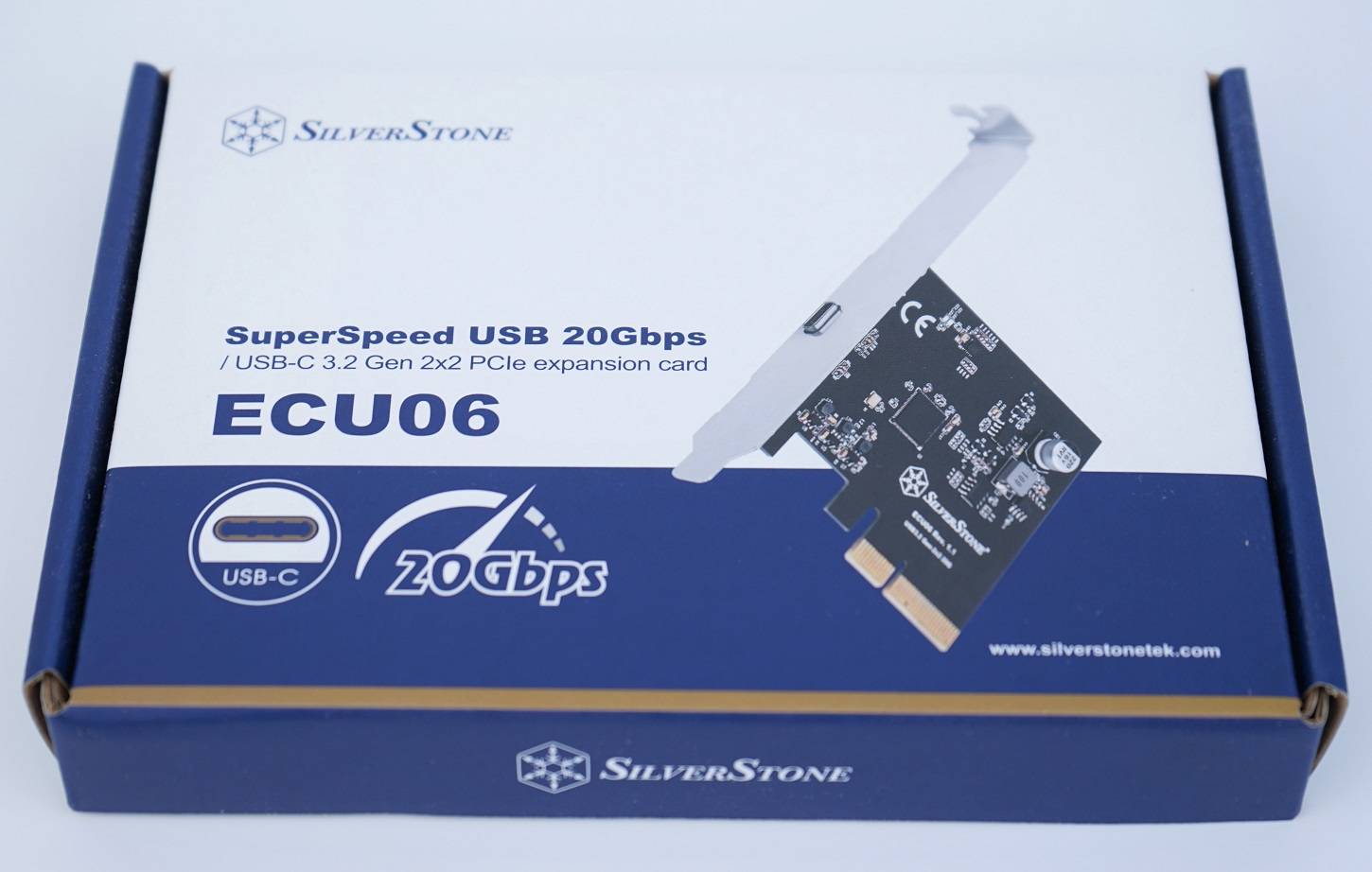 SilverStone has also provided us with their new ECU06 USB 3.2 Gen 2×2 PCIe expansion card (SST-ECU06) to benchmark the MS12 SSD enclosure. The two creates a perfect combo to fully utilize the increased performance.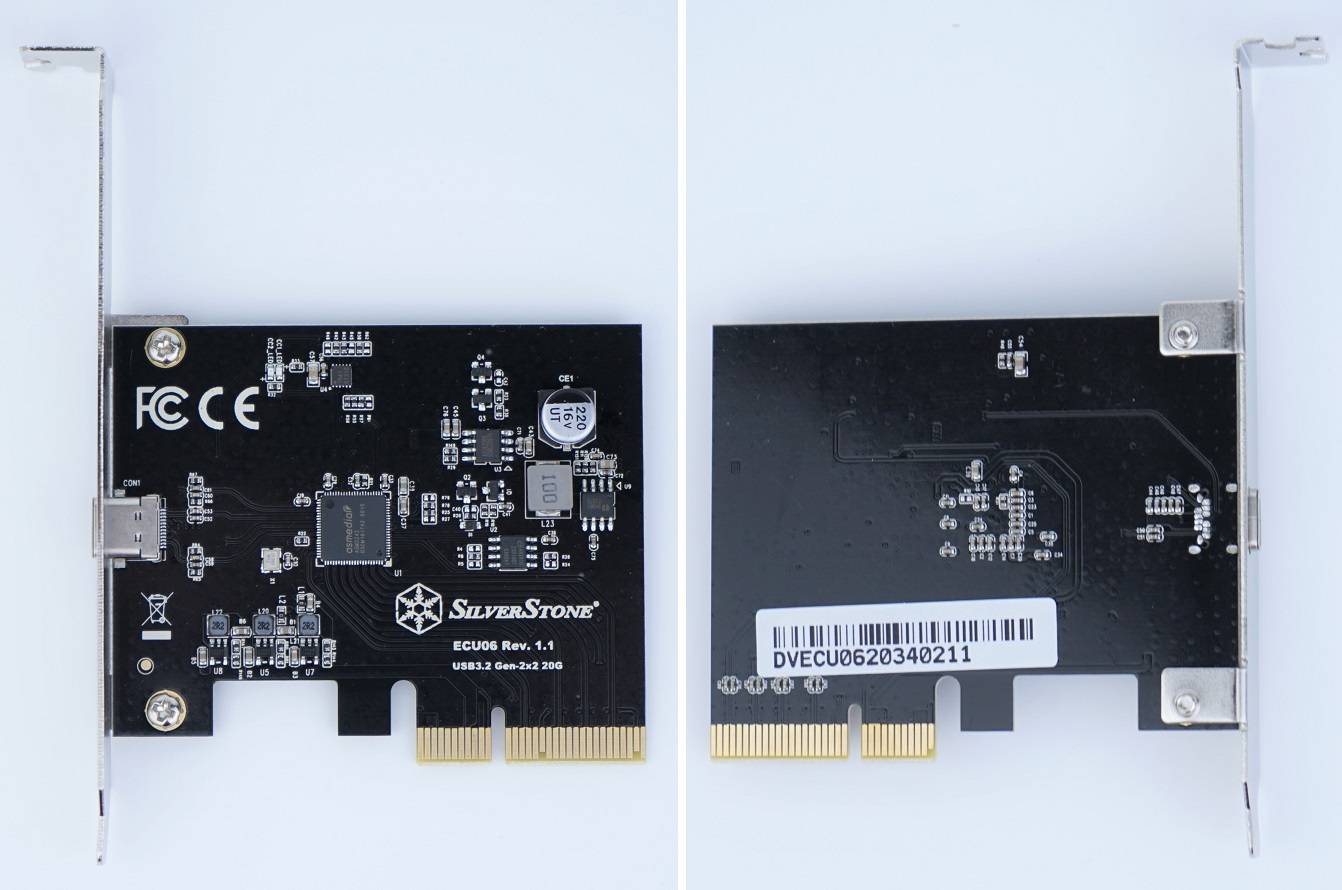 The ECU06 is equipped with an ASMedia ASM3242 USB host controller, which is able to bridge PCIe 3.0×4 connection to USB 3.2 Gen 2×2 interface. The maximum theoretical bandwidth is limited to 20 Gbps (~2500 MB/s), and is backward-compatible with older USB standards. It can be used on various operating systems, like Microsoft Windows 8/8.1/10, Apple macOS and Linux, as long as there is a vacant PCIe 3.0×4 slot.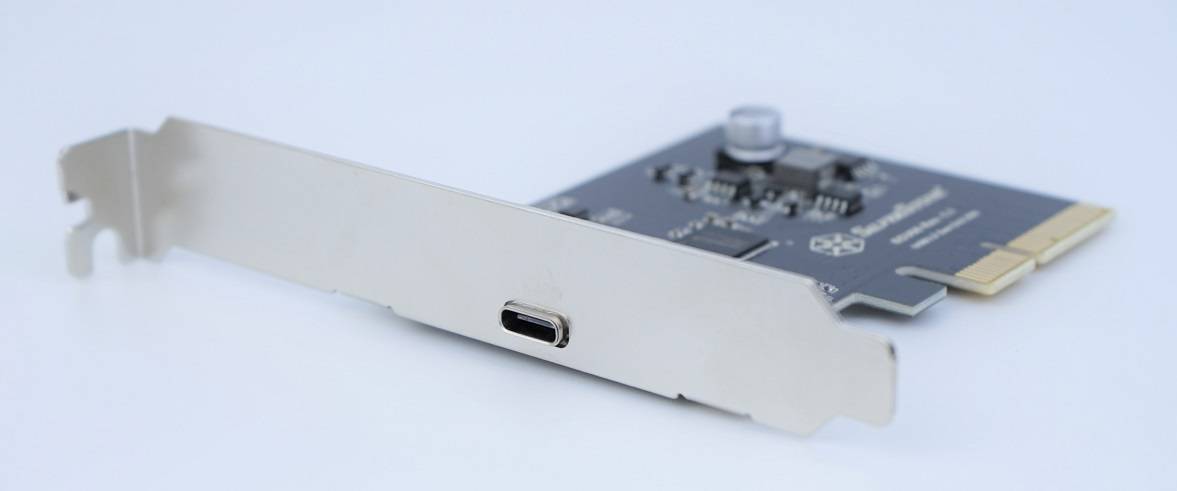 There is only one USB Type-C port at the back of the expansion card.
Review
Testing Methodology
To test the performance of the SSD enclosure, we use three well-established storage benchmarking software. They are CrystalDiskMark, ATTO Disk Benchmark, AS SSD Benchmark. We will be mainly comparing against the standalone drive.
CrystalDiskMark can measure both sequential and random 4KB read/write speeds with a queue depth of 32. ATTO Disk Benchmark can test how the drive performs across different transfer block sizes, mostly in a sequential environment. AS SSD Benchmark can provide both normal read/write speed and the IOPS performance of the drive.
Performance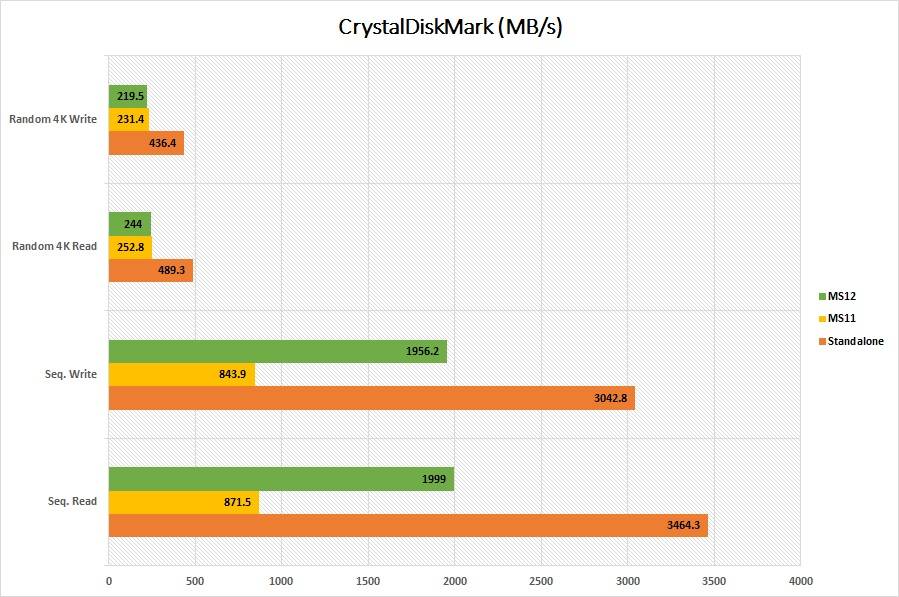 Thanks to the doubled bandwidth of the USB 3.2 Gen 2×2 interface, the MS12 performed 2.3 times better than the MS11 in sequential read/write speeds in CrystalDiskMark. It topped out at about 1999 MB/s and 1956 MB/s, which are about 57.7% and 64.3% of the standalone drive. The MS12 did slightly worse in random 4K performance (QD32) at 244 MB/s and 219 MB/s.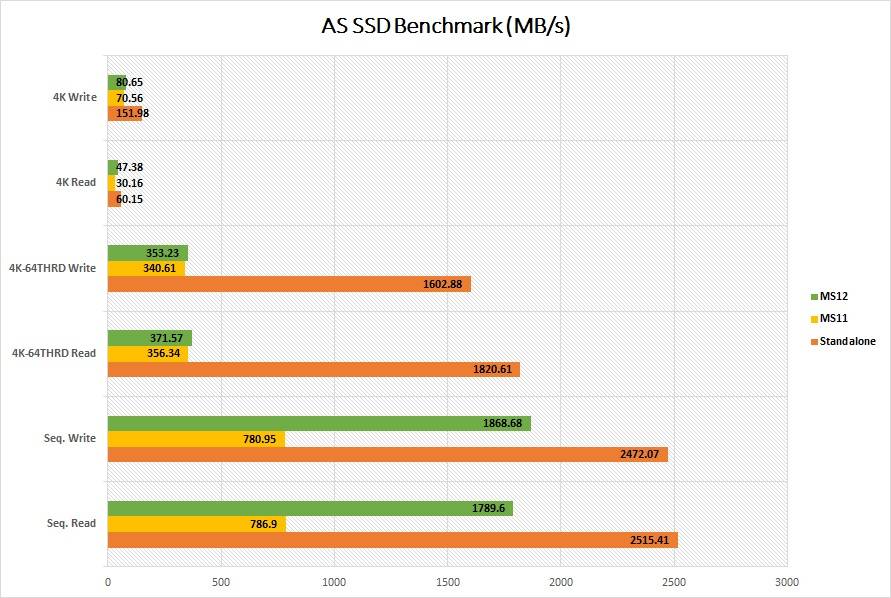 Similar improvements could be observed in AS SSD Benchmark for the MS12's sequential read/write performance, which is 2.27 to 2.39 times faster than the MS11. For random 4K speeds, the MS12 had marginally higher results in both queue depth settings.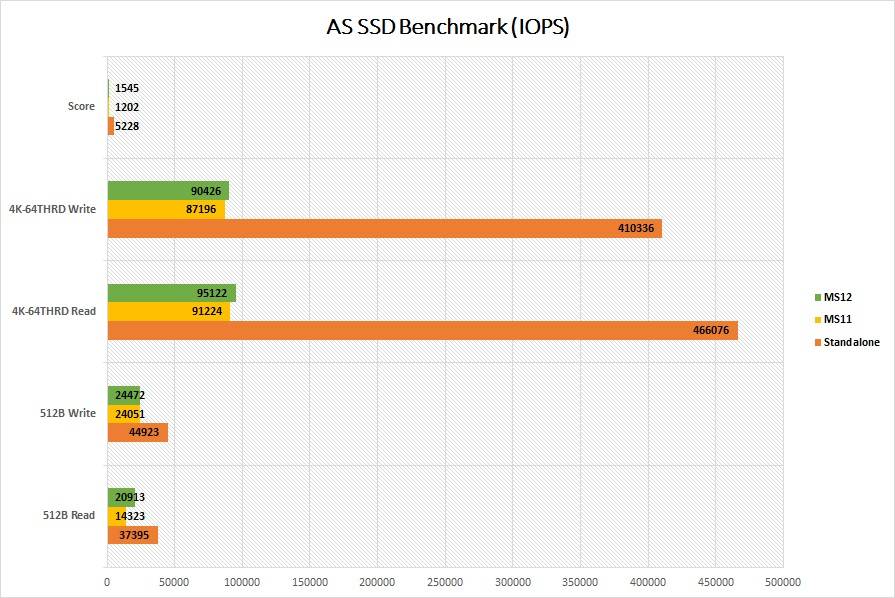 IOPS number represents how well a drive handles random input and output operations. The MS12 with the Silicon P34A80 scored more than the MS11 all across the board. It was able to achieve 95122 IOPS in read and 90426 IOPS in write.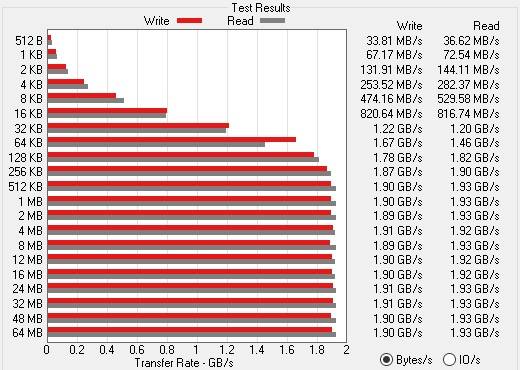 When the test file sizes increased to more than 64 KB, the transfer speeds in ATTO Disk Benchmark started to stabilize to about 1930 MB/s in read and 1900 MB/s in write.
Comparison
[visualizer id="9024″]
[visualizer id="9022″]
The MS12 completely destroyed other external SSDs we tested in the charts, with up to 2000 MB/s of sequential read/write speeds, which is allowed by the larger bandwidth of the USB 3.2 Gen 2×2 (20 Gbps) interface. Random 4K speeds remained mostly unchanged, possibly restricted by the processing power of the controller.
Conclusion
The SilverStone MS12 external SSD enclosure offer a remarkable performance improvement over the MS11. With close to 2000 MB/s of sequential read/write speeds, it can easily outperform most external SSDs, while having the flexibility of switching to higher capacity NVMe drive in the future. As always, the build quality is great and the slim profile makes storing it in bags very easy. The aluminium body and thermal pads help keep the SSD inside cool passively, without triggering any throttling. The ECU06 adds USB 3.2 Gen 2×2 functionality to older generations of motherboards.
The MS12 and ECU06 each cost $69.99 USD (MSRP) with a 1-year warranty. Considering the uplift in transfer speeds, the $10 USD price premium over the MS11 is fairly reasonable. There are not much options for M.2 SSD enclosure in the market, that supports the latest USB 3.2 Gen 2×2 interface, especially from a reputable brand. The ICY BOX USB Type-C Heatsink Enclosure is priced cheaper at $49.99 USD (MSRP), but it has mixed reviews about its reliability and claimed performance (2.7 out of 5 stars).
You can purchase the enclosure and USB interface card from your local/online retailers or the links below from Amazon or Newegg.
Thanks SilverStone for providing us the enclosure for review. (Review Sample)
Feel free to leave comments below, if you have any opinion about this website. Share the website around if you enjoy reading it. Subscribe to our Newsletter or follow our Twitter, Facebook and Instagram.
Support this website simply by shopping in Amazon and Newegg. It will give us small kickbacks, if you use the above affiliate links to make any purchases, which will help us grow.